By ART U Athletics Staff
As platforms and technology have grown over the years, so too has the public understanding of the "360 design experience," which includes a brand's print, packaging, digital, and other marketing aspects. It's a multi-faceted concept some may be learning of for the first time, but for Academy of Art Women's Soccer pioneer student-athlete Jasmine Sharpe, a 2013 graduate from the School of Graphic Design, it has driven a professional career that has taken her to some of the largest brands in the world including her current employer, PepsiCo, where she works as a design associate manager.
Developing her passion for package design as an upperclassman at ART U, Sharpe spent her first two post-graduation years with a wine and bar accessory startup company called True Fabrications. Serving as a lead graphic/package designer and collaborating with partner brands, Sharpe ran the gamut with handling marketing collateral, web design, and catalogs in addition to photography art direction.
"I fell in love with packaging and focused my last couple years at Academy of Art on 'perfecting' that skill set," Sharpe said. "Every job I sought out had packaging at the forefront. Packaging allowed me to hone in on 360 design thinking, touching the consumer with in-home, out-of-home, and in-store experiences."
Departing the Seattle area midway through 2016, Sharpe found herself seeking a bigger brand experience, and, over the next two years, she worked for two of the most iconic brands in existence today. Stints as a graphic designer for both Microsoft and Starbucks came as a result of her involvement with Robert Half, a recruiting agency, and its creative consultant program.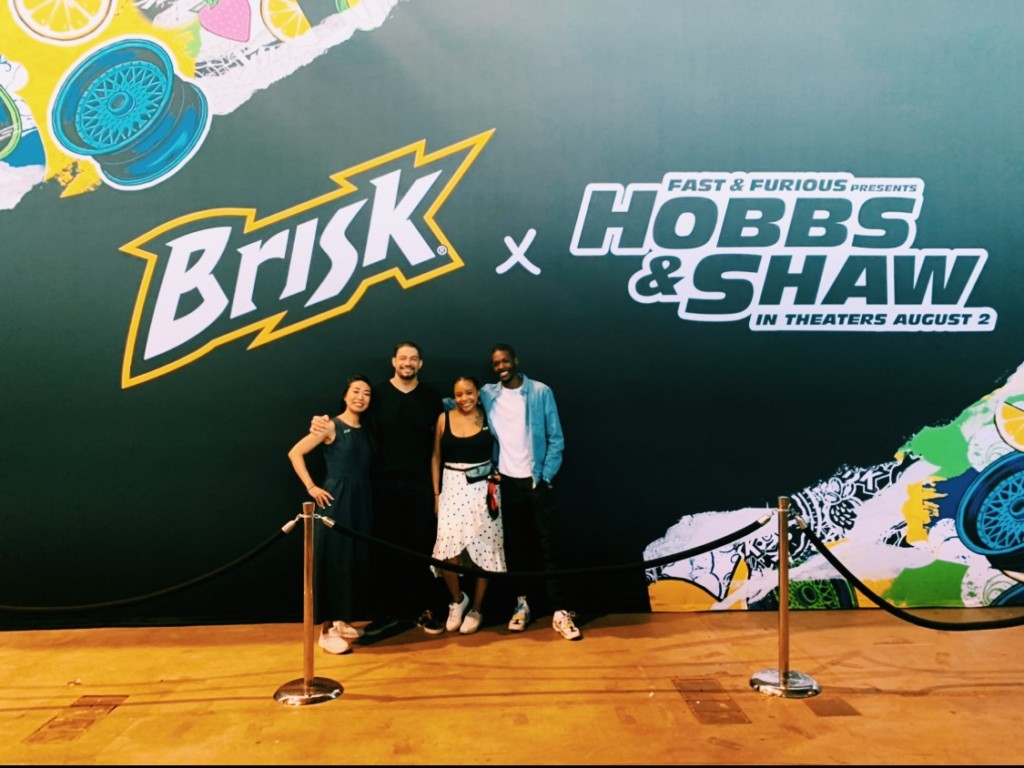 "I worked with some great people and learned a lot on how big brands strategize, brand, and innovate," Sharpe said. "I was a little fish in a big pond for Microsoft and Starbucks. I realized quickly [that] I wanted more of a seat at the table. I loved hearing about the strategy of a project—the how and the why. I wanted to be closer to where the final design decisions were being made."
In search of a more senior role and looking to relocate to New York, Sharpe proceeded to send 30 blind resumes to various companies, but continuously received less than encouraging responses. A sudden shift in tone, however, came from PepsiCo, and it was time for her life to move across the country. Embracing the opportunity, Sharpe leaned on the experience that she had gained over the previous five years.
"I started as a senior designer and dove right into big projects," Sharpe said. "I worked my butt off for two years, saying 'yes' more than I would say 'no.' I did extra work to seek potential opportunities for the brand and pitched back ideas to marketing. Also, I took on internal roles building our internship program. I fell in love with 360 design thinking and being able to see how far we could push the boundaries."
With PepsiCo since September of 2018, one of Sharpe's biggest highlights was her involvement with a BRISK Iced Tea brand activation at ComplexCon Chicago for Universal Studios' movie production "Hobbs & Shaw." Uniquely blended aesthetics, limited edition labels, and a digital ad come to life with professional wrestling superstar Roman Reigns greeting fans made the 2019 event extremely memorable for Sharpe and her team. That same year, partnering with street artist Aaron Kai, she designed a brand activation for a new BRISK Iced Tea flavor launch at Art Basel Miami Beach.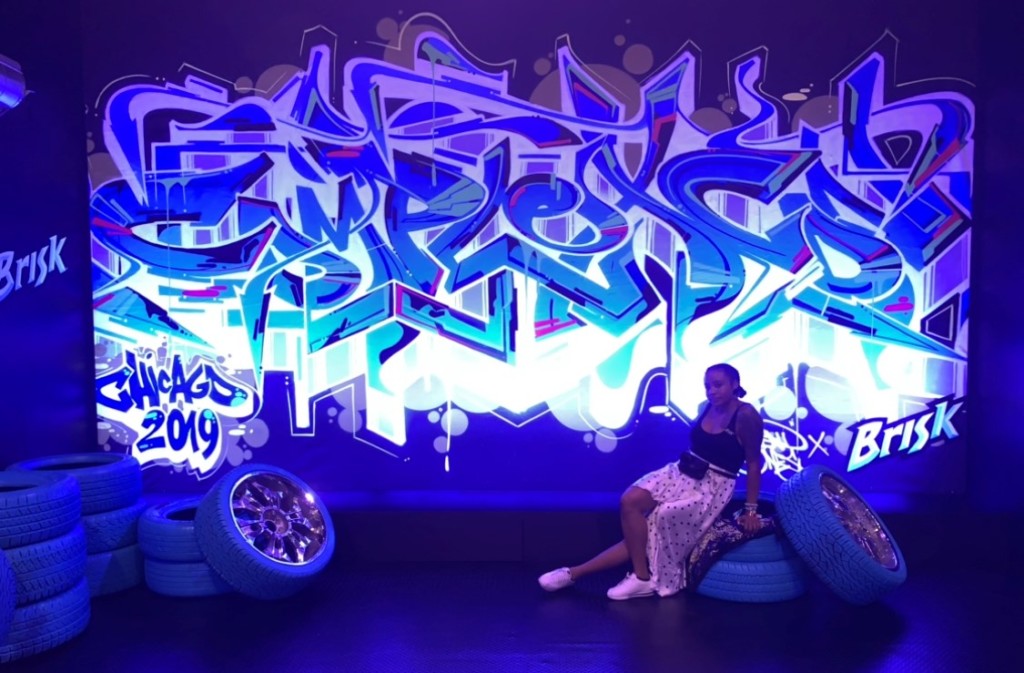 Collaborations for Sharpe included working with School of Photography graduate Mark Ezley on an intensive two-day lifestyle shoot and west coast streetwear artists to amplify their platforms while bringing the BRISK Iced Team brand to life. As she now looks to continue developing brand innovations and the new Yerba Mate product line, Sharpe's soccer student-athlete background makes her the perfect fit for another project. Announced this past August, PepsiCo signed a five-year partnership with the Union of European Football Associations Women's Champion League and it has been up to Sharpe to help design Pepsi Champions League merchandise. Constant Zoom calls, emails, and brainstorms with the marketing team, agencies, and other artists are all in a day's work for Sharpe who was promoted from senior designer to design associate manager this past October.

"The PepsiCo design team works like a small agency in a big company," Sharpe said. "I love it. You are able to take ownership of your projects while having the necessary support from some badass designers who sit right next to you."
No stranger to strong teamwork, Sharpe selflessly played the game of soccer in an Urban Knights uniform as a member of the second team to date in 2009. Still among the top seven in ART U history in career points and goals, she held the program's career assist record from 2012 until just last year. Sharpe also remains one of the most durable players, ranking third in both career matches started and minutes played. While setting records and captaining the team on the field, the graphic design major earned two PacWest Academic All-Conference Team honors and appeared in numerous Winter and Spring Shows as she balanced the many demands of a student-athlete.
"Whew, I miss playing," Sharpe said. "It shaped so much of me with having discipline and focus. From the 5 a.m. wake-up calls to running those crazy San Francisco hills, being a college athlete pushed me not only physically but mentally. I learned how to lead but also follow. I learned that sometimes you have to put in the extra work for the outcome you deserve. Managing time is also huge. Art school and being a student-athlete is hard to manage, as we all know. Having to put in 10 hours of work on a project the night prior then wake up to be able to play a 90-minute game is crazy! Don't get me wrong; I lacked time management skills a lot before I got it right. But I realized there is always time in the day for what's important."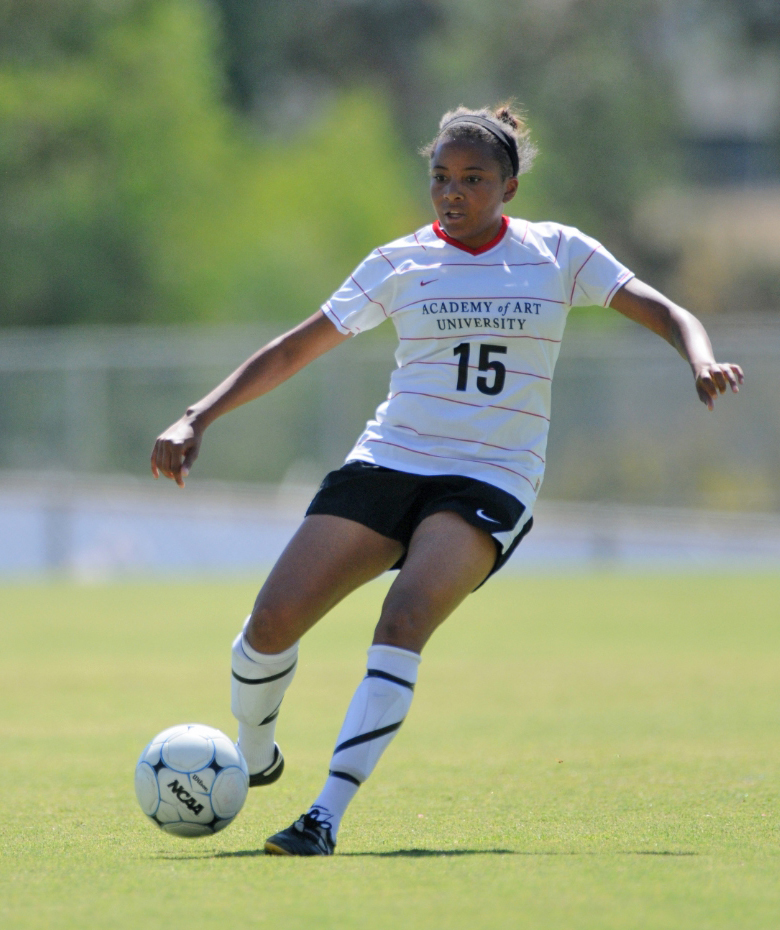 Offering lessons to those who now follow in her footsteps at Academy of Art University, Sharpe relates a story that brings to light the artist's rollercoaster of emotion.
"Allow yourself to be in the moment and go through the process," Sharpe said. "You'll win some and lose some (on and off the court or field). I still remember when I felt like I lost it all. I did an all-nighter for a project and went to class to present. It was horrible. My classmates and teachers knew it. Right after class, I went downstairs and threw my project away. I called my parents on the bus back to Sutter and told them I wanted to come home. It's so funny thinking about this now because I really thought my career as a designer was over, but life went on! I had great projects and bad projects. In your career, it's no different, but life goes on. Be patient with the process while still being ambitious within your goals and you'll be alright."
As Sharpe looks back on her last seven years in the industry and into the mystery of the future, one thing is certain—she will follow the four words that she lives by: "Laugh. Design. Pause. Repeat."
"Honestly, with COVID-19, I'm taking it one day at time," Sharpe said. "I'm so grateful for everything and my career thus far. I love working within street culture and amplifying upcoming artists through physical or virtual experiences. I want to do more of that or just make more connections with amazing people to create amazing things."