By Greta Chiocchetti
After four years serving as an E3 Boatswain Mate in the U.S. Navy, School of Motion Pictures & Television student Paris Lee learned that her goals and dreams were fully within her reach—as long as she had a plan to get there. 
Lee has aspired to work in the entertainment industry since she took an elective monologue class in the sixth grade. After graduating from a performing arts high school magnet program, she set her sights on a degree in acting.
Motivated by the GI Bill benefits that would help make higher education more affordable and accessible, Lee enlisted in the Navy in 2012 and was assigned one of the oldest jobs in the military involving driving an aircraft carrier as well as ship maintenance, which included powder coating, cleaning, and painting. Her service brought her to Hawaii, San Diego, Dubai, Italy, Thailand, and Bahrain.
"Hard work and dedication pay off," said Lee. "And it was definitely hard work. I really thought I'd be getting more sleep than I did, which was only like four to six hours a night."
After completing her service in the Navy, Lee briefly studied acting at the New York Film Academy in Los Angeles before deciding to change her course of study to directing. Drawn by the extensive facilities including sound stages, post-production labs, and industry-standard equipment there, Lee transferred to the Academy of Art University and plans to graduate by Summer 2021.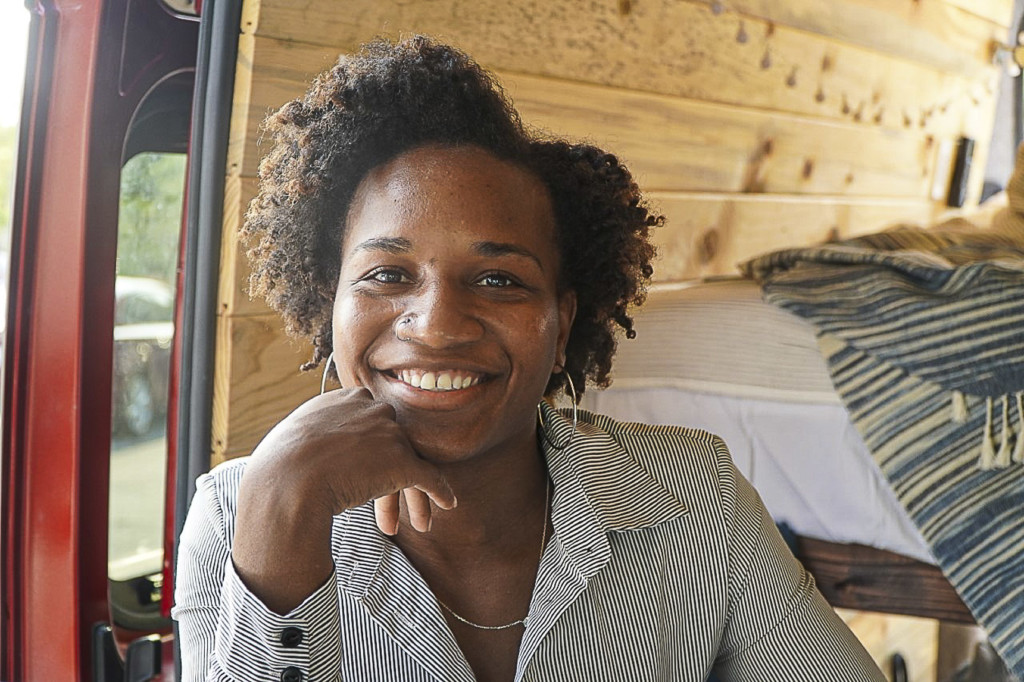 In addition to the facilities, Lee found another resource at the Academy—a sense of community with other veterans.
"The challenge at my old school was that there wasn't anywhere for vets to go on campus—it wasn't like Mrs. C has it set up at the Veterans Resource Center (VRC)," said Lee, referencing Student Services, VRC Coordinator Chrystal Beamon, affectionately referred to as "Mrs. C" by students. "She's made it a place you want to be. She makes sure you're welcome." 
For Beamon, creating a warm space for veteran students to recharge is essential. In addition to offering snacks and coffee, Mrs. C gets to know each of her over 900 veteran students personally, so she can offer support or refer them to the resources they need.
"These students are working hard like everybody else, and some of them are still actively serving at the same time they're taking their classes," said Beamon. "It's my job to make sure that they're at ease—they served our country, they deserve it."
When she's not studying, Lee and her husband Lovell Lee, Jr., also a Navy vet, run Novel Kulture, a YouTube channel with nearly 10,000 subscribers that documents their nomadic adventures as van lifers and shares how to save money through an unconventional lifestyle. The couple initially transitioned to living out of a renovated van to alleviate debt and have paid back $50,000 in consumer debt over 30 months.
Along with answering questions about the specifics of the lifestyle ("Essential Items For Traveling During Pandemic," "Vanlife Couple's 60 Sqft Home On Wheels Tour"), the Lees delve into the experience of traveling while Black, sharing about the dangers of life on the road—including footage of being targeted by police at traffic stops in multiple incidents.
Lee hopes to produce more documentaries in the future, along with romantic comedies, and notes that filming video blogs for Novel Kulture has served as great directing practice so far. She also recently submitted a short film, "Imbrue," to the Social Justice Film Festival, a branch of the American Black Film Festival.
Looking forward, Lee is excited for what's to come after graduation but acknowledges that her past in the service has helped to shape her for her dream job. "My time in the military definitely made me the leader that I am today."