It was not just a season, but a semester of giving as Academy of Art University softball supported its local community in a variety of unique ways this fall. In groups of four, the Urban Knights focused their efforts toward youth in sport and in the classroom, the elderly population, environmental cleanup, and the Ghirardelli Square Christmas Tree display. As a whole, the team contributed over 325 hours of service this past fall semester.
"I believe community service in college athletics is monumental," said Head Coach Nikki Gentile. "This year especially, so many teams were not able to practice, work together, or build comradery. But we were, so we decided more than ever it is important to give back and serve our San Francisco community. Coach Meagan Dixon and I decided to split the team into four groups of four and allow them to pick a focus they genuinely are passionate about or a subject that they could agree and work together towards."
Centering on children, the quartet of Haley Randall, Gabi Hirsch, Neenah Pangilinan, and Cailee Grayhorse-Pupecki combined for several activities. The group began by helping at a Walnut Creek-based horse ranch called DeVito Equestrian Center which provides physical and therapeutic relief to kids through horse riding. They then assisted with several local girls' softball camps and clinics in the Bay Area and closed out the fall by teaching lessons on mantras to a local third-grade class over Zoom.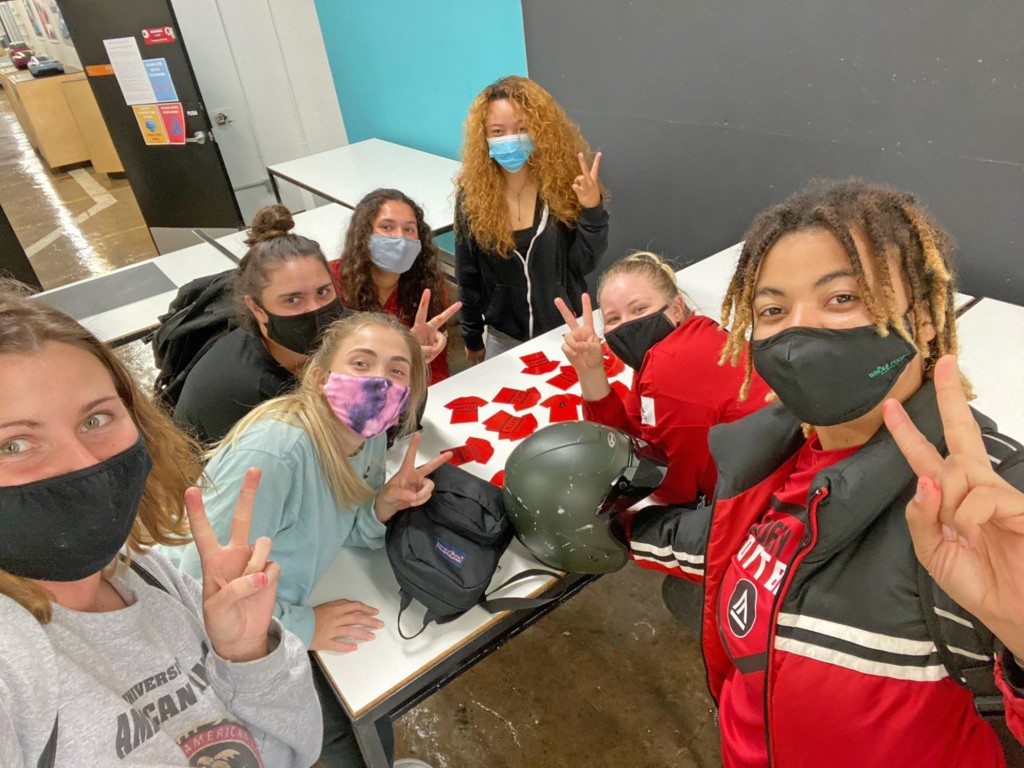 "Working with younger softball players and just kids, in general, was so amazing," Randall said. "It is so motivating to help others; it reminds us how lucky we are to get to be out here playing softball every day. Particularly during times like this, it is important to help others and be there for one another, especially others who may be too young to understand.
The group of Cassandra Mittman, Cecilia Lopez, Chelsea Sligh, and Maddie Sticka joined together with the elderly population as their focus. The team designed custom-made greeting cards with inspirational messages and delivered them to various assisted living facilities in San Francisco.
Bethany Mitchell, Haley Arnold-Jolley, Lauryn Henderson, and Cassidy Kachnik were driven to clean up the environment and did so at various locations. Spending hours filling bags of trash at local beaches including Ocean Beach, the team also beautified portions of Chrissy Field and the Palace of Fine Arts among others.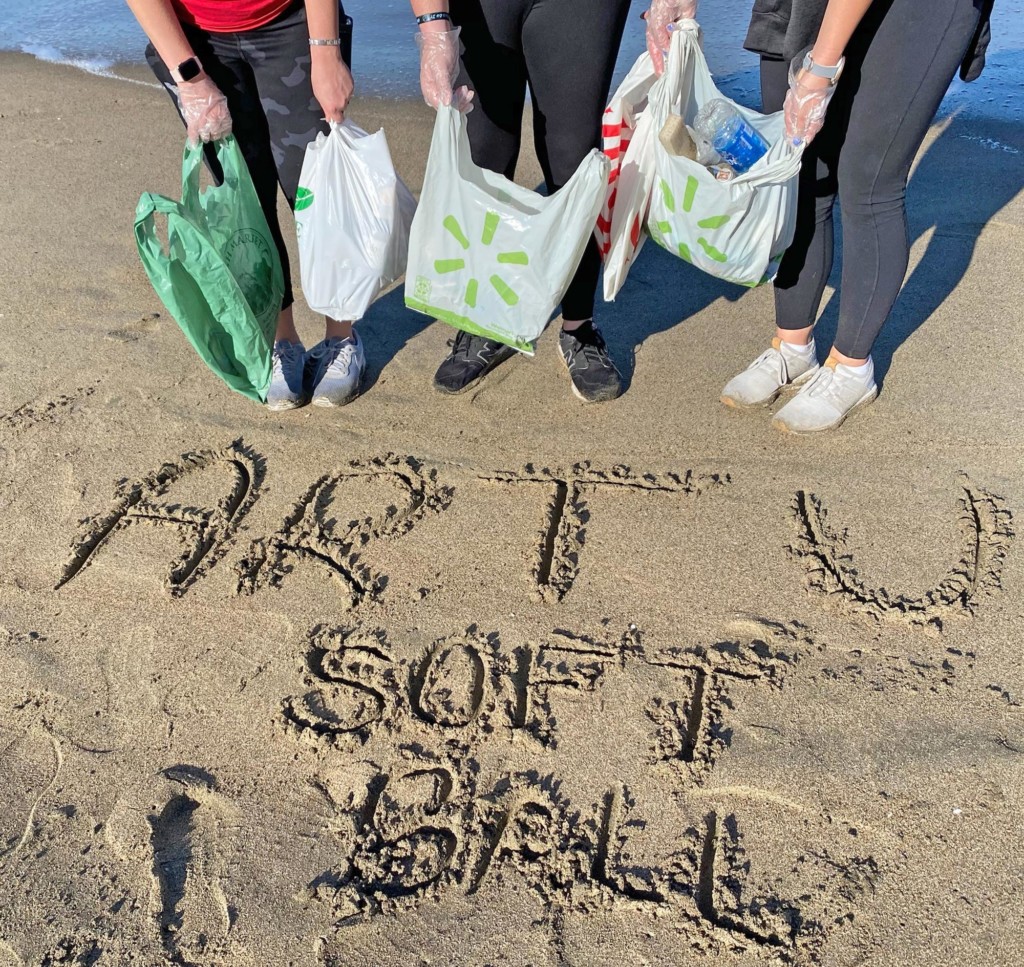 "It made me realize that we as people need to take better care of our surroundings not only for the benefit of the animals and the environment but for the beauty these places are supposed to hold," Henderson said. "When we go to the beach, we expect relaxation, beautiful waves, and views—not a seagull choking on another wrapper. I think it's a shame that we take advantage of our earth and treat it like a garbage bag. We have those for a reason; to clean up after ourselves. We should all do our part to take care of the planet in little ways like this because Earth didn't ask to be our garbage can." 
In addition to uplifting the community by painting encouraging messages on rocks and placing them throughout the city, the final group was part of a collaboration between Academy of Art University and Ghirardelli Square. Putting the squad's artistic skills to work, Alyssa Brundage and Hannah Rose Balke directed along with Alyssa Rasmussen and Katie Humphreys as two-dimensional and three-dimensional ornaments were crafted and one of 16 trees was designed by the entire softball team. Along with cleaning and decorating other department's trees that did not have students or staff available, the team made sure the ART U Softball creation glowed with festive whiffle balls, jersey ornaments, and a helmet and cleats to boot.
"We wanted our tree's design to reflect our pride in our university, as an athletic department of student-athletes in giving back to the community, and celebrating the holidays with everyone in a time where we're trying to come together," said Director of Athletics Brad Jones.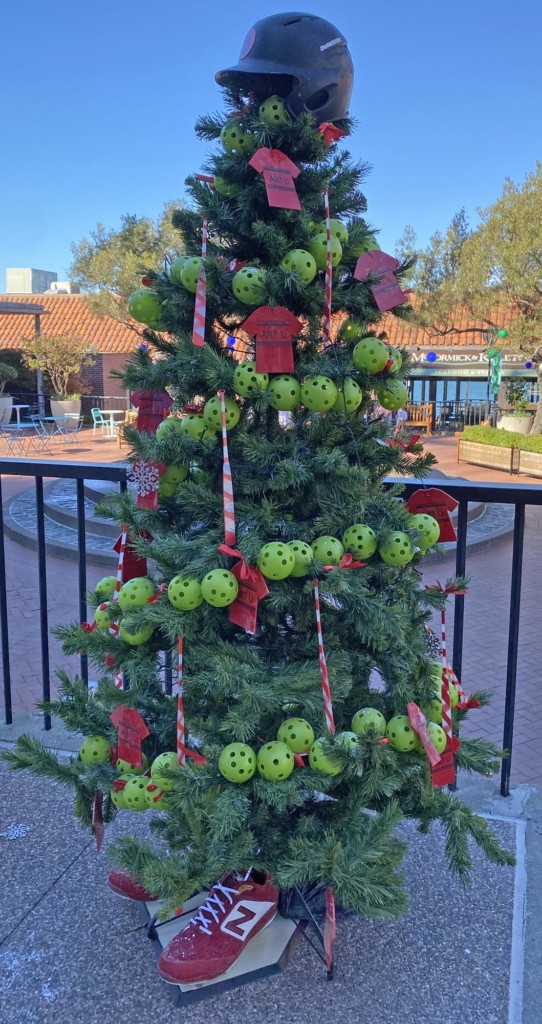 Working hand-in-hand, Academy of Art Softball's inspired contributions this fall have undoubtedly left a lasting impact not only on their surrounding community but the Urban Knights themselves.
"Even though COVID-19 has made in-person volunteering challenging, our team was creative, and I am very proud of their efforts this fall," Gentile said. "Our hope is that our group recognizes how important it is to give back; how blessed and fortunate we are. And community service will instill this in them for the rest of their lives."