By Greta Chiocchetti
In the opening scene of "The Glorias," emblematic feminist and writer Gloria Steinem walks into a biker bar somewhere in middle America, and all goes quiet for a few tense seconds as the occupants size her up. As she sips her coffee, she notices an intimidating woman's glare from across the room. Suddenly, the woman, along with her beefy companion, stands up from the table and march over to Steinem's booth. 
"You're Gloria Steinem." the woman says accusingly, pointing a finger dangerously close to Steinem's face. Steinem puts her coffee down. Yes, she is.
Suddenly, the woman's entire demeanor changes.
"It's her!" she giggles elatedly. "I want to tell you how much Ms. Magazine has meant to me over the years. See that purple Harley out there? The beautiful one? That's mine."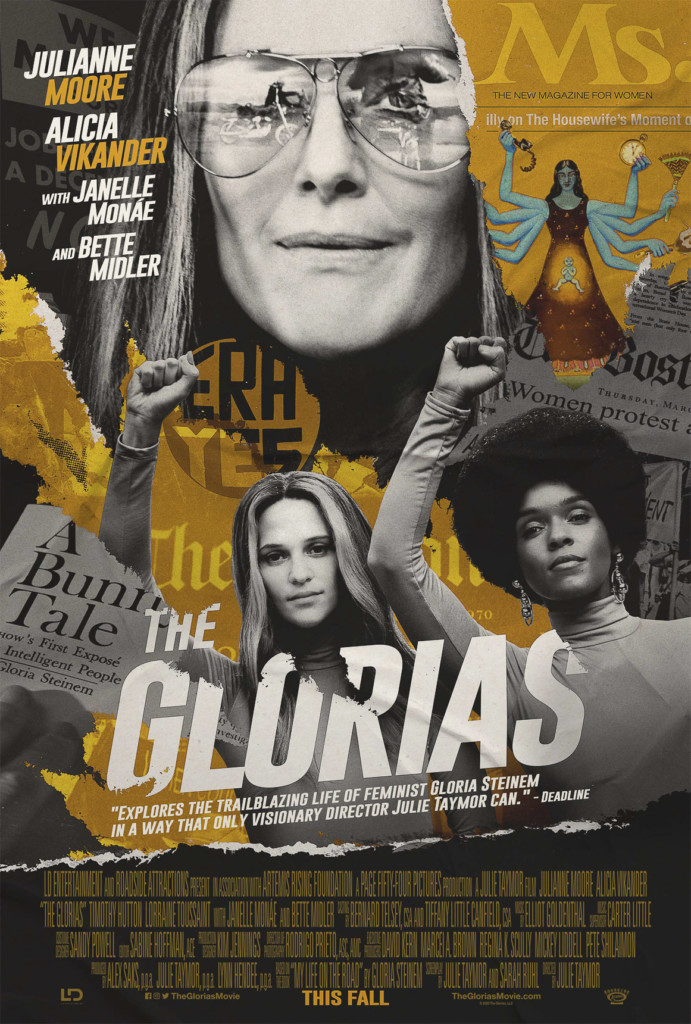 "The Glorias," a visual scrapbook of Gloria Steinem's life over eight decades, premieres at a moment in history that—for better or for worse—closely resembles that of the women's rights movement of the '60s and '70s. Based on Steinem's book "My Life on the Road," (which director Julie Taymor portrays very literally) the film tells the story of her meteoric rise to becoming the "world's most famous feminist" and how her work continues to shape society today. 
The biopic follows Steinem through her formative childhood years (played by Lulu Wilson and Ryan Kiera Armstrong) into adulthood (played by Julianne Moore and Alicia Vikander) as she confronts the discrimination against women that is so ingrained in the world around her—and seeks to disrupt it.
Though Taymor's portrayal of Steinem as multiple characters—who interact with each other side-by-side in many of the film's scenes—felt disjointed at times, the strategy hit home in Taymor's theme: the importance of sisterhood and community. In a scene where Steinem's male interviewer asks why she dresses so "sexy" if she wants to be taken seriously, an older, wiser Gloria helps her find her voice; the ensuing clap back is proof of her evolution into a more secure version of herself.
But the Glorias in question are not limited to Ms. Steinem—the film explores the impact of Ms. Magazine co-founders and activist contemporaries like Dorothy Pitman Hughes (Janelle Monáe), Dolores Huerta (Monica Sanchez), Florynce Kennedy (Lorraine Toussaint), and Wilma Mankiller (Kimberly Guerrero)—further cementing the importance of collaboration and also showing Steinem's progression toward intersectional feminism. In one of the film's most moving scenes, set during the first-ever women's rights convention at Seneca Falls, their efforts come together in agreeing on an official platform to make all women's lives better in the U.S, not just straight white women.
Arguably, the most influential Gloria is Steinem's mother, Ruth (Enid Graham), who embodies the harms of misogyny as she becomes progressively more ill throughout Gloria's life. After Gloria's beloved father (Timothy Hutton) takes off to travel, the film follows Ruth's declining mental and physical health as a single mother of two. It's easy to understand then why Gloria, forced to take on a mothering role of her own mother, chooses not to have any children. 
Though the dreamy reflection of "The Glorias" abruptly ends after the 2016 election, the film is still a hopeful reminder that change was, and is, possible if we work together.
"The Glorias" is now available to stream on Amazon Prime Video.