By Greta Chiocchetti
"You have no idea how much I envy you right now," Director of the School of Visual Development (VIS) and 2-D Animation Nicolás Villarreal told an audience of students. "You're about to embark on one of the most amazing journeys of your life. I would love to be back in your place, knowing everything that I had ahead."
Though his statement seemed unexpected—especially considering all of the challenges of this present moment in history—Villarreal further affirmed his point. As an Academy of Art University alumnus himself (custom Schools of Animation & Visual Effects and Illustration M.F.A. '02), he has experienced the state-of-the-art education the school has to offer—and later returned to contribute to it as the founding director of VIS.
But Villarreal's shared experience as an Academy student isn't the only thing he had in common with his Zoom audience; he was also an art student during a crippling national catastrophe.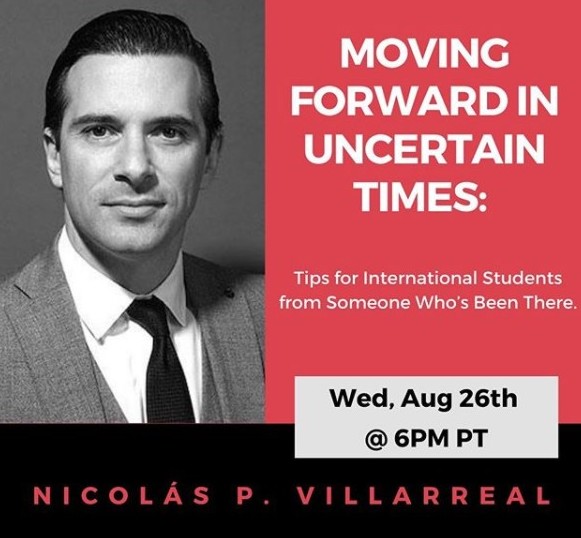 "When I graduated, in 2002, it was right after the Twin Towers had collapsed," said Villarreal. "It was really tough for us who had just graduated to start looking for a job—Disney had just fired 700 animators—so there were 700 animators on the loose competing for the same jobs."
Though he recalled the difficulty of being inundated with rejection letters from all the major studios he applied to, he chose to keep moving forward. Four years after graduation, he finally began an animation job at Disney.
Students from across the globe tuned into "Moving Forward in Uncertain Times: Tips for International Students from Someone Who's Been There," a Q&A webinar with Villarreal on Wednesday, August 26. Creative Content Marketing Manager John Beeson served as emcee and shared questions that students submitted.
"We got this question ahead of time from an English for Art Purposes (EAP) student," said Beeson. "'What were some of the specific struggles of studying art in your second language? And how did you overcome those?'"
Villarreal explained that though he had studied English in school as a kid and had a strong foundation, admittedly his English was not perfect when he arrived in San Francisco. He encountered words in class that he had never heard before, but he pushed through with the help of an English translation book his parents bought him.
"I remember thinking, 'This is extremely hard, this feels impossible,'" said Villarreal. "But just by the fact that I was doing it, it made me feel like I was getting better. So, I just kept that up and I was trying to talk more. Even though I knew I was making a mistake, I would still speak and I would tell my friends, 'If I say something off, just tell me.' So, they will tell me and I will keep fixing it."
Throughout the webinar, students submitted various questions in Zoom's live chat feature, though most of them seemed to be along a common thread: getting a job.
"One question was, 'How do you balance schoolwork [while] still looking forward to the future and making some connections and networking with other people and companies?'" read EAP Associate Director Sherise Lee.
"Every time my students ask me this question, I tell them that the only thing important right now is what they have in front of them," responded Villarreal. "Their work will get them the job. If you do your best every time—it doesn't matter the result—your best becomes your standard. … If you focus on what you're doing right here, [at] that moment, it really helps."
Another student asked what Villarreal's recommendations were for students who were preparing to graduate and begin their job search during these uncertain times.
"They should start getting their portfolio ready. They should meet with us. They can meet with any directors that they would like—they are just one phone call away," said Villarreal. "And then when they meet with us, we can help them to solidify the portfolio, help them to be the best possible." 
To watch the EAP Webinar in its entirety, please click here. For news about the next EAP Webinar and other Academy events, follow the Academic Resource Center (ARC) on Instagram at @academyart_arc.