By Greta Chiocchetti
On August 6, Campus Life at Academy of Art University announced the winners of its latest event, the 6 Feet Apart Poster Contest: Megumi Hiramoto in first place, Liuyue Gu in second, and Lanaii Canada in third.
Created out of the need to promote social distancing measures for students who will be returning to housing buildings on campus this fall, the contest was open to all students across the Academy's 22 departments. Winners received Amazon gift cards in the amount of $150, $100, or $75 and will see their creations displayed throughout the residence halls.
"It really came out of a need to keep students safe and remind them that these are the precautions that we all need to take," said Campus Life Manager Orlando de la Garza. "It's something that we all need to continue to be very serious about."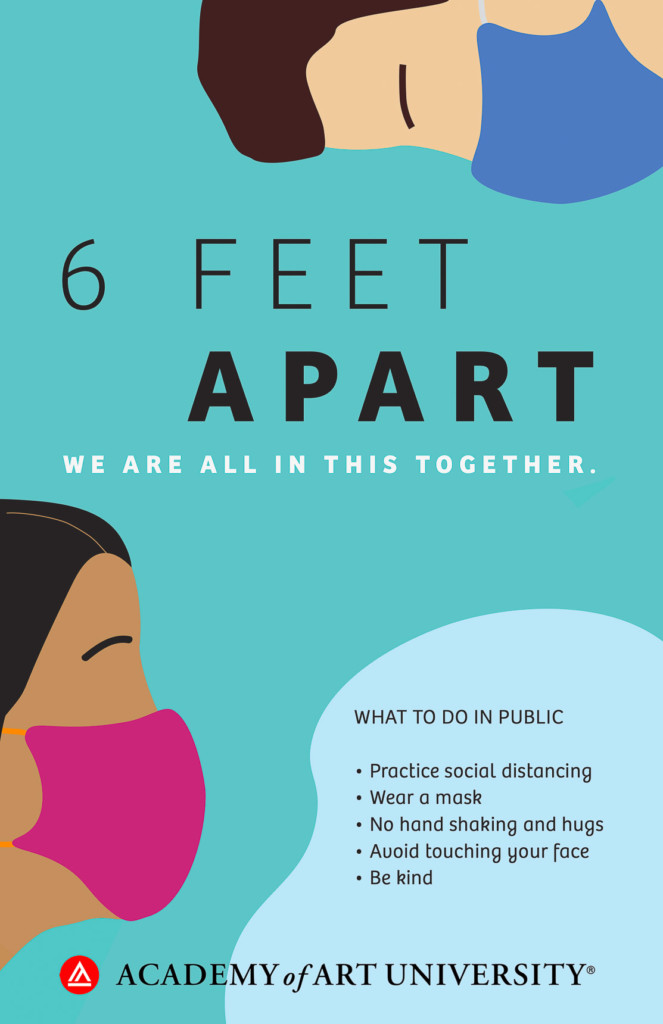 Students were asked to submit a high-quality 11×17 image that included the phrase "6 feet apart" somewhere within the design, but other than that, guidelines were left wide open to encourage students to exercise their imaginations.
Hiramoto, a graphic design master's student who has been quarantining in San Francisco while the rest of her family is in her home country of Japan, was called to focus on the "two pandemics" our country is facing—COVID-19 and racial injustice. Her design, which she intentionally kept very clean since it's about health, features two abstract characters and the phrase, "We are all in this together."
"I wanted to incorporate inclusivity, too. I definitely didn't just want it to be only lighter skin colors represented in the design," said Hiramoto. "It's about wearing a mask, but I tried to incorporate other elements into it, as well."
As a graphic designer, Hiramoto said she has been trained to take big ideas or topics and translate them into design, making the contest a great opportunity to flex her design muscles before she returns to the Academy for her final semester.
"I have a lot more time right now because of the pandemic, so I'm trying my best to stay busy and create," said Hiramoto. "And the way that helpful graphics have been distributed on social media is really inspiring, so I want to contribute to that. People tend to gravitate to something easy to understand, and I think that powerful graphics can tell a lot more than long written articles or something like that."
For Gu, whose poster came in second place, the 6 Feet Apart contest was a confidence-builder.
"I have always had no confidence in myself. I think I still need to practice my ability. But this competition gave me a lot of encouragement because I didn't expect to win a prize," said Gu. "I will be brave to participate in design competitions in the future."
Gu, also a graphic design student going into her final semester, relied on a colorful, geometrical design to grab a passerby's attention.
"I have been experimenting with color combinations, hoping to have eye-catching colors to attract everyone's attention and remind them to keep the social distance," said Gu. "I think the biggest feeling is that I hope my works can effectively remind everyone to keep the social distance. As a designer, I feel it's quite fulfilling." 
Canada, who won third place for her poster, was certainly not short on ideas during her ideation process.
"I went through many different ideas before I decided on the one that I ended up submitting," said Canada, an animation student who was living on-campus at the Academy during the summer. "I can tend to over-conceptualize, so I called my sister and asked what she thought. Actually, the piece I ended up with was an idea that came out of our talk."
Canada's poster, designed with a vintage feel, features two medieval subjects delivering an important message to the kingdom: "Hear ye! Hear ye! The Councils of the CDC & SF deem that ALL subjects stand 6 feet apart and wear a mask to prevent the spread of COVID-19."
Canada took painstaking steps to make the poster just right: "I didn't download a font for the poster. I drew every letter, which took at least four to six hours. I spent a lot of time on it because I couldn't find a font that was just right, and I figured it would be easiest to just create it myself."
Be on the lookout for the winners' posters adorning the walls of the Academy this fall.