By Greta Chiocchetti
On a characteristically gray San Francisco day, a man is standing at the edge of a city rooftop—and he seems to have lost all hope. He looks down at the street below as he lets his cell phone fall to the ground, preparing to meet the same fate himself. But before he takes the final plunge, he is met with an unexpected reason to carry on.
The scene is from "Redemption," an animated short film written and directed by Academy of Art University alumna Seora Hong (2017). The drama, which took first place in the 3-D animated short category at the School of Animation & Visual Effects (ANM) Spring Awards, is beginning to make its rounds in the festival circuit; so far it has been selected for four and has taken home two prizes. 
"It has the potential to go really far," said ANM Director Catherine Tate. "I mean, we're talking maybe the Oscars. It was such an impressive, collaborative effort."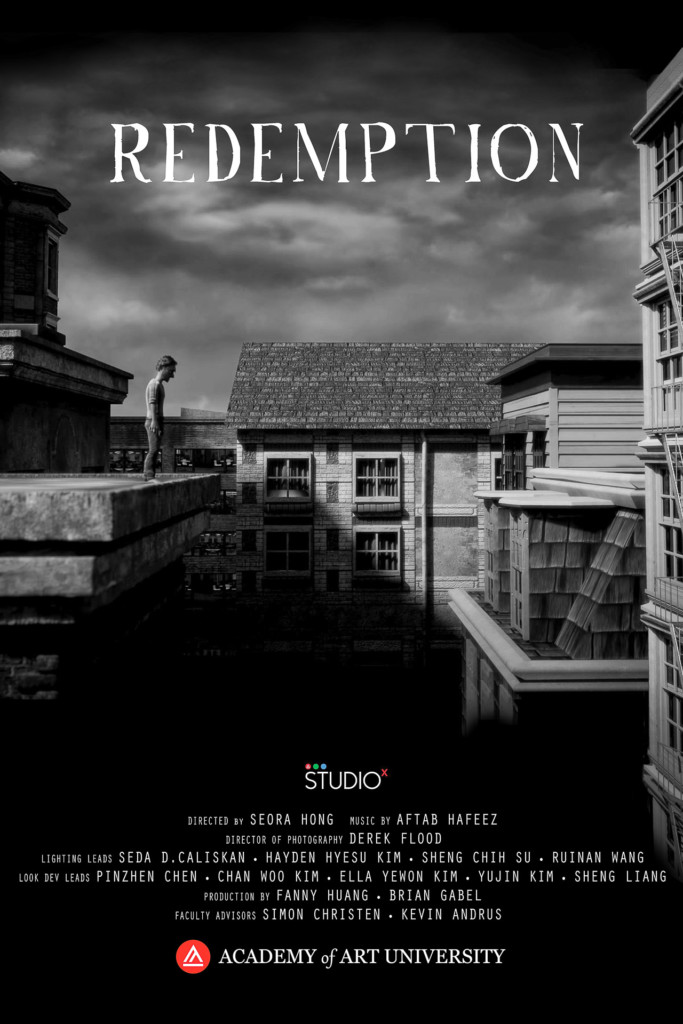 The film, which started off as Hong's master's thesis five years ago, was brought to Studio X by ANM Associate Director Derek Flood, who identified its powerful message and saw it as a great opportunity for students to flex their animation skills.
"It gives me shivers every time I watch it," said Flood, who supervises the CG animation arm of the Studio X program at the Academy and worked closely with students throughout the making of "Redemption." "We have kind of a thing in Studio X where we always try to sort of develop something and push what we've done a little bit further than we had before—so that was definitely the case with this piece."
Over the course of several semesters, Studio X students meticulously added details to the animation, like individual pebbles on the street below or the woven texture of the main character's shirt. Students also attempted a method of 3-D matte painting to create the film's impressively realistic shots.
"We're not just trying to make beautiful images, we're trying to make powerful images that make the audience get kind of lost in the story," said Flood.
"Redemption" not only touches on some dark themes—it is almost exclusively rendered in black and white, adding to the melancholy storyline. This stylistic choice was actually an added artistic challenge, making the work that much more impressive as a portfolio piece.
"That's actually difficult for computers, to do things only in black and white and not being reliant on the bright saturated colors," said Flood. "Really getting the tonality of the concrete and the bricks, and the human skin and everything—that was really a great way to show off our students' skills."
Hong, who is originally from the small South Korean town of Dangjin, said "Redemption" was inspired by a fire escape outside of her San Francisco apartment.
"I was sometimes looking at it and thought of weird questions like, 'What if the balcony breaks when escaping?' or 'What if it is too hot to touch it while there is fire?' because they looked too fragile to me," said Hong. "I stuck to the object and I started to make the story, thinking about what can happen related to the object. It was a starting point of this story and I kept developing the ideas, listening to advice from my roommates and instructors."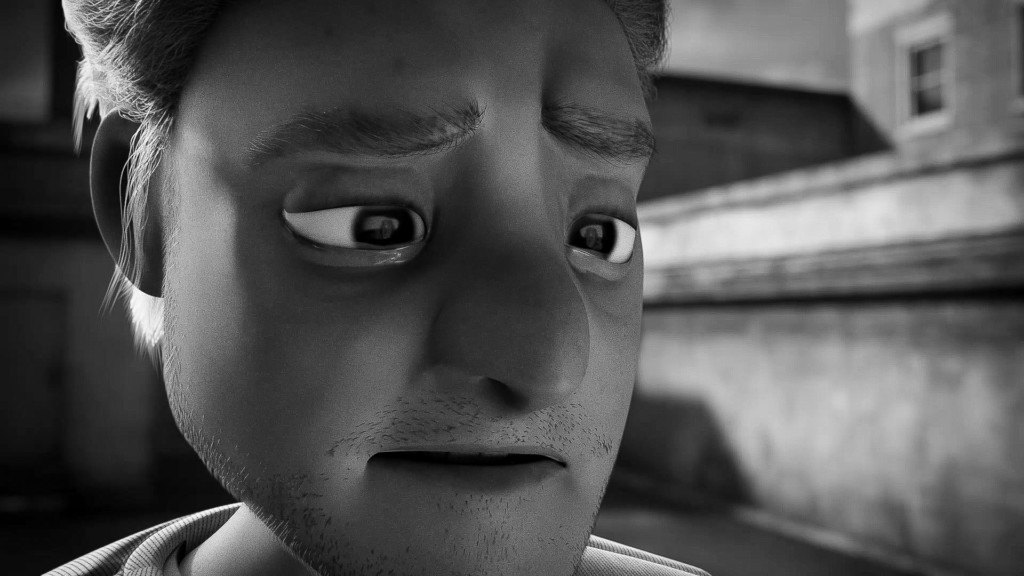 The film's message, while at times dark, is an important one—and that's why so many people have been able to connect with it.
"This piece spoke to people—if it's not an experience that they went through personally, it's an experience of someone close to them. It's identifiable whether the person and anyone who watches this has contemplated the idea of suicide or not," said Brian Gabel, the film's lead producer and ANM student. "The fact is that we all face depression, we all face really hard times, we all face big decisions, and no one should have to go that route. That was a part of my life as well. When I was much younger, I contemplated suicide too … But at the same time, I'm glad I faced that hardship because it brought me to where I am today."
Despite its dark beginning, Hong hopes audiences will identify with its central theme of getting a second chance.
"I hope audiences feel warm-hearted while they are watching the film," said Hong. "The film starts with depression but ends hopeful, so if someone is struggling, I hope they can overcome the difficulties for that moment."