By Greta Chiocchetti
It's safe to say that Katie Crumpton, a B.F.A. graduate of Academy of Art University's School of Illustration, is young at heart. Her whimsical, vibrant illustrations, largely done in a children's book style, depict witches, adorable animals, and magical creatures like mermaids and unicorns. But despite their lighthearted feel, Crumpton represents a range of topics in her work and hopes to send important messages to young readers in an approachable—and fun—way.
"I think kids are definitely more receptive to the messages in children's books than we give them credit for," Crumpton said, citing the serious themes in well-known fairy tales like Grimm's "Little Red Riding Hood," or "The Boy Who Cried Wolf." "And now is a really good time to talk about some of these more complex issues, like self-acceptance and diversity."
As a child, Crumpton, who is biracial, didn't see many characters that looked like her in the books she read. She's hoping to change that. Art U News caught up with the Bay Area-based freelancer to talk about her illustration journey and the power of art at this particularly decisive moment in history.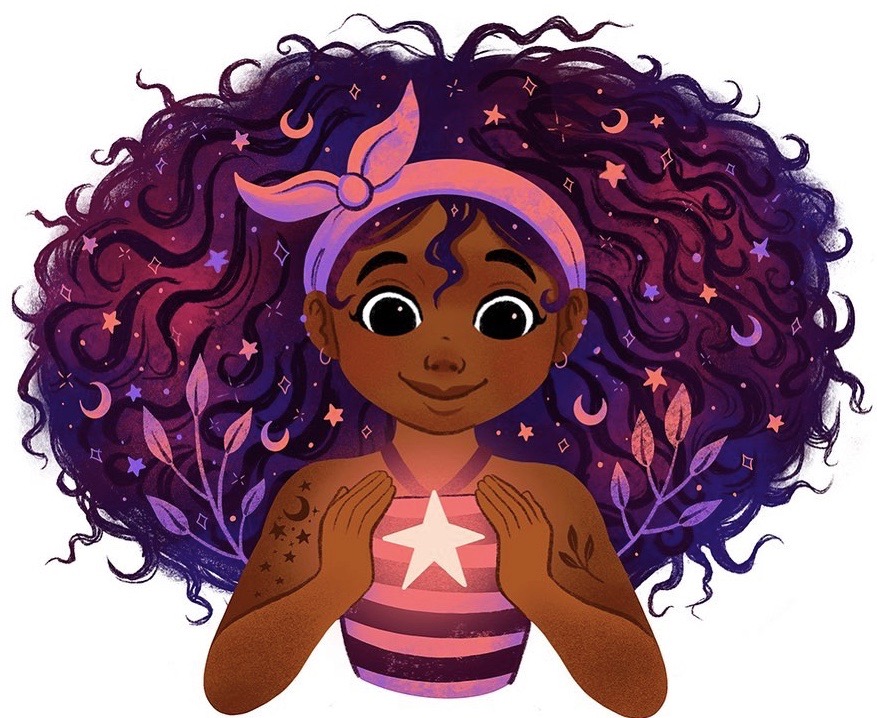 Have you always known that you wanted to be an artist?
I decided when I was maybe five or six that art was what I wanted to pursue. I've been drawing ever since I can remember, but it wasn't until high school that I started to get more specific with what I wanted to do. Originally, I had wanted to go into animation, but I realized that there seemed to be more job opportunities as an illustrator. So that's how I decided what path I was going to take.
I was just very interested in drawing from the beginning, even though there was no one around me who was an artist, necessarily. Though I might have gotten some of my creativity from my mom since she's pretty crafty.
What made you want to relocate to the Bay Area?
Coming from a smaller town in South Carolina, there's really not a whole lot to do back home. So coming out to the city and seeing all the big buildings, and there's so much to do… It just seemed like a very exciting lifestyle to have. It also seemed like a very artsy place. Whereas back home, I met people who liked to draw in school, but the art community back in Columbia wasn't as big.
How did you develop your whimsical style?
I've always been a huge fan of magic and I love fun colors, shiny things, pretty things, celestial beings. I was always really into the "Harry Potter" series and "Sabrina the Teenage Witch" and fantasy video games. I was always drawn to children's books with a lot of bright colors.
I've often been told that my art style is very cutesy, and a lot of people in my life suggested going into children's books. The more I looked into it, the more interested I seemed to be [in] it. Because I like the idea of telling fun, simple stories, with good morals and really cute characters. I loved children's books growing up—the whole experience of going to the library during school and reading them. That was a highlight of my childhood.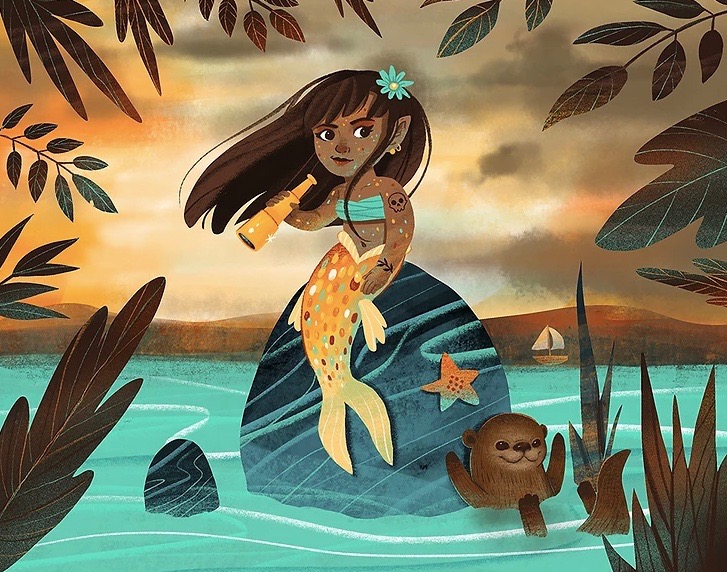 What kinds of stories do you want to tell with your work?
You can illustrate all kinds of really serious topics—"The Boy Who Cried Wolf," for example—without overdoing it and making it too creepy. [Children's books] are a great way to get messages across. I didn't really get to see many books with characters that looked like me when I was a kid, so that's one story that I think is really important to tell.
You recently shared some illustrations celebrating the beauty of Black hair—what was your inspiration for that collection?
I think now is a really good time to talk about representation. Growing up, there weren't really representations of Black hair in books. I saw other girls, in my class and in the books we read, with really long, straight hair and I wanted to be like them. I would always have my hair in pigtails or bear buns because I didn't really know what else to do with it. So eventually I started getting [chemical relaxing treatments] all the time.
Looking back, I wonder if maybe there had been more children's books or even commercials that showed curly hair like mine, I would have been able to embrace my natural hair a bit earlier than I did.
How did you make peace with your natural hair texture?
Sometime after graduating high school, I was washing my hair one day and it was really, really, really curly as it was drying. Suddenly it just kind of clicked that I liked it. And so, I started experimenting with it and I started to look into other things I could do like texturizers and stuff. It was like I just woke up one day and I was like, "This looks more fitting—and I'm tired of getting burned by the straightener."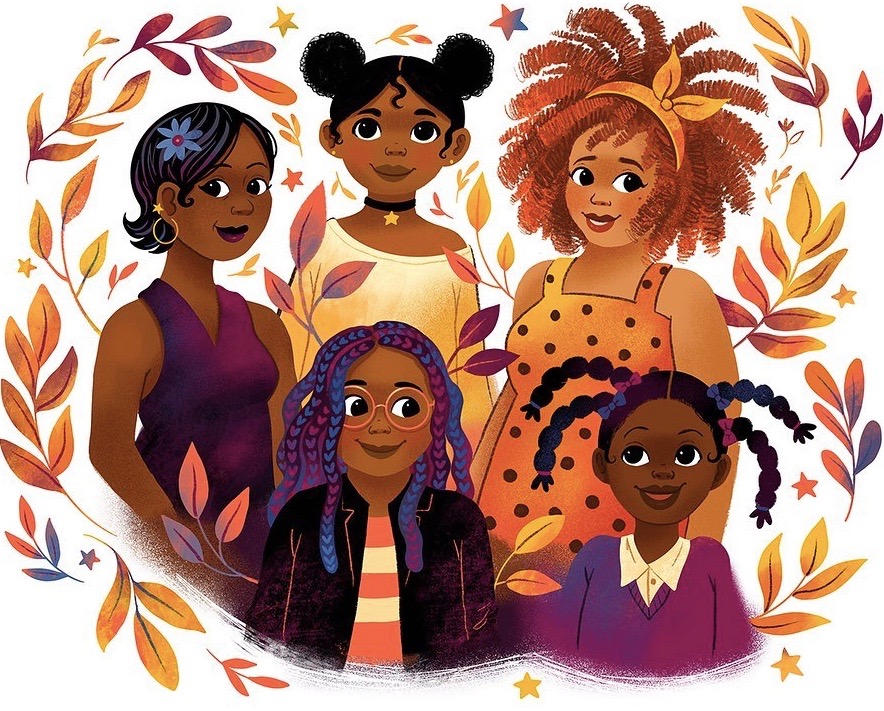 Who is your art for?
I like the idea of the possibility that my art could be for everyone. When I do art shows, like Feathered Outlaw's Magickal Market, it is very family-friendly, but I like doing both cute things and having like a little bit of a creepy edge to my work. So apart from kids, I think about people who are just really into whimsical and fantasy and magical things. I'm usually thinking about anyone with a childlike heart.
We're living through what feels like a very decisive moment in our nation's history. Do you consider yourself a part of the Black Lives Matter movement?
Definitely. I've been sharing related artwork or helpful resources and stuff to my Instagram (@Katie_Crumpton). I'll send a lot of things to my highlight reel for reference later. So if people go to my Instagram, they'll be able to see all kinds of helpful resources.
I think a byproduct of all this social activity right now seems to be an increase of African-American art, which I'm really loving. The other day, I saw a tutorial on how to draw African-American hairstyles. So, I think that this is a really great opportunity to share artwork related to the movement. Some artists in the community have made helpful comics and guides on what you can do during this time to help and donate and stuff like that. Art is such a powerful tool in movements like this.
How have you been practicing self-care during this time?
My sister and I are in different states, but we meet up on Zoom to do yoga. There's this YouTube[r] called Adriene who has great videos. So, I started watching one of her videos every morning and my sister and I will meet up a couple times a week to do one of her Yoga 30 Day challenges together. That's been really great.
I've also been self-reflecting, and I realized that sometimes I tend to base my self-worth on productivity. And so because everyone's working from home and it's just a very uncertain time, I've been getting better at being a little bit easier on myself. So I haven't been forcing myself to stay productive throughout the whole day. And honestly, that's helped quite a bit. And of course, I've been playing "Animal Crossing."
To connect with Katie Crumpton and view her work, please visit www.katiecrumptonart.com.