By Nina Tabios
On April 17, the city of San Francisco ordered a mandatory face mask requirement for anyone shopping, getting healthcare, or taking transit to curb the spread of the COVID-19 pandemic.
At the time, masks were challenging to obtain and even more so for those with limited access, including those in poverty and the elderly who are more susceptible to the virus. In an effort to provide for those in need, faculty and students from Academy of Art University's School of Fashion literally took matters into their own hands.
Partnering with nonprofit organization TogetherSF and UBCO Bikes, an electric bike manufacturer, the School of Fashion developed a system that would procure masks for these underserved communities. Kits containing new fabric, thread, and elastic were assembled by Simon Ungless, School of Fashion executive director, and Robert Curry, associate director of 3-D design, construction, draping, and flat pattern, at 625 Polk to be delivered to students sheltering in place.
Students from the School of Fashion stepped up to the challenge, including M.F.A. fashion design student Milijana Delić, M.F.A. costume design student Kathleen Qui, and textile design student Sheydon Daniels. Once received, the students followed the sewing instructions written and photographed by technical design instructor Yuko Fujishima. After the masks were ready, they would be picked up and delivered to those unable to shelter-in-place or social distance, such as homeless shelters, group homes, and assisted living communities.
"Being able to have the faculty and students partner with TogetherSF and UBCO Bikes felt like a perfect way to build a community for our students and to feel connected while knowing we are helping the homeless population of San Francisco," Ungless stated in a press release.
Volunteers from TogetherSF and UBCO Bikes made their first mask drop-off on May 11. The initiative lasted all month, ending on May 29, with over 375 masks contributed to organizations like Salvation Army, SF Food Pantry, Swords to Plowshares, St. Vincent de Paul's Multi-Service Center (MSC) South, and Veterans Affairs Hospitals.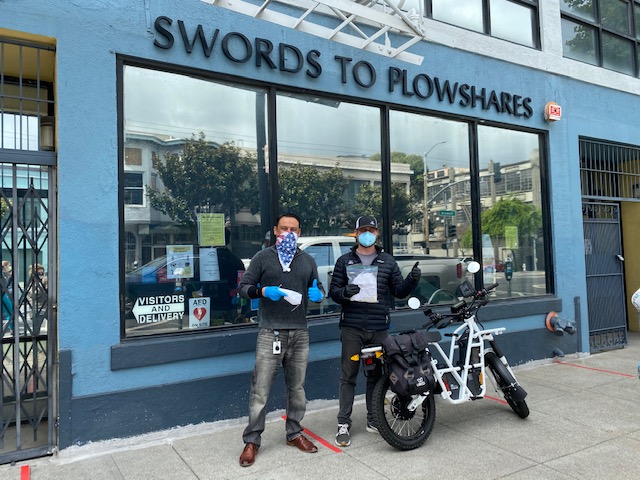 Along with the Max Niehaus' face cover project, which recruited School of Industrial Design students to 3-D print face covers for front line workers, the School of Fashion's face mask effort falls in line with the Academy's collective belief in art and design to serve the community and instill social good.
For Delić, it was a way to use her skills to give back.
"I think it is our responsibility as humans, especially in a time of need, to be generous with our knowledge as well as our skills," Delić said. "We all have something to give, and sewing masks is a way I can share that."
TogetherSF hopes to continue making Yuko Fujishima's masks with the help of volunteers. For students interested in volunteering, contact Souradeep Sen at souradeep@togethersf.org
Looking to make your own face masks? Download the School of Fashion's face mask instructions below.