By Nina Tabios

When Art U News first sat down with members of Beyond the Front Row (BtFR), there was much to be excited about. The success of last fall's Runway Repurposed fashion show set the tone for an ambitious spring: campus events, spotlight content, and volunteer and entrepreneurship opportunities. This student-run extension of the School of Fashion's public relations office had big plans for Spring 2020.

However, when the coronavirus pandemic swelled and Academy of Art University directed on-site students, faculty, and staff online, everything the group envisioned seemed canceled. But with some quick, careful recalibrating, BtFR President Tanya Kaushik and her team didn't lose hope.

On Saturday, April 4, BtFR debuted a video series called, "Beyond the Front Row Presents." During "Episode 1 – Industry Disruptions," led by BtFR PR Officer Tom Greene, over 40 participants tuned in over Zoom to discuss a pressing topic: How can fashion survive the pandemic?

The discussion covered the unique issues arising in various corners of the fashion industry: How will designers showcase their collections? How does this affect the supply chain for manufacturers? How will the way we consume fashion shift?

"No one is alone in this situation. We're all affected by this virus," Greene said during the episode's introduction. "This is a global industry, all connected through our different disciplines. Whether you are [in] design, work with textiles, merchandising, marketing or journalism, we all have roles in keeping the ship moving."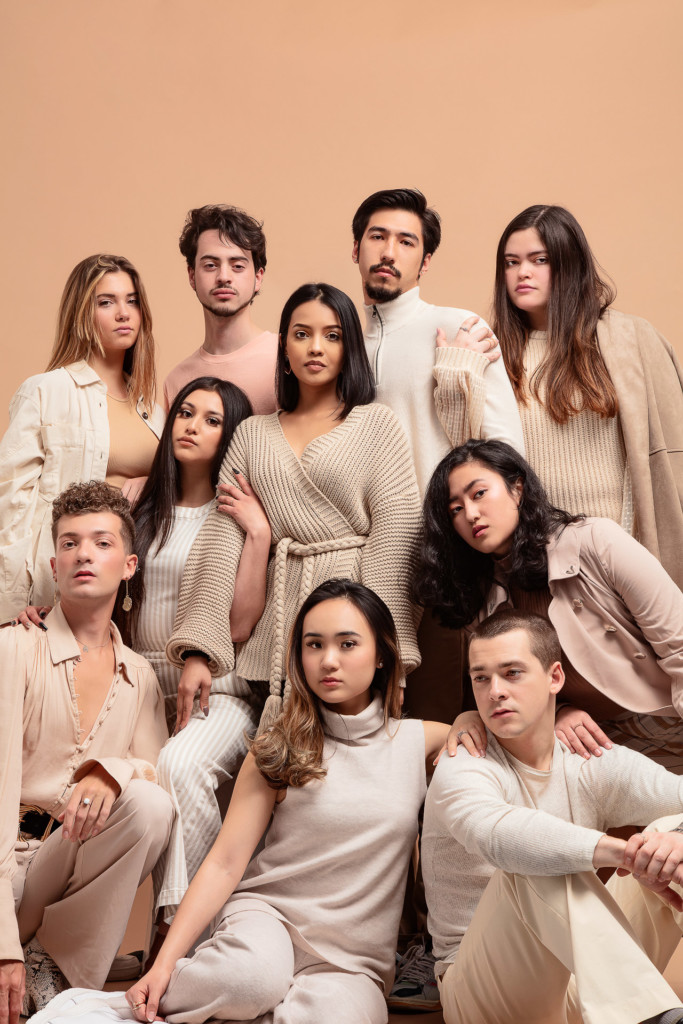 That idea of "keeping the ship moving" is something this current BtFR board has embodied from the start. Kaushik, who studies textiles, leads a tenacious team of 11 board members representing all corners of the School of Fashion, from design to marketing, journalism to product development (BtFR Creative Officer Mateo Acevedo, on the other hand, is an illustration major). Despite their different backgrounds, they all share a steadfast vision ("A big picture viewpoint," said Greene, a fashion marketing student) to promote and uplift their peers.

"Everyone's from a different major so we wanted everyone to have that industry experience where you get to work with other professional people," Kaushik said during a group interview back in February. "Because in the outside world, that's how that's going to be."

"We want to convey an image of the fashion industry that is really authentic. Because the industry is made up of a lot of different people," added BtFR Social Media Officer Romain Dennis. An exchange student from Paris' Institut Français de la Mode, Dennis said BtFR has been instrumental in gaining real work experience. "You need people that do so many things that go beyond just fashion design," he said. "And we want to show that this is an industry where everyone can fit in regardless of your skills."

For now, BtFR is operating from the safety of their homes. As they juggle their individual schoolwork, the board members maintain the same energy. Transitioning on-site events to online has been a different challenge but it's allowed BtFR to exercise their creativity. Daily Instagram posts highlight student work, announce new internship opportunities or share funny memes. On Zoom, they're planning to host virtual potlucks and parties, complete with a DJ. Also scheduled are chat sessions to provide mutual support and help each other overcome challenges.

"Beyond the Front Row felt the responsibility to create compelling virtual events for the student body that speaks to the new normal and the students responded," said School of Fashion Public Relations and Special Projects Director Gabriel Gima. "Peer to peer connection combined with instructor mentorship creates what our students want. The response fits the drive our students have to see the value of connecting outside of just course work during these times."

Kaushik also said they are actively gathering information regarding relief funds. One of their biggest initiatives this semester was to host pop-up shops for student entrepreneurs; now, BtFR is searching for ways to alleviate some of the pressure they may be feeling with shelter in place, such as the Council of Fashion Designers of America (CFDA) Fashion Fund for COVID-19 Relief.

In the meantime, BtFR continues to host "Beyond the Front Row Presents" with a new topic to discuss every week. From senior collection to the graduation show, finding jobs, and how to stay inspired as they see how the future of fashion unfolds. Most of all, Kaushik hopes it brings a sense of community to everyone tuning in. 

"Keep going," Kaushik said when asked what's her advice to everyone at home. "Everyone is affected by this. Reach out to friends, your classmates, and peers—now is the time for us to stay connected."

Stay in touch with Beyond the Front Row on Instagram: @beyondthefrontrow. Join Beyond the Front Row on Zoom tomorrow, Saturday, April 11, at 5 p.m. PST for "Beyond the Front Row Presents: Episode 2 – Post-Mortem of a Fashion Runway."