By Nina Tabios
At the corner of 4th and Channel Streets, just a stone's throw away from Oracle Park, students from Academy of Art University's School of Landscape Architecture (LAN) tightened hard hats and fastened safety vests. On a perfect sunny afternoon for a site study, the students met with landscape designer Justin Aff for a tour of the construction plot that is the focus of their studio classes this spring.

The area in question is the 1.6-acre P3 Park, an extension of Mission Creek Park that is set to become a new urban plaza located in the Mission Bay's southern neighborhood. As trucks hauled out mounds of dirt, Aff, who works at the CMG Landscape Architecture firm overseeing the project, pointed out the potential features in his original design plans. With views spanning the ballpark, the San Francisco Bay, and Twin Peaks, Aff's vision includes gathering spaces, room to ride bikes and walk along the promenade.

But the site they saw that day still had a long way to go before resembling anything close to the final product. And that was the point, according to LAN Director Jeff McLane. It allowed exploration within a real context: How would you design San Francisco's up-and-coming public waterfront?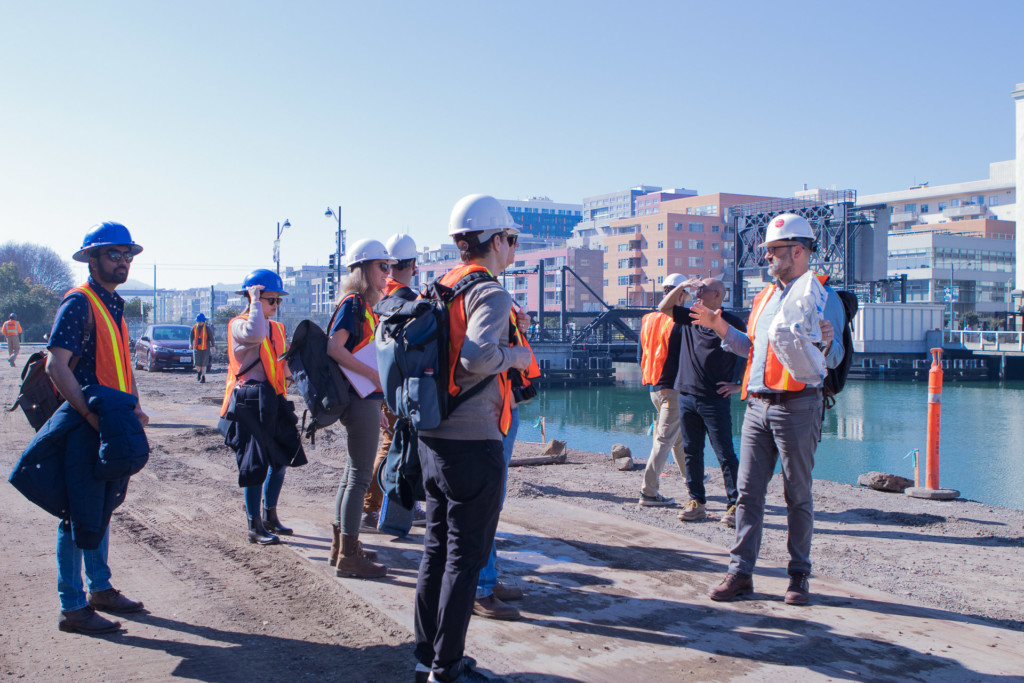 "It's basically a blank slate. So, they can be very imaginative and hopefully, they can do some great work," McLane said on that Friday, Feb. 7. This would be the first of many site visits as students formulate their own concepts throughout the semester. "Plus, they get the perspective of the people who actually are doing the work. It bridges that gap between your imagination and what you creatively try to put together."

The three participating classes included McLane's Sustainable Design and Practices Studio (LAN 350) and graduate-level Site Design Studio (LAN 620), as well as instructor Mark Yin's Advanced Design Studio (LAN 450). Students gained a ton of valuable information by being on-site, from seeing the developments up close to understanding the relationships between the space and the surrounding neighborhoods. For Felix Torres, getting to see the project up close and talk to Aff gave him a realistic perspective on how to approach his design.

"You get a sense of scale, the buildings around and you can't that feel from photographs. By coming in person gives you a different, more holistic perspective on that," Torres said.

Altogether, the group spent about an hour with Aff and Construction Manager Mike He on how they problem-solved the constraints found on the site. Oftentimes things don't always go according to plan, so Utsav Patel, who is taking McLane's Site Design Studio, found it valuable to be able to ask questions and gain insight from the experts. He said these are the types of projects that bring what they learn in school to life.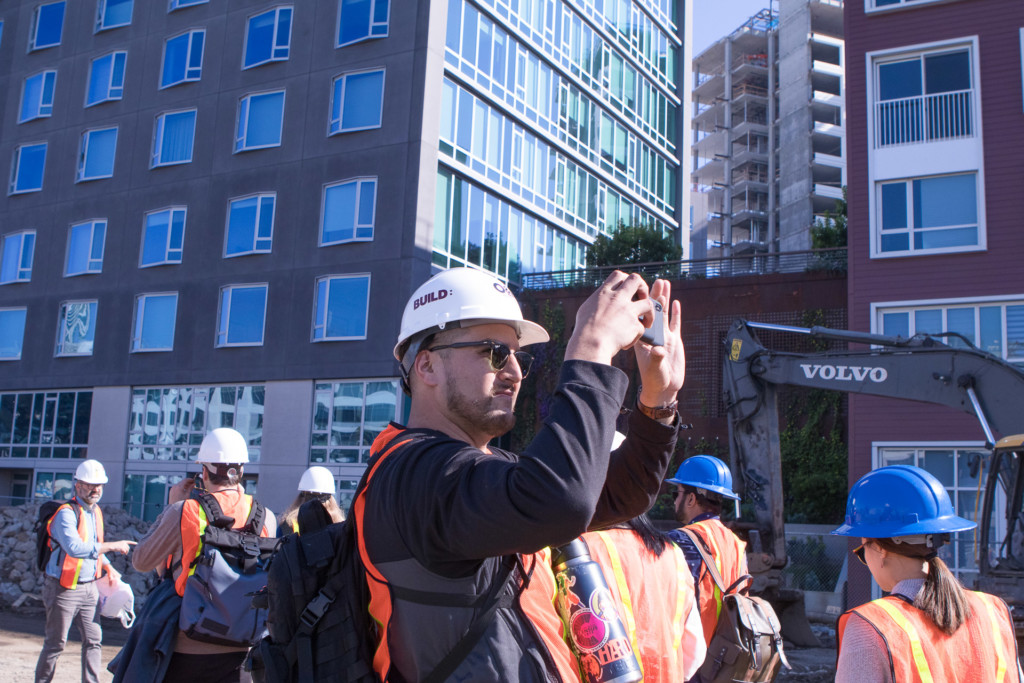 "We can understand how to distribute the space, how to use materials and we get to meet the designers. They have almost 10 to 12 years of experience so they can share their knowledge," Patel said. "And right now, we're students so we can take the knowledge they're sharing with us now and hopefully use [it] for our own projects in the future."

For their own concepts, Aff said students won't necessarily have to work with the exact constraints that they have on the physical site. But it's better to give them a sense of what is ideal. Even though it's practice, it's useful prep in the long run.

"The good thing about being a student is this is the time to be open and explore a lot of things. But down the road, you have to know what constraints you might have to deal with," Aff said. "It's not just a theoretical exercise and they get to see it all come to life. The cool thing about landscape is there's always an infinite way to do things."