Attendees, both returning and new, admired and bid for the array of top-quality artworks on display at the 24th Annual Faculty + Alumni Fine Art Auction
By Nina Tabios
It was a fine afternoon for an auction on Saturday, Nov. 9. Folks from across the Bay Area filed into the Academy Galleries at The Cannery for Academy of Art University's premier fundraising event, the 24th Annual Faculty + Alumni Fine Art Auction, to partake in some friendly bidding.
As the wine flowed, guests gazed at and admired the traditional, abstract and contemporary works lining the intimate gallery walls, jotting their names down on the ones they hoped to take home. As the live auction commenced, the energy lifted with excitement. But beneath all of the suspense lay a shared understanding that everyone in the room was there to support the arts.
"We started this with the concept of developing a scholarship fund for fine art students and we award these monetary scholarships every year at our annual Spring Show," said Executive Director of the School of Fine Art—Painting & Printmaking Craig Nelson. "In the past, we've had just incredible artists. I think this year we have fewer pieces but higher caliber."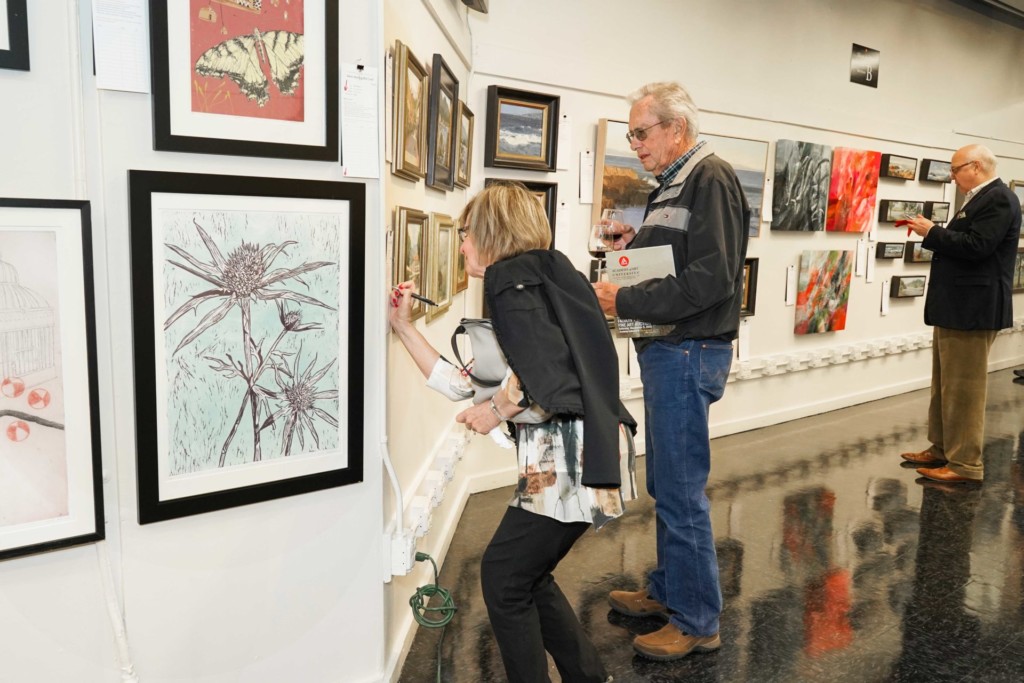 There was an incredibly diverse array of artwork on display, spanning cubist oil paintings to technicolor mixed media. These gallery-level works were generously contributed by Academy directors, instructors, and alumni, many of whom are top-selling artists in their own right; instructors Carolyn Meyer, Tomutsu Takashima, Kevin Moore, and School of Fine Art—Sculpture Director Thomas Durham were among the most sought after names in the bidding wars.
Alumni were in that mix as well, as painters Brian Blood (M.F.A. 1991) and Greg Gandy (M.F.A. '07; now also an Academy instructor) were acknowledged by Nelson as the auction's "standard-bearers." This year, he was also proud to announce a few new faces into the group, specifically Michelle Jung (M.F.A. '13, painting). Once everything is said and done, the artists receive half of the proceeds while the remainder goes directly to fine art students.
"I've very proud to be able to be a part of the auction to benefit the students because in undergraduate school, I had loans to pay and I couldn't afford art supplies," Jung said. "I'm really happy to contribute now that I'm older. "
Since graduation, Jung's work has shown in international and national exhibitions, most recently in the Art Renewal Center's International Salon and the California Art Club's Gold Medal Exhibition. As a first-time contributor, Jung was really excited to see people bidding on her work. "It's seven-for-seven!" she said, grinning. "I'm just happy to get new people that have never seen my work before. Especially since I'm local, I'm happy that I'm here."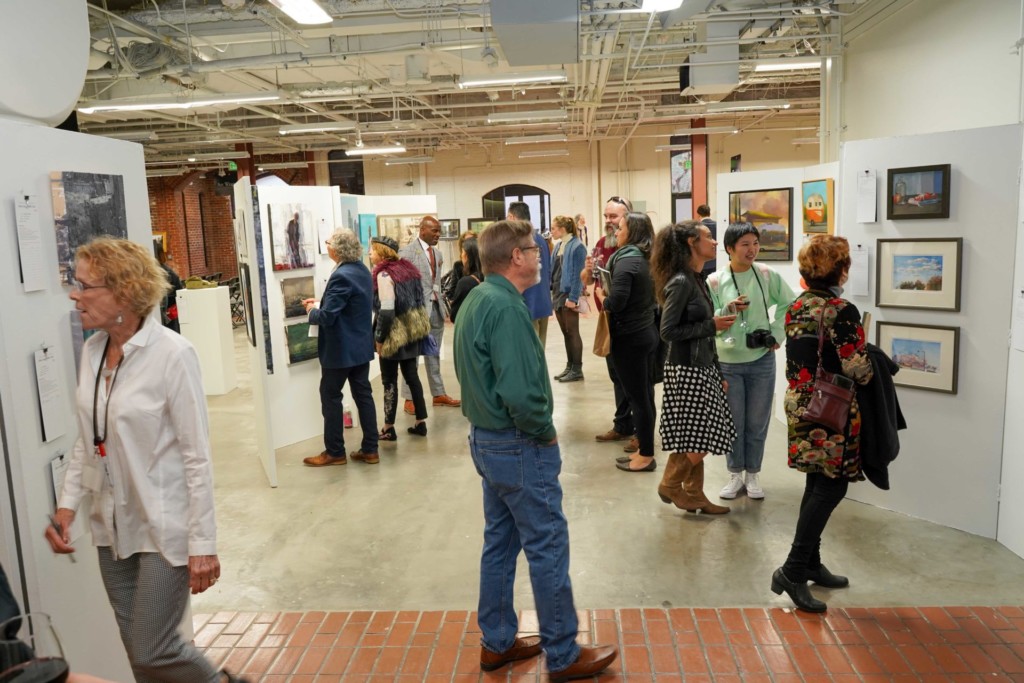 Her serene seascapes drew in the eyes of many, including Karen Maggio. Traveling from Lafayette, Maggio said her home is filled with "art that is calming" and some were sourced directly from past auctions when her stepdaughter, alumna Lauren DeLizza (B.F.A. '13, printmaking), was a student. "We come every year and actually buy art to support the college," Maggio said. "We're pretty religious about it."
Other guests similarly mentioned how the Fine Art Auction has become a family tradition. For some, it was a way to bond, like the Bouslogs from Antioch. Julie Bouslog introduced the event to her mother-in-law Betty Bouslog-Cowan, who is now a three-peat attendee; for Bouslog, it was year five. "I just think the art is amazing. It's great value, it's a fun day," she said.
For Wesley Hamm of Alameda, the auction wasn't just a way to access fantastic art and give back to a good cause, it was also a way of building a new kind of camaraderie with his friends by exposing them to new, emerging artists. Through the Fine Art Auction, Ham believes art can be accessible to everyone, from students to professionals, newcomers and seasoned collectors.
"For a lot of people it's their first time getting into art," said Hamm, who was at his seventh auction. "It feels a little bit more akin to going to Napa Valley and drinking wine [to figure out] what's your palette, what do you really enjoy, what kind of experiences do you like."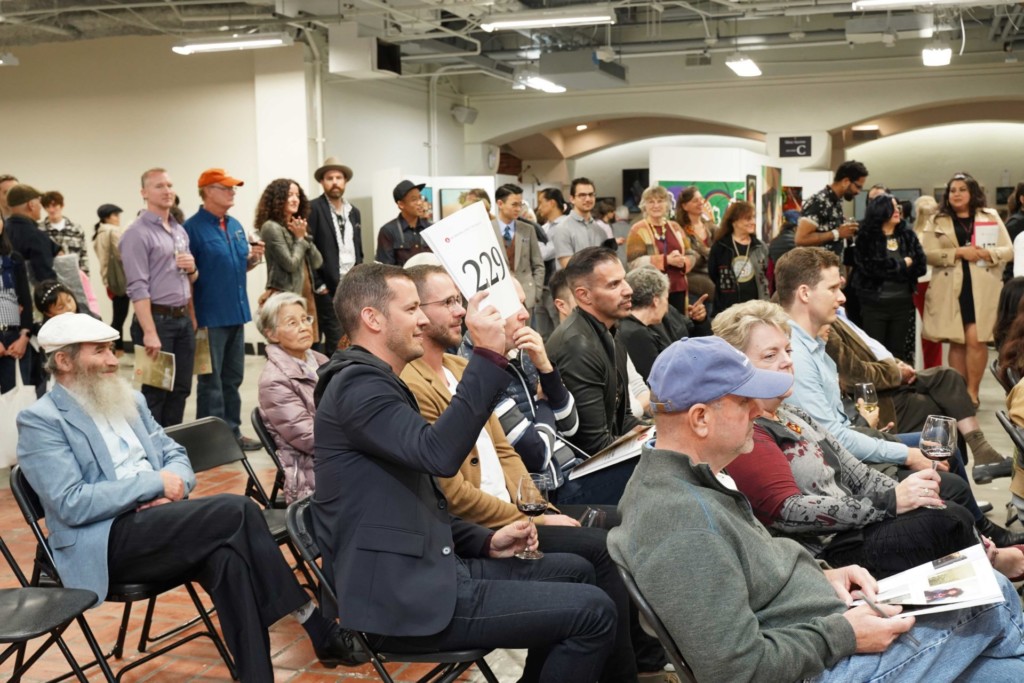 And there was no age limit on this art entryway.
Helen Ahrens from Alameda was circling around the Cannery with her 10-year-old daughter Melina to make sure they weren't outbid on a mixed media piece by instructor Sheldon Greenberg and a still life by Nelson. It was their first time at the Fine Art Auction and Ahrens hopes this will be the start of many more auctions to come.
"She thought it was an art show where only grown-ups went," Ahrens said. "I think she's warmed up to it now. I was just telling her we should make this a yearly thing."