The Atelier Gallery showcased the work of 75 artists during Fleet Week
By Nina Tabios
A few days before the Blue Angels were set to streak across the sky as part of San Francisco Fleet Week, Academy of Art University hosted its 7th Annual Veterans Art Exhibit at the Atelier Gallery.

At the Oct. 11 reception, veterans from across all branches and generations shared stories over food and drinks at the Atelier, located at 79 New Montgomery, pausing only to admire the breadth of artwork on display throughout the gallery. It was a little change of scenery for the exhibition regulars (the event has been previously hosted at the Cannery Galleries) but it was the countless familiar faces that made many visiting veterans and artists feel at home.

"For me, [it's about] being surrounded by veterans and veteran artists because of the support and love that you get from each other," said Rachelle Steele, a Navy veteran and graduate from the Academy's School of Photography program. "But also specifically being a Navy veteran, exhibiting with San Francisco Fleet Week is the most full-circle thing that could happen for me as an artist."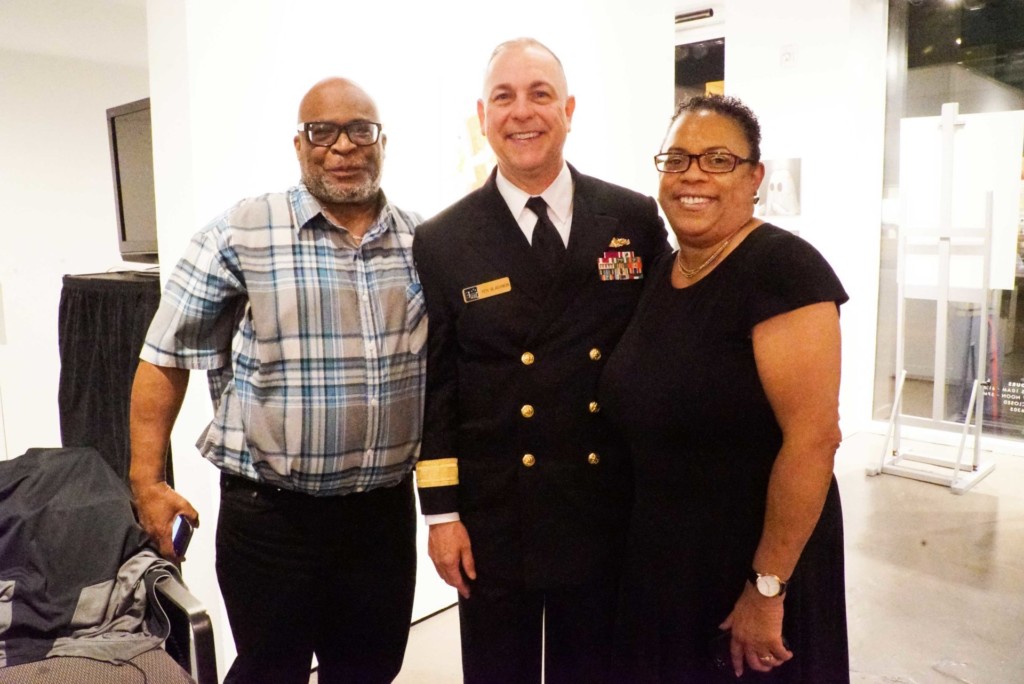 And that seemed to be a shared sentiment across all the veteran artists. Many featured this year were on their third, fourth or even fifth consecutive year of submitting artwork to the Fleet Week exhibit, including Bob Bischoff from the Veterans Home of California: Yountville in Napa Valley. Known for his conversation-starting, colorful wooden gourds, Bischoff is warm, welcoming and like many, a veteran who found art as respite following his years of service.

"I discovered these gourds about 21 years ago at a craft fair," said the U.S. Army veteran, who draws, carves and colors the gourds by hand. "I usually spend anywhere between 60 to 80 hours on each piece—and each minute is sheer pleasure. Once I start thinking about it, then I know I'm done for the day!"

Out of the 75 veteran artists, over a dozen different art mediums were represented. Most common were painting and photography, consisting mostly of landscape and cityscapes, still life scenes and abstract artwork, but there was really no limitation in the ways the veterans could express themselves.

Past and present generations of the military admired the art of their fellow veterans while some shared their experiences in service. Photo by Bob Toy.

Photo by Bob Toy.
Minnie Salinas, a Navy veteran and School of Illustration student, stood proudly by a bronze clay bust she made in one of her foundations classes. Air Force Reserve veteran Arauna Morgan donated a pair of wooden owls she carved. Opposite her work sat a model airplane made by Harry Spratt, a World War II Navy veteran and regular at the creative arts center in the Veterans Home of California: Yountville.

"What better way, as an art and design university, than to provide a space where [veterans] can express themselves and showcase some of their experiences in the military to an audience that may not be completely familiar with what they do?" commented Campus Life Manager Orlando de la Garza, who also served on the selection committee for the exhibition.

"For me, nights like this are sort of a dream come true," Steele said. "Because this is Fleet Week and as a sailor, that's the ultimate."