By Kirsten Coachman
Every year, the end of the spring semester signifies Academy of Art University's marquee event: Spring Show. The annual showcase highlights the best work from top students across all academic departments, including the 14 majors offered in STEM-related fields of study from the Schools of Advertising, Animation & Visual Effects, Architecture, Communication & Media Technologies, Game Development, Graphic Design, Industrial Design, Interior Architecture & Design, Interaction & UI/UX Design, and Landscape Architecture. Plus, it's a unique platform for students to display their skillsets in their chosen craft.
"Spring Show is always thrilling and gratifying for me, and this year was no exception," said Academy of Art University President Dr. Elisa Stephens. "Our graduates build extraordinary portfolios over the course of their education here; seeing their amazing work on display is a validation of the Academy's open admissions policy. Many of our students would not have had access to an art and design education through other channels. The Academy gives them the support structure, curriculum, and access to industry professionals who turn dreams into careers. I've seen a lot of students get job offers during and after Spring Show."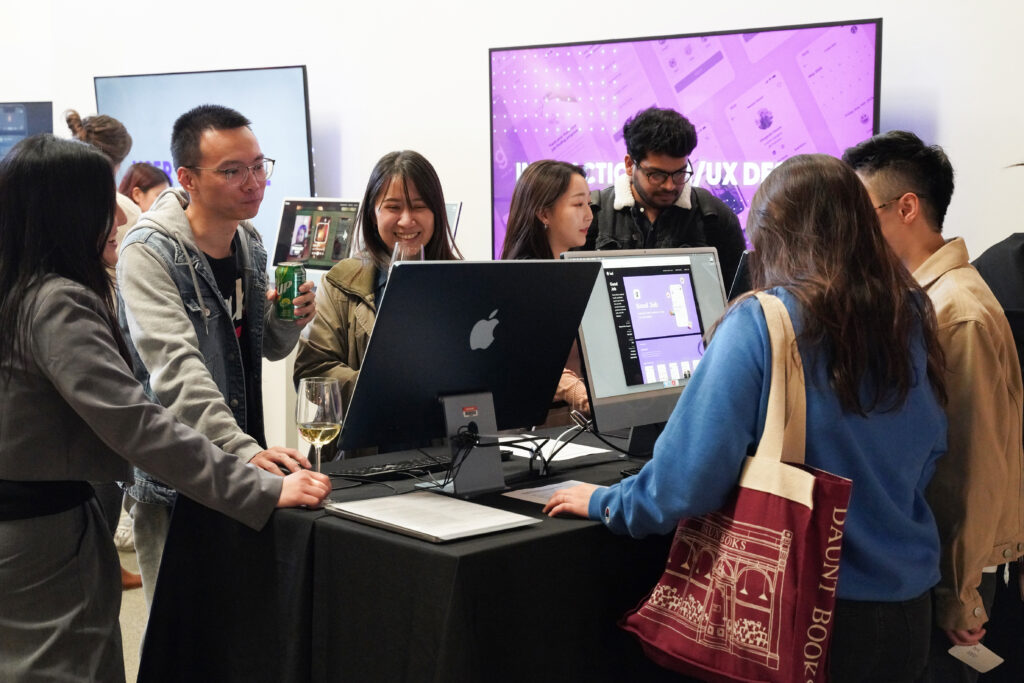 While getting one's work into Spring Show is already quite an accomplishment, more importantly, it's an opportunity to secure face time with industry guests. The Academy welcomed a number of industry guests to Spring Show, including Gensler, Meta, Walt Disney Animation Studios, ABC7/KGO-7, Hauslane, Picsart, Stout Design, Nissan Design America, EDG Interior Architecture & Design, Luckmon, Zenni Optical, Globe TV, and TikTok.
Spring Show 2023 opened on Thursday, May 18, and upon entering the main floor at 601 Brannan, guests were greeted with a visual feast of student work. From the School of Fashion exhibition featuring designs from this year's Graduation Fashion Show and the School of Advertising, which featured some student campaign work enhanced by AI technology, to gallery showcases from the School of Jewelry & Metal Arts and the School of Animation & Visual Effects, which highlighted the accomplishments of its notable StudioX program.
And that was just when guests walked through the doors.
Taking in all of the sights and sounds of Spring Show 2023 was Art U News—we were on the scene to learn the ins and outs of what went into each department's exhibition space and to highlight the student projects that made an impression.
---
School of Advertising
By J. Elliott Mendez
With the proliferation of AI, few departments have made as much use of the new technologies as the School of Advertising (ADV). Presenting an array of captivating campaigns and innovative branding strategies, students showcased their skills in creating impactful advertisements, developing compelling stories, and crafting visually stunning designs, all displayed on three big screen monitors placed side-by-side along a single wall.
"We were experimenting this semester to see if we could bring AI into the fold to help write copy and create imagery," said ADV Director and Creative Lead Ross Patrick. "Really, the intention was to give [the students] a concepting tool for copywriting and art direction. We gave them an avenue they've never had before."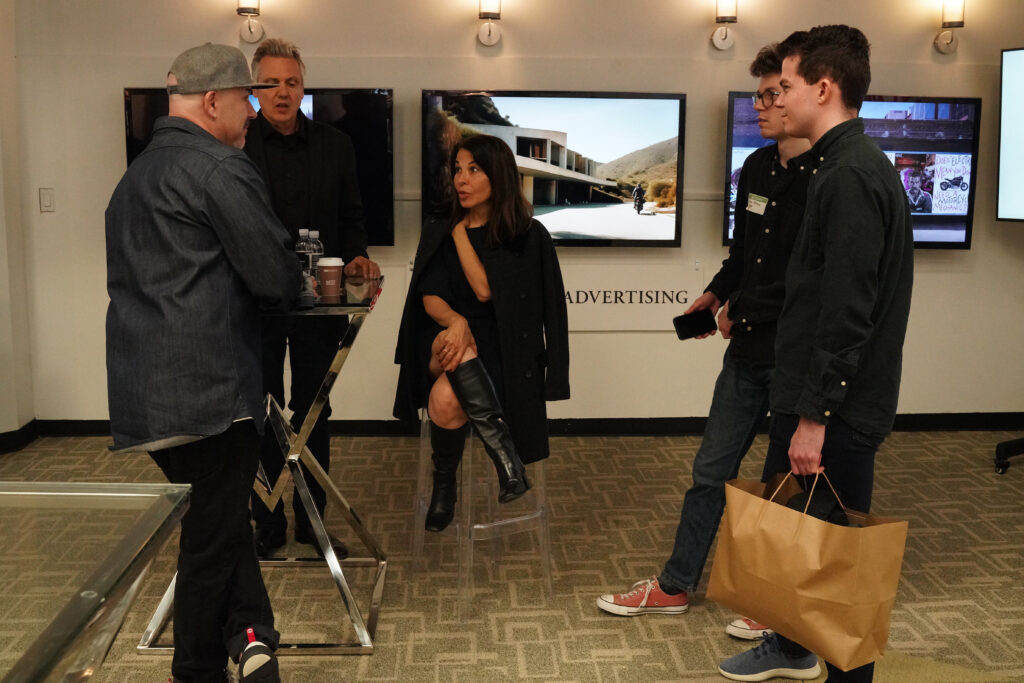 Each campaign reflected an understanding of the target audience and effectively conveyed messages in intriguing and sometimes provocative ways. Hannah Whatley's concept ad campaign for LiveWire Electric Motorcycles, for example, expands its target audience by focusing on the population that would NOT be interested in an all-electric motorcycle.
The exhibited works spanned various media, including print, digital, television, and experimental advertising. All featured striking visuals, clever copywriting, and strategic placements to capture viewers' attention, while digital campaigns made use of engaging multimedia elements to create interactive experiences.
School of Animation & Visual Effects
By Isabella Cook
The School of Animation & Visual Effects (ANM) arranged a Spring Show gallery showcasing talent, creativity, and collaborative spirit. While the department's Spring Awards was held earlier in the month to honor standout students, their Spring Show exhibit featured a diverse collection of work from stop-motion figurines to 2D and 3D digital work, both static and animated.
Among the standout work was the texturally striking lighting and composition of Zhengjei Lai, who presented a conceptualized scene of a girl in a red robe with white collar fur, an adorable fluffy cat playing with a perfectly detailed ball of yarn and a busy enough backdrop to keep audiences intrigued for hours.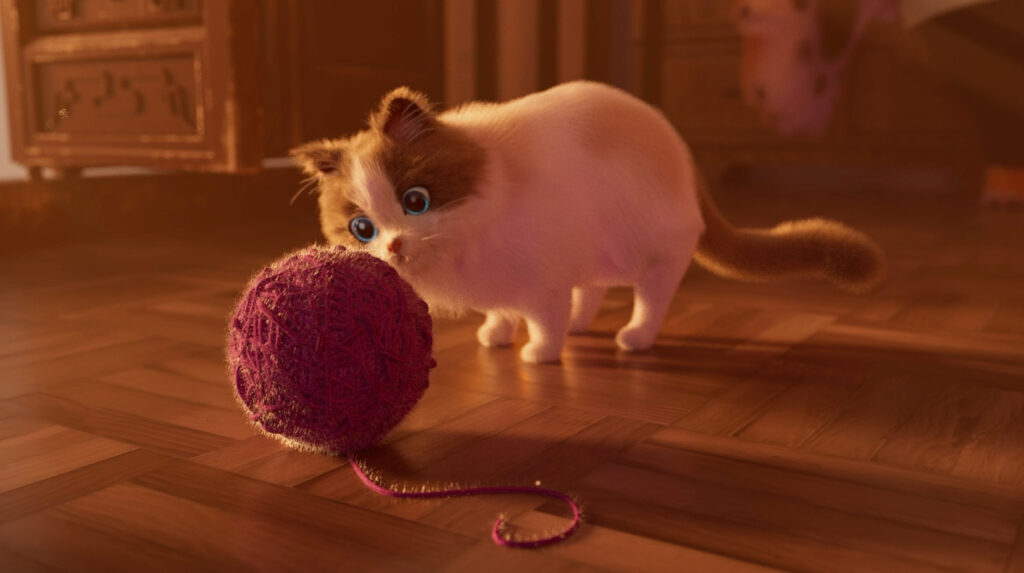 The piece also showcased the effect of various types of light, including albedo and indirect, by including a panel of alternate lighting examples at the bottom of the main image display. By demonstrating the impact of lighting variations on a single scene, Lai's piece reveals impressive depth and shows consideration for each highlight and shadow for every texture and surface across the entire work.
Also on display was a poster highlighting all of the StudioX works for the academic school year (six for animation and six for VFX), including "Gonzo Girl," a feature film directed by Patricia Arquette, which ANM is incredibly excited to unveil.
"I feel like the community we built with StudioX, and the industry preparation, is the premier part of our program," said 3D ANM Executive Director Catherine Tate, "and the fact that we're doing industry interviews at the same time, it all sort of comes together."
School of Architecture
By Isabella Cook
The School of Architecture (ARH) presented an architectural display for Spring Show attendees to take in alongside graduate-level thesis projects. But the exhibition wouldn't have been complete without the enthusiastic group of assembled ARH students enjoying each other's company and discussing their shared passion for architectural design.
Among the featured students was Sydney Cooke, who was awarded the B.Arch Design Excellence award for her spacious architectural model called "Veil House." The work incorporated playful parallel lines and open viewing spaces, creating a sense of motion in an otherwise static environment—the concept for the building is to provide a place for marginalized gender nonconforming people to feel safe and seen in San Francisco's transgender district in the Tenderloin.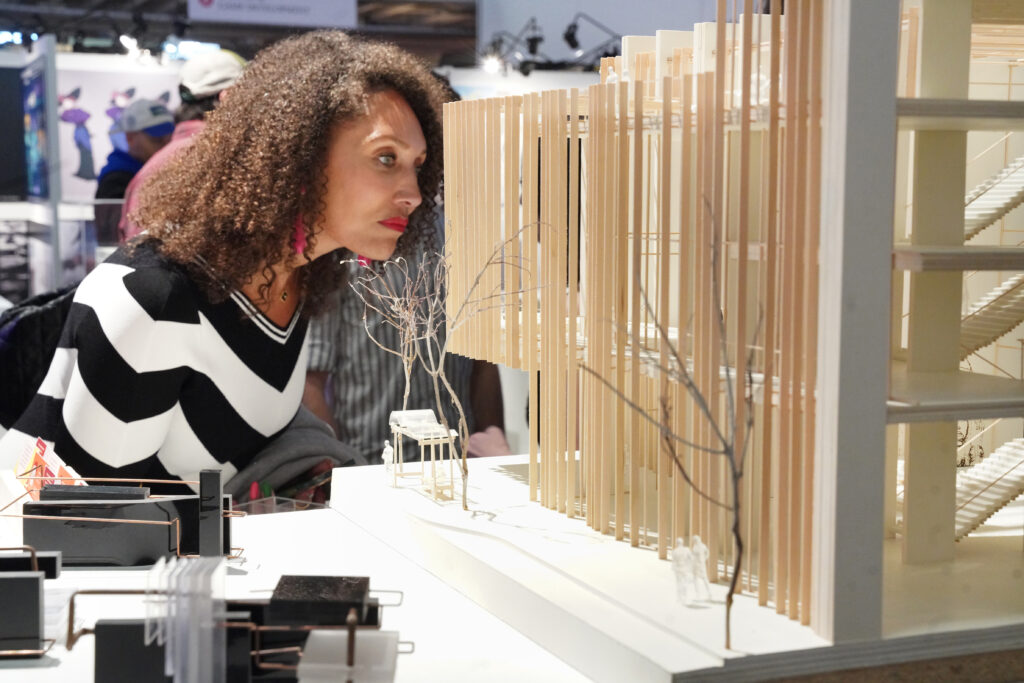 The architectural model by M.Arch student Andrea Rodriguez showcased the concept behind her thesis project, "Urban Connections Rethinking a Congested City – Transportation Hub in Delray Beach, Florida."
"[Rodriguez's] thesis seizes the opportunity to rethink train station typology, design a public infrastructure without interfering with urban continuity, and bring an architectural element that unites the city and links the civic with the social," said ARH Graduate Director Mark Mückenheim. "The quality of her elegant design is commendable, and so is the level of technical resolution for this project."
"We had great feedback from professional guests visiting the show, and the potential students visiting Spring Show were very impressed by the work," added Mückenheim.
School of Communications & Media Technologies
By Kirsten Coachman
Interaction was the name of the game for the School of Communications & Media Technologies (COM). To make the most of their exhibition space, COM Director Steve Kotton explained that he wanted to make sure that the students were front and center.
"There are certain projects built within the course structure, like video haikus. In the very first semester, the student has to write a haiku and then put the visuals and audio to it to create a visual poem," said Kotton, explaining the different work looping on the screens. "We want to highlight the work that the students are doing for the nonprofit organizations around the Bay Area."
This included creating stories for San Francisco Animal Care and Control's website. Students also worked with a local producer on a series called "One Minute For All," creating vertical content similar to TikTok and YouTube Shorts.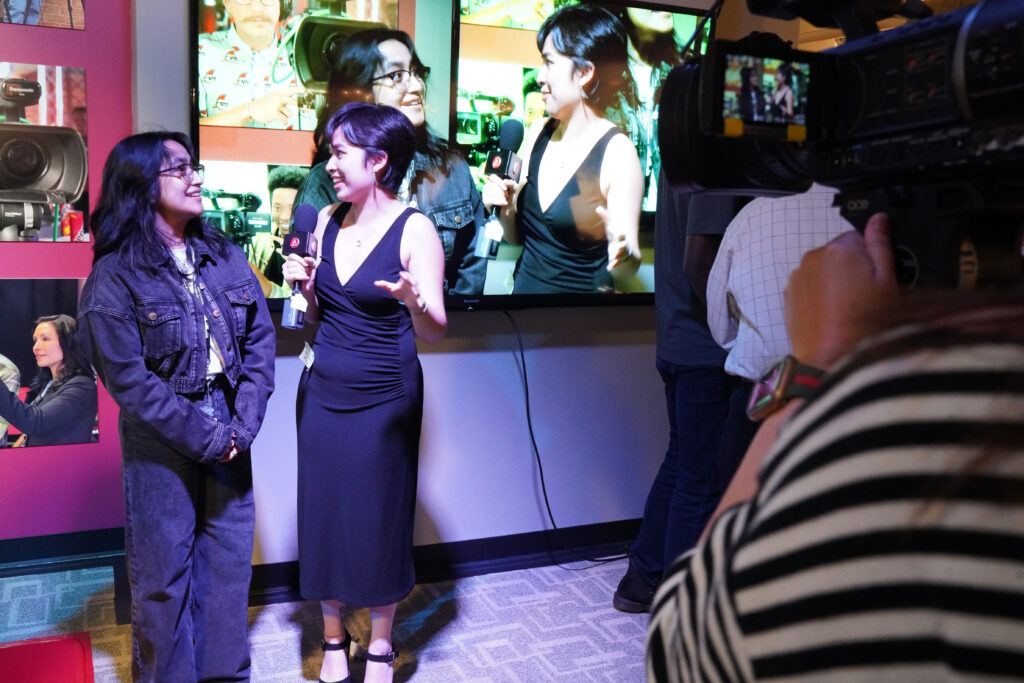 "It just gives me a sense of pride, you know, to see the students' work playing on the large screens here at the Spring show. When they first come in, they lack the basic skills of visual storytelling, and they don't know what they're doing," added Kotton. "And now, seeing what they have produced, I'm inspired by it, and I think people seeing the work can be inspired by it as well. And it's what this university is about."
New to COM's exhibition space was "an interactive podcasting stream" booth, inviting guests to self-record a message about their thoughts on Spring Show via a webcam and Mac Mini setup. The booth remained open for visitor interaction throughout the duration of Spring Show.
After the doors opened to the public the evening of Opening Night, COM went live with teams of students (a reporter and camera operator) moving about the main floor of the event, interviewing faculty, families, and students. Their coverage was livestreamed so those at home could experience what it's like to attend Spring Show. The addition of wireless technology—a change from previous years—helped make it happen.
"We've had to run cables, and we could only go as far as 100 feet or 150 feet away from where our home base was, which is our portable studio," explained Kotton. "But this year, we have wireless capabilities, and we can roam all the different aisles of Spring Show. Having that flexibility allows us to really capture the energy of the event to those watching the livestream."
School of Fashion
By Kirsten Coachman
The School of Fashion (FSH) rolled out the red carpet at this year's Spring Show, featuring a number of exciting projects from across the different majors, as well as special pop-up merchandise from Shop657. The goal for FSH, according to Online Assistant Director of Fashion Merchandising Russell Clower, was to take what had been successful from previous years and adapt it to this year's space. This included displaying toiles of garments designed for this year's Graduation Fashion Show.
"Toiles are a great part of fashion design that a lot of lay people don't know about or don't understand. … you don't ever commit to beautiful fabrics until you've worked out all the design flaws and fit and all of that," explained Clower. "So it's imperfect. You can go up and touch them. And you see a part of the process."
As this year's Graduation Fashion Show played on a loop on one of the screens against the back wall, another screen displayed the use of CLO 3D. The program provides designers with a better idea of how their garments will fit and move on the runway.
"So that is a way of working [it] out in a digital version," said Clower. "Like, 'Okay, how's it gonna flow? How's it gonna fit on the body? How is it gonna look in real-time, in a real-world situation?' It's a way of working out the flaws."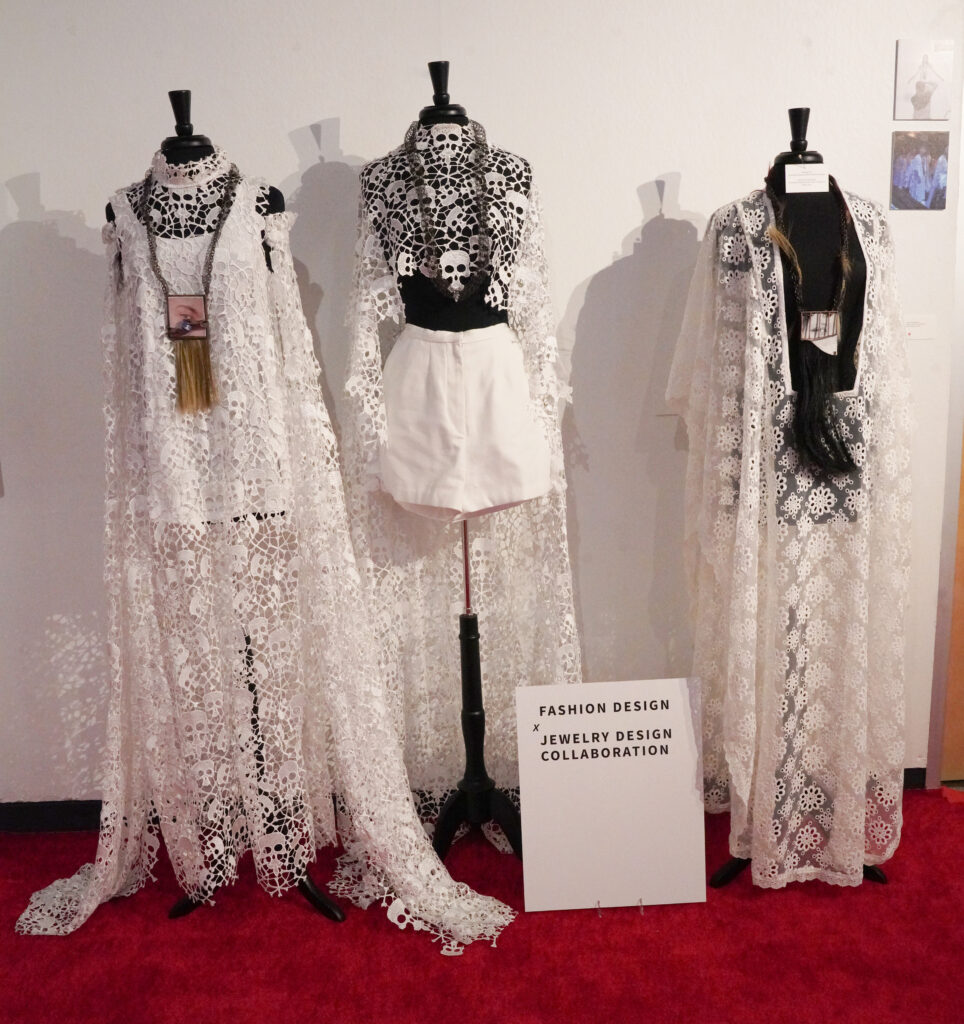 Also on display was the work of B.F.A. fashion design student Antonella Almonte. Her collection was a "personal interpretation of Haitian Voodoo ceremonies" and featured skulls and crossbones throughout her delicate craftwork. Almonte's collection was part of this spring's Graduate Fashion Show in collaboration with School of Jewelry & Metal Arts B.F.A. student Anousha Mohsenidarabi, whose copper and bronze pieces adorned Almonte's designs.
Across the room was a featured design collaboration with "The Magic Lamp" panto production at the Presidio Theatre by M.F.A. costume design student Yukun Wang. Made of chiffon, the winged dress featured a skirt with layers of frills in pale blue and white. Next to it stood an all-white ballerina costume, with a tutu lightly embellished with appliques and a ruffle trim midway, fashioned by M.F.A. costume design student Sukanya Sarin.
To showcase the various tracks of the department, multiple screens and desktops were set up featuring student work for guests to peruse.
"We've got rolling either senior portfolios or senior projects from all the different majors. So one reel is mostly styling students and art director students," Clower shared. "Then we've got merchandising and marketing students' best work."
Schools of Entertainment
Acting, Motion Pictures & Television, Writing for Film, TV, and Digital Media
By J. Elliott Mendez
The Schools of Entertainment (SOE) showcased a diverse array of projects set up on separate monitors that ran along the walls surrounding a red carpet with couches in the center. It allowed multiple people to view student work simultaneously while blocking out distracting external sound for a more immersive viewing experience.
Project categories included Films Over 12 Minutes, Films Under 12 Minutes, Documentaries, Microdocumentaries, PSAs, Acting, Comedy, and Drama. There was also a monitor dedicated solely to 30-second trailers for each project and one for student voices featuring commentary from students whose work was being shown. Many of the films on display were NXT UP Fest 2023 award winners as well as nominees.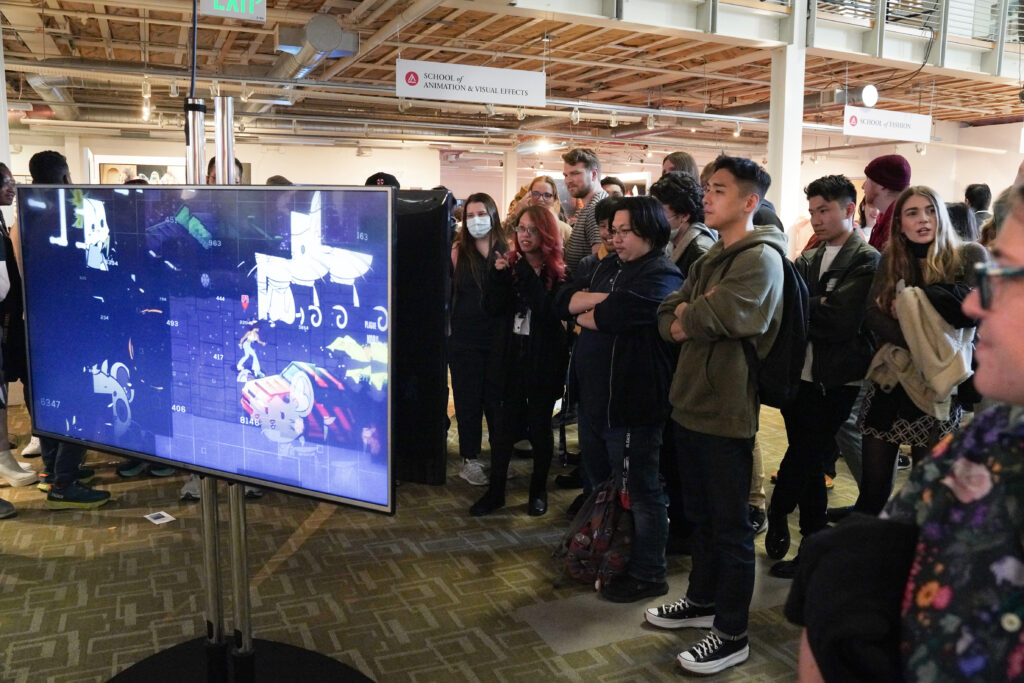 SOE's setup gave student work as much exposure as possible, prioritizing viewing accessibility for students and their families and supporters as well as industry professionals. It allowed guests to easily watch the available content, the school to showcase what they offer and the work students are producing, and the audience the chance to stumble upon something unexpected. The focus of the showcase was the collaborative process that has to happen to make these productions possible. It's a notion that Vice President of Brand Storytelling & the Schools of Entertainment Jana Memel wants to emphasize.
"We present the best of the [students'] work for the world to see," said Memel. "We are proud to showcase not only the winners of our NXT UP Awards but also the work of all the nominees. Filmmaking is an intensely collaborative effort. Every person on a film contributes to its success. You can't be a 'Best Director' without the work of a cinematographer, who might not have won 'Best Cinematographer' but their work led to the director winning, and by showing the nominees' work, we are showing the best work of the year across the board."
School of Fine Art
By Isabella Cook
The School of Fine Art (FA) covered a large portion of floorspace at Spring Show, with a gallery showcasing student work across multiple media: painting, printmaking, and sculpture. A standout (with favorable reviews across the board) among the FA's exhibition was Kaiya Canja Wong Jones, who dazzled attendees with her bold pastel-colored self-portraits, rich in color and texture. Of her three paintings on display at the Spring Show, "Heart Cornrows" won the Contemporary Award. Across each of Jones' self-portraits, the pastels and recurring Hello Kitty motif remained consistent.
"We accepted 55 pieces of art for the Spring Show, but we received around 300 submissions," said FA Online Director Annamarie Nelson. "There is some beautiful work here, but everyone does seem to love [Jones'] work—and the best part is that she looks and dresses exactly as she paints herself, the colors and accessories and everything else you'd expect from the artist."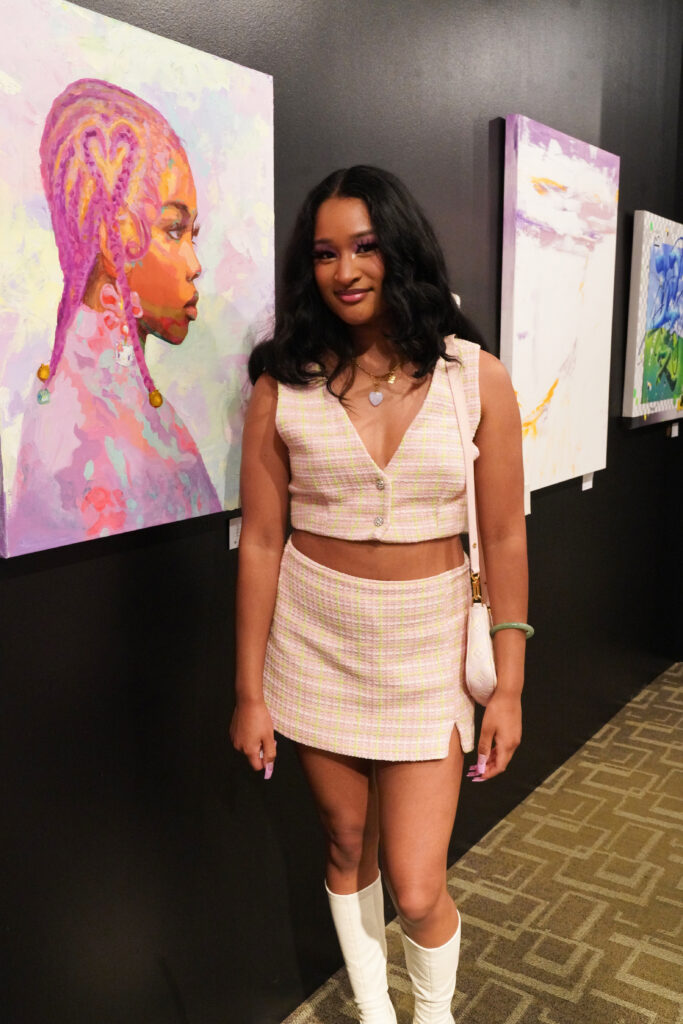 Additional winners included Jeffrey Geronimo, whose painting titled "Pacific Coast" took home the Landscape Award for its depiction of a Californian coastline, complete with craggy cliffs and orange poppies on either side of a sandy outcrop overlooking the water below. Yi Ma's directed study painting titled "Cavalry Choir" won the Still Life Award and displayed control and technique in terms of textural depth, authentically capturing the interplay of light and shadows in the intricate depiction of a building's fire hydrant manifold and its multi-faceted metallic framework. Mijin Kwon won the Cityscape Award for "Blue Shadow, Russian Hill." The piece balances the work's contrasting blue and orange color palette and, with deft brushwork, paints a quintessential San Francisco building, as seen from the street below.
To accommodate their online students, FA utilized a flatscreen to showcase work that could not be physically shipped. Brooke Bartholomew, for instance, showcased her work from her home in Minneapolis. "Deplete, Degrade, Discard" is a large 30-by-40-inch oil on linen painting that powerfully depicts the image of a nude woman facing away from the audience, sprawled out across cracked, scorched Earth.
School of Game Development
By Kirsten Coachman
On the main floor, the School of Game Development (GAM) utilized its Spring Show exhibit space to highlight the different facets of what it takes to create a video game—from initial ideation to a playable game.
Within the work on view, GAM highlighted 3D work, game programming, and technical art with the use of screens. Additional floor space showcased students' concept art in a gallery format. But it wouldn't be Spring Show without one of the most popular and interactive elements: the gaming booths.
This Spring Show featured a student game that had been garnering a lot of attention over the past year called "Plague." "Plague," along with another student-created game, "Brawler," was showcased at GDC, PAX East, and Comic-Con.
"We had so many people wanting to buy it," shared GAM Executive Director David Goodwine. "It's not for sale, but they were like, 'How can we play more?'"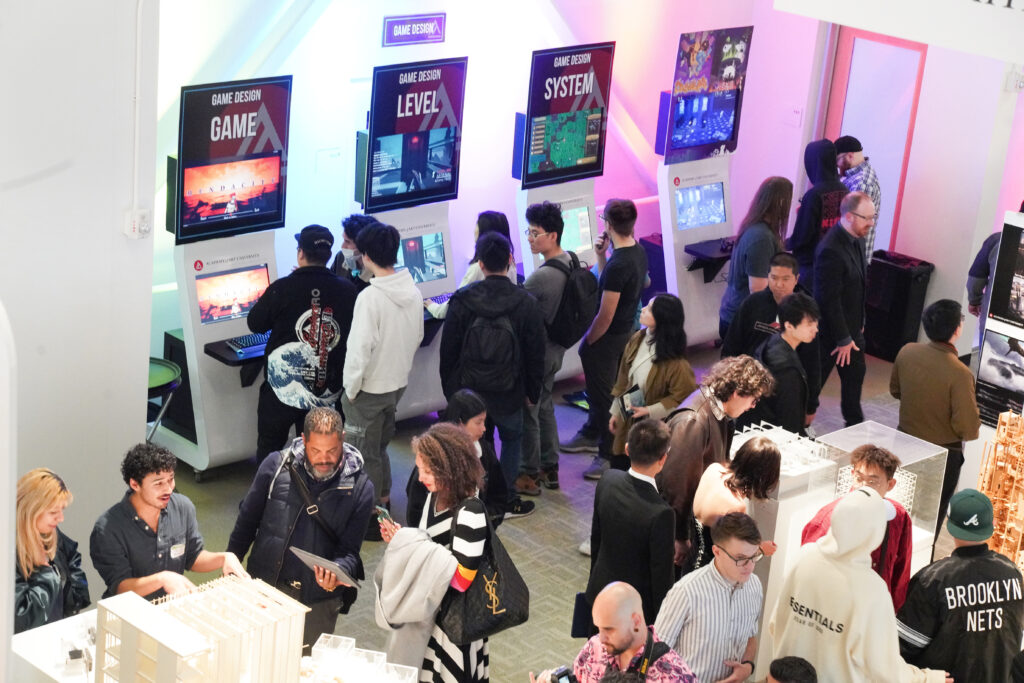 "Plague" is a collaborative project created by students Brittany "Serah" Short (Art Director/2D Art Lead), Zoey Kister (Art Manager/Art Director), Travis Perry (Art Director/3D Art Lead), and Audrey White (Design Lead). Music was by Jake Pyjar, and sound design was by Graham Pezzuti. (A complete list of production team members is available at 2023springshow. academyart.edu.)
"It's a point-and-click type game," explained Goodwine. "It's about a plague doctor and what's going on in this little community. It's all these little characters, little creatures, and it turned out exceptionally well."
Also of note is GAM's latest collaborative project with the Norman Rockwell Museum, which the department demoed later that afternoon for a live audience.
"We built out their entire museum [virtually]," said Goodwine. "So they can do pre-vis, but they can also do a different exhibit; put that up online. And then, if I can't ever get out to Stockbridge to the actual museum in Massachusetts, I can still experience it."
School of Graphic Design
By Isabella Cook
The School of Graphic Design (GR) took an up close and personal approach to Spring Show. In a room off the main floor were rows of soon-to-be graduating students showcasing their portfolios to prospective employees.
GR students are encouraged to approach their design work with a profound understanding of both the print and digital space. Each student at Spring Show showcased an individualized approach to the graphic design process across several projects, including packaging, book covers, posters, mobile apps, and websites.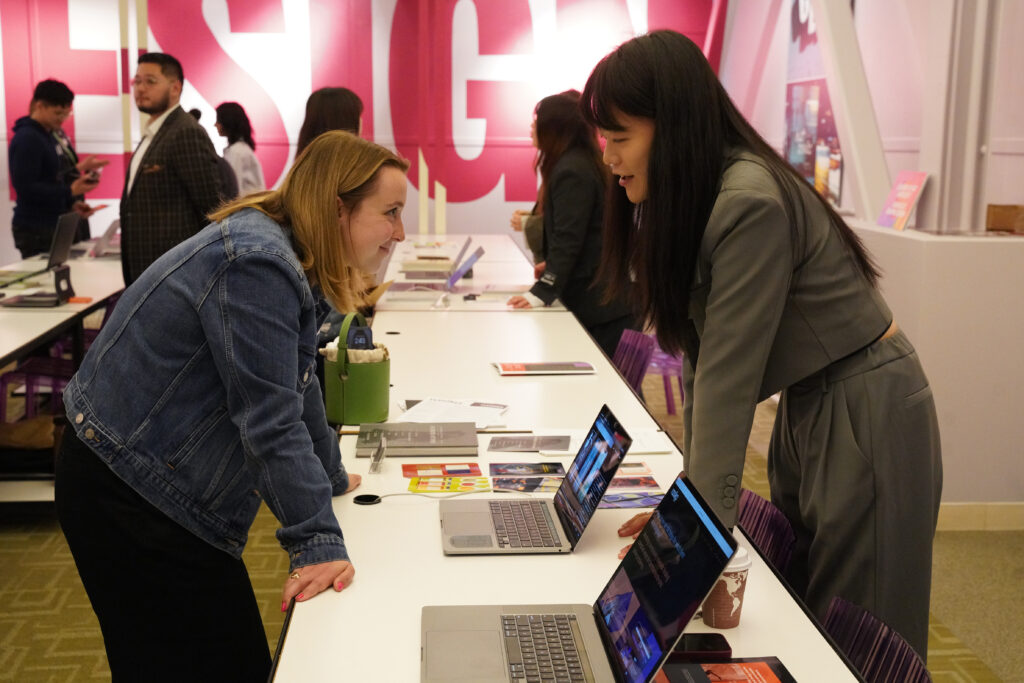 Among the 14 San Francisco-based grad students was Subin Park, whose work included a "Micro Plastics Book," which utilized the eye-catching contrast of a purple background against bright yellow-green details to help illustrate graphs, charts, and more. Park also showcased a "Groundbreaking Website" design for affordable housing and "Clutch Advertising" posters featuring young athletes accompanied by bright yellow text reminding passersby to "tackle the noise" (e.g., the voice of doubt in one's own head).
"I've been working so hard on what I'm showing here," said Park. "These designs you see—I'm proud of them."
School of Illustration
By Isabella Cook
The School of Illustration (ILL) put on a diverse showcase with artwork covering almost every niche category across the style spectrum. Student submissions ranged from hyperrealistic to highly stylized, with some surrealism and more playful, tongue-in-cheek works as well (such as the ham house and sausage link fence piece by Xiaoqing He).
"What is great about this Spring Show is that a lot of the work we're showing this year is digital, but it's in all different kinds of styles—realism, stylistic, and so on," said ILL Director Dr. William Maughan. "Now, the students choose which direction to go while they used to be a bit more confined with what they could do."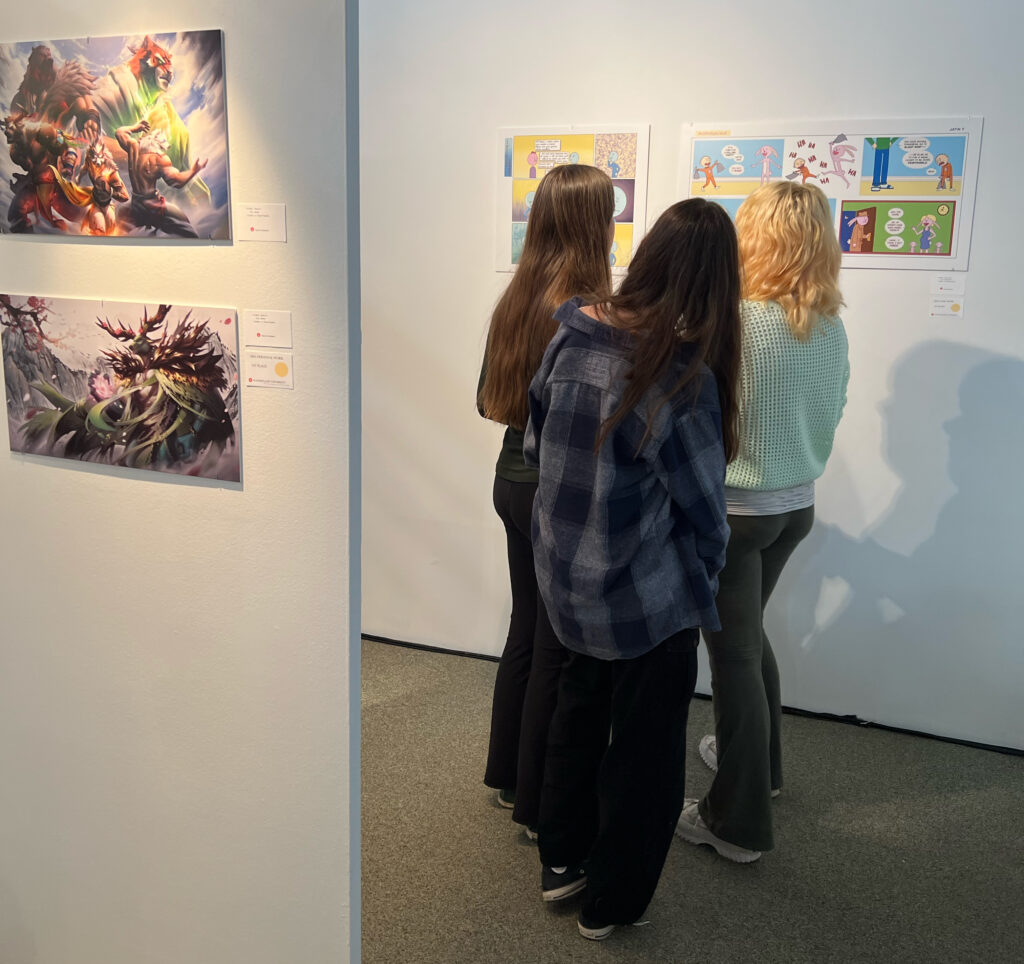 Among the pieces on display was Liz Qiu's colorful, pleasantly surreal illustration of a robed man admiring his technicolor landscape (complete with tree-sized mushrooms) titled "The Rise and Fall of Erb Avore," which won first place in the category of M.F.A. Director's Choice award. Nickolas Paris also took home the B.F.A. Editorial first-place title with "Embers of Mystery," a realistic illustration of a beautiful and enigmatic woman, naked under a partially open cloak and holding an orb of light. Jessie Baik's "The Librarian" featured a stylized illustration of a woman at a desk surrounded by towering stacks of books and Nickolas Paris' more poster-like illustration of a man in a suit and sunglasses riding a Vespa past a field of sunflowers (titled "Tuscany") received high accolades as well.
Other winners include Cat Pavoni, who won B.F.A. Book Cover first place for her piece "Star-Abled," depicting an almost cartoonish, though highly detailed, cosmic one-armed witch. Jennifer Lee's first-place B.F.A Director's Choice piece, "Fishing," featured four cute creatures illustrated in a minimal cartoon style.
School of Interaction & UI/UX Design
By J. Elliott Mendez
Positioned towards the front of Spring Show, the School of Interaction & UI/UX Design (IxD) featured projects that explored the intersection of design, technology, and user experience for the specific purpose of providing solutions to problems faced by people every day. What is being taught and displayed here are not just uniquely designed products but what IxD Director Fred McHale calls "design thinking," the strategy using design to solve a problem for the end user.
From applications addressing the problem of excess time spent on social media leading to increases in depression to ones that encourage excess clothing donation by making the process of finding local drop off points or scheduling pickups as easy as hitting 'start,' projects were set up on a number of screens so that companies looking for prospective hires could experience a demonstration of the application as close to the way it was intended to be used.
Each project incorporated extensive research to understand the problem(s) students were attempting to solve, from delving into existing datasets to going out and conducting their research through interviews. This is important not just for understanding the problem but also for pitching these solutions to companies.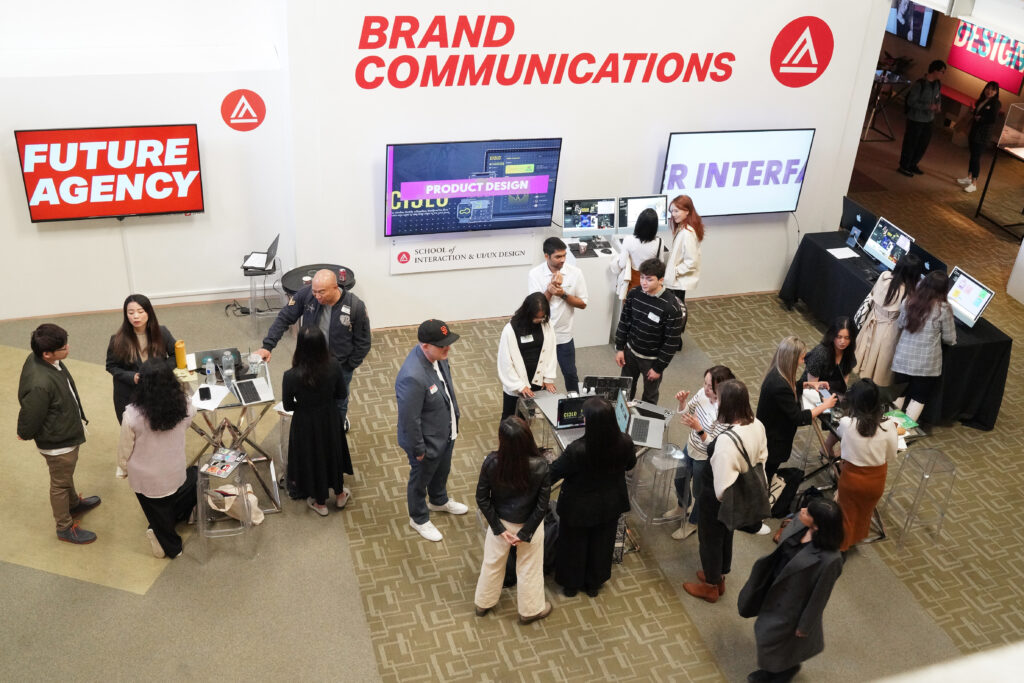 With IxD's Spring Show set up, students could pitch to industry professionals right there on the spot and hopefully land the gig.
"Every project that we do has a case study attached, [and] that would be the pitch," said McHale. "We have a lot of recruiters come, so we've set this up because these are the specific things they want to see."
The applications presented intuitive navigation, clear information architecture, and visually pleasing interfaces that enhanced usability and engaged users. Projects like "Transit," the public transport navigation application created by Chakshing Lam, are designed to give those taking public transportation more of a Google Maps experience, where all of your possible transit options are displayed, even if those options are through different carriers—only with "Transit," riders have the ability to prepay for their chosen route. Projects like this exemplified the students' ability to create meaningful digital experiences that connect with users on both functional and emotional levels—and of course, solve the problem.
School of Industrial Design
By J. Elliott Mendez
The School of Industrial Design (IND) centered on sponsored collaborative projects, featuring a soundstage where student teams presented an impressive collection of mobility designs that seamlessly blended aesthetics, functionality, sustainability, and in some cases, the gamification of the entire mobility experience. Students formed three–four person teams and combined their skillsets to conceptualize their innovative designs, which they showcased as part of a competition in collaboration with the sustainable mobility company, Stellantis.
The students' ability to work as a team from multiple departments to conceptualize and prototype their designs ranging from innovations in consumer electronics like "Duel," which aims to make the double neck guitar more sleek and portable by folding it, to lifestyle products and cars like Genesis, which aims to have consumers "Rethink Luxury" by completely reimagining what a vehicle should feel like and how they interact with it from the inside out.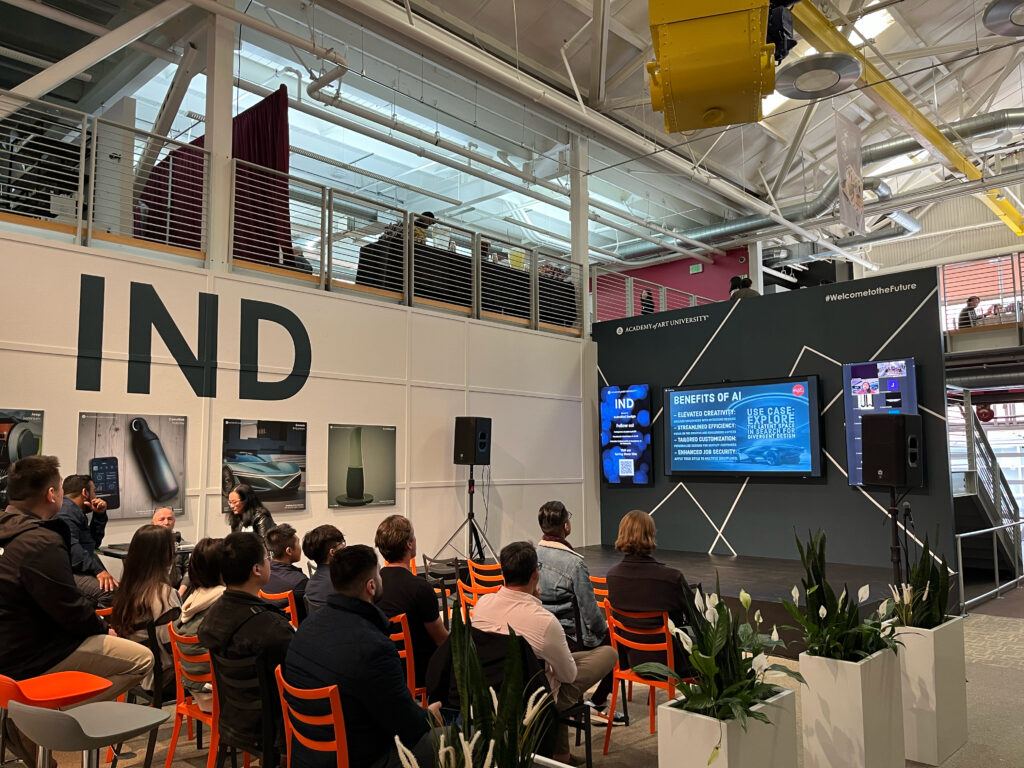 Each design incorporated a balance between form and function, addressing user interactivity while pushing the boundaries of creativity, innovation, and of course, comfort. But those weren't the only considerations. A collaboration between a team of Academy students with Stellantis and Team Somnium's Jeep looks to disrupt traditional education models for children and teens by showing how learning can become the focus in the right vehicle.
All projects highlighted students' ability to create product designs that are not only visually appealing but also enhance the user experience and in many cases, contribute to a more sustainable future. Students made these concepts a plausible reality by working together as a team and combining their diverse backgrounds in various disciplines, a point that IND Director Antonio Borja noted.
"As an individual, you're able to do a lot of really great things when you're really talented and skilled," he said. "But working in a true collaborative environment allows you to really accomplish things that you [individually] can't… [But] it's your portfolio that's going to allow you to open [doors] to different opportunities."
School of Interior Architecture & Design
By J. Elliott Mendez
The School of Interior Architecture & Design (IAD) captured the attention of Spring Show attendees, utilizing their space with a tower that extended upward—tall enough to be clearly seen from just about any spot on the main floor.
With student work featured on the panels underneath the structure, the tower design was a life-sized version of the Eames House of Cards, based on the famous designer Charles Eames, whose playing cards were designed with slots in them so they could be made into models.
"We wanted to create space, we thought, 'We have height, so let's build up,'" said IAD Director Kathleen Valkuchak. "It's important for us to really create a unique display because that's what we do as interior designers. We create space. We create environments. We wanted to create a space that directs people to move through the space."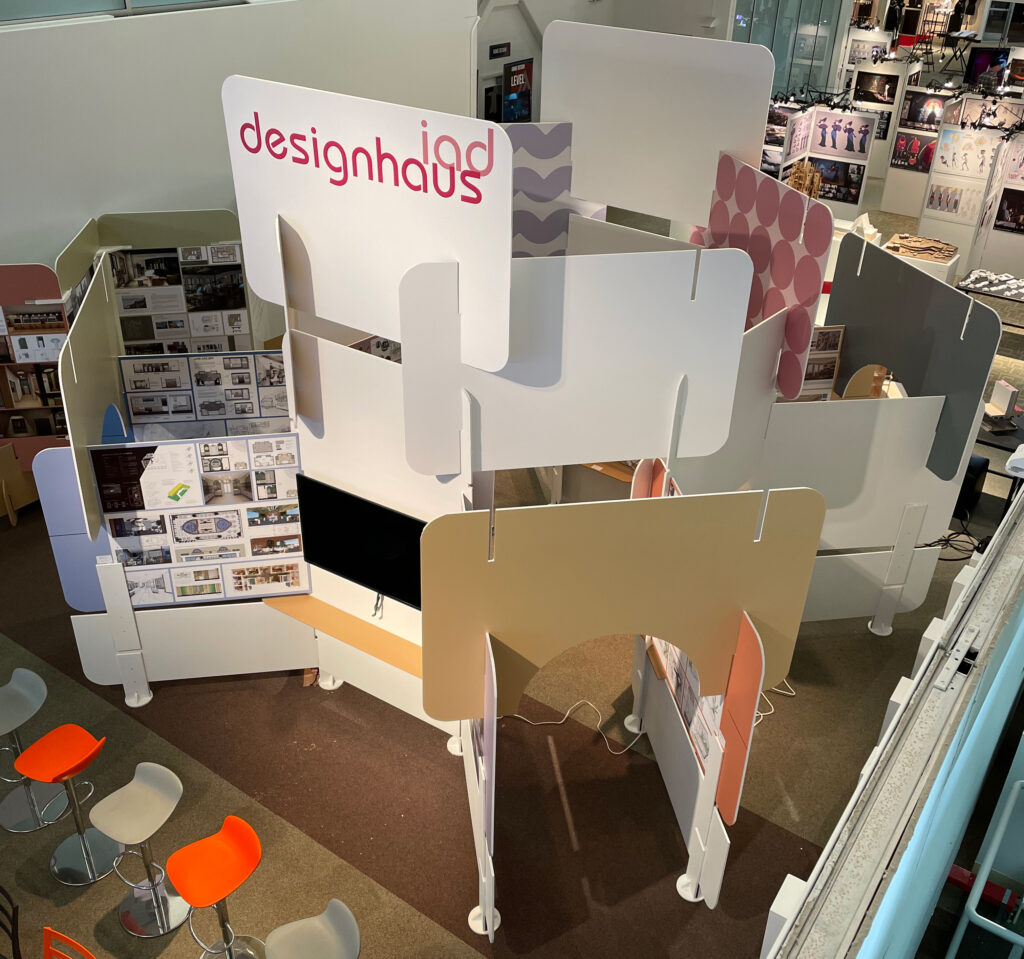 The display, as well as the student work, incorporated design elements and principles to create successful compositions, including volume, form, lines, patterns, and contrast.
The exhibited works demonstrated the students' ability to create immersive and captivating interior experiences that optimize living and working spaces, considering factors such as natural light, privacy, and personalization: works like that of Theodora Tampakouli, whose designs were a way to combine her own experiences of life and art into spaces that promote better living and an overall sense of "living in a huge museum every day." Commercial designs focused on enhancing productivity, customer experience, and brand identity through strategic space planning and innovative design elements. Each project conveyed a unique narrative and atmosphere, reflecting the students' ability to transform spaces into evocative environments that create lasting impressions.
School of Jewelry & Metal Arts
By Isabella Cook
Upon entering the main floor of Spring Show, one of the first exhibits to catch one's attention is that of the School of Jewelry & Metal Arts (JEM). Impressive artistry was displayed throughout professional-grade projects, all of which were designed to convey a deeper, personal concept.
"We have some very compelling student work to show this year," said JEM Director Charlene Modena, "And it comes from a range of disciplines and levels, from beginning to advanced graduate, as well as some serious critical thinking. I am so proud of how hard these students have worked. It is a real challenge when combining technique and concept to develop the complexities and intricacies of expression that the process demands. These students never cease to amaze me."
"We really like to encourage students to lean heavily into the concept, the idea behind their projects," added JEM Online Coordinator Francesca MacKie. "When a piece has a deeper meaning, it keeps students much more interested in the process, and the result is more meaningful and impactful."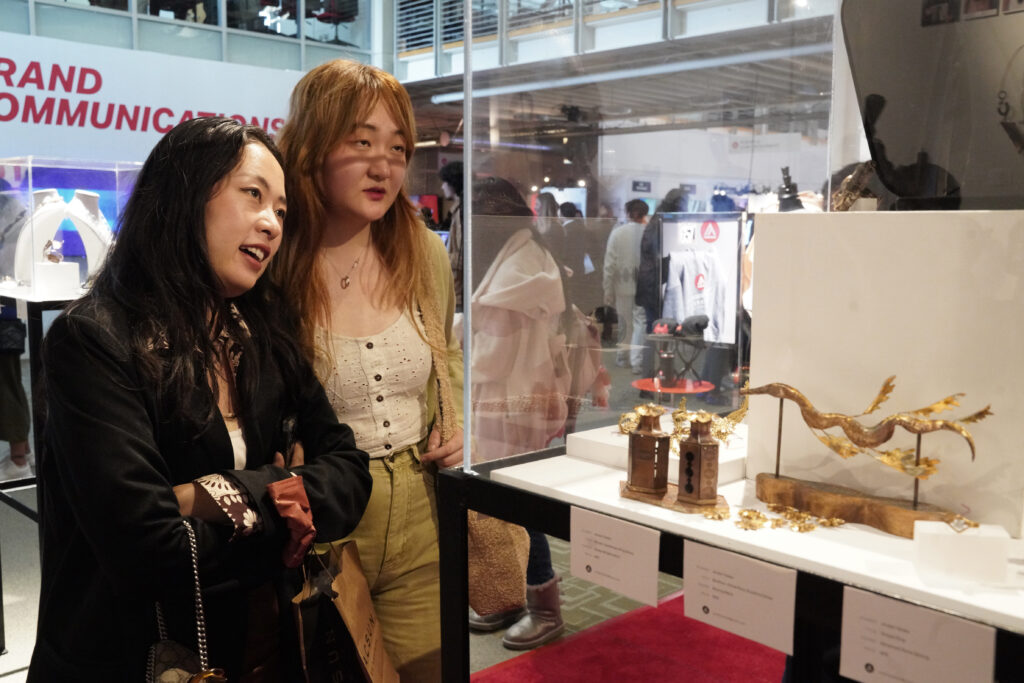 Winners include Mercedes Sheybani's "Women Life Freedom" necklace made of metal and wood that shows a bird fleeing a cage, which serves to symbolize the constraints of being born a woman in a male-oriented society while also highlighting the beauty and liberty of leaving behind one's cage, winning Best of Show M.F.A.
The Best of Show B.F.A. winner was a woven wire neckpiece titled "Chained Freedom," made by Anousha Mohsenidarabi. The large statement piece has interwoven wire threads, each comprising the shape of a single chain link—these combined techniques resulted in a stark but delicate decorative effect.
First place B.F.A. was "Balance," a necklace created by Xianyue Zhu, which was a nod to the destructive effects of mankind and an acknowledgment that some destruction, much like the necklace itself, can be beautiful. Second place B.F.A. was Jonah Barshaw's Hawaiian wooden hairpieces project, "From Mauka to Makai." Barshaw used the hairpieces to speak to the natural features of his homeland, including shark teeth for the ocean, floral designs for the land, and boar tusk for the mountains.
School of Landscape Architecture
By J. Elliott Mendez
Landscaping is probably one of the more misunderstood art forms and is certainly one of the more underrated. For a lesson in what is being balanced in the spaces that people take for granted, the School of Landscape Architecture showcased an array of student projects that emphasized the sustainable integration and coexistence of nature with the human experience. Put simply, theirs is the art of how humans can interact with the natural world in a mutually beneficial way. Presented designs encouraged relaxation, interaction, and harmony with the surrounding environment while demonstrating an understanding of principles like site analysis, plant selection, and sustainable design practices.
"In a world that is becoming more and more urbanized," said School of Landscape Architecture Director Heather Clendenin, "to make public spaces accessible to everybody—to make them useful and relevant for everybody—means that we have to spend a lot of time studying and analyzing not only all of these natural features but also how people live and how people want to live."
Projects like "The Redesign of Pier 80 and Warm Water Cove" by Christine Gonzales reflected a commitment to creating outdoor environments that not only promote well-being and enhance the quality of life but are inspired by nature-based resilience.
School of Music Production & Sound Design for Visual Media
By Kirsten Coachman
Just before guests reached the entrance to the main floor, the School of Music Production & Sound Design for Visual Media (MUS) was there to greet them. The room encompassed a home theater feel, complete with a large screen against the far wall that was looping student work, encouraging visitors to sit and take the sound and visuals in.
The space was designed with audio listening in mind. This included individual listening stations featuring demo reels of graduating students for guests to hear samples of their work firsthand.
"We're showcasing across the entire department, but there's an emphasis on graduating students and sharing their final portfolios or demo reels, as we typically call them," said MUS Director Brad Hughes. "So there's a special category for those students, and we always feature those students on one of our screens. And then second to that, we also feature the two main areas that we do our music and sound design."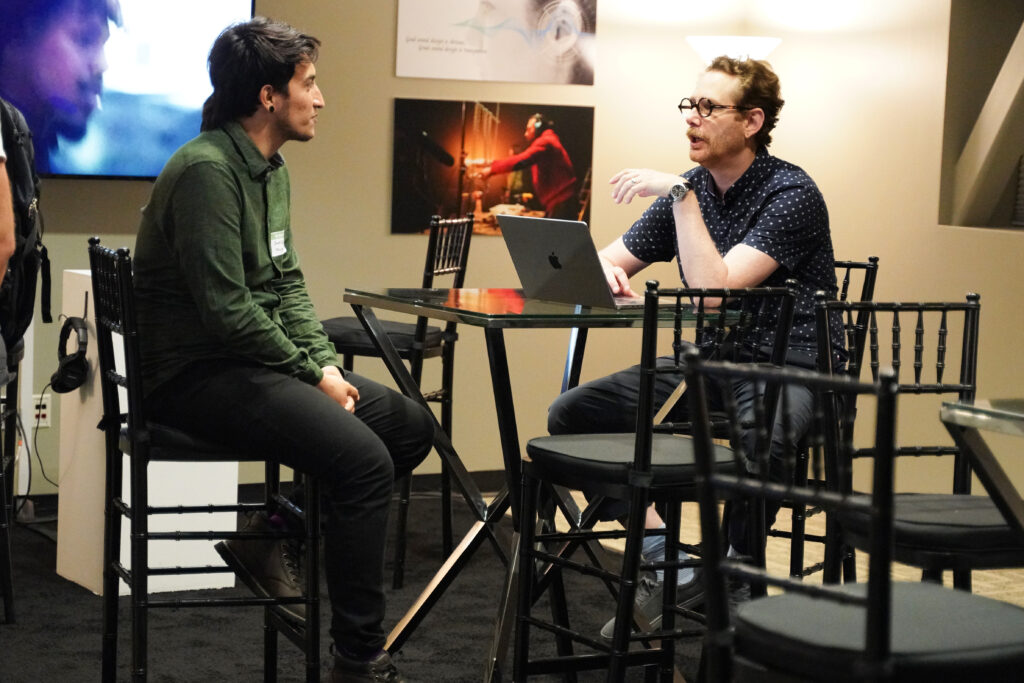 M.F.A. student Fei Wu was among those who had their scoring work highlighted. Her evocative original composition for "The Few and Cursed" complements the bold visuals of the Western monster game with an eerie yet dramatic flair.
Hughes noted not only the importance of an event such as Spring Show but also the importance of students being recognized for their hard work and having an opportunity for it to be seen or, in MUS' case, also heard.
"Our students are excited and enthusiastic about being here. They're excited to see their work being showcased, and they feel proud about that," said Hughes. "We've had industry guests that have come through—not only our own invites but also from other departments—who can see and hear collaborative work our students do with visual media majors from the Schools of Motion Pictures & Television, Animation & Visual Effects, and Game Development, as well as people who have wandered in. So, it's nice just to have them meet my students and have an opportunity for them to share their work."
School of Photography
By Isabella Cook
At this year's Spring Show, the School of Photography (PH) showcased a gallery of works—commercial and editorial alike—providing an opportunity for guests to view at their own pace. A nearby room offered a more bustling atmosphere where students and industry professionals crowded around tables, sharing work, feedback, and potential professional opportunities.
"If you come back [to the student showroom], you can meet the artists and really start to see how much effort they put into their work for this show," said PH Associate Director Timothy Archibald. "They know it's a great opportunity to put their best foot forward with industry experts—real professionals—and possibly leave with connections."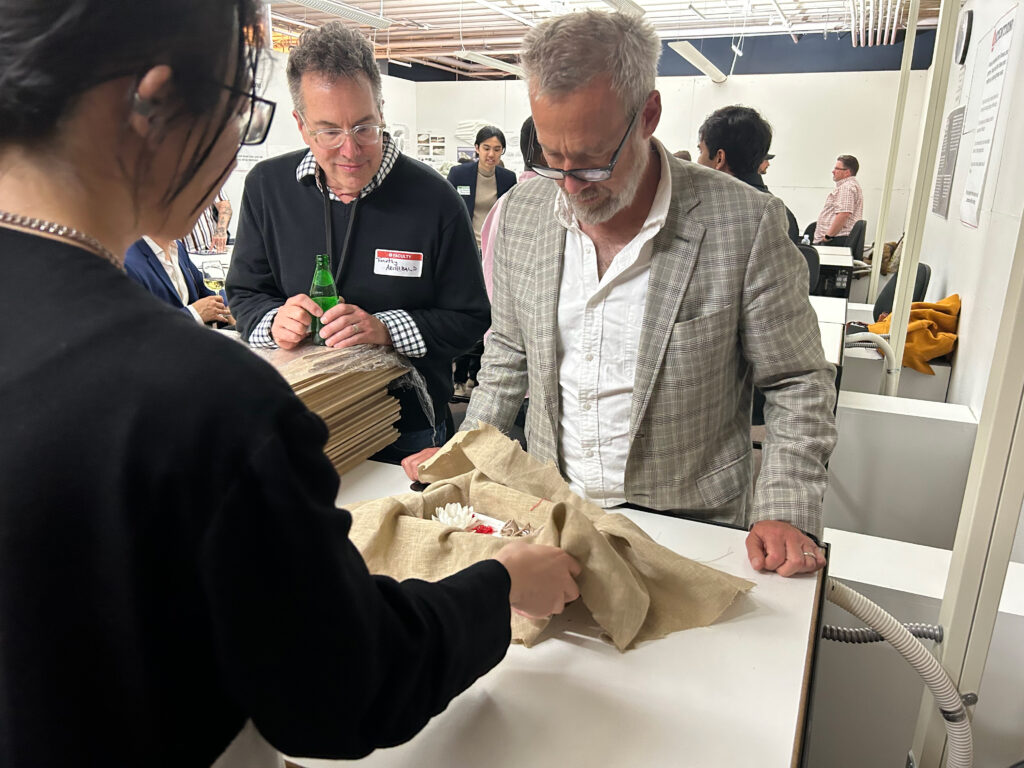 PH B.F.A. student Ze Wu was among the students showcasing their photography, and the art began long before anyone set eyes on the photos. Slowly, Wu presented and unpacked a box of photos, which was then ceremonially revealed in layers as the story of each photo series was unveiled.
"[Ze Wu]'s work is almost a performance," added Archibald. "And the actual photography is great—very symbolic concepts and beautiful execution."
E.S. Yang won Director's Choice for their untitled photograph featuring a woman in a lilac dress on a greyscale beach, holding a fish aloft in a plastic bag. Nicholas Haste also won Director's Choice for his photo titled "NEXT," a piece that masterfully encapsulates the juxtaposition of lush and industrial, evoking the luxury of a red carpet event without shying away from the reality behind the backdrop.
School of Visual Development
By Isabella Cook
The School of Visual Development (VIS) showcased impressive examples of student concept work, focusing mainly on character, creature, and environmental design in a gallery format.
"Visual development is more of a discipline than an industry," said VIS Associate Director Christopher Carman. "It's all about environment, characters, emotional traits—once that's done, it goes on down through the pipeline. What we have here [at Spring Show] are examples of visual design for all sorts of projects, like games, films, and so on."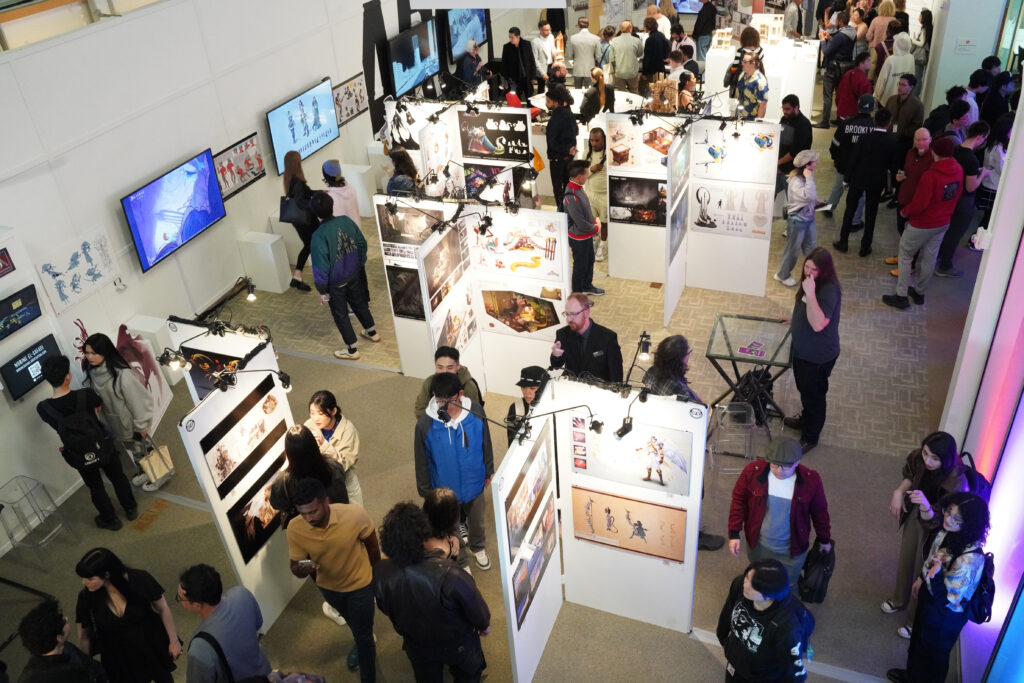 Among the works on display were Arie Guo's concept art of an austere woman in a cupcake sprinkle shawl, Yun Chen Wang's scenic piece with a person running through a dark blue and neon-toned moonlit field, and Benjamin Solomon Joseph Arnold's character and costume design for Sakhr, the Immortal Divine Triumvirate of Body.
"Arie's work is really topnotch," said Carman, "and if you look at [Arnold's] work, the character with the oversized weapon, well, designers do that because, if you're playing a game and you get a cool new weapon, you're going to want to be able to really see it in action!"
Also featured was Kristen Tingey's "Crime Grannies," which Carman enjoyed for the pleasantly unpleasant character design for two elderly women. One was rail-thin, in a yellow dress, holding a precarious pot of tea. She sports an incredibly large, pointed nose and a head of hair as fluffy and white as a ball of cotton. The other woman—squat and shirtless, aside from a "Kiss the Cook" apron—stands akimbo with a cane in hand.