School of Web Design & New Media alumnus Wei Wang's exhibition "Time Report: Doc 1" explores everyday objects that can say so much about us
By Nina Tabios
To Wei Wang, the everyday paper goods we throw away—receipts, ticket stubs, sketchpads—are collectibles. Ephemera, written or print materials meant for short-term usefulness, can actually be seen as tokens of personal history, an idea that Wang explores in his upcoming exhibition, "Time Report: Doc. 1."

Open from Nov. 8 to Dec. 1 at 688 Sutter gallery, "Time Report: Doc. 1" centers around Wang's fascination with time told through an accumulation of several ephemera, including punch cards, vintage graphic paper, and flyers. Over time, new meaning emerges from these materials. In this frame of thinking, love notes can be just as precious as gems.

"I was really imagining people using these paper goods every day," Wang said. "They have to punch in and throw it away weekly or monthly. Just the amount of paper made, the ephemera, how much that takes in a year. I think we should value it more, take advantage and remember it."

Wang's interest in print started when he was a student at the Academy of Art University's School of Web Design & New Media. In an advanced projects class, he paid homage to the cultural revolution in China by creating and screen printing a western typeface inspired by "scholars who couldn't go to school anymore would actually handwrite big type newspapers and stick it on the wall."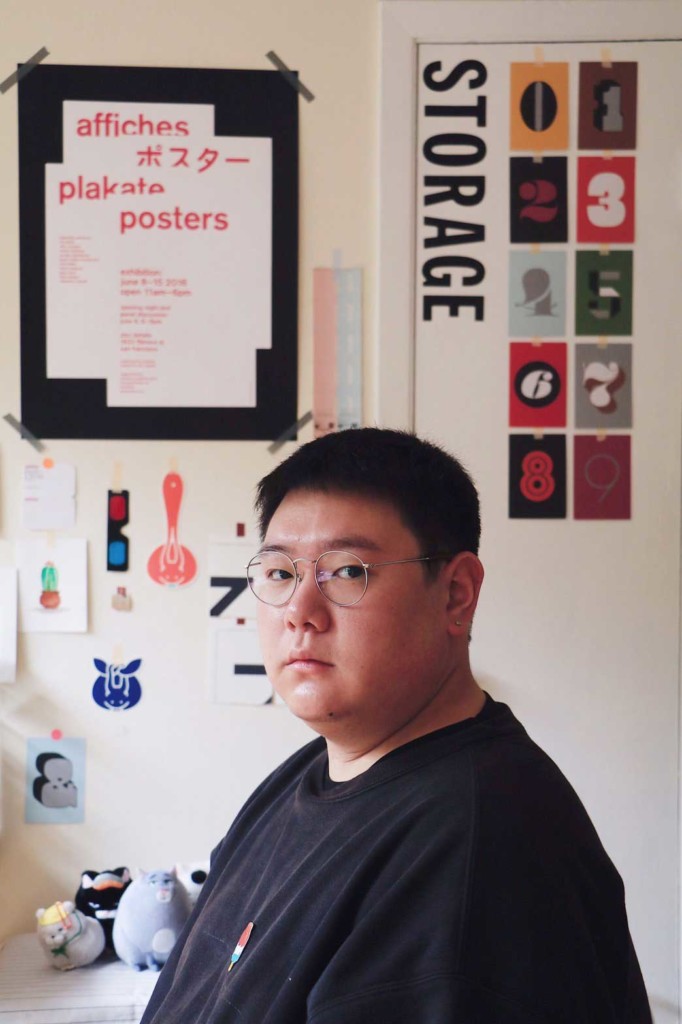 "I just found that common ground really interested me and I wanted to sort of leave my virtual studio behind," he said. "I wanted to do the physical stuff, the mechanical stuff which is running a letterpress, doing hand-pulled screen printing."

The way Wang describes it, "Time Doc: Report 1" is designed to re-contextualize the perception of ephemera and print as artifacts. Told through a series of mixed-media installations, prints are manipulated, enlarged and sewn together. An opening piece is a large stamp on wooden poles to invite guests to push onto three layers of paper as documentation for the exhibit. Wang weaves in his perceptions of culture, society, and history, especially in his home country of China.

When Wang isn't collecting ephemera and paper, he works as the design and shop coordinator over at the Curatorial Research Bureau, a partnership between the California College of the Arts and the Yerba Buena Center of the Arts. Managing inventory, shop design aspects and assisting with installations, Wang's close proximity to working designers and artists pushed him to complete "Time Report: Doc. 1."

"My job is such an art-related job and I get to work with designers, artists almost every week; it sort of drove me to want to create more and keep doing my art. If I'm not doing it, it's such a waste of firsthand inspiration and that's what helps me to keep going."

WNM Associate Director DC Scarpelli remembers Wang as "one of the most deeply thoughtful students I've ever had." Describing him as quiet, gentle and hardworking, Scarpelli wrote in an email, "When he had a vision, he'd pursue it determinedly and quietly shoot down anything that distracted him from achieving it."

Wang looks back on his time at the Academy as "a really great starting point" into becoming an artist. He didn't have any previous art background transferring over from a double major in finance and international relations from American University in Washington D.C. but was inspired by the D.C. art scene, knowing he could make an impression on the world through art and design. He wanted to learn across the spectrum of new media, from motion design to front end developing. Scarpelli encouraged Wang to think beyond digital in his ideas and concepts.

"He's such an inspiration," Wang said of Scarpelli. "He encouraged me so much about just doing things outside of the ordinary realm. Like doing prints, do[ing] non-digital works, really doing conceptuals and not just finishing the assignment."

Scarpelli mentioned Wang exhibits one of WNM's guiding principles: that students acknowledge and contribute to the larger world outside of tech and design. Like Wang, he shares a passion for ephemera.

"Go visit the archives of any prominent figure, whether they're housed at a library or a museum, and you'll learn so much about them by their diaries, telegrams, datebooks, ticket stubs, matchbook covers," Scarpelli said. "They're the traces we leave that say who we are—the spoor of our everyday lives."

"If you throw away a paper made ticket, if you throw away 10 years' worth of magazines, what does that time mean to you?" Wang asked, eager and excited to share "Time Report: Doc 1." "Not specifically what those things mean to you, but the time they served as a part of your life, what does that mean?"