Actors Charles Melton, Jake Choi, and New York Times bestselling author Nicola Yoon open up about their new film, "The Sun is Also a Star" 
By Kirsten Coachman
Can two strangers fall in love with one another over the course of 24 hours? That's the question new film "The Sun is Also a Star" poses to moviegoers this weekend.
Adapted from author Nicola Yoon's New York Times bestselling YA novel, pragmatist Natasha Kingsley (Yara Shahidi, "Grown-ish") and hopeless romantic Daniel Bae's (Charles Melton, "Riverdale") paths cross during an afternoon in New York City while they are both in the midst of dealing with their immediate futures and familial expectations. Natasha is determined to do everything she can in a last-ditch effort to keep her family from being deported back to Jamaica and, at his parent's behest, Daniel is set to meet with an alumnus from Dartmouth for a college interview. Upon learning that Daniel has a penchant for writing poems of the love variety, Natasha professes that she doesn't believe in love. He challenges this notion, asking: "What if I told you I could get you to fall in love me?" Charmed by this unexpected stranger, Natasha gives him an hour to change her mind, as time ticks away at a future unknown.
Academy Art U News sat down with Melton, Jake Choi ("Single Parents"), and Yoon during the film's recent press stop in San Francisco to learn more about the inspiration behind the book, the filming one of the movie's more intense scenes, and the importance of being a part of a film that shows empathy in its depiction of immigration.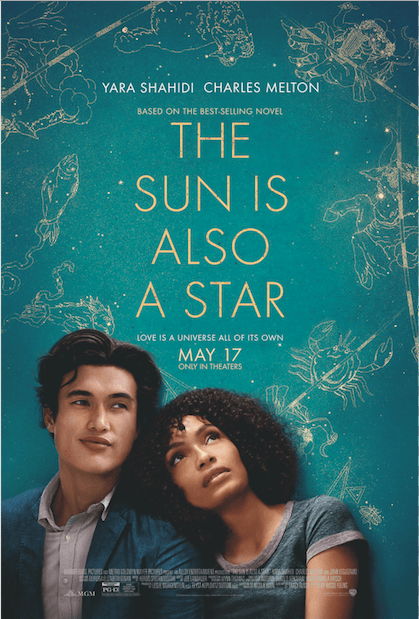 What was the initial inspiration behind the characters of Natasha and Daniel?
Nicola Yoon: It's a little bit based on my husband and myself. Not the situation; there was no deportation in my life. I really just wanted to represent someone who was more artsy and [someone] more scientific, and the way they interact and try to pull each other to the center of those two things. Also, I love a good love story. My favorite part of the love story is the falling in love part—when they fall in love with themselves and each other.
When your book is being adapted into a film, do you get play any role in that, as far as like the script staying true to your original vision of the story?
NY: It is important to know that when you sell your book, you don't have to have a say. We sell the rights, but Warner Bros. has been great through the last movie (2017's "Everything, Everything") and this one where they asked my opinion, which is exciting for me. I got to give notes on the script. I got along really well with Ry Russo-Young, who's the director, so we would chat about things. So, yes, a little involvement.
As an author, what's it like for you to see your characters be brought to life on screen?
NY: It's surreal. I do pinch myself regularly. And then Charles and Jake, they've done such a fantastic job and also made it their own. So it's a new piece of art about these characters and that's really nice.
Both of you previously did sports and eventually made the switch over to acting. What brought on that kind of career leap?
Charles Melton: Ever since I was in third grade, I've always had aspirations to be in the movies. With time, dreams evolve and change. I was playing football for about 10 years. I wanted to play in the NFL. When an opportunity presented itself, the next thing I know I'm packing up my bags and driving out to Los Angeles from Manhattan, Kansas to pursue acting.
Jake Choi: I acted in school plays as a kid in middle school and, unlike most actors, I didn't get bit by the acting bug. I hated it. Then I played basketball for many, many years, and when I was overseas and I quit, my roommate suggested I should go back to acting. She saw something that I obviously didn't see myself. I took classes in Korea first, and I fell in love. So when I came back [to the States], I saved up some money and I signed up for classes and here we are.
When did you first learn about this film and what drew you to the project?
CM: Nicola posted a picture on her Instagram asking her fans who should play Daniel Bae. And I had over 200 people tag me, and when I heard that it was a Korean American story and he's a hopeless romantic, I was like, this is me. So I bought that book and I read it in two days and fell in love with the characters and the stories and cried. It was just really beautiful. And there's just so many things with the story, with a love story, that I was drawn to. It reminded me of who I was before I became a bit jaded with the ideas of love.
JC: I just got back to L.A. from New York, from shooting an indie feature for about a month. When I landed, I got the email to audition for this movie. I read the breakdown, the logline, and thought, "Oh, this is really amazing." And I'd heard of the book in passing. They were like, we want you to self-tape by tomorrow for this big brother role. I realized, "Oh, this role is the complete opposite of who I play on my show." And I sent a tape. [I flew back to New York for Upfronts], and they asked, Hey, can you meet the director for a directed session? So I went, and I loved it and then I [flew back to L.A.]. And they were like, "Oh hey, you got the role, you've got to fly back to New York." So I went to New York three times within a month.
In the film, you play brothers Daniel and Charlie, who at first seem to be polar opposites, but we quickly learn that they might be more alike than they realize. How did you go about building that tension between your characters, especially when it came to scenes where their anger boiled over at one another?
CM: Working with Jake that day, that was a very magical day on set because we didn't expect it to be what it was. It got very emotional, very real and honest. It requires a lot of trust as actors when you come to a scene like that.
I remember one take, we were doing Jake's coverage and then he came on to my coverage and we did a take and we were shooting for a few hours at this point. There was just a moment where I didn't really feel something. When you're doing something over and over again, you're finding different ways, but, just emotionally, we were drained. I was drained. [Ry] was like, just start walking around. So I was walking around the store, and Jake was just following me around. We were just walking and he's just talking and this is while cameras are rolling. And [Ry] just said, walk around, like get into it. And we were walking around, cameras are still rolling and next thing I know, like I'm on my mark and I'm in the scene, tears are rolling down our faces. It was really magical.
And that's a testament to the cinematographer Autumn [Durald Arkapaw] and to Ry Russo-Young. As actors, we have to do the work and come in with what we believe, like living in the character and the director helps steer the ship, so to speak. She really just set the tone.
It was very liberating working with you Jake on that, man. It was really great.
JC: I feel the same way. Charles is very present, and it was easy to trust each other, I think, because we knew that the both of us, we're here to tell the story, not about ego, not about looking or acting the best. We're here to tell the story together as a collective, collaborative effort. And yeah, I was trailing him around the black haircare store, just cursing at him and saying very aggressive and mean things. I think it helped both of us to sort of get grounded in the character and Ry would just, silently do this [signals with hands] and we kind of walk into the scene and it would pop, you know? We didn't have to do that for every take, but for a few takes we did, and there's something that allows you to fluidly get into the scene when you are already sort of living it before you enter the frame. That scene, we did it a couple of different ways, too.
CM: We just played with it.
JC: Daniel and Charlie, they are battling demons that are specific to their own experiences. And the anger comes from pain, and ego and pride being hurt. But we understood that we were here for each other together as actors. And Ry would come in and kind of hug us together after.
What I appreciated about this film is how it showed not only humanity but empathy towards the immigration process. Being that immigration continues to be a hot button topic in this country, what does it mean for you to be a part of this film and story that is certain to mean a lot to people?
NY: I think that's one of the things that gets lost when we talk about like immigration, right? It's [usually] a headline. It's 50 point type in the newspaper. And it's all about policy and all that stuff. But it's really always more than politics. We're talking about people with hopes and dreams, like everyone else has, people who are born here. The thing I always say is that immigrating to new countries is an act of hope and bravery, and these people who immigrate are to be commended. They've left a language, and a family, and a home. So if this movie can humanize people who are immigrants, then that's fantastic. If we can make more people have empathy and understand that we're just talking about people with the same hopes and dreams as citizens, that's great.
Graduation is coming up for some of our student actors—what kind of advice do you have for them as they ready themselves to make that jump from school to the real world?
JC: There's so many things I would love to tell them. For actors specifically, I think training is the most important because that's the foundation that you build your art and your craft on. That's first and foremost. But I think once they graduate and they start auditioning, I just want to say, your value as a human is not based upon the jobs you book. Also auditioning is rarely about your talent. It's really about type. So you can have the best audition. You could've been the best actor that read for the role. You might not get it. It wasn't because you sucked. It's really tight oftentimes. So I think the sooner people understand that it'll save you a lot of stress.
CM: I'd say, for anyone that's pursuing a career in the arts, you have to understand that things don't work in your time, and you have to just stay focused, understand that everyone's got their own path, and to just know that everything's going to happen in the right time. Believe in what you're doing no matter what.
"The Sun is Also a Star" is now playing in theaters.
This interview has been edited and condensed.