By Greta Chiocchetti
Nahal Sohbati was in the middle of her interior architecture studies when she realized that she was much more excited by the natural elements of her designs than the "constructed" or human-designed ones.
"A turning point for me was when I learned about biophilia, which is this philosophy that people can function better and the quality of their lives are improved when they are in tune with the natural world," said Sohbati. "And it just clicked for me—our environment has such an impact on our well-being and health. I started picking up more and more design projects that were heavy on the natural elements. One day I asked myself, 'Why am I not working as a landscape architect?'"
Sohbati, originally from Tehran, decided to go back to school, launching herself headfirst into an M.F.A. program at Academy of Art University's School of Landscape Architecture. There, she met her partner in business and life, Eric Arneson, who would encourage her to co-found what would later become their successful landscape design firm, Topophyla.
Years later, Sohbati's hard work is paying off. After collecting a few awards from the American Society of Landscape Architects (ASLA), Sohbati and Arneson, who graduated in 2017 and 2016, respectively, were recognized for their clever—and effective—use of social media in the Land8 Social Media Awards.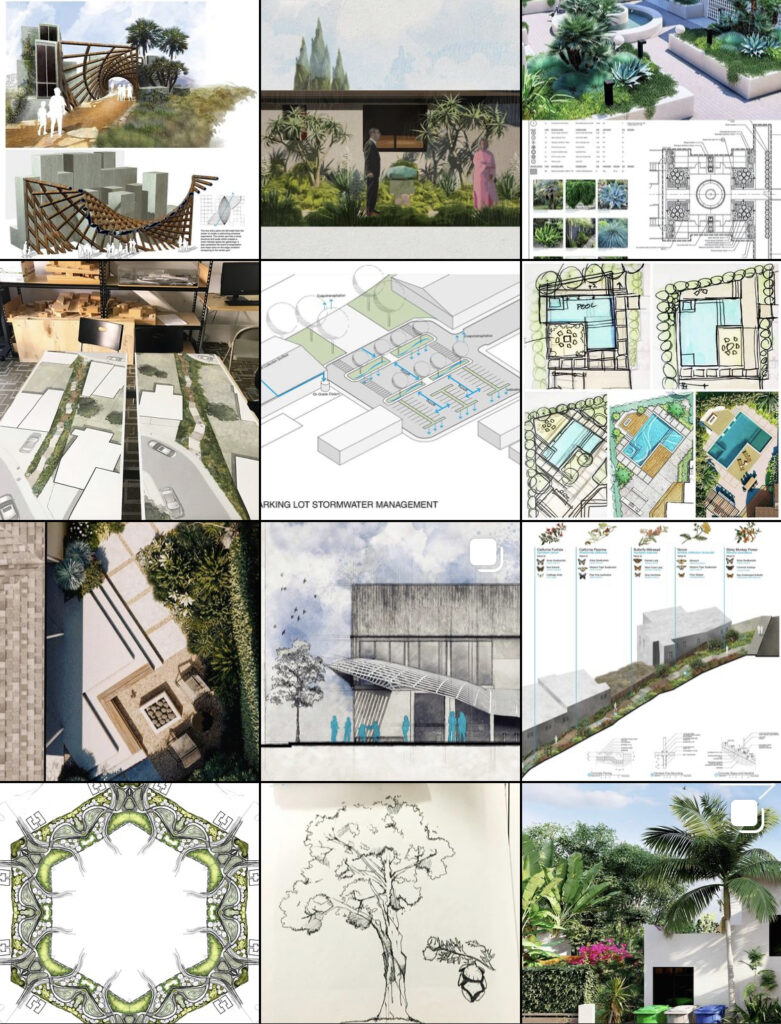 Now, Sohbati is adding more credentials to her impressive resume: a feature in Veranda Magazine's "11 Revolutionary Female Landscape Designers and Architects Everyone Should Know," along with the Landscape Architecture Foundation and Land8, an online landscape architects network.
Arneson and Sohbati have sizable followings on Instagram, where Sohbati believes her work has received the most exposure. 
"She's a fantastic designer," said Arneson. "It made a lot of sense to me that they would feature her. She is one of the most popular female landscape designers [on Instagram], if not the most."
"It makes sense that she's been able to achieve all of this," said Heather Clendenin, director of the School of Landscape Architecture. "From the very beginning, she's been a go-getter, finding workarounds to problems and not letting them get in her way. And she's always been an advocate for public space, for making people's lives better through design."
Sohbati took advantage of the resources and opportunities at the Academy, which Clendenin says helped propel her to reach her full potential.
"I think having working professionals come in, bring their expertise, their anecdotes, their day-to-day experiences, from the office into a classroom is really an optimum learning situation. And she drank it up," said Clendenin. "It's a testimony to the solid education she received while she was here, but it's also a testimony to her—she took advantage of it and made it work for her. So did Eric. For Nahal to be recognized in the same list as Martha Schwartz—that kind of star power for our program is fantastic."
Sohbati is known for her award-winning community service design project Ridge Lane. She converted a vacant lot in San Francisco's Ingleside neighborhood into a lush, green walking path that involved participation from community members at every stage from conception to implementation.
"It started as just design ideas and became more and more realistic with each step," said Sohbati. "We ended up turning two parcels of vacant, neglected land into walking trails that residents enjoy using in their daily lives. Seeing the transformation from a piece of land that had garbage on it into something the whole neighborhood can enjoy made me so proud."
Since spending so many months in lockdown, many of us have developed a new appreciation for natural elements inside our homes. The resulting houseplant trend makes sense, said Sohbati, but landscape architects have long known and championed the power of our natural environment.
"Being in tune with nature is essential to our well-being, but I guess we got too caught up in our daily lives before to really notice it," said Sohbati. "This pandemic really showed us that we should take care of our health, and I think part of that is nurturing a connection to nature. I don't think we will go back to where we were—I think this appreciation will be a legacy of the pandemic."