By Greta Chiocchetti
When asked if there was a particular class at Academy of Art University that made everything "click," School of Fine Art (FA) alumna Samantha Buller didn't hesitate to name-drop FA Executive Director Dr. Craig Nelson's Quick Studies class.
"I took it twice, and I think there was a limit because, otherwise, I would have taken it more," Buller said. "It was just so eye-opening. I left every day with a headache because it was six to seven hours of just painting back-to-back—you spend 20 minutes on each painting, and sometimes it turns out looking horrible, and you just get rid of it and start over. But maybe the next one turns out great. You take something away from each one."
Buller, who graduated with her B.F.A. in 2009, works as a full-time painter and teacher in her home studio in Petaluma. She joined Nelson and her fellow FA graduates—Romanoos Mattonen (M.F.A. 2012) and Sung Eun Kim (M.F.A. 2015)—on Zoom this past spring semester to share how they charted their successful course in the industry.
Nelson welcomed these "three of the top alumni from the last 10 years" to discuss how their time in the program built them into the artists they are now, noting that they are among hundreds of others—each with their unique approach.
"[Our students] show a lot of variety. We're very traditionally-oriented in terms of the way that we teach," said Nelson. "That doesn't mean that you can't veer off and become much more expressionistic or more abstracted if you want. That happens, but all the grounding is in the fundamentals—solid drawing, painting, design, understanding color and value—that's really all it comes down to no matter which direction you go."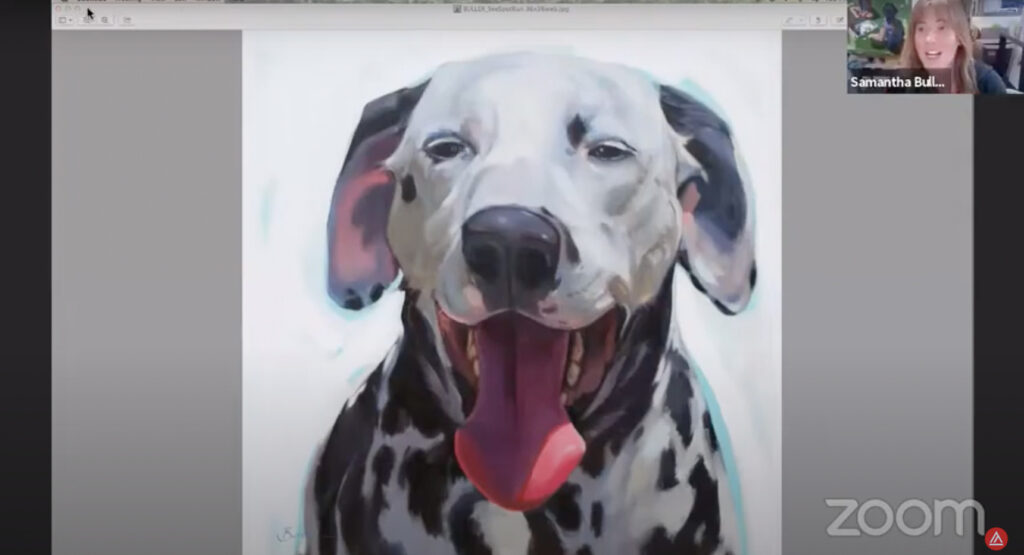 Buller, a modernist painter who admittedly "paints a bit of everything," showed attendees one of her favorite subjects—a portrait of a smiling dalmatian—in addition to landscapes and still lifes.
"I tend to get bored painting one subject matter," said Buller. "But I do love painting dogs, and luckily for me, it's something that I really enjoy doing and something that I get commissioned for the most."
Buller emphasized how her time at the Academy taught her the technical skills she needed to be an effective painter and how to make a living doing what she loves.
"This is my business, and I treat it like it's my business. I'm in it for the money," Buller said with a chuckle. "The fine art program really prepared me for how much work that would entail to keep your art business going and growing and thriving."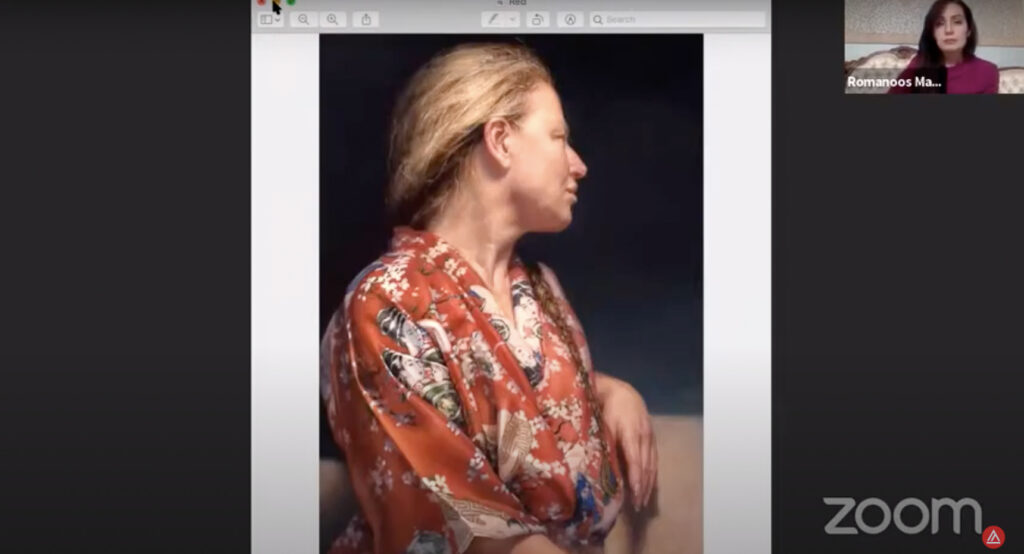 Mattonen, who owns a gallery in Carmel-by-the-Sea, focuses on commissioned portraits and looks to emphasize emotions in her subjects. Along with a romantic portrait of a woman in a beautifully draped, colorful silk robe, she showed a self-portrait of herself and her baby daughter.
"In Carmel-by-the-Sea, there are a lot of great artists who paint landscapes. Ultimately, I love painting everything," said Mattonen, who also teaches at the Academy. "I think it's important to paint something well—it could be landscape, it could be still life—but I specialize in portraiture only because I wanted to find myself a little niche and stand out amongst the crowd."
Kim's specialty is cityscapes—the Academy instructor and painter/illustrator spotlights spectacular views of San Francisco streets, from a rain-slicked Market Street to a breathtaking dusky vista of Bernal Hill. Kim's detailed paintings are especially time-consuming and technical due to the sheer number of buildings and windows—one of the reasons he decided to re-enroll in art school for his M.F.A. and further refine his skills.
"Mostly, I'm interested in light and patterns because buildings otherwise could be very boring," said Kim. "So, lighting is a key factor for me. I always pick a specific time of day to take my reference photo."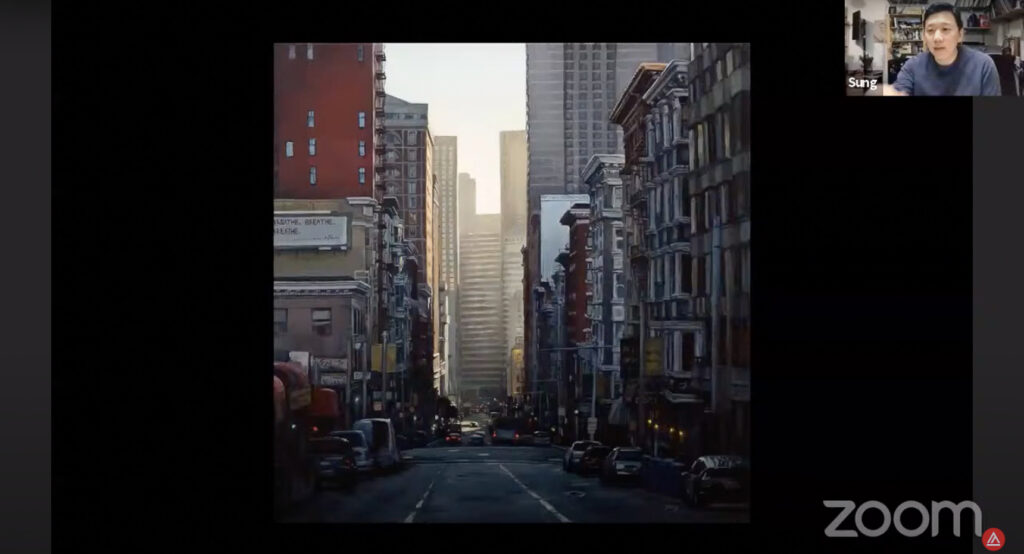 When asked about whether they were influenced by some "healthy competition" from peers while in the program, the panelists agreed that their time in FA exposed them to a variety of talented early-career artists.
"You're still in school, but you feel that you need to start getting your foot out of school and into the door—and at the same time, you have all these peers that are boarding the same boats, so there were definitely moments where I realized that I needed to start to build it up more myself," said Kim.
"There certainly is a sense of competition because you have your stations next to each other, and you're glancing and checking out what they're doing, like 'God, that's amazing!'" said Mattonen. "But feeding off of one another and putting yourself out there and cutting down your own ego and realizing that even though they're another student, you can still learn from them—ultimately you're going to grow so much more."
Watch the full School of Fine Art alumni panel below.