The Academy participated in the annual San Francisco parade for the Lunar New Year featuring decorations created by students, faculty, and alumni
By Academy Art U News Contributor
The music! The dancing! The piglets! The float! Academy of Art University once again created a memorable contribution to the 2019 Southwest Airlines Chinese New Year Parade & Festival in San Francisco.
This year's parade float lived up to the high degree of creativity and artistic merit that attendees expect from the Academy. Students, faculty, and alumni from a number of different Academy programs—including the Schools of Fine Art—Sculpture (FASCU), Illustration (ILL), Acting (ACT), Music Production & Sound Design for Visual Media (MUS)—collaborated to ensure a beautiful and cheerful float to commemorate the Year of the Pig.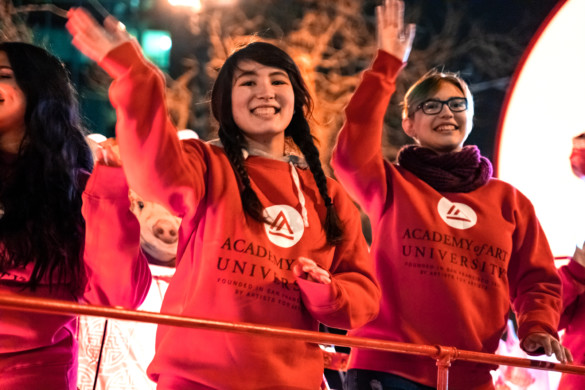 "Being Chinese, I'm so proud to have this experience with my peers," said ACT student Livia Wei Guo. "It is so cold today, but we are so warm and happy because the Chinese tradition is very popular in San Francisco. I am far from home, but today, I felt like I was home."
This is the 16th year that the Academy has participated in the Southwest Airlines Chinese New Year Festival & Parade, and is the sixth consecutive year the university has had a float in the parade.
"It was an honor to be asked to participate," said ACT student Rebekka Solbakk. "I had seen images of the previous parades, and I wanted to be a part of it. It was an amazing experience, and I'd love to do it again."
Her fellow acting peer, Emily Akhter, agreed with the sentiment. "I heard other students talking about how fun the parade was," she said. "And it did not disappoint. I had so much fun."
Under the direction of Publications & Special Projects Manager Bob Toy, members of the Academy community contributed their talents in constructing an incredibly engaging float that was a star attraction at the event. This year's float was festooned with a variety of pigs—pieces of art created by talented students from both ILL and FASCU. The music playing on the float was composed by MUS alumnus Shi Jia.
Aboard the float were students from ACT, who danced for the entire parade, which proved contagious as children along the route mirrored their moves.
"People just lit up when they saw us dancing," shared ACT student Raven Miyamoto. "We all made up a dance that we did for the entire parade, and there were even little kids in the audience who were copying our dance moves. It was great to engage with the audience."
ACT student Sarah Hathaway added: "The things that make this the best experience is the excitement, the music, and the enthusiasm of the people. It's so great when people come together and we get to share our different cultures in the Lunar New Year."
---
Academy of Art University would like to give a special thank you to everyone who contributed their time and talent to this year's Chinese New Year Parade float: Ashley Javier , Olivia Holmes, Roselyne Lougnon, Ryan Austin, George Rodriguez, Austin Coulter, Jaclyn Cuyno, Sora Medina, Sheena Wood, Yeo Kyeong Shin, Scott Gatejen, Sora Medina, Alex Mejia , Daria Nonkin , George Romero, Jessia Palumbo, Mary Piazza, Max Nagata, Miles Robinson, Priya Kakati, Sean Choate, Sophie Leu, Laura Ingrid, Olivia Lauren Santos, Herbert Martinez, Rene Walters, Arindra Singh, Andrew Garcia, Charles Yusheng Zheng, Ganping (Maggie) Ma, Monique Ziesmer, Jerrilyne Cottrell, Sarah Hathaway, Raven Miyamoto, Isabel Sanchez, Rebekka Solbakk, Yiyi Li, Yang Kun Li, Livia Wei (Lina) Guo, Aliyah Rosario, Emily Akhter, Pearl Beeson, Amy Camtu Le, David Barnes, David Sekoll, Gordon Silveria, Mateo Tayamen, Mitchell Griffin, and Bob Toy.
---
Interested in participating in next year's float? Contact Bob Toy at btoy@academyart.edu.