By Kirsten Coachman
It's a powerful thing when a person recognizes that they need help. Even more so when the person extending a hand to them is the last person they'd expect.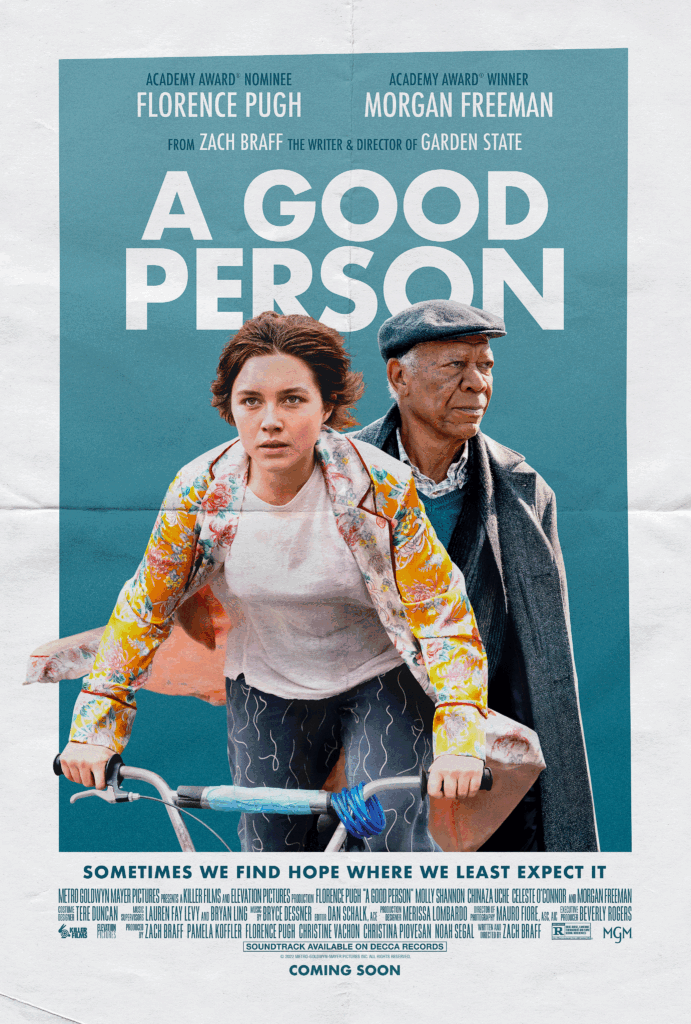 In Writer/Director Zach Braff's new film, "A Good Person," opening in theaters this weekend, Allison (Oscar nominee Florence Pugh) finds herself toiling with opioid addiction following a life-altering car crash that resulted in the death of her two of her future in-laws. At a recovery meeting, she crosses paths unexpectedly with Daniel (Oscar winner Morgan Freeman), her would-be father-in-law, now raising his teenage granddaughter after the death of her parents. Their unexpected connection brings about an opportunity for them both to process their grief.
Braff has crafted a moving film where you can't help but become invested in these characters from start to finish. Though he approaches grief and addiction with significant care, seeing the characters struggle can still be uncomfortable. Yet, the performances on the screen keep you from diverting your attention away.
The multi-talented Pugh is fearless and emotionally gripping as she navigates Allison's highs and lows. The young actor continues to showcase a keen ability in selecting projects. She impressively holds her own with screen partner Freeman, who makes his presence felt throughout. He imbued his character Daniel, a veteran and recovering alcoholic, with a certain strength and levity in the wake of grieving for the loss of his daughter as he also deals with the presence of Allison and his granddaughter Ryan (Celeste O'Connor). The film also stars Molly Shannon, Chinaza Uche, and Zoe Lister-Jones.
During a recent press tour stop in San Francisco, Art U News sat down with Braff to discuss his new film, creativity as part of the recovery process, and the importance of identifying future collaborators.
I know when you were initially writing the script, you started it during lockdown. Did your creative process change or evolve at all while you were stuck in one place?
It did—I had a talk with myself, and I said, like a lot of people did, I'm sure, during the pandemic, like you have to do something with yourself. You know, a lot of people learned to make sourdough [laughs], including Florence. But I just said to myself, "You have no excuse, like, you're a writer. A lot of people can't do what they do. You can; you have no excuse." I was like giving myself these pep talks. And so it really forced me to be more diligent about writing and more committed to a structured process of writing five days a week. I said to myself, this is the universe that is telling you that you've run out of excuses to not write.
Thinking about the movie, it's, you know, obviously processing grief on different levels through different characters, but you layered it with two characters dealing with two separate types of addiction. I was just wondering how you decided to make that kind of entry point into their story in connecting Daniel and Allie.
I thought addiction was something that would bring these two very random people together. Recovery and what I know about recovery and what I know about recovery programs is that they bring a lot of people of different types and ages, and socioeconomic backgrounds together in one space. And both of these people have the same exact trauma they're trying to recover from. And they're both really needing help in their lives. And the idea that they would somehow help each other with their grief is absurd. So what would be the catalyst that might bring these two people together? It would be stumbling into the very same AA group; it seemed like a good device to bring them together. And especially because he's not only in the program and has a belief in service, but also is a religious man. And so he's a Christian, and he believes that God is telling him to show up and be of service to this troubled young woman.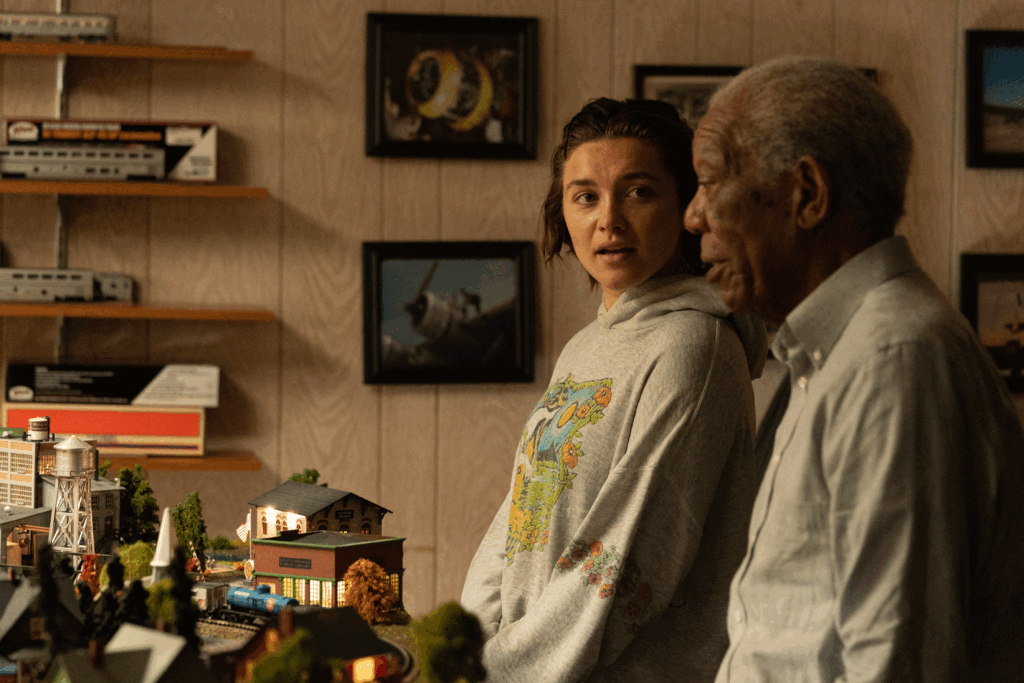 I thought that was very telling of the biggest issue surrounding this crisis is that I feel like there are people out there that know they need help, and they just can't get it.
Absolutely. In multiple ways. Because the first time she realizes she needs help, she asks her mom, and her mom does what a lot of people do and enables her and just says, "Don't worry, I got you more pills." And I think the audience is like, "No, that's not what she needs." And we know you mean well because the devil you know, which is just having her home and safe and on Oxy, is better than the devil you don't, which is having her missing all night long and doing heroin in a f—ing dive bar.
I empathize with people that deal with this in their real life and don't know what to do. So many people don't have the tools for this crisis, and these characters certainly don't. But then Alison does have the wherewithal to be like, "I'm not gonna be able to just f—ing stop this. I need real help." Like, "I need inpatient help, but we don't have money for that." Which is something that real people really face. 'Cause a lot of these centers cost money, and they don't have insurance—they don't have any insurance—let alone insurance that would cover that. Yeah. So, you know, it's a very American story.
That really grasped me, just the recognition that Allie needed help because I feel like we don't hear that side of the story. You just hear, "It's a mess," but you don't hear from people that are like, "No, I know I need help."
And also showing how it just brings down anyone and everyone. It doesn't filter by class or race; it's just taking down everyone. There's Allie, this yuppy with a good job and a fiancé on her way to live in Manhattan, and cut to her f—ing smoking heroin in an alley. I mean, the drug doesn't care who you are.
Yeah, absolutely. I thought it was really interesting that both Daniel and Allie—part of processing their grief is to have this creative outlet.
Mm-hmm.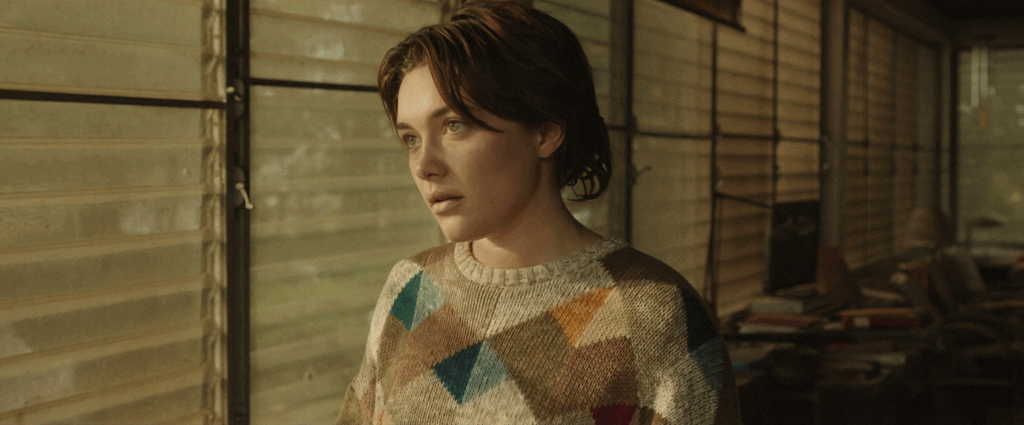 Each different, but I thought very interesting. That model train setup was one of the most impressive things I think I've ever seen. And I like the idea of Daniel imagining the different ways his life would've gone. I know Florence sings, so that seemed like a very obvious choice for her character. What were you thinking as far as the decision to have these characters have these two creative outlets as well as also being in a recovery-type program?
People who help with recovery often recommend taking on a hobby to replace the thing that you were doing so much, which was drugs or alcohol. Also, I had a model train set as a child, and not nearly as elaborate obviously as Morgan's is, which was custom-made for the film by these genius men who really do that hobby. And it's funny, I look back now, and I was a very anxious kid, and I wouldn't have described it this way at the time, but it was very meditative. It quieted my mind because the work you did was so small and intricate, and you had to be still. And for an anxious mind, it quieted my mind. It was very meditative. And so I thought that would be a good hobby for [Morgan's character] to have taken on.
It's funny when I wrote [Daniel as] 10 years sober, and I didn't know the answer to this when I wrote it, but lately, I've been thinking of, "Did he start when he got sober as a hobby or did he do it before?" I don't really know the answer to that, but it's therapeutic for him. Not only does he use it as a meditative-like thing, but it also helps him.
And then with Florence, you know, I think her character discovers that writing music could be her therapy. I was speaking to a woman from recovery yesterday on a podcast, and she said that she's not currently in AA, but exercise and journaling and a few other things were [a part of] her process. And I said, you know, "This is kind of like Allison's journaling. She kind of discovers when she's in recovery, 'I'll put this into a song, and that will be my part of my healing process.'" And I was able to write that because Florence wrote those songs and is a singer/songwriter.
Backtracking just a bit, you've mentioned in previous interviews that when you were writing the script, you had Florence in mind. At what point did you imagine bringing on Morgan as Daniel?
Well, I never thought we'd get Morgan. I've always imagined, like in my daydreams, that it would be some legend. You know, I've worked with a couple of older legends in my life as a director and an actor. So I just daydreamed like this image of the diner, that profile shot of the diner. I pictured Florence opposite some legend. Of course, Morgan was at the top of my list, but he doesn't normally do independent films, and he certainly doesn't attach himself to films that aren't set up, that's just not in his modus operandi. But I reached out to him because I thought, you know, my dad, my late father, always said, "There's no harm in asking."
So I asked him, and then like a day later, he called me on the phone I was shocked. And he said, "I see myself on every page of the script." And I was like, "Does that mean yes?" [Laughs] And he said, "Yes." And that's how it happened.
I didn't necessarily write it for an African American male. It could have gone any race. But that actually ended up being wonderful because then it made half the cast—because it's about two families—African American. And so, in addition to getting one of my favorite actors in the world, it also became a more diverse project because of the two different families.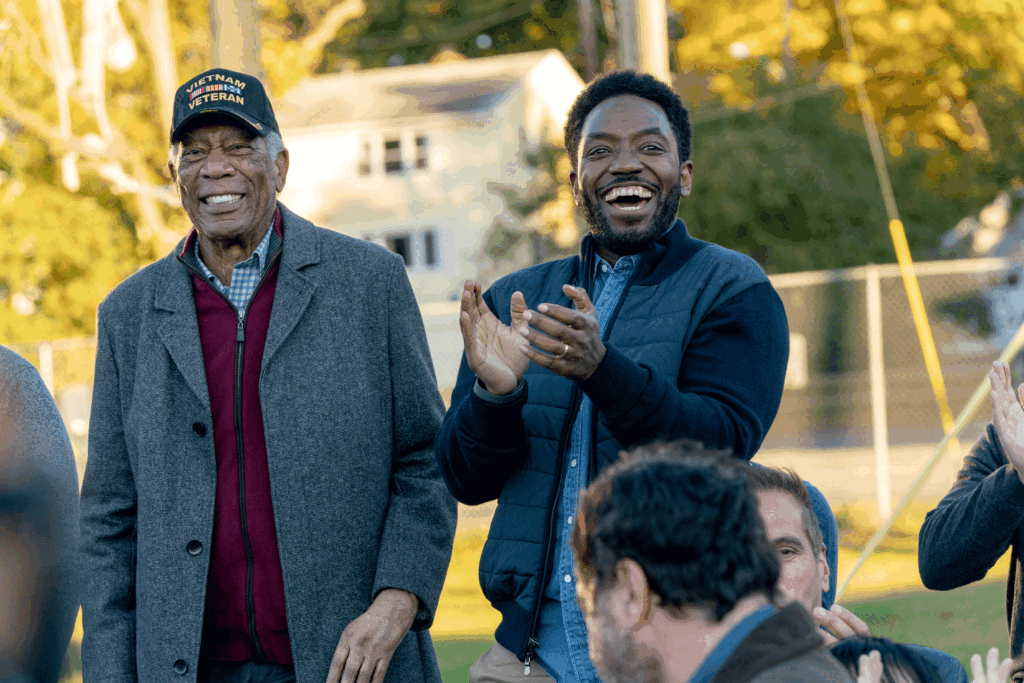 I was sitting in the screening, and I was just like, I don't know if I've seen Morgan Freeman do a lot of comedy, like when he's talking to his granddaughter. I mean, that just, like, took me out.
It's funny, right?
It's hilarious.
Well, yeah, in addition to comedy, I don't think we've seen Morgan give a performance like this in a while. Because I grew up with Morgan in "Shawshank" and "Glory" and "Driving Miss Daisy," and these movies that were life-changing for me. Those are three of my favorite movies. I think because I had a relationship with him already from doing the comedy heist movie we did ("Going in Style" [2017]) that he allowed me to push him and really get this performance out of him, which is pretty miraculous.
I saw that you directed this most recent episode of "Shrinking." [Ed. note: Episode 8: "Boop."]
Yeah. Did you like my episode?
Yes, I did.
Oh good.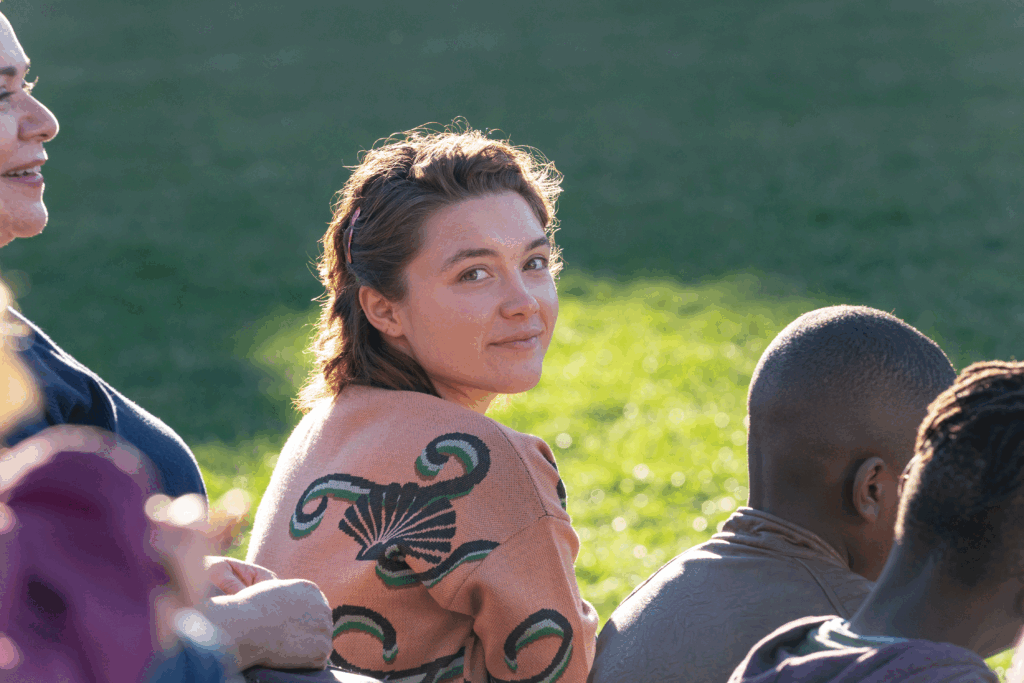 And you've worked with Bill Lawrence (Shrinking showrunner) on so many things. And being that at the Academy, students have opportunities to collaborate with one another, I was wondering if you could speak a little to the importance of identifying collaborators that you want to work with over and over again.
Yeah. Well, you'll get a sense right away from day one of working with someone like, "Do we click," right? "Are we on the same page? Are we making the same thing?" Because all you need is one experience of not being on the same page with a collaborator, and you're like, "This is horrible. Like, this should be fun." We're doing something that everybody wants to do, and we're so lucky we get to do it. Obviously, it's gonna be challenging, but it should be enjoyable. And when you're working with someone that's not on the same page with you, it's horrible. So then when you find those people, like Bill and I have had 23 years now of collaboration where we just—we're on the same page—and we really complement each other well because Bill doesn't love directing, but he's a genius writer, and I love directing, and I certainly wouldn't know the first thing about show running a big show.
Our skill sets really dovetail nicely together. He lets me do my thing, and he gives me more leeway than any of his directors because he knows I'm also a comedy writer. And in that case, I can pitch lines for the actors, I can add lines to the script. Our rule is that we always get it as written, but then when there's time, we can play around. And some of the best things on "Scrubs" came from that. And on this episode of "Shrinking," I was able to get a lot of jokes in too. We really just—I don't know—I love him. It's one of the best, most meaningful collaborations of my whole life.
That's fantastic. To wrap up, for our School of Entertainment students, whether they're filming their first film or they're writing their first script, or producing a scene or short film, whether they're in front or behind the camera, is there something that you would advise for them to keep in mind while they're creating?
Keep in mind that less is often more, and that is to say that with a performance, you might be watching it on a very small monitor on your camera or even a side monitor. People are gonna watch this—your project—on a very big screen TV, 'cause everyone has a big screen TV now. Or, if you're lucky, they're gonna see it on a giant screen in a movie theater. And that one thing you might not know when you're starting out is you can be way more subtle with your performances than you might think because an actor can say so much with very subtle looks. And I think when you're starting out, there's interest in like getting a performance and having it be so big, and one thing you learn over time is that a glance can say everything. Even a shot of someone staring out the window can say everything. Someone fiddling with a spoon, a closeup of them nervously fiddling with a spoon, can say everything. You can be way more subtle with visual imagery than you'd think because when you add music and when you add context, it's gonna speak volumes.
"A Good Person" is now playing in theaters. This interview has been edited for length and clarity.