A gold ear cuff inspired by a Jackson Pollock painting. Image courtesy of A.M. Jewelry Studio.
By Greta Chiocchetti
Ailing Yin (M.A., 2017) and Marissa Liu (M.A., 2017), graduates of Academy of Art University's School of Jewelry & Metal Arts (JEM), were recently featured in Voyage LA. The Los Angeles publication spotlights local creatives and entrepreneurs.
For the owners of the online shop A.M. Jewelry Studio, who met during a jewelry design class at the Academy, the moment symbolized years of hard work beginning to pay off.
"We feel so honored that our shop was recognized," said Liu, alongside Yin on a Zoom call from her Los Angeles apartment. "We've been pushing hard to keep adding new, affordable pieces, and our designs feel very personal to us. It feels amazing to be noticed."
Yin and Liu launched their brand in 2018 with wearability at the forefront of their design approach. Using traditional goldsmith techniques, they craft trendy jewelry at an accessible price point. Their work pulls inspiration from the greats they studied in art school—like pop art balloon dog earrings inspired by Jeff Koons or a dripping gold ear cuff inspired by a Jackson Pollock painting.
"Basically, you could say we stand on the giants' shoulders and get our inspiration from them," said Liu of their design philosophy. "And we add our own interpretation—our own spin on it."
In addition to learning the craft of jewelry making, Yin and Liu refined their foundational art skills in school. Being able to illustrate their ideas effectively is essential to keeping their design pipeline moving and keeping the store stocked with new designs, Liu pointed out. "Having a strong foundation in drawing gives us the freedom to take down anything we can imagine—that's really important as we're trying to keep fresh ideas flowing."
Since their art school days, Yin and Liu have pushed each other to better themselves as designers, forming a creative partnership that helped them succeed post-grad.
"As students, Ailing and Marissa were always 100% engaged in their class projects, always eager to learn, and always challenged themselves to go beyond basic requirements for projects," said JEM Director Charlene Modena. "As friends and classmates, I would notice them brainstorming and challenging one another to do better and think 'out of the box.' More than that, they had a way of bringing new ideas and approaches to class projects and critiques, raising the bar for fellow students."
After graduation, both Liu and Yin took jobs at jewelry shops to learn as much as possible, with a goal to later start their own brand.
"I definitely recommend that other people get a job in the industry, at a brand that you respect, to kind of figure out how it works running a business," said Yin. "We both got real-life experience before trying to launch our own business, and it taught us a lot."
Finding a balance between wearability, affordability, and accessibility in their designs took some trial and error, explained Yin and Liu. The jewelry in their catalog currently retails for an average of $30 per piece but doesn't compromise on quality—Yin and Liu were adamant about using nickel-free metals, knowing it's a common allergy.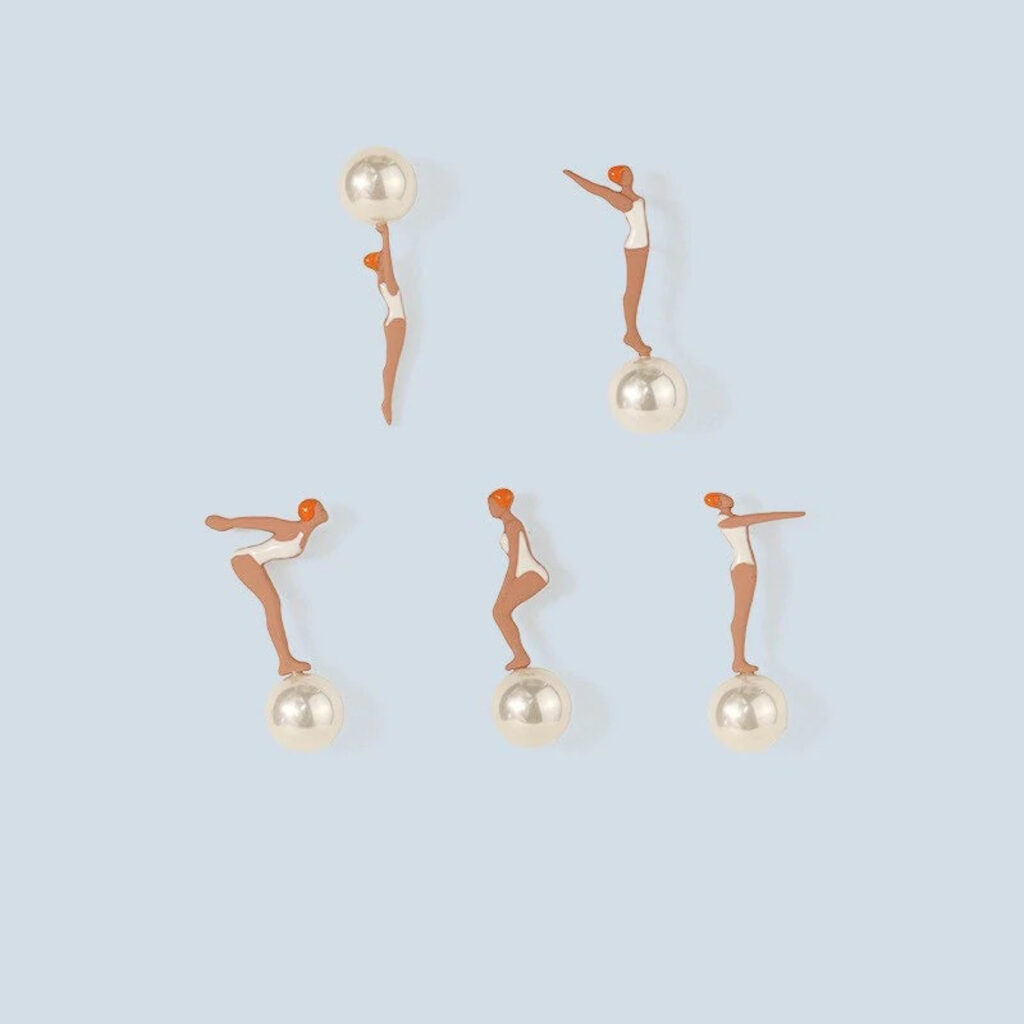 "At first, the price point was higher as we experimented with different suppliers for our materials," said Liu. "We found over time that lower price points were more popular among our customers, so we worked hard to source affordable but quality metals."
Yin spearheads the online marketing effort for the brand on Instagram and Facebook, where stylized photos of the jewelry pieces are paired with fun captions that breathe life into the brand.
"I think it's really important for people to get a sense of our personality, and using social media is a great tool to show that," said Yin. "It's also a good way for people to find us as a smaller business."
To shop Yin and Liu's wearable art, please visit amjewelrystudio.com.