By Kirsten Coachman
[Ed. note: Key plot points are discussed below.]
In what's probably the most highly anticipated film opening of the year, "Spider-Man: No Way Home" swings into theaters this weekend. And there's a whole lot going on in this third installment.
The film picks up right where 2019's "Far From Home" left off, and now, thanks to J. Jonah Jameson (J.K. Simmons) and a deceased Mysterio (Jake Gyllenhaal), the world knows that the secret identity of Spider-Man is Peter Parker (Tom Holland). And the fallout is immediate.
The repercussions from the London attack don't just affect Peter, they reach MJ (Zendaya) and Ned (Jacob Batalon) as well. The trio of friends have their hearts set on attending the Massachusetts Institute of Technology (MIT) after high school. But, due to the attention surrounding Peter's identity being revealed, the university has denied enrollment to all three of them, dashing their hopes of a fresh start.
Looking to help get his friends a second chance at attending MIT, Peter seeks out Doctor Strange (Benedict Cumberbatch). His ask: To go back in time and make it so nobody knows that he's Spider-Man. With the Time Stone no longer an option, Strange offers a Runes spell that Wong (Benedict Wong) advises against. Confident, Strange begins to cast the spell in the Sanctum Sanctorum. Peter continually interrupts the sorcerer as the young web-slinger doesn't want his loved ones—MJ, Ned, his Aunt May (Marisa Tomei), and Happy Hogan (Jon Favreau)—to forget that he's Spider-Man. Unable to complete the spell, Strange puts it in an encasement to keep it from messing with space and time.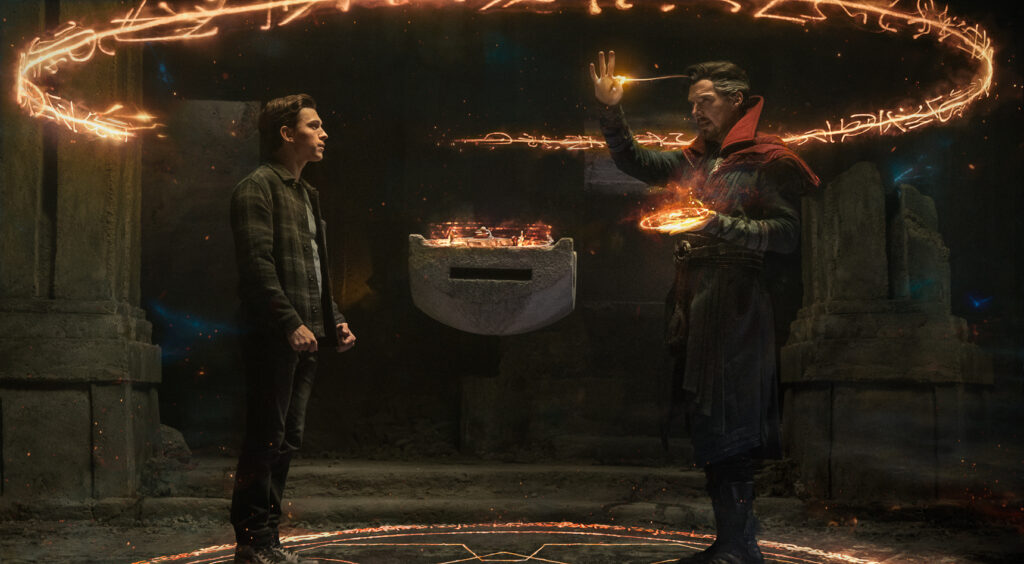 Little do they know, it's already too late.
Later, Peter clumsily pleads his case to the MIT Assistant Vice Chancellor (Paula Newsome) in the middle of traffic to give his friends another chance. Havoc ensues on the backed-up bridge caused by an unfamiliar tentacled figure—Dr. Otto Octavius aka Doc Ock (Alfred Molina, "Spider-Man 2").
The two engage, going back and forth on the bridge as Doc Ock demands to know what Peter has done with his machine. It's truly one of the standout action sequences of the entire film. Watching a villain from the Sam Raimi trilogy square off against Holland's Spider-Man is wildly entertaining, especially as both characters take in one another's accouterments. This initial interaction between the two results in one of the more cheeky moments in the film.
An additional presence triggers the "Peter tingle" as the Green Goblin (Willem Dafoe, "Spider-Man") appears, throwing his trademark bombs onto the bridge. Cut to Strange intervening, capturing Doc Ock in the Sanctum's basement, and explaining to Peter that the botched spell is pulling those from other universes who know Peter Parker is Spider-Man to their universe.
Once the remaining "trespassers" are found and detained, Strange plans to send them packing to meet their fate in their respective universes. However, Peter has another idea in mind about what they should do, putting him in direct conflict with his magical friend.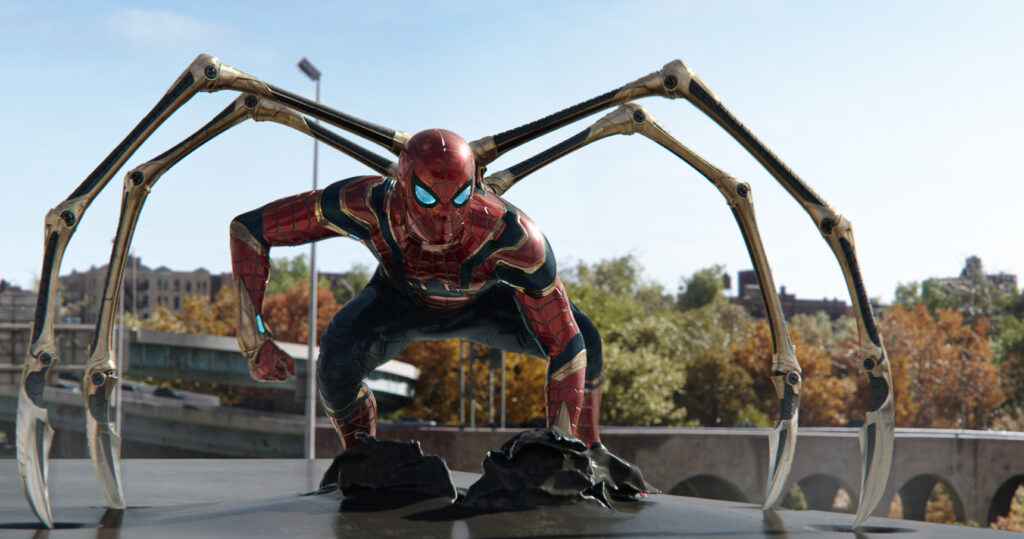 What continues to unfold onscreen is one of the most exciting visual stories to come out of the Marvel Cinematic Universe (MCU). Skillfully helmed by Jon Watts, the director, along with writers Chris McKenna and Erik Sommers, crafted a daring story that is both brimming with emotion and embodies the phrase, "With great power comes great responsibility."
At the heart of "No Way Home" are the established relationships in Peter's life—this tight-knit circle of MJ, Ned, Aunt May, and Happy—and how important each of them is to him. It's evident in the character's actions throughout the film. While it's nothing new for Peter to be confronted with tough choices, his motivation behind his decision-making since being revealed as Spider-Man has changed. He no longer needs to protect this secret, and instead, his love for these individuals carries more weight in the choices he makes throughout "No Way Home."
By and large, "No Way Home" features the strongest performance from Holland in his MCU tenure. This may be his sixth showing in the role of Peter Parker, but with a film of this magnitude, it remains quite the undertaking. And he delivers. Every emotion Peter experiences throughout this film—concern, guilt, pain, anger—is genuinely affecting.
Admittedly, it was a bit of a trip to watch Peter interact with all of the returning villains. However, there was something special about the screen-time Holland shared with Molina and Dafoe. The Raimi "Spider-Man" alums seemed to relish their return as Doc Ock and Green Goblin.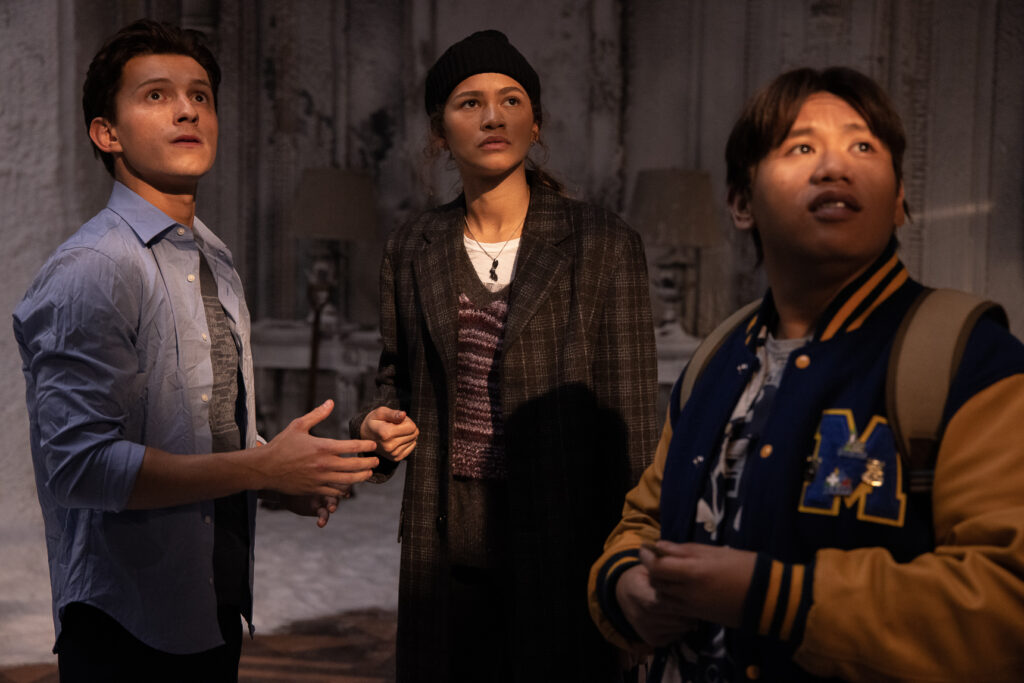 Zendaya and Batalon get to flex their comedic chops, as their characters MJ and Ned add some well-timed levity as they help out their superhero pal. They're given some of the best lines of the whole film, which are sure to be quoted long after the movie's release.
I'd be remiss not to mention the sweetness between Peter and MJ, as the friendship between the two has evolved into something more romantic. Holland and Zendaya's real-life chemistry translates well to the big screen. MJ brings a sense of calm to Peter's world, and one can only hope that this budding love story will have the opportunity to play out in future installments.
From start to finish, "No Way Home" proves to be the best film of the trilogy. And if this turns out to be Holland's final go as the beloved friendly neighborhood Spider-Man—he can rest easy that he's going out on top.
"Spider-Man: No Way Home" is now playing in theaters.