By Greta Chiocchetti
This past summer, Academy of Art University School of Communications & Media Technologies (COM) alumnus Eli Africa (M.A. 2011) was commissioned by SamTrans, a Bay Area public transit company, to design a bus wrap promoting diversity, inclusion, and acceptance within our communities in response to a disturbing rise in anti-Asian hate crimes across the country.
"I was hoping that when people see this bus drive by, that, for one, they see someone that looks like them," said Africa, a Bay Area-based freelance multimedia producer. "I want them to see people of all different religions, different skin colors, different gender expressions—and they all have positive expressions on their faces."
Africa's design, which he completed in just under two weeks, was displayed on two buses that drove through San Mateo County from June to mid-July.
"It made me so proud to see them driving around the neighborhoods," said Africa. "For me, as the son of Filipino immigrants, it's really important that I was able to address the SamTrans anti-racism campaign through my illustrations."

Set against a warm, bright orange background with contrasting splashes of turquoise and red, fifteen faces—each from different backgrounds and walks of life—are grouped alongside the slogans "Love our communities," and "Stand together against hate."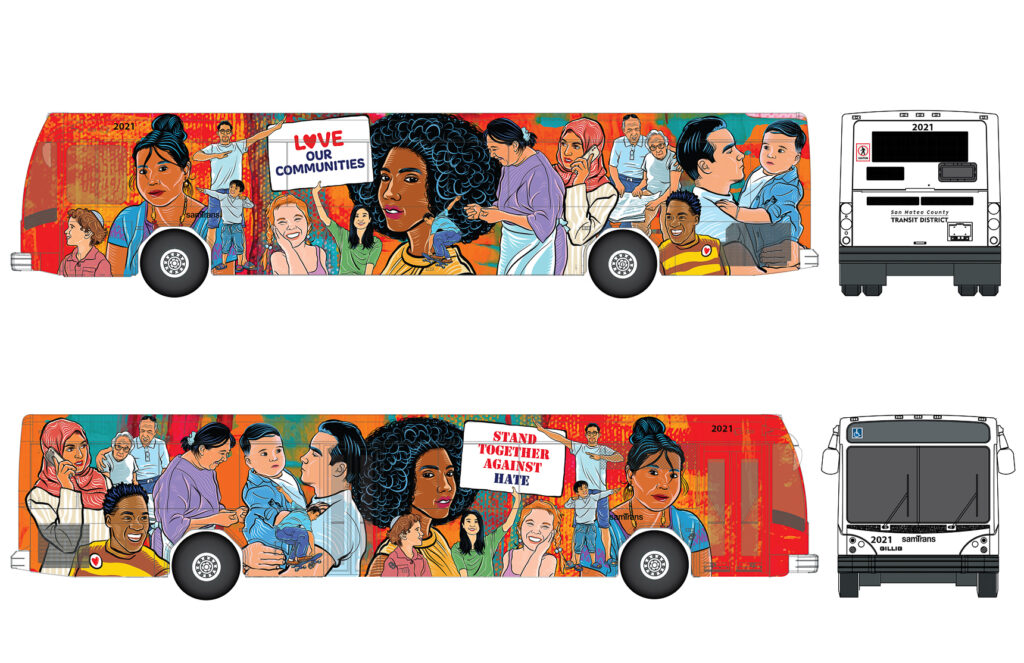 "Seeing what he created on a bus communicates more than words—there's just so much lived history in each face," said COM Director Jan Yanehiro. "It communicates to the world who is a part of this vibrant community and that they are welcomed and valued."
For the 15 smiling faces featured on his design, Africa referenced photos from magazines and the internet, but was careful that none of the characters resembled anyone from real life too closely—he wanted them to appear universal, not specific to an individual. It was a fitting project for Africa, who has had plenty of practice drawing faces, including drawing caricatures at Fisherman's Wharf as a part of the San Francisco Art Commission's Street Artist program.
"As a young art student, I used to draw caricatures of my classmates, you know, they'd say, 'Draw me and I'll buy you lunch,' or 'Draw our teacher!' for fun," said Africa.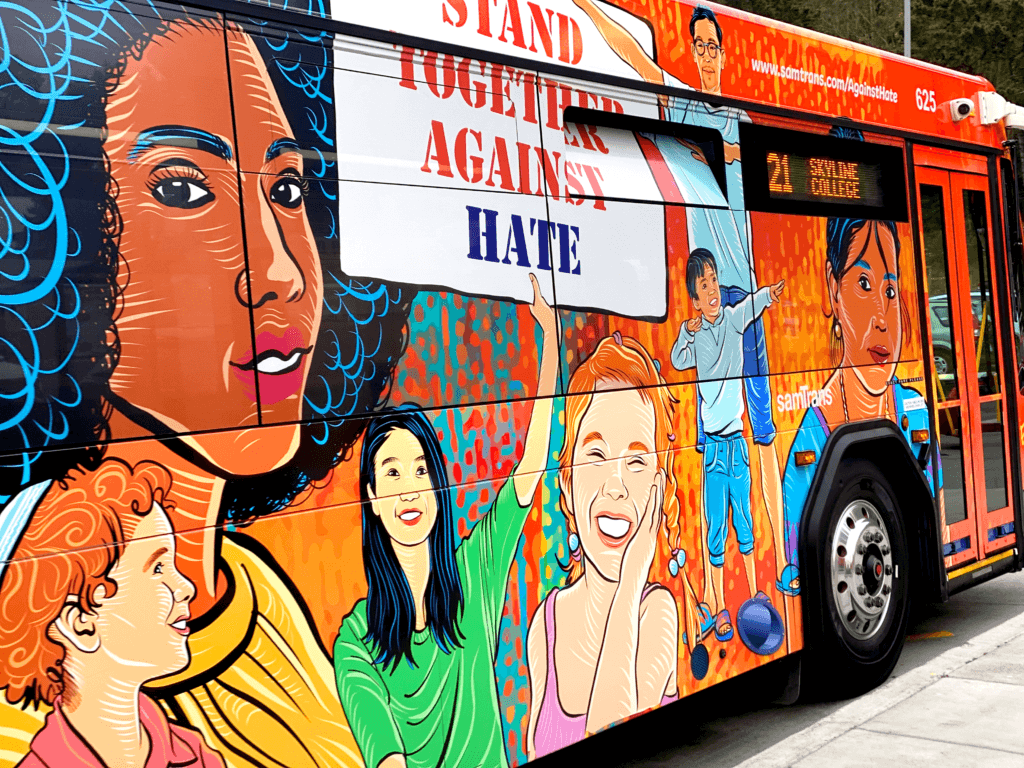 Africa spent the first eight years of his life in southern California before moving to the Philippines. He received his bachelor's degree in visual communications from the University of the Philippines College of Fine Arts in Diliman. When he moved to the Bay Area, he found work as a production artist and as an educator. It was while he worked as a multimedia producer and educator at the Children's Creativity Museum—just a few blocks away from the Academy's New Montgomery Street campus—that he decided to pursue his masters there.
"On my way into work, I'd see the advertisements and think to myself, 'Hmm, maybe I should check that out,'" Africa said. "At my previous jobs, my analog skills had been really valuable—being a capable illustrator gave me a lot of opportunities. I thought, there's definitely value in having a solid foundation, and I knew I needed to go back to school to learn more and up my game as a visual artist."
Though Africa had taught himself how to use programs like iMovie, which he used to edit an award-winning short documentary called "Selling Songs of Leyte," he wanted to sharpen his skills and update his multimedia proficiency. When he finally visited the Academy's campus, he had intended to inquire about enrolling in the film school, but a chance elevator ride changed the course of his education.
"I was in the elevator with my wife, and she pointed out a poster for the COM department," recalls Africa. "She said, 'Eli, this looks more like you. You need to talk to them.' And the rest is history."
To see more of Eli Africa's work, please visit https://www.elicreates.com/.