By Nina Tabios
Most of us do the ritual check before leaving home: Phone. Wallet. Keys. These days, face masks are now part of that essentials list, no matter if you're heading on a grocery run or taking a stroll through the park.
But not all face coverings are the same. Protection, breathability, and comfort differ with each type available—disposable, cloth, bandanas, neck gaiters, or N95—and it can be especially bothersome when you're jogging, biking, or enjoying other kinds of recreation. Even just talking behind a mask can stir some annoyance.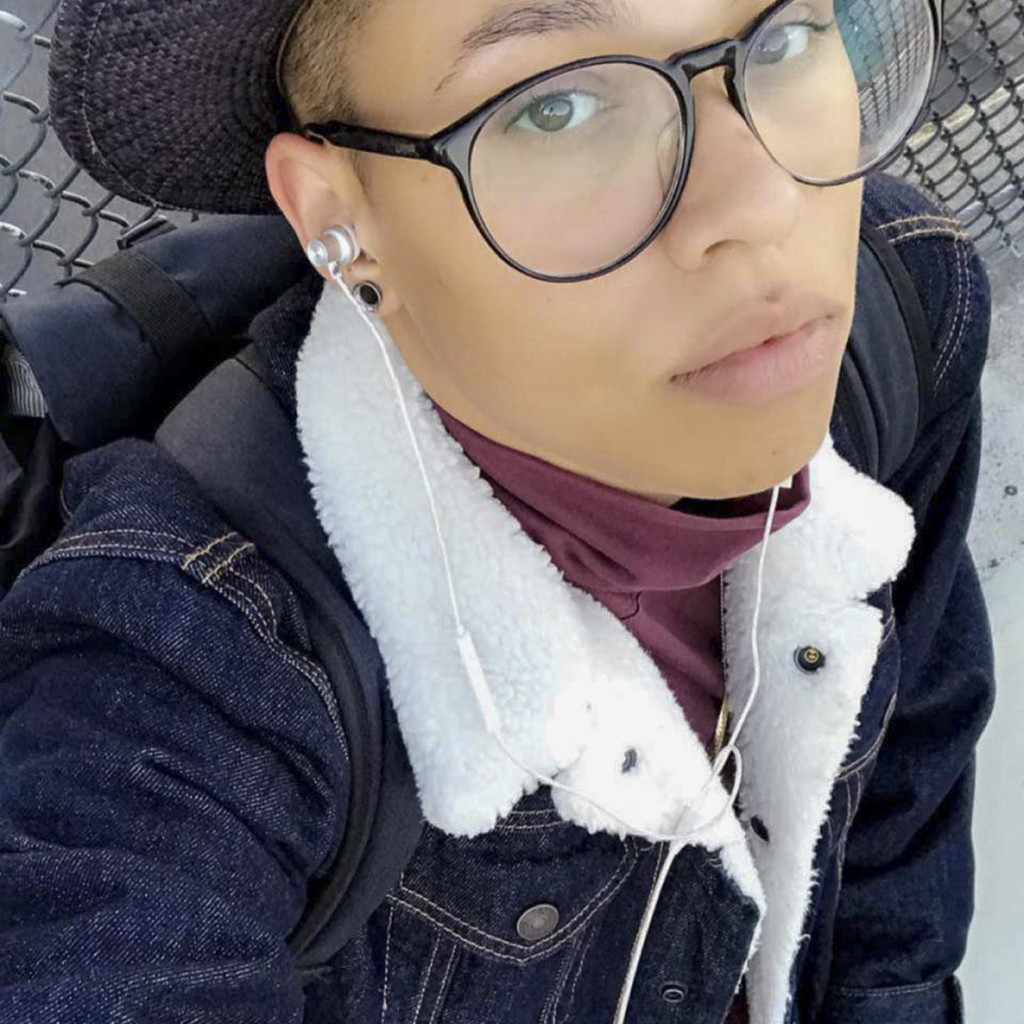 It's a tough problem to crack for most, but School of Industrial Design (IND) student Izzy Britos may have come close to finding an effective solution. Britos' design, called Vetrovi, is a hybrid face mask-helmet inspired by the military but made for the everyday person. Equipped with features like enlarged valves, Google plexiglass, and a layer of protective polyester foam, the Vetrovi concept addressed many fundamental needs while also impressing the judges from the TV series "New York by Design," who selected the Vetrovi as a competition finalist in its Face Mask Innovation Challenge.
"Originally the project started around military members," said Britos, an IND product design student at Academy of Art University and Navy veteran residing in Oakland. "I figured that military members never stop working and when things are shut down, the military are the people that come to call. But after making some modifications to the mask, I started looking to make something that we could all use collectively."
Before the Academy, Britos traveled the world as a sailor, living all over the United States as well as six different countries throughout their Navy career. They had their eye on the Academy from a young age (as a teenager Britos dabbled in oil paintings and acrylics) but instead, they opted for the military to seek other opportunities. Once they returned home, Britos enrolled in business school, hoping to find the next calling for their career.
"I had a deep passion for inventing and looking into different avenues of how to make something, and I thought business was going to be that," said Britos, who made up their mind after seeing the IND collaboration with NASA at the 2018 Spring Show. "After seeing that this is a possible area that I could be a part of it, where there's sketching, it entails rendering, 3-D mockups, that kind of covered all of the art mediums I was interested in, and they had it all in one major. That was something I had never seen before but wanted to explore more."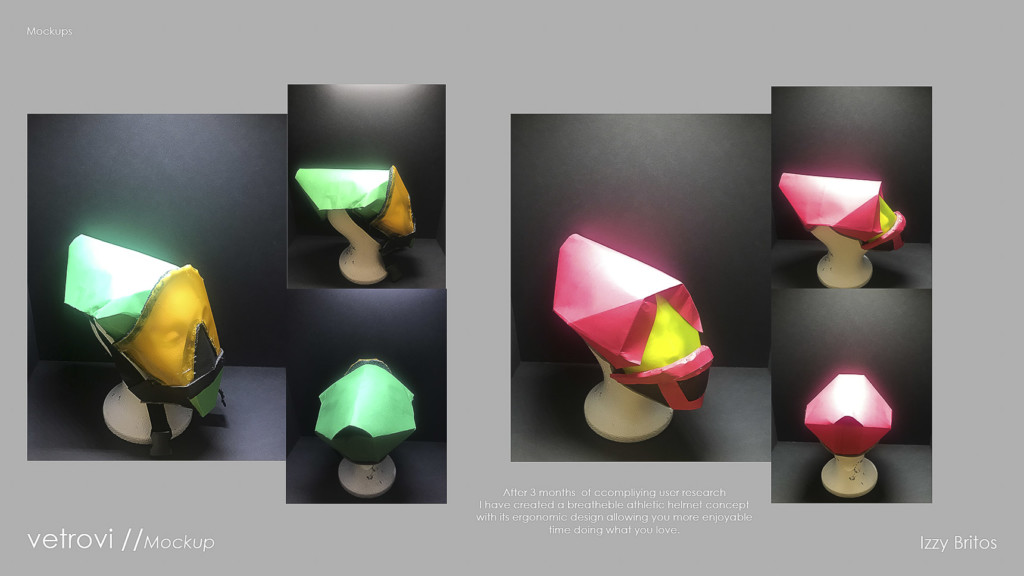 The Face Mask Innovation Challenge judged entrants based on ingenuity, creativity, functionality, originality, and potential viability. But for Britos, comfort was the main priority. Creating a more comfortable fit meant more room for larger breathing apparatuses, including larger inhalation and exhalation valves that filtered pathogens going in and out. Plexiglass was another safeguard but also incorporated Bluetooth connectivity for texts, maps, and video chat. Held together by a hard shell, built in accordance with the safety standards set by the U.S. Consumer Product Safety Commission, the Vetrovi was designed to help users feel secure in all sorts of activities outside of the home.
"I felt the thing we're missing the most, especially right now, is recreational use and being able to come together," Britos said. "The Bluetooth modifications allow you to hear each other and with the Google plexiglass you'd be able to further connect with friends and family or watch the next workout video on your phone or even on your mask."
To solidify their idea, Britos built prototypes to get a feel for the design. Using DIY home materials like clay, balloons, paper mâché, and a Styrofoam mannequin, Britos built a full-face model to test for comfort, feel, and weight. All of this was in line with the foundations learned in Britos' Spring 2020 Product Design 1 class, taught by IND instructor Leif Peterson. Britos' approach put Peterson's curriculum to the test: process, research, ideation sketches, mockups, renderings, and the basics of 3-D CAD.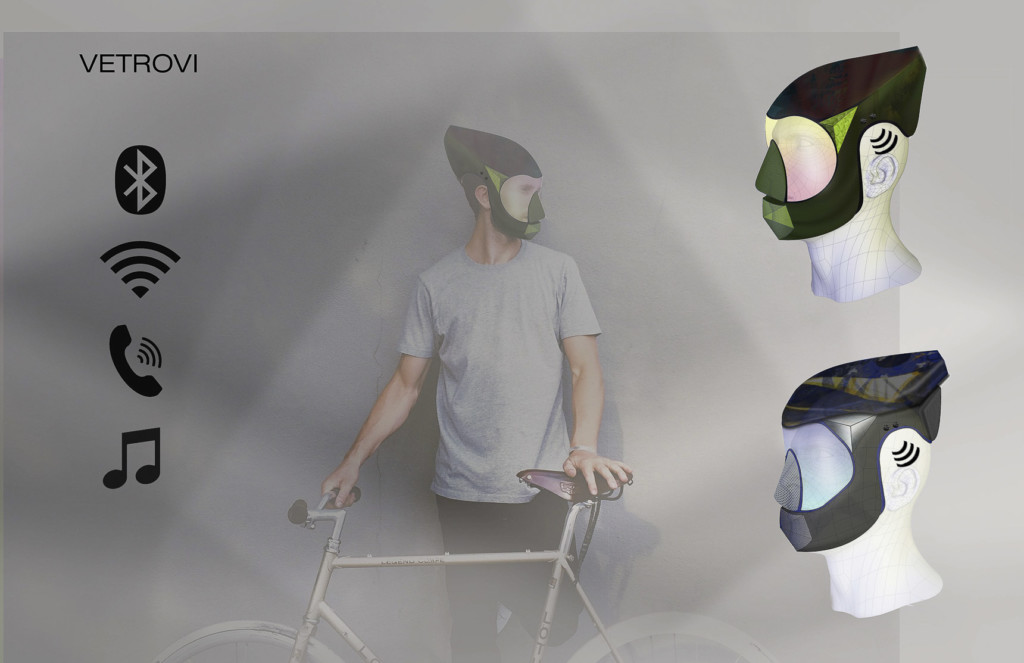 "Izzy was a very dedicated, hard-working student and very experimental when it came to model making," Peterson said. "I think that was really one of their strengths and they also had a very good analytical capability and a great empathy for the user—all qualities of a good designer, I would say."
Being named a finalist so early in their design education was reassuring for Britos. It's not easy taking on a new discipline, especially after serving overseas, but being accepted into the Face Mask Innovation Challenge is an indicator of a bright future ahead. For Britos, even entering the contest signaled a move in the right direction and they are excited to try out for more opportunities in the near future.
"I'm really looking forward to learning more," Britos said. "If you want to be an artist you don't have to give up your dream. The biggest thing is to just keep trying and to always remember that if you fail faster you can always succeed faster and sometimes you need to fail a thousand and one times to make it, and that's okay."