By Greta Chiocchetti
For international students all over the country, the past few months have been a rollercoaster ride. Like their American classmates, they've dealt with isolation from stay-at-home and social distancing orders, transitioned to online learning, and lived with the uncertainty of an ongoing pandemic.
For many, there are even more hurdles to overcome: travel restrictions and closed embassies have kept many stranded in a different country without their families; drastic time zone differences have many students waking up in the middle of the night to attend classes; many were concerned about the status of their F1 visas until President Trump's administration walked back its effort to expel international students from American universities.
But for international students at Academy of Art University who attended "Studying Art in a Pandemic," a webinar sponsored by the English for Art Purposes (EAP) department, the university's support for its international students was made clear.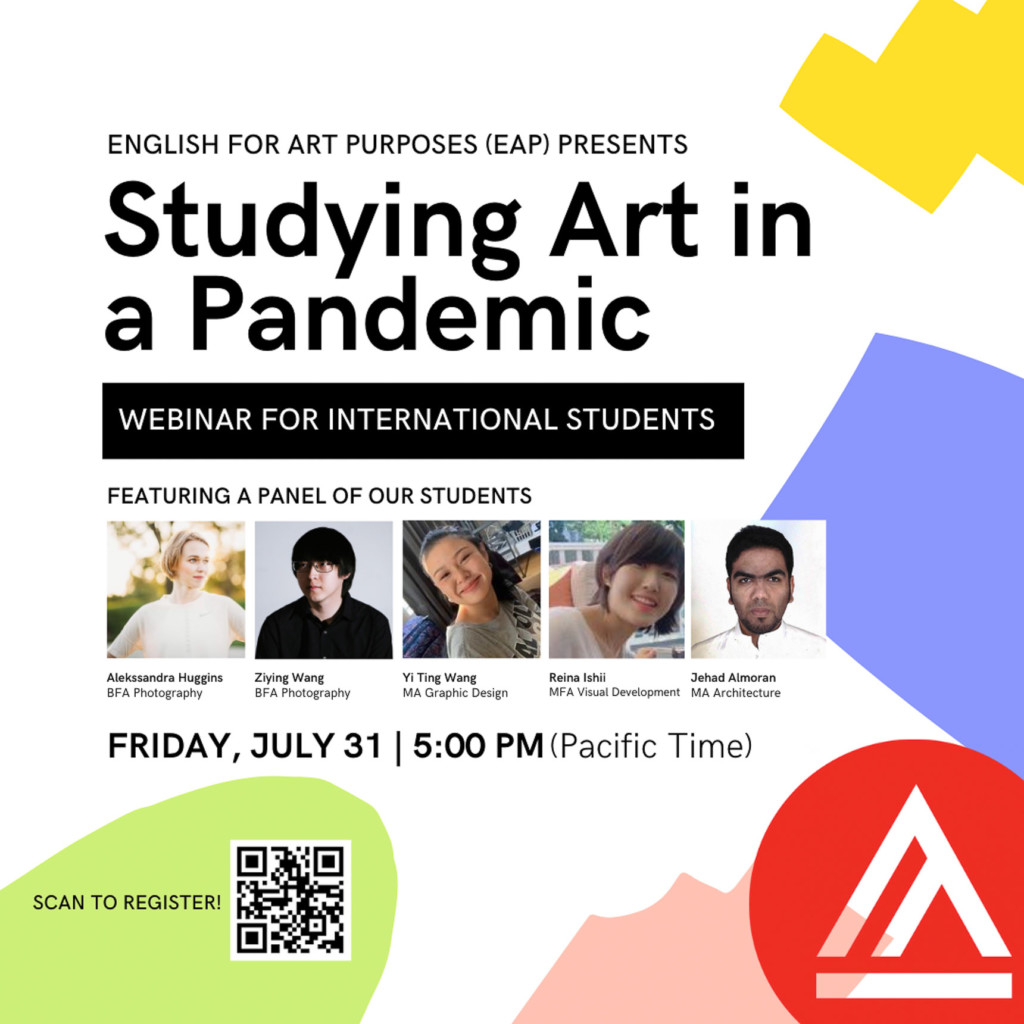 "We know the last few months have challenged you like never before, not only as students but also just as human beings," said Sherise Lee, associate director of EAP. "We want you to know that you matter to us and we do care—we want to help you to continue to follow your passion to be artists."
The webinar on July 31, which was the first in an ongoing series, was designed to give international students a platform to voice any concerns as well as to connect with other students.
Lee kicked off the webinar by asking a panel of five EAP students about the challenges that they're dealing with as a student in the midst of a pandemic. For many, the shelter-in-place orders were a hurdle.
"My biggest challenge was isolation," said Aleksandra Huggins, a student in the School of Photography (PH) who is originally from Russia. "I was faced with stress and depression. I thought because I couldn't meet the [instructor], that I can't be a successful student—but I tried to find ways that will make me still a successful student even during the pandemic."
For other students, the transition to remote learning required their instructors to rethink the course of the class.
"I have a class called People Photography—we need to shoot portraits, but I live alone. It was an impossible task because we want to stay healthy and try not to be outside, and it was a challenge that required a lot of work on the part of both the teachers and the students," said Ziying Wang, a PH student who tuned into the webinar from China. "Our instructor, Timothy [Archibald], encouraged us to explore more topics about our recent works, rather than just focusing on the portraits."
For Reina "Rey" Ishii, an M.F.A. School of Fine Art student from Japan, the challenges involved technical difficulties. "I like on-site classes because the communication is better. During this semester, it took me some time to get used to listening [to my classmates speaking in English], because I couldn't hear well with my internet and earphones. But I learned to turn the volume way up to help me hear better."
Betty Wang, a student in the School of Graphic Design from Taiwan, said that her shifting class schedule was a challenge.
"About halfway through the semester, we changed the class time so it would be better for some international students maybe in China or Taiwan, so they don't need to go to class at midnight," said Wang. "But I think this is a really challenging time for everyone."
For Joe Alomran, a first-semester architecture student from Saudi Arabia, settling into a new life on the other side of the world was made especially difficult when he couldn't connect with his instructors and classmates in person.
"This first semester was unusual for me," said Alomran. "The pandemic has created a number of challenges for me as an international student; the first thing is communication. I like interacting with my instructor, but we moved online to Zoom. The first month was difficult [communicating] with my instructor—it was confusing for me. But I learned to ask for help when I don't understand and after that, it became easy to me to connect."
The panelists didn't only discuss their challenges—they also shared helpful tips that attendees could implement in their own lives.
"Every morning, I try to work out because, for me, it's important not only for physical health but also mental health," said Huggins. "And also, I want to mention, I always had a problem with procrastination, especially when I'm writing essays. And I found one technique: So every time when I need to do something that I don't want to do, I tell myself that I'm going to do it just for five minutes. And when I start to do it, I do it for longer and longer, and my essay is done."
Wang discussed how she was working through the frustrations of not being able to physically visit museums and other art-related events for inspiration—by channeling her creative energy into a new venture.
"I'm knitting!" Wang said, holding up a colorful creation. "You can see the different colors—every color is a different pattern that I learned, which is over 20."
To watch the EAP Webinar, please click here. For news about the next EAP Webinar and other Academy events, follow the Academic Resource Center (ARC) on Instagram at @academyart_arc.