By Greta Chiocchetti
In the first few moments of Jon Stewart's newest political satire, "Irresistible," the Democratic National Committee's top strategist Gary Zimmer (Steve Carrell) wallows in the wake of the disastrous 2016 election. The camera pans across his bedroom floor, strewn with discarded snack food packages and bottles of beer, finally resting on his dismayed figure, lying facedown in bed—a familiar feeling for many Americans at this bleak time in our nation's history.
But soon, Zimmer hatches a plan to win back D.C.—"the forbidden city"—starting with the Heartland. After discovering a viral video of retired Marine colonel Jack Hastings (Chris Cooper) standing up for the rights of undocumented workers in his small rural town of Deerlaken, Wisconsin, Zimmer sets his sights on Hastings as the ideal candidate for an upcoming mayoral race—and to nudge small-town America to the left.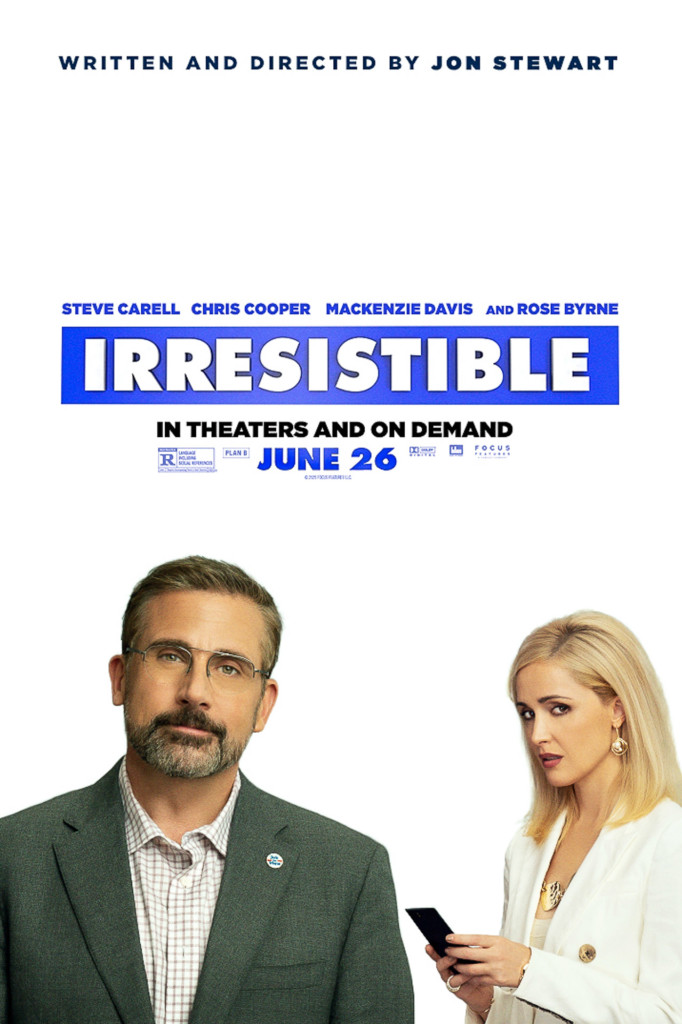 Carrell shines as the out of touch, bumbling Zimmer, at some points calling back to his notorious performance as Michael Scott in "The Office." Upon arriving in Deerlaken, he's the absolute stereotype of an establishment democrat: looking down upon the small-towners and paying little attention to the issues plaguing their community. When his Republican rival Faith Brewster (Rose Byrne) is sent to stop the momentum Hastings' campaign has created, hilarity—and chaos—ensue as the two will stop at nothing to win.
As writer and director, Stewart cleverly parodies the disingenuous nature of American politics—for instance, in one scene, Brewster outright lies on a TV news program about being from Deerlaken (which she mispronounces). The film pokes fun at the deep entrenchment of special interest money in campaigns but makes poignant points along the way. When asked what he thinks is the political system's greatest weakness, Hastings tells a shocked group of Upper West Side elites at a fundraiser event: "I want to help my town…so instead of being at home working on some smart things to help my town, I have to fly here to your town and convince you that my town's worth saving, and that I'm worth it…"
The film's strong cast reinforces its smart writing. Byrne's performance as the conniving Brewster sets her up as the ideal villain, but as the story progresses the line between the "good guys" and the "bad guys" becomes progressively blurred. Mackenzie Davis, who plays the colonel's daughter Diana, delivers a dose of wit and dry humor, checking the oft-clueless and socially awkward Zimmer in his moments of Coastal Elite superiority.
Altogether, "Irresistible" is a satisfying wink to our country's current state of affairs and offers a welcome laugh at the often ridiculous nature of our political system. 
"Irresistible" will premiere on-demand this Friday, June 26, on digital platforms.