By Greta Chiocchetti, Kirsten Coachman, and Nina Tabios
When Academy of Art University announced onsite classes in San Francisco would be moving online due to the COVID-19 pandemic back in early March, the university was able to quickly make the transition, as its vigorous online program had been long since established. With the city's shelter in place mandate still in effect, this year's annual Spring Show also moved online—opening up the Academy's best of the best showcase to a wider audience on day one of the platform's launch on Thursday, May 21.
Getting eyes on students' work and connecting them with industry remains the top priority of Spring Show, and holding this year's event exclusively in a virtual space allows for Academy students' projects, portfolios, and résumés to be accessed 24 hours a day, seven days a week.
"There is an enormous advantage to showcasing the work in a digital space," said Schools of Entertainment Executive Director Jana Memel. "The entertainment industry is global, [and] with the Spring Show online platform, anyone, at any time, anywhere can log on and view the work."
Additionally, School of Animation & Visual Effects Director Catherine Tate mentioned that the online platform also provides "the convenience of industry being able to pick a schedule that works for them and set up a face-to-face session [with our students] in minutes."
The Spring Show 2020 website offers a variety of portfolios and projects across disciplines, both individual and collaborative, for industry professionals and art enthusiasts alike to peruse. With so much art and design work across the Academy's 21 schools to take in, Art U News has put together an overview of what not to miss from this year's virtual event.
School of Advertising
Student portfolios and projects from the School of Advertising (ADV) shined on the digital Spring Show platform. At first glance, the imagery is as bright as it is bold: striking photography, sharp graphics, and curious copy. It's creativity with few bounds and according to ADV Co-Director Andrea Pimentel, digital is "the natural environment for the kind of work we do."
"We love being able to display and share it all year long," she said.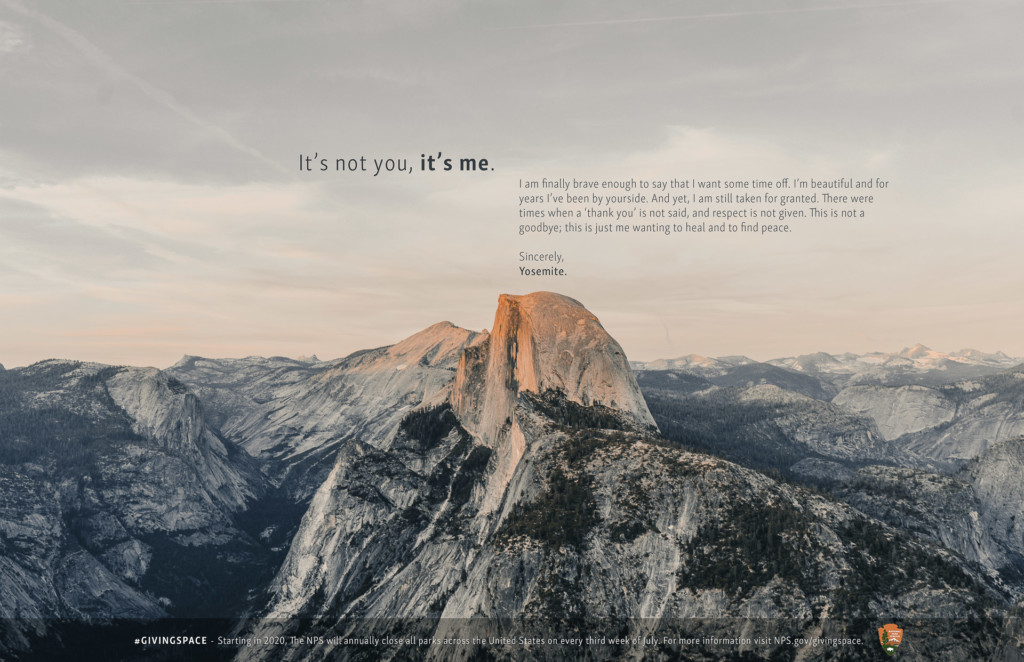 Graduate student Jennifer Riveria's campaign #GivingSpace raises awareness around public lands. This Best in Show award winner uses classic breakup language to introduce the idea of closing national parks annually to give them time to heal. Undergraduate student Fredrik von Schreeb was the copywriter for "Shaped by Comfort," a campaign supporting bra manufacturer ThirdLove. While the goal was to shine light on ThirdLove's FitFinder feature, the group also aimed to take a step away from the typical sexualization in bra advertising.
Campaigns didn't always have to be serious either. The New Normal advocated for getting rid of the stigma around eating bugs. B.F.A. students Martine Colloredo-Mansfeld, Fredrik Hallius, and Felix Lundqvist compared bugs to western foods through books, colorful branding for a snack bag of crickets, and a mobile game called "Bug Buster"—a Spring Show Bronze winner and also the recipient of a silver and bronze SF ADDY as well as a silver for the district ADDY category.
School of Animation & Visual Effects
With onsite students joining their off-campus peers in online learning this past spring, academic departments quickly pivoted to Zoom online classrooms as they dealt with the logistics of specific classes and getting students the access they would require to complete assignments and projects. For the School of Animation & Visual Effects (ANM), the challenges would ultimately be unifying.
"The situation forced us to accelerate [the Studio X] process and actually offer more flexibility and options to both online and onsite students. This includes face-to-face contact via Zoom with instructors and other students," said ANM Director Catherine Tate about the department's studio-based courses. "We also had to figure out remote access to our onsite lab resources, such as powerful machines and industry-standard software. As a department, we are more united than ever before."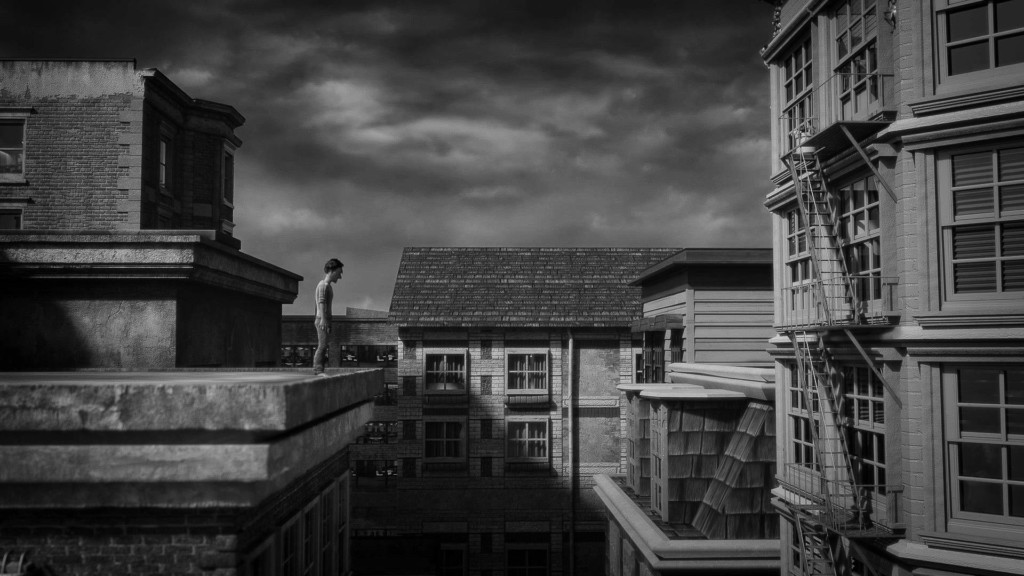 Studio X projects are at the forefront of ANM's showcase, including ANM 2017 M.F.A. alumna Seora Hong's "Redemption," a black and white 3-D animated short film about a man who feels he no longer has a reason to live. Winner of 3-D Animated Short at the ANM Spring Awards, the film's team included B.F.A. students Dahyun Beak, Seda D.Caliskan, Ruinan Wang, Yushi Kobuchi, Yujin Kim, and Kelly Yoon, as well as M.F.A. students Ella Kim and Zakaman Wu.
Another notable Studio X project is the collaboration with award-winning writer-director Kevin Willmont ("BlacKkKlansman" and "Chi-Raq") on his feature film, "The 24th." The film tells the story of the 24th Infantry Regiment, an all-Black unit in the U.S. Army, and the Houston Riot of 1917.
Both faculty and students were on the set of "The 24th" last summer in North Carolina, and the experience directly informed the different elements that would be needed once filming was completed. The Studio X team involved in this collaboration included B.F.A. students Adam Liu, Yixuan Wu, Seda D.Caliskan, and Ziwei Chen, B.A. student Chanwoo Choi, and M.F.A. students Chaithawat Pinsuwan, Ella Kim, Haodong Zhang, JunLiang Chen, Kyunmin Kim, Michael Rich, Yi-Hsuan Wu, Yue Pan, and Zakaman Wu.
Following the launch of the Spring Show website, graduating ANM students were able to sit down virtually with industry contacts via Zoom. "This is a great networking opportunity for them to get their start in their field of experience," said Tate.
School of Architecture
Although COVID-19 may have forced the Spring Show into an online format, it created an unexpected opportunity for students of the School of Architecture (ARH): industry guests were invited to final reviews and studio reviews on Zoom, where they tuned in from across the U.S. and beyond.
"There was a very positive response to this," said Jennifer Asselstine, ARH undergraduate director, "and the students received more attention and more specific feedback to the details of their research and work."
Among the final reviews that received glowing praise was B.Lab's "Kid of Parts," an outdoor furniture installation in an existing courtyard in the Bayview Commons, an affordable apartment community in the Bayview-Hunter's Point neighborhood of San Francisco. Under instructor Sameena Sitabkhan's guidance, B.Arch students Corona Xiaohuan Gao, Fabio Lemos, Dylan Ingle, Markish Siojo, and Adam Nuru worked directly with the Bayview Commons residents, especially the 29 children who live there, to design a fun, multipurpose courtyard space with the motivation of encouraging intergenerational play in mind. The resulting design is purposeful, playful, and adaptable to residents' needs.
Bachelor of Architecture thesis projects created under the direction of Philip Ra, AIA and Mini Chu: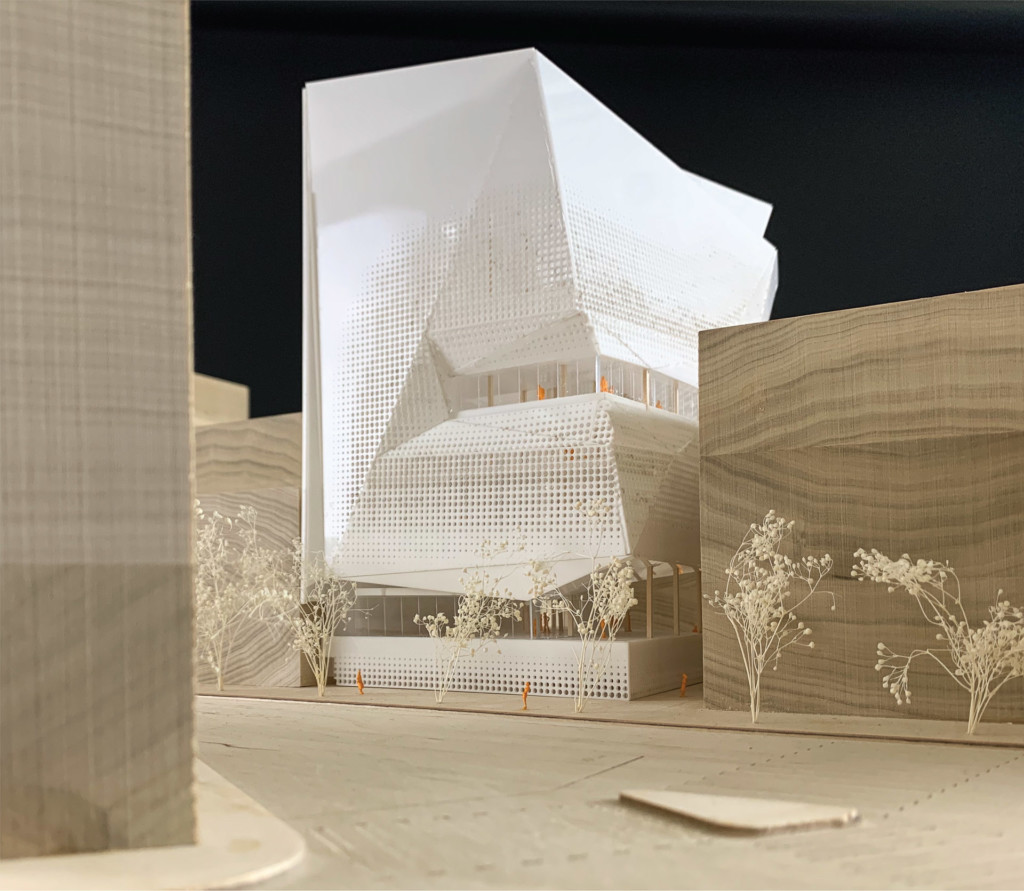 In her Bachelor of Architecture thesis project, "Infilling the Void," Kenta Oye designed a collaborative space for undocumented residents to thrive. Blending characteristics of both a museum and immigration center, the proposed building allows residents from all corners of the world to "come together in a series of ceramic, wood, and sewing galleries with adjacent workshops." Oye, who is a fourth-generation Japanese-American, was inspired by the arts and crafts produced by those forced into Japanese Internment Camps during World War II and the act of creation which allowed the community to endure their difficult circumstances.
In Angola, Africa, only 52 percent of residents have access to a reliable source of clean water. B.Arch student Juliana Bento, who is originally from Luanda, Angola, offers a solution to this problem with "Path to Water," which won the Bachelor of Architecture Thesis Humanitarian Award. Using the walls, roof, and floors of the building to collect and store rainwater as well as developing educational programs for women and children, "Path to Water" offers the power of self-reliance to combat social inequality in Angolan society. With meticulously-crafted details such as the use of water bottles in walls to upcycle solid waste, Bento's design is as thoughtful as it is aesthetically beautiful.
Winner of the Undergraduate Director's Thesis Award, and the AIA Henry Adams Medal, Nathan Lienhop's "Dam Space," utilizes kinetic techniques to create a public gathering space that resists destructive annual flooding in the Peoria, Illinois area. Beyond simply protecting the location from the elements, Lienhop's design harmoniously works with the natural backdrop of the Illinois riverbank to create a gorgeous space for community events.
Master of Architecture Thesis Projects: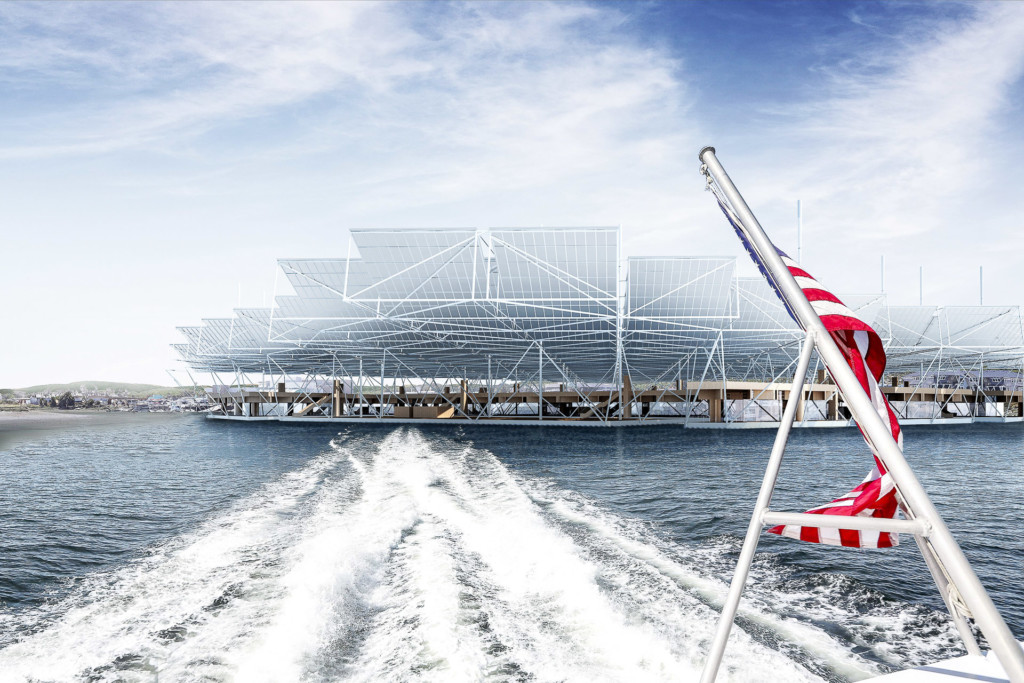 In M.Arch student Jang Ock Kim's thesis, "Bay Area Solar Transit-Hub" (or "BAST"), an electric ferry transit center seeks to alleviate the Bay Area's notorious traffic problem. Connecting communities that may otherwise be cut off from the bay due to physical barriers, BAST brings neighborhoods closer together. Winner of the AIA Henry Adams Medal, BAST utilizes clean energy in consideration of our changing climate.
San Francisco's Chinatown, the largest in North America, is an iconic landmark—but it doesn't accurately reflect traditional or contemporary Chinese culture, argues M.Arch student Yi Ling Liao. "Cultural Exchange," Liao's thesis project, aims to make San Francisco Chinatown more than just a tourist destination while celebrating its unique culture. By adding street connections, art galleries, and cultural attractions, Chinatown gets its first major makeover in over 30 years while retaining its colorful charm.
School of Art Education
As in years past, the School of Art Education's (ARE) Spring Show exhibition is unique from other departments—on display were documentaries of capstone projects, the products of M.A. students' years of hard work developing, planning, and implementing an original art education program.
"The School of Art Education is a bit different from other departments, as most students get job prospects from connections made during required fieldwork, internships, or student-teaching semester," said ARE Director Marybeth Tereszkiewicz, who shared that she invited mentors from these experiences to view Spring Show.
Among the many inspiring projects this year was Cassandra Burgess' "Raw Art," which won the award for Best Capstone Program Documentary 2019/20. Burgess converted an old barn in El Dorado Hills, California into an art space to house young artists' collaborative works. Together, they painted a vintage VW Beetle, created interactive chalk portraits, produced woodworking projects, and more, which they then exhibited in an art show.
Founder and director of the Battle Jacket Museum Emily Fasick focused her project on helping attendees express their identity through the creation of customized vests and jackets, called battle jackets, which are common in the punk community. In order to be accessible to all participants, the battle jacket workshops took place at public libraries in Washington, D.C., and northern Virginia and were completely free to attend, thanks to donations of materials from the community.
School of Communications & Media Technologies
Students within the School of Communications & Media Technologies (COM) are raised to be storytellers. The department leads with a hands-on approach. Students learn by doing, and through that process, many of them begin to tell stories that are meaningful to them.
Undergraduate student-athlete Rabah Houali's short documentary "Traditions" acts as a beautiful tribute to the women upholding tradition in his home village of Ait Aissi in northern Algeria. Savory Liu, a graduate student, produced and shot an intimate visual portrait of a mother-daughter relationship following a tragic event.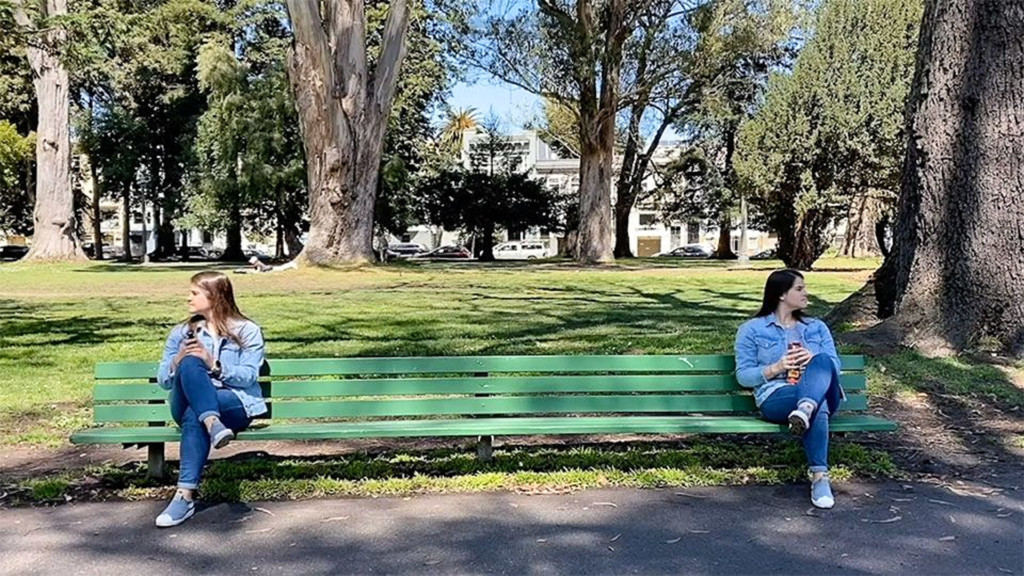 Even in the wake of a pandemic, COM students kept on creating. Associate Director Steve Kotton assigned his students to produce videos of haikus—Japanese poems of three unrhymed lines consisting of 17 syllables, structured in a 5-7-5 scheme—which are then back-dropped against scenes captured on camera. Scattered within the portfolio reels are a few standouts: graduate student Leticia Gonzalez dos Santos' video showed her social distancing from herself. Miguel De Jesus, also a graduate student, offered a tranquil scene at the beach with encouraging words to be like the ocean, strong yet peaceful.
Kotton shared that while he does miss the tactile experience of Spring Show, this year's online format has the potential to expand the department's audience and give a larger platform for students to show off their talents.
"At Spring Show, we traditionally bring in industry professionals to have face to face interviews with our graduates. We call it a form of 'speed dating,'" Kotton said. "This year we brought the pros to Zoom and conducted the same interviews online. The feedback I received from pros and students was positive—contacts were made—and many great impressions of our students and their skills were built."
Schools of Entertainment: Acting, Motion Pictures & Television, and Writing for Film, TV & Visual Media
As hiring practices continue to evolve across industries, this is one of the things taken into consideration as the Schools of Entertainment (Acting, Motion Pictures & Television, and Writing for Film, TV & Digital Media) prepare their graduates for the Academy's annual showcase—a springboard to the real world.
"It is rare that anyone would be hired off of their portfolio alone," Schools of Entertainment Executive Director Jana Memel said of the entertainment industry. "In general, people will need to intern and move up the ranks regardless of their experience at school, so although the work highlighted at the Spring Show is a step in the process towards employment, it is not an end in and of itself."
Found throughout the Schools of Entertainment's Spring Show pages are winners from this year's NXTUP Fest. The annual awards show celebrates student work, skill, and performances across all disciplines within the Schools of Entertainment. The awards are voted on by a jury of industry professionals.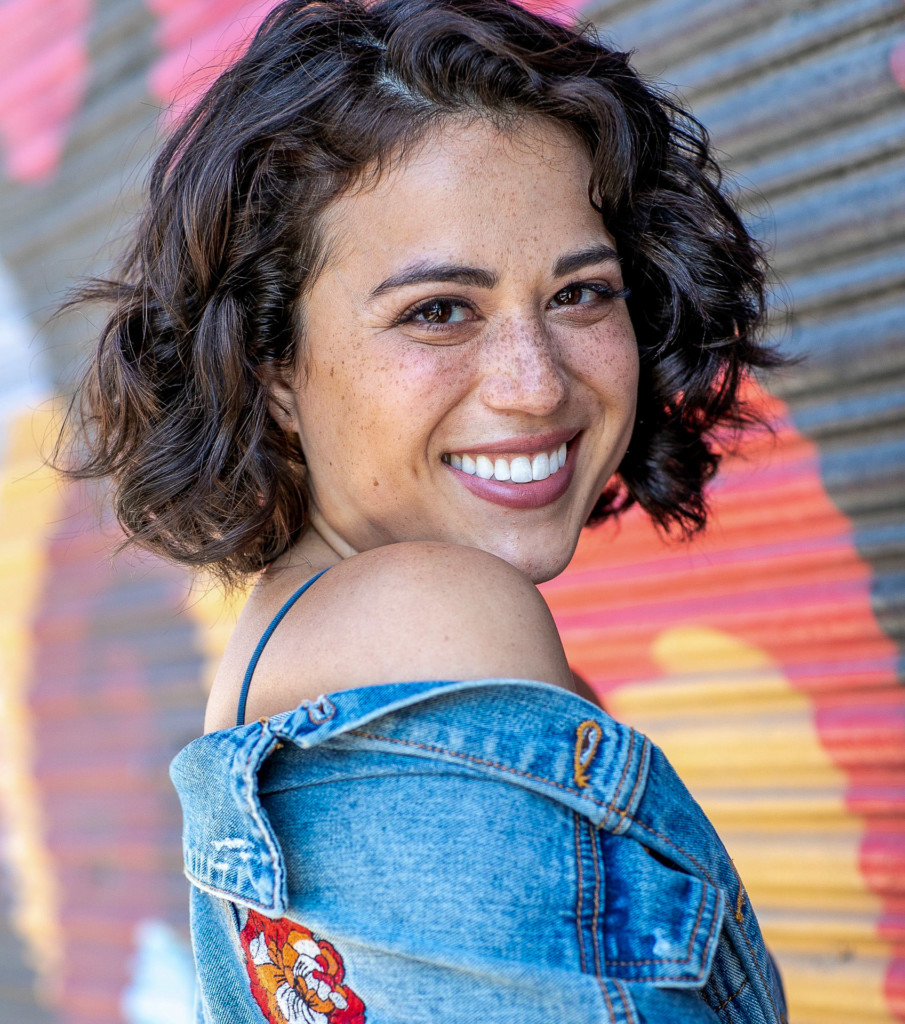 A pair of side-splitting performances from B.F.A. acting student Allison Frank and her scene partner, M.F.A. acting student Mario Mazzetti, won NXTUP Fest's Best Actress and Best Actor in a Comedy for "Easy A." Another pair of scene partners, M.A. acting student Treya Brown and M.F.A. acting student Jeremy Marquis won Best Actress and Best Actor in a Drama (Graduate) for their moving performances in "Fruitvale Station." In the Drama (Undergraduate) category, B.F.A. acting student Shahd Elkhier won for her performance in "Seven Guitars," and B.F.A. acting student Michael Houston won for his performance in "Enemy of the State."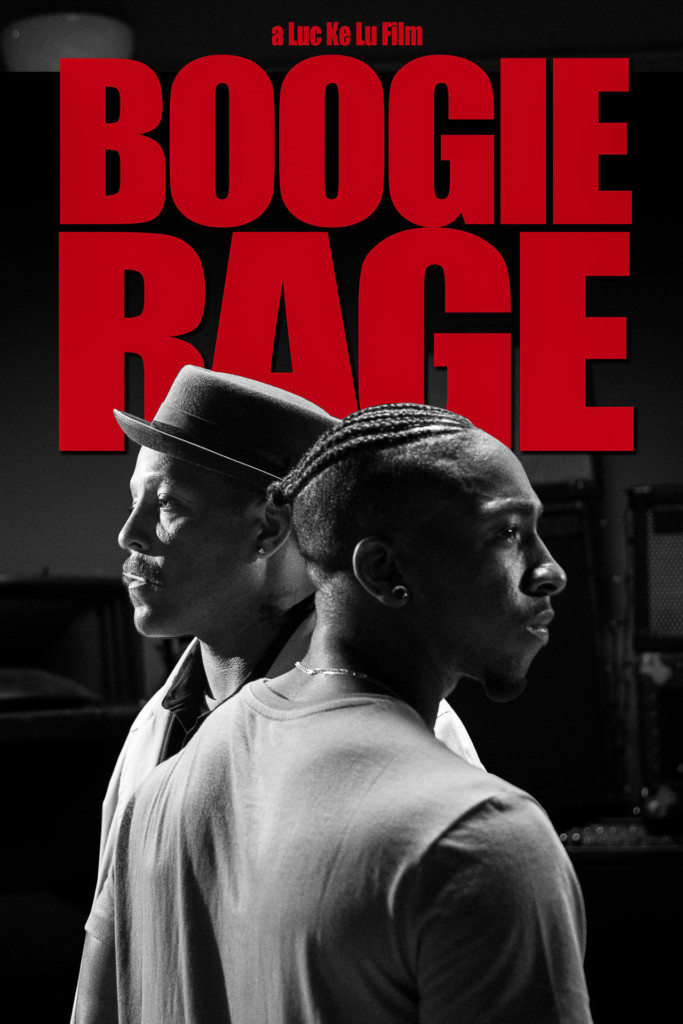 Sung-Yen "Lucas" Lai (2019 M.F.A. alumnus) won Best Cinematography for his work on B.F.A. directing student Xiadan Lin's "Mr. Zhang," a story of love over time, produced by B.F.A. student Hsin "Daisy" Nan.
B.F.A. writing student Samantha McGurk and M.F.A. writing student Zack Frizzell won Best Screenplay for their respective works. McGurk's "Sonder" is centered around a San Francisco teenager on the cusp of womanhood who discovers a family secret during a time of grief, and Frizzell's "Charlie Horse" tells the story of a young cowboy in the early 1950s determined to get back on the horse after being derailed by a life-threatening disease.
B.F.A. directing student Donald Bianchi won Best Director (Under 12 Minutes) for his slick and suspenseful film, "Shutter." M.F.A. directing student Luc Ke Lu won Best Director (Over 12 Minutes) for his street dance drama "Boogie Rage." Lu's film also won Best Picture (Over 12 Minutes). Best Picture (Under 12 Minutes) went to M.F.A. production design student Olivia Krochko's dark love story, "Funeral for a Mortician." The film also won Best Production Design, which was awarded to M.F.A. production design student Justin Pepe.
School of Fashion
Many of the objectives embedded in the School of Fashion curriculum place an emphasis on sustainability, including classes and projects that encourage upcycling materials and uprooting wasteful production methods to pushing back against unethical practices within the industry. Going digital in a world that favors physical spectacle and grandeur seems to be the way forward.
"[The online platform] allows for more people all over the world to view our designers' work and also significantly reduces our carbon footprint," said School of Fashion Executive Director Simon Ungless.
B.F.A. fashion design student Alice Michell created an animated video to show off her collection. Using CLO3D technology, a 3-D fashion design software, the former Art U Women's Soccer player used her patternmaking skills and technical tools to bring her garments to life digitally. She's able to virtually drape, sew, and fit her garments with zero cost, setting a new standard for designing and presenting clothes.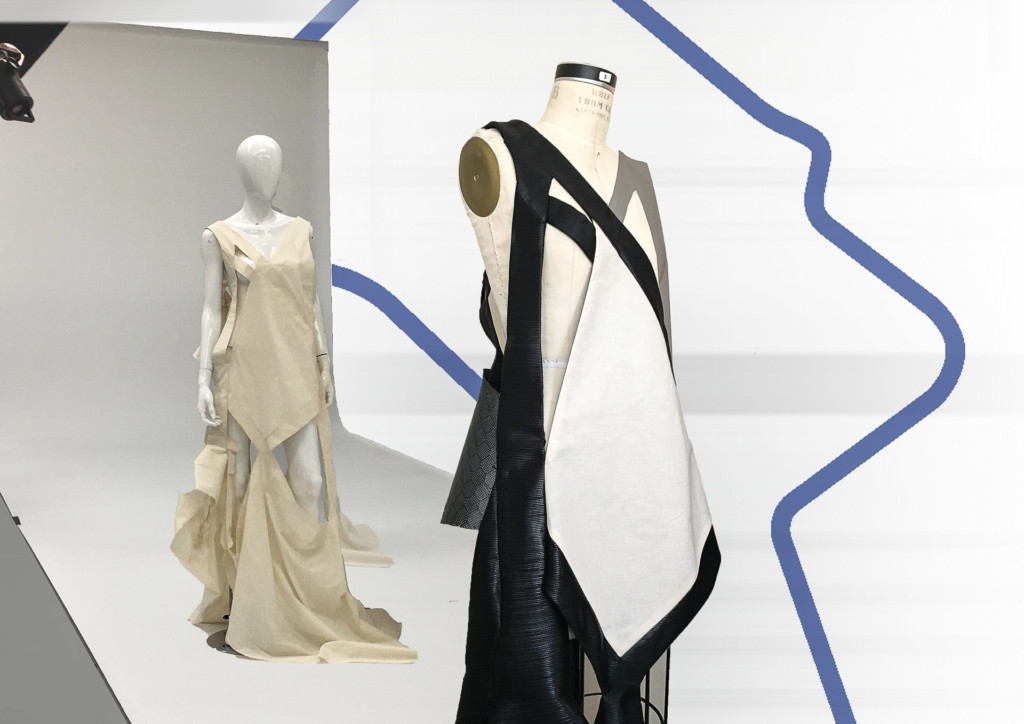 Technology took on a similar driving force for Milijana Delic, an M.F.A. fashion design student. Collaborating with her brother, Milos Delic, a transportation design student in the School of Industrial Design, they took the process of creative development and material usage to a new level by incorporating car parts and materials like carbon fiber and resin into hard-body clothing pieces.
While the physical garments, textile prints, and knitwear are sure to dazzle, the student work from other offerings within the School of Fashion are always worthy of seeing as well. Standouts include fashion merchandising M.A. student Yeji Kang, and B.F.A. student Olivia Kristania Sadrach; M.F.A. costume design student Wei Lin; M.A. fashion journalism students Priyanka Malhotra and Adneisha R. White; and B.F.A. styling student Jamal East.
School of Fine Art
It's hard to miss the baked potato when you first click into the Fine Art section for this year's Spring Show.
Sculpted by undergraduate Abriana Crocitto, this ceramic spud is just one entrée in a menu full of refined works handcrafted by Academy students. (If you're interested in more fake food, check out M.A. student Andrew Guiott and B.F.A. student Shine Hatfield's portfolios).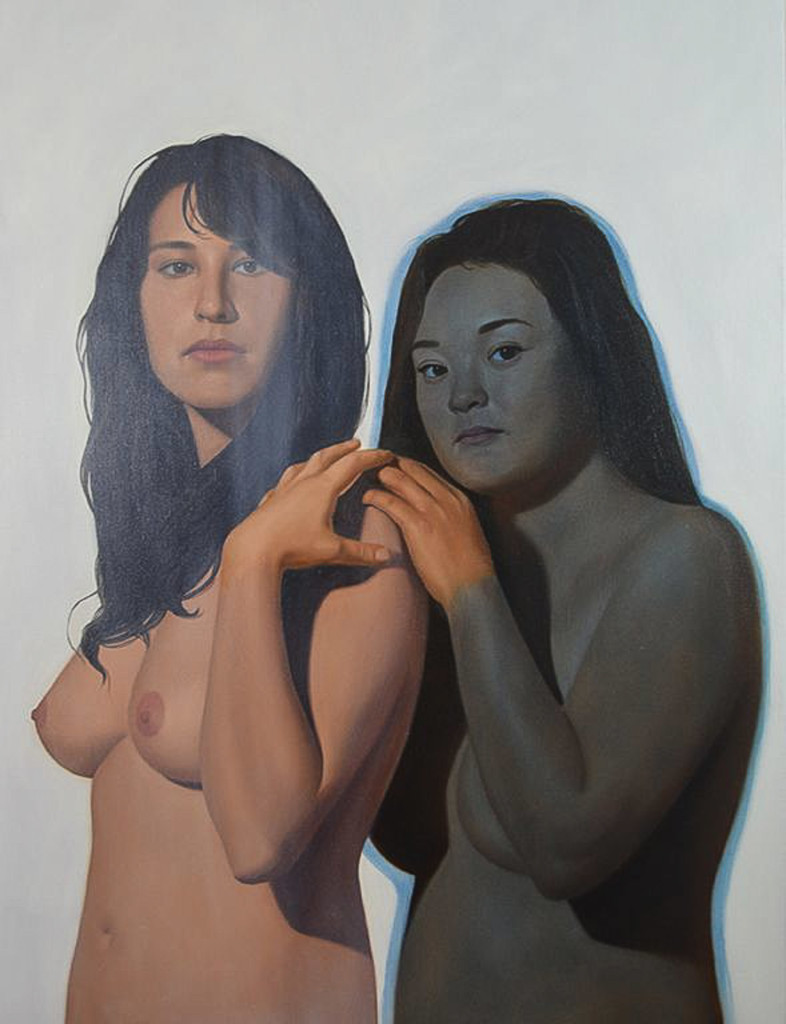 The term "fine art" is steeped in tradition. Painting, sculpture, printmaking, and mixed media are some of the oldest art forms in history and fill our museums as pillars of thought, education, and influence.
Ultimately fine art is about expression. Portraits of women in blue by first-place figure award recipient and M.F.A. student Christine Taylor gaze back with strength and vulnerability. M.A. student and Spring Show first-place abstract award winner Xiaoyu Gong flips the "man-made machine" into a machine-made man in an abstract piece. M.F.A. student Haiping Pu brought Chinese mythological creatures to life through clay, which would then earn Pu the Best M.F.A. Work award from the School of Fine Art—Sculpture.
To ensure the art was accurately captured and displayed, instructors assisted students in photographing their work. As other directors across the Academy mentioned, the positives of posting online is the expanded reach, and when interviewing with industry over video chat, clear and professional photos help to see the final product.
"Students will have the opportunity to have their work viewed by a larger audience with the show being online," said Online Director of Painting & Printmaking Anna Nelson. School of Fine Art—Sculpture Tom Durham echoed this sentiment.
"It allows us to invite more industry people who generally could not take time from their busy schedules to visit an onsite show," he said. "Now they can view the work from their studio or home with no interruptions to their own schedule."
School of Game Development
Achievement unlocked! For School of Game Development (GAM) students, Spring Show signifies their students levelling up into the professional world.
Whether you're into "Super Mario Bros." or "Call of Duty," there's a wide range of polished skill, deep expertise, and nuance that goes into building even the simplest of video games. In many ways, gaming is where art traditions meet cutting-edge technology.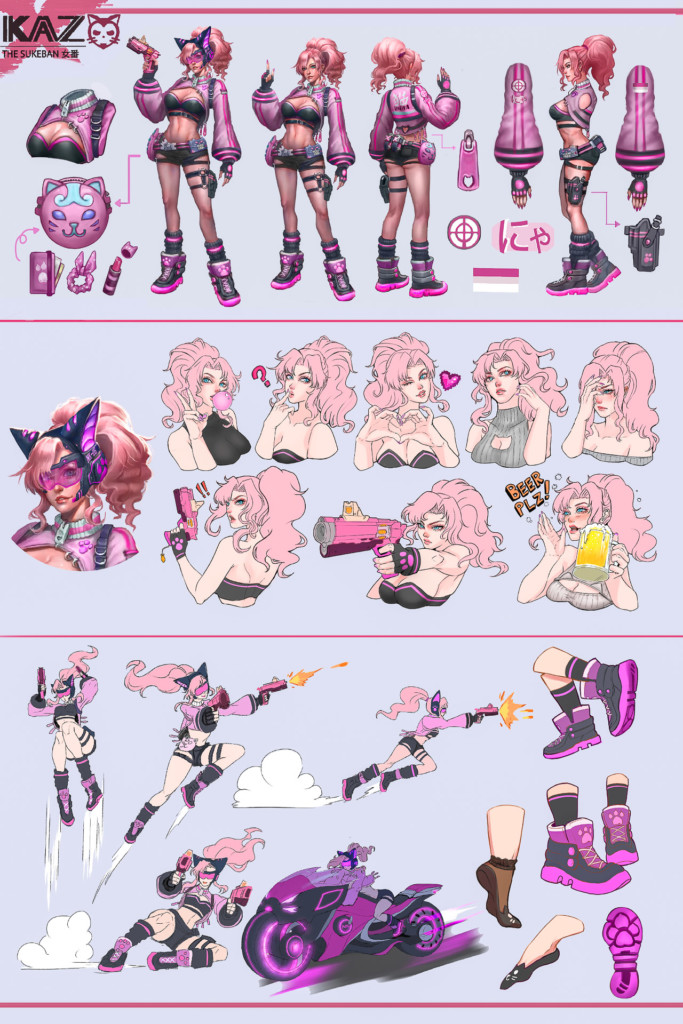 Concept art has its foundations in 2-D sketching, illustration, and digital painting. Students like Christy Lam (B.F.A.) don't just flesh out the visual aesthetic of her characters but they also contextualize their stories with artistic detail. Environment artists do the same for the worlds they build, fleshing out all aspects from small props to full culture kits. Lam, who was named Overall Art Winner for Spring Show, was one of the department's stars this semester.
"She's is literally one of the hardest working students that has ever come through the program," said GAM Executive Director David Goodwine. "It shows in not just the pro-level skill she exhibits in her work but in the massive volume of high-level work that she produces—it isn't just two or three cool pieces—she has an insane amount. She was literally in the mix for first place on almost every concept art category that she submitted work to."
On the technical end of the spectrum, students in game programming act as game architects. The Academy's only Bachelor of Science degree, programmers write the code that drives the game's engine and controls and run tests to ensure bug-free code. In some cases, they even customize tools for other developers to use.
For examples of superb student programming, Director of Game Programming Rez Graham pointed to students Dylan Wijnen and Myles Cardiff.
"My hope is that people will spend a bit more close-up time with the projects and videos," Graham said. "Our stuff isn't as flashy as design or art, so I think this will help get us noticed."
Other notables worth checking out: B.F.A. students Natalie Tran's UI/UX work for the game "Dead Umbra" and "Astralis" and Kristi Liu's UI/UX contributions to "Arcadia Quest."
School of Graphic Design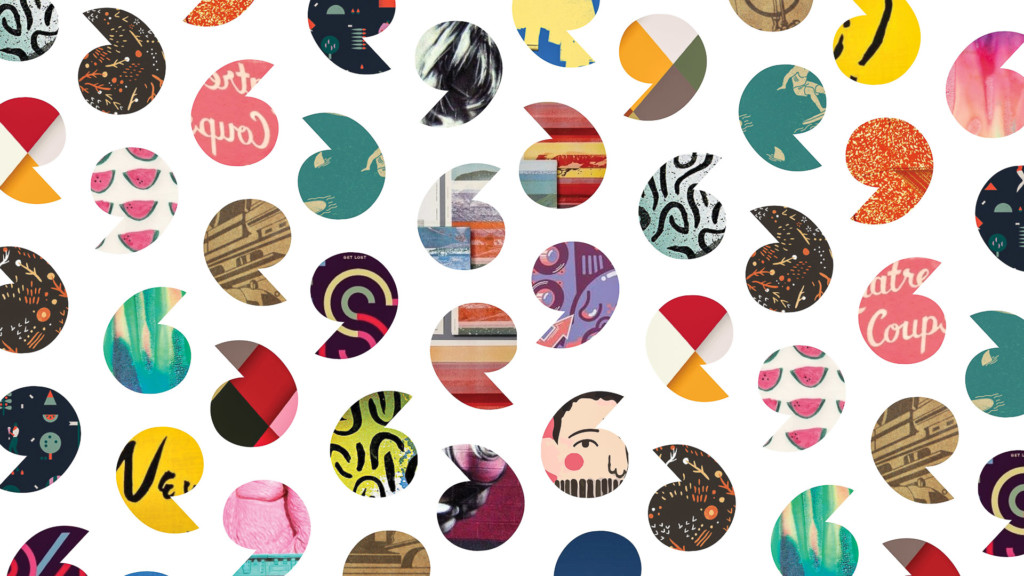 Although this year's Spring Show was certainly a departure from the norm, the faculty of the School of Graphic Design (GR) worked hard to make sure students exhibiting were able to get the most out of the experience.
Along with preparing students for the new reality of virtual interviews and presentations, faculty made another change to this year's Spring Show: only exhibiting the very best of the best.
"Normally we feature all of our students and this time it was highly selective," said GR Director Emerita Mary Scott. "The idea of featuring the best students was certainly something that some of them could feel great about."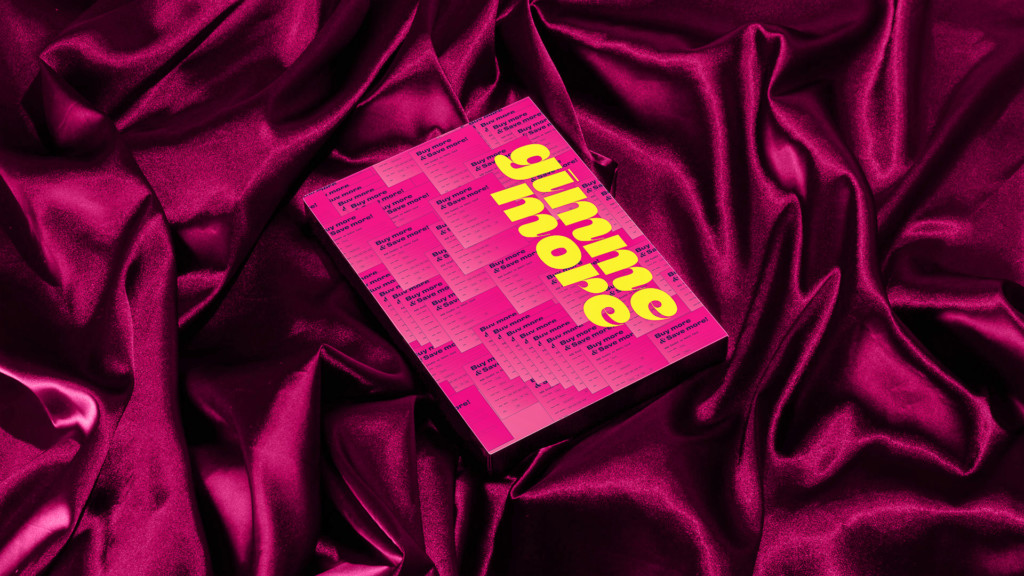 Among the top work from GR this year was recent B.F.A. graduate Nour Mourad's rebrand for the San Francisco Public Library. Using large, bold pops of color, Mourad refreshes and brings new life to the 27 branches of the SFPL, creating unity among them. The winner of the GDUSA Student to Watch award, Mourad's work also includes her branding project Rx Companion, MedFriend, an app that aims to help users keep track of prescription regimens using clean, simple typography and straightforward navigation.
In "Gimme More," an imagined art exhibit about greed and consumerism, Hedvig Rausing's branding fittingly exudes decadence with splashy, loud colors and intentionally-overloaded graphic elements. "No Seconds," a cookbook featuring the last meals of the men who have been executed by capital punishment in the United States, grips onlookers with bold, blunt typefaces spelling out grim quotes like, "I deserve what I am getting," alongside recipes for Prison Pruno.
School of Illustration
The lack of physical gallery walls this year didn't stop the School of Illustration from exhibiting scenes from whimsical children's books, thought-provoking political posters, and exquisitely-detailed realistic paintings. In fact, moving the Spring Show online had its advantages, according to director Chuck Pyle.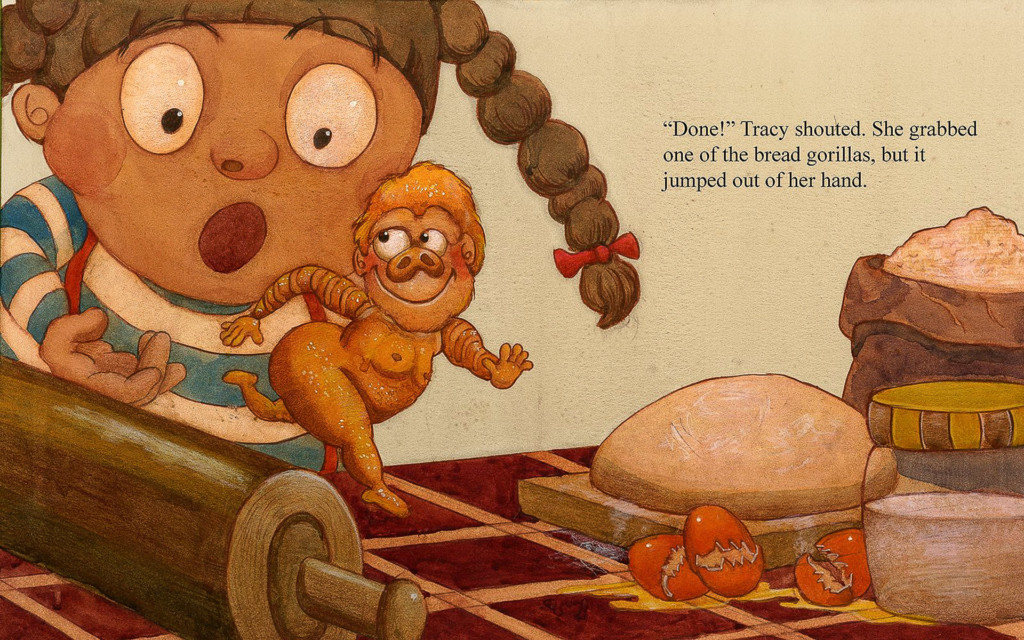 "It more closely simulates the real world our graduates will enter," said Pyle. "As all illustration business is conducted digitally, industry can now far more conveniently search for talent without spending the hours or days coming to San Francisco. We now mirror the real world 100 percent."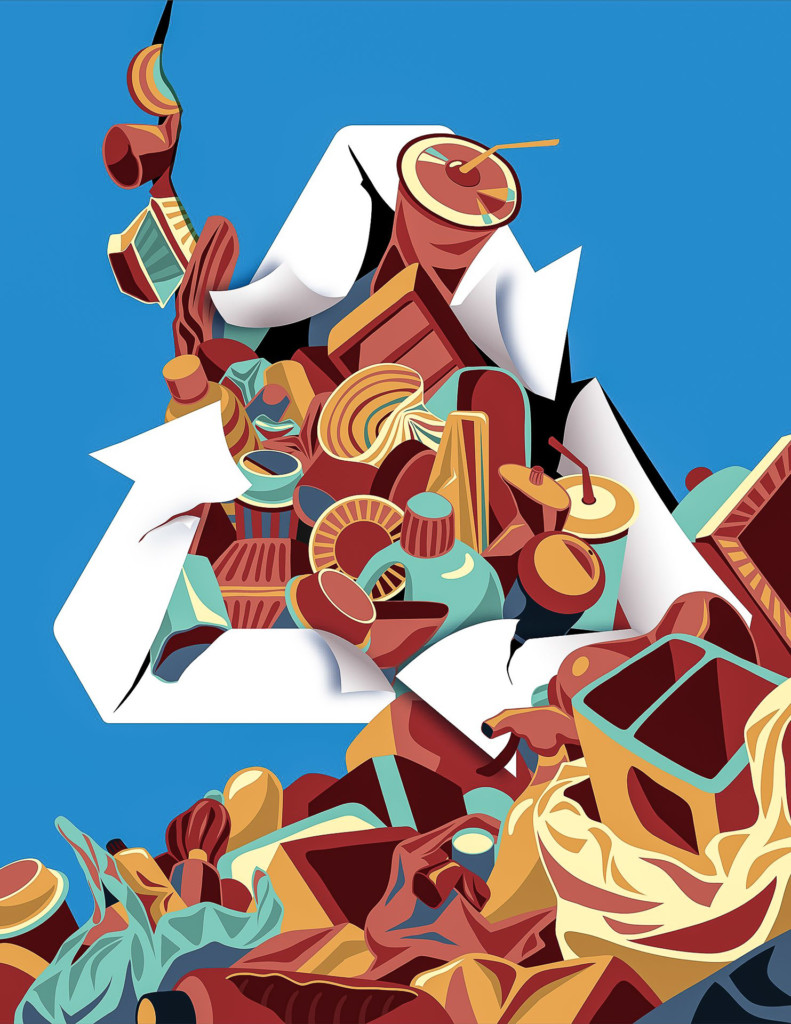 Among the eye-catching works is B.F.A. student Julia Massoulle's powerful portrait of a Black woman rejecting symbols of white beauty standards—outstretched hands holding hair-straightening products. Massoulle, an international student from the Republic of Congo, was selected as a Society of Illustrators Finalist for her submission.
B.F.A. student Jenny Lu exhibited an eclectic collection of children's book illustrations, from her adaptation of Little Red Riding Hood to a depiction of gorilla-shaped bread coming to life. Alongside her imaginative children's book pieces, she also displayed her outdoor sketches, including a cozy coffee shop scene from inside the San Francisco Ferry Building.
M.F.A. student Andy Chiang's bold illustrations were particularly eye-catching. His Director's Choice award-winning submissions included a poster depicting window washers wiping the smog from planet Earth's surface, as well as an illustration of the recycling symbol bursting open, overflowing with plastic trash.
School of Interior Architecture & Design
This year may have been unexpected, but, like many Academy departments, the School of Interior Architecture & Design (IAD) recognized the upside of having their students' design work available to a wider audience.
"It is great that these students can have their work viewed by anyone in the world," said IAD Director Katie Valkuchak. "It is also a great resource to connect industry and the academic departments."
Additionally, IAD took to social media to feature their Spring Show exhibitors and invited influential industry leaders to view this year's showcase. Valkuchak shared that they are happy that industry professionals have acknowledged their students' work. "So far, we have received many positive comments," she said.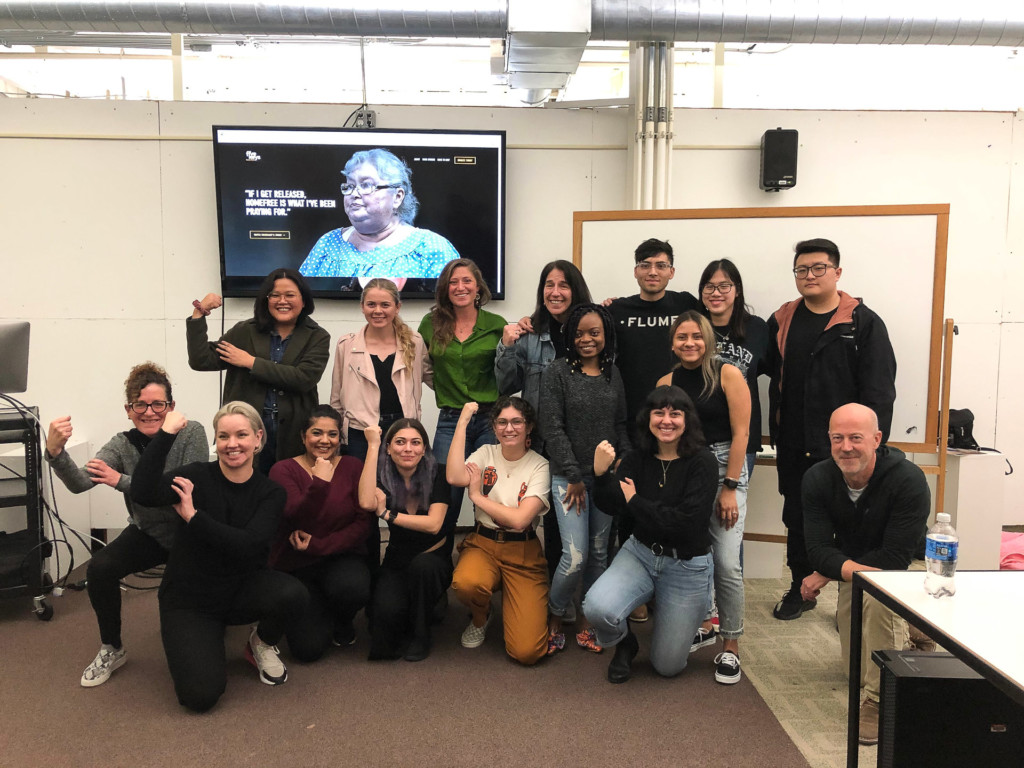 One of the projects featured by IAD is the department's collaboration with organization Five Keys on Five Keys: Home Free. The objective: transforming six rental units located on Treasure Island for criminalized survivors of domestic abuse.
Students in the IAD 410 Social Design class split into three teams, who then each came up with individual concepts to turn the units into warm and welcoming transitional spaces for its future residents.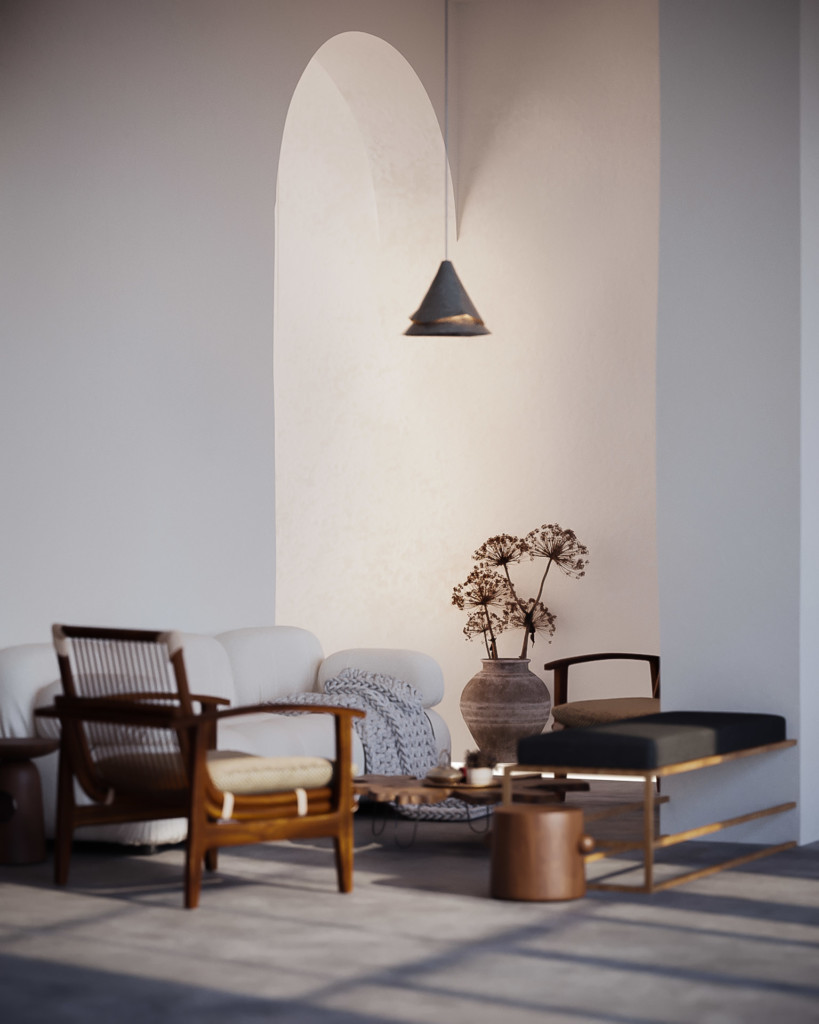 Team Terra-Cotta (B.F.A. students Morgan Sandusky, Alfredo Silva-Iglesias, and Maria Yajure), Team House of Hope (B.F.A. students Bianca Melone, Patricia Mwang, and Sui Wing Ng Peng), and Team House of Alchemy (B.F.A. students Gurcan Karademir, Roma Patel, Eryn Powers, and Guanming Xu) took a number of things into consideration when creating their concepts: from what colors to utilize to make the spaces feel like one was "retiring in a villa" or would "minimize physical and mental stress" to adding in elements of empowerment in the form of art featuring and created by women to evoke a sense of security, as well as adding community spaces for moments of togetherness.
Another IAD standout is recent M.F.A. graduate Dilshod Yunusov, whose final project for IAD 163 received Best in Show at this year's event. Yunushov's design portfolio features a variety of projects he's worked on spanning 2016–2020, including a boutique hotel, an event space, and a city museum. Each featured project is extensively detailed and embodies the warm sophistication of his design approach. Each project notes the tools Yunusov utilized for each of his concepts and includes visual elements such as diagrams, floor plans, and renderings.
School of Industrial Design
The everyday things we use—coasters, bikes, furniture, tents, cars—are all the work of industrial designers. With feet firmly planted in the discipline's three cornerstones of art, science, and business, the designs of the School of Industrial Design's (IND) graduating class may be fixtures in our homes sooner than we think.
The goal for students is to foster innovation by melding human-centered design thinking with industry-standard strategies and tools. M.A. student Alana Louise Miller presented illuminating coasters made of seaweed and sugarcane, a hopeful means of reducing plastic. Andrew Schlecht, from the M.F.A. program, made a bike saddle out of old tires and inspired by the shape of piranha teeth.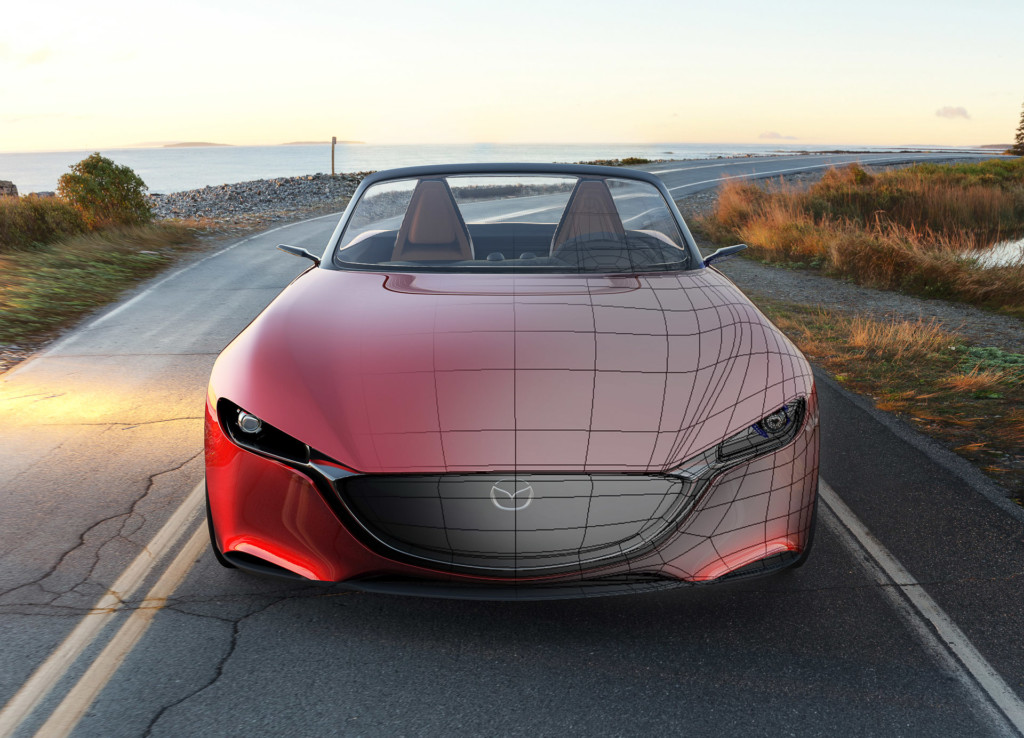 B.F.A. student Hyuckkeun Oh had a particularly intriguing—and heart-warming—project. His Samsung Galaxy Loop is a small smart, wearable device that turns off smartphone notifications when wearers are close to each other, reinforcing connection and communication. It's technology to help us disconnect.
The collective automobile design work of B.F.A. students Charles Yusheng Zheng, David Incheol Chung, and Max Benon is a study on balancing a brand's design language with new ideas. Zheng's 2025 Mazda Miata is a case of this. By 3-D scanning a clay model of his design, Zheng reworked the free-spirited feeling of the original (fun fact: IND Executive Director Tom Matano was on the design team for the original Mazda Miata in 1983).
A lot of the time, these car concepts are the stuff of sci-fi movies, like Chung's Lexus and Audi models, respectively named Absorb and Stern. What made Max Benon's Volkswagen concept interesting is that it comes armed with a mission. Named Westfalia, travelers in Benon's 4×4 camper van aren't just navigating Earth's terrain, they are also trying to sustain it. A futuristic take on the VW buses from the 1960s, the Westfalia comes with a tree sapling—and a robo-dog! —for travelers to plant deep in the heart of the wild make this experience a purposeful, environmentally-conscious adventure by Volkswagen.
School of Jewelry & Metal Arts
With a curriculum that has proven success with both onsite and online students, this year's School of Jewelry & Metal Arts (JEM) Spring Show selection was a strong representation of their talent.
M.A. student Mayumi Okuyama, who hails from Brazil, made a cubed ring and brooch out of acrylic and silver. Trevor Anderson, who developed his M.F.A. thesis from his home in San Diego, California, turned his exploration of masculinity into wearable sculpture. Both JEM Director Charlene Modena and Online Coordinator Karen Chesna believed the Spring Show's digital format encouraged more online students to participate.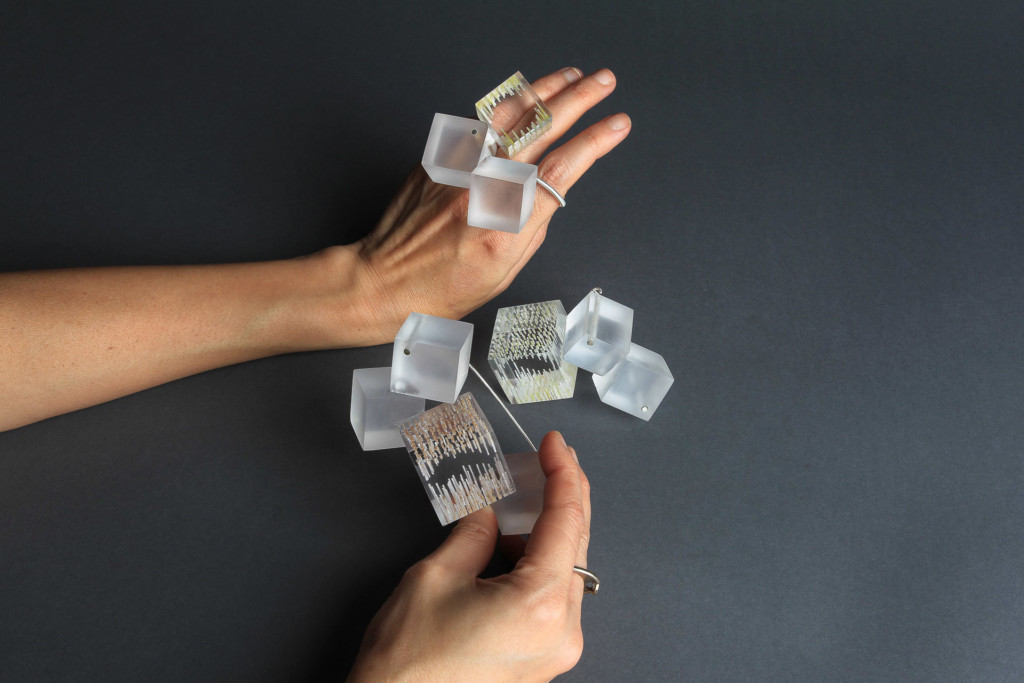 "They are comfortable with the online platform. I think it feels more real to them," said Chesna. "They will also have a better idea of the high caliber of work produced in the JEM classes since so many excellent pieces will be all in one place. They will be able to see the quality, breadth, and scope of JEM."
Okuyama, Anderson, and nine others were among the department's select student award winners. Each will receive a trophy brooch or handpiece specially made by the instructors, as part of an ongoing department tradition. Director's Choice Awards went to Okuyama for the M.F.A. and M.A. program, while A.A. student Kuo-Wei Tseng was named for the B.F.A. and A.A. programs. Their trophies were made by Modena herself.
Other winners include Anderson, who won first place for M.F.A. and M.A.; B.F.A. student Zhuluan Liang who took the top prize in the B.F.A. and A.A. category; faculty choice went to Yanjun Yu in the M.F.A. program and runners-up were M.A. Ying Lin and B.F.A. students Ziyi Wu and Anousha Mohsenidarabi.
School of Landscape Architecture
Planning and designing parks, public areas, and even residential projects can be a balancing act. Landscape architecture takes an incredible amount of measured thinking and human observation, as it combines art and science, urban and rural, living systems and sculptural form, historical precedent and innovative vision. At the School of Landscape Architecture's Spring Show exhibition, guests see how all these pieces come together as people-driven outdoor spaces, expressed in the form of advanced graphic renderings, 2-D sketches, and DIY-models.
M.A. Marianela Gutierrez Rullan's Site Design Studio project is a perfect sample. Her project details a remodeled and sustainable Embarcadero, where the park design redirects rainwater to the plant systems. B.F.A. student Taylor Broussard also reimagines Washington Square Park with brand new features like a stage, game plaza, and dining terrace for added functionality and beauty in the North Beach neighborhood.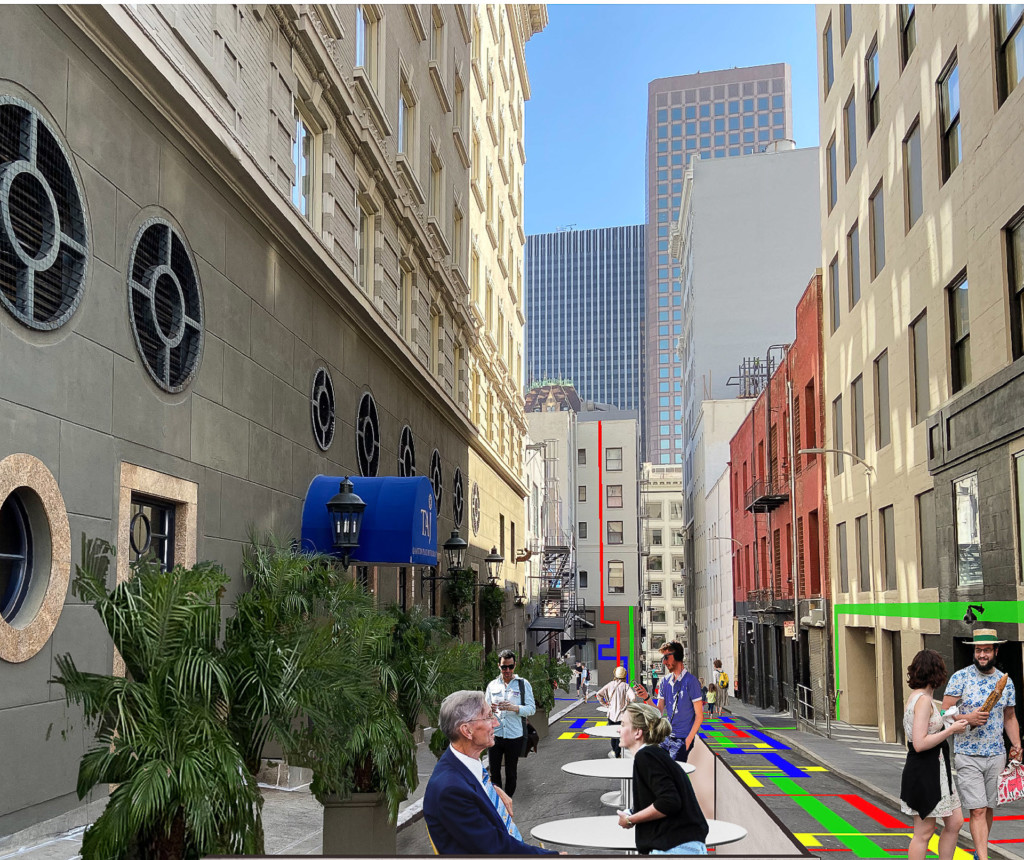 One of the points of pride for the department is being able to bring students into real client projects during their time at the Academy. Jake Walter, a B.F.A. student, recently had his "Colorful Connections" concept be approved for an upcoming alley transformation with the Union Square Business District. Walter's concept utilizes approved paint and speaking tubes spread throughout Campton Place Alley, located on Sutter Street between Stockton Street and Grant Avenue, to transform it into a new neighborhood attraction.
In the same class was Cho Yu Choy's "Saturated Color Party," which brought in retro blues and oranges, string lights, and mural activations to make this a social media-friendly park. The color palette she came up with will also be applied to the new Campton alley, which is expected to be completed later this year.
School of Music Production & Sound Design for Visual Media
"For us in Music and Sound Design for Visual Media (MUS), it was an easy transition," said MUS Director Brad Hughes. "Onsite, we would normally have the media work displayed on several computer screens and a large wall display with audio speakers. Since our students' work is audio files with sound, those can be displayed easily in an online digital format."
Among the many notable exhibitions was B.F.A. student Danny Burns' sound design and original score, "In Constant Motion," for his original Minecraft miniseries, "Avisterra." The miniseries, which Burns worked on as the sole animator as well as the sound designer, was in production for five years before premiering in late January 2020 and ultimately winning two awards at this year's NXTUP Festival for Best Sound Design and Best Music Score.
M.F.A. student Nuo Wang's inspired use of traditional Japanese instruments adds color to "Fugu," an animated short that takes place in a Japanese restaurant. Responsible for all of the scoring and many of the sound effects, Wang's sound design tells the story of a pufferfish desperately trying to avoid being cooked and eaten—only to ironically succumb to its fate.
School of Photography
As Spring Show 2020 entered a virtual space this year, the announcement of department Spring Awards did as well. During the afternoon of May 21, The School of Photography (PH) announced their Spring Show winners over Zoom, where students were able to pick from a variety of prizes from industry sponsors, including cameras from Sony and Canon.
"We had almost 80 participants in our School of Photography Spring Show awards ceremony, which was attended by online and onsite students around the world," said PH Director Adrienne Pao. "Our department truly came together this semester and the community spirit was felt far and wide."

Winning Best in Show (Portfolio) and Best in Show (Series) was recent B.F.A. graduate Carly Wolf. Wolf's portfolio features images from her "California Coast" series, which contains a variety of serene overhead drone images highlighting the breathtaking natural beauty that's found both around and along the coastline. From crashing dark teal waves and patterns in the sand to a swimming seal found off Duncan's Landing and seagulls soaring above as the ocean touches the sand, Wolf's images evoke a sense of calmness.
A striking aerial image from recent B.F.A. graduate Chris Dirker won Best in Show (Single Image). Featuring various hues of gold and pink, the captivating image provides an overhead view of salt ponds that can be found within the San Francisco Bay Area. Dirker also won Third Place (Portfolio), which features images from his series, "Working Hands." This portrait series features everyday working people front and center in the midst of their craft.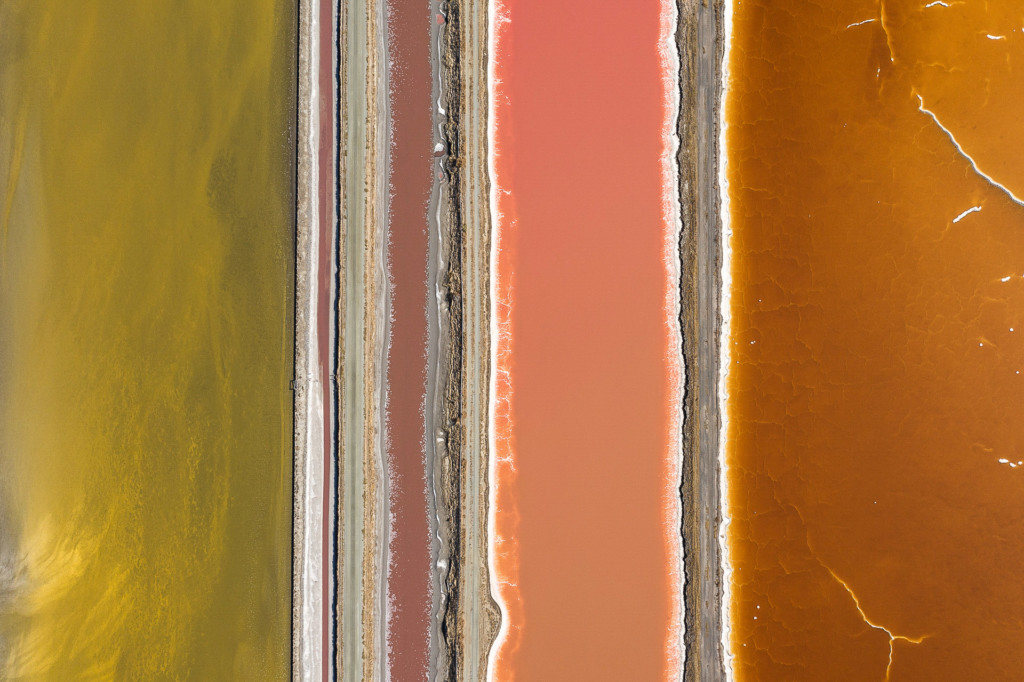 Another recent B.F.A. graduate Daniela Beltrán B. won Best in Show (Motion) for "Flor Sagrada," a short black and white film shot with a Bolex 16mm. Focusing on a single subject as they venture through a forest to an open beach and set to music by Machaka, the film showcases a notable use of double-exposures. She also won First Place (Portfolio) for her candid portrait series, "Waorani."
In addition to hosting a virtual Spring Awards event, PH set up their portfolio review sessions for their students via Zoom. "We had 13 industry professionals reviewing 18 of our top student portfolios," said Pao. "Each student was able to meet with at least four professionals for 15-minute time slots. [There was] great energy all around!"
School of Visual Development
Although Visual Development students certainly had their share of challenges to overcome when the COVID-19 pandemic forced them out of their classrooms midway through the semester, Director of the School of Visual Development Nicolás Villarreal said that they took it in stride.
"I was personally overwhelmed by how they reacted to this situation," Villarreal said. "With great resilience, they turned in exceptional work, despite everything going on."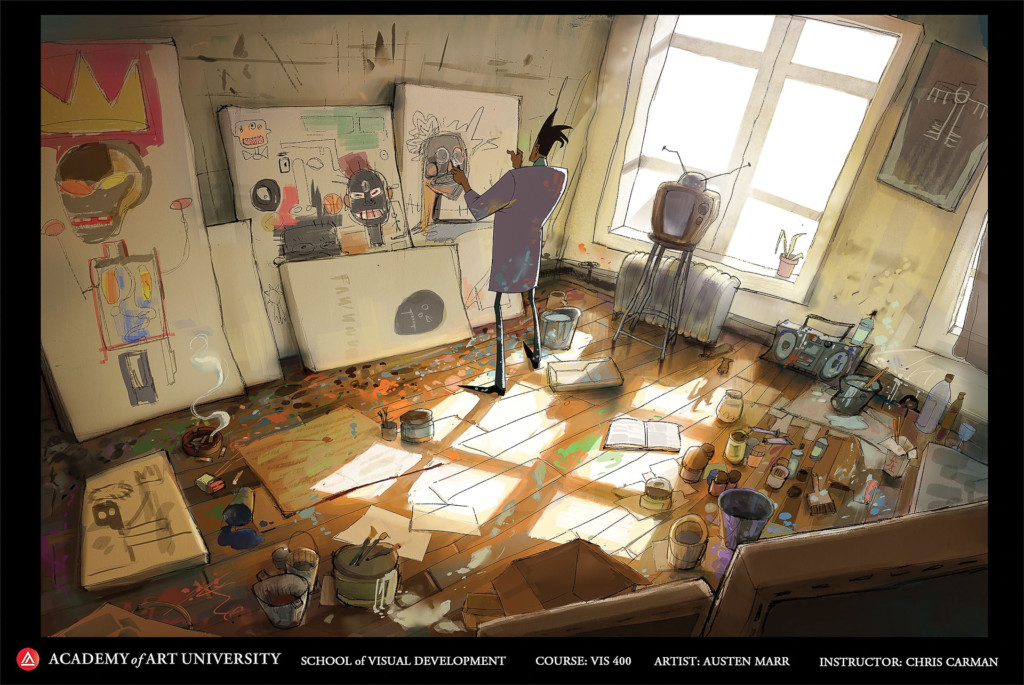 Villarreal was able to immediately send student work to industry guests, citing Spring Show's transition to an online platform as an unexpected advantage.
Among the extraordinary work that came out of the department this year were recent B.F.A. graduate Austen Marr's illustrations reimagining Jean-Michel Basquiat creating in his home studio. With splashes of color strewn across his apartment, Marr illustrates Basquiat's boundless creative spirit. Marr also worked on "Steve's Catch," a collaborative StudioX animated short about a fisherman who finds himself with an unexpected (and unwanted) companion.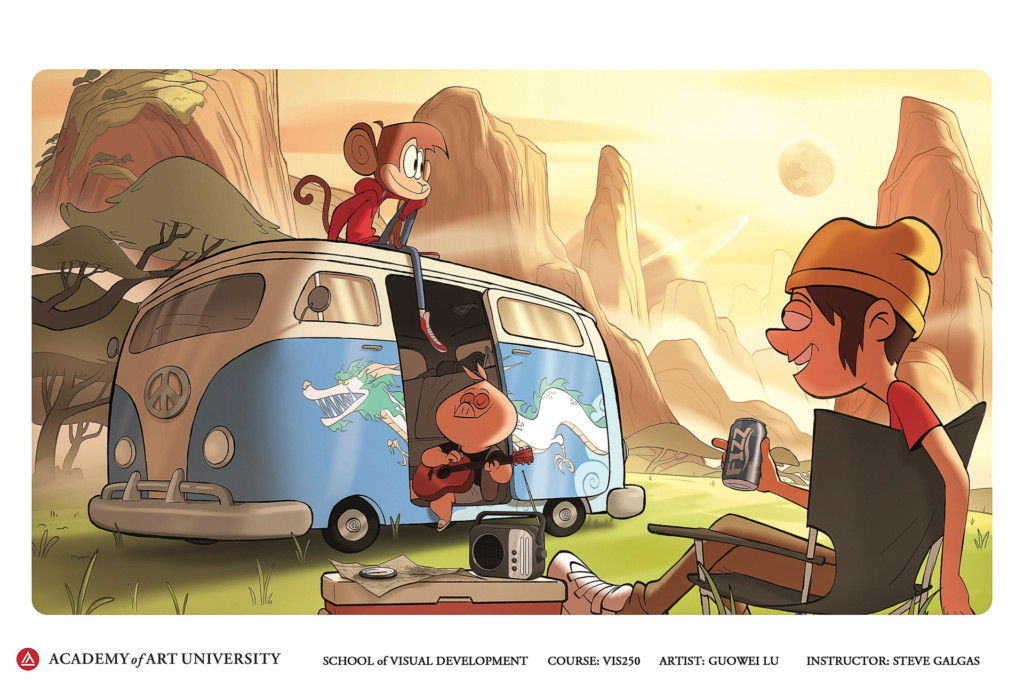 B.F.A. student David Lu's "Westbound!" was a Spring Show standout. Based on a classic Chinese novel published in the 16th century that tells the story of a legendary journey by Tang dynasty Buddhist monk Xuanzang, Lu updates the legend with three plucky friends as they adventure westward through fantastical lands in a vintage Volkswagen bus.
School of Web Design & New Media
Naturally, students and projects from the School of Web Design & New Media (WNM) were made for this digital Spring Show format.
The portfolios of this year's featured students showed the department's four fundamentals of design thinking, visual communication, user experience, and technology encompassed in beautifully rendered mobile apps, typography, motion graphics, and UI/UX.
A standout project featured students taking the digital portions of their work and integrating them into physical artifacts. "Silenced Forests," a project by B.F.A. students Lovisa Berglund, Gustav Bodin, and Sophie Thunved, aimed to help people understand how their actions affect the environment, specifically through the extinction of the amphibian population.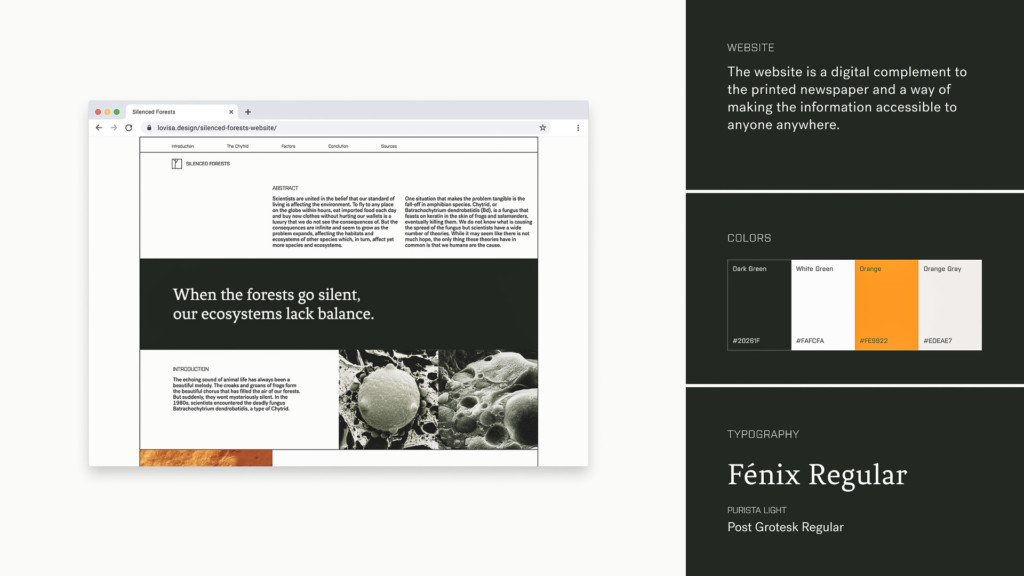 "The project won our department's Best in Show Category because of its thorough use of human-centered design that resulted in installation, print pieces, and website," said WNM Co-Director Fred McHale.
A number of other projects also took home awards, including the collaborative web design for an Audi concept car done by M.A. student Megan Wu for the School of Industrial Design's Corporate Sponsored class with French automobile manufacturer Citroen. Juno, an Internet of Things (IoT) project by B.F.A. student Kristofer Jensson, utilized a mobile app, monitor, and lamp to monitor a baby's sleep and health. Oso, another IoT sleeping solution by B.F.A. students Jake Herbig, Emily Ho, and Eriq Huang, balances the user's environment by adjusting light, sound, aroma, and temperature. These projects won Gold, Silver, and Bronze, respectively.
Raeven Fernandez, a B.F.A. student with a focus in UI/UX, received an honorable mention for creating a thoughtful concept apt for current times. He developed the idea of a meal replacement machine called Mend, which would provide healthy meals to health care workers during their busy shifts. The gentle interface and branding use soft orange, mint, and mauve, which feels bright and calming.