By Nina Tabios
Walking north on Stockton Street, between Sutter and Post Streets, it's easy to miss Campton Place. The little-known alley functions like most other backstreet connections: Trucks drop deliveries to service entrances and visiting folks leave their cars parked there to go explore the surrounding area's luxury hotels and retail core.
But for five years, the Union Square Business Improvement District (USBID) had other ideas for Campton. The nonprofit organization is hopeful this is the year things turn around with the design concepts of two students from the Academy of Art University's School of Landscape Architecture (LAN), Christie Choy and Jake Walters.
The two undergrads were a part of three studio classes led by LAN Director Jeff McLane and instructor Mark Yin, where a total of 12 students took on the task to reimagine this backstreet connection as a compelling attraction. With the help of fresh eyes, USBID hoped these young designers could breathe new life into their special project, which was a recent pivot from their usual city service duties.
"We've done a pretty good job of cleaning up and making Union Square a safer space and [now] we want to reclaim the alleyway for pedestrians," said Bri Caspersen, USBID senior project coordinator. "Now that streets are clean and safe, it's important to make them destinations for people to come to."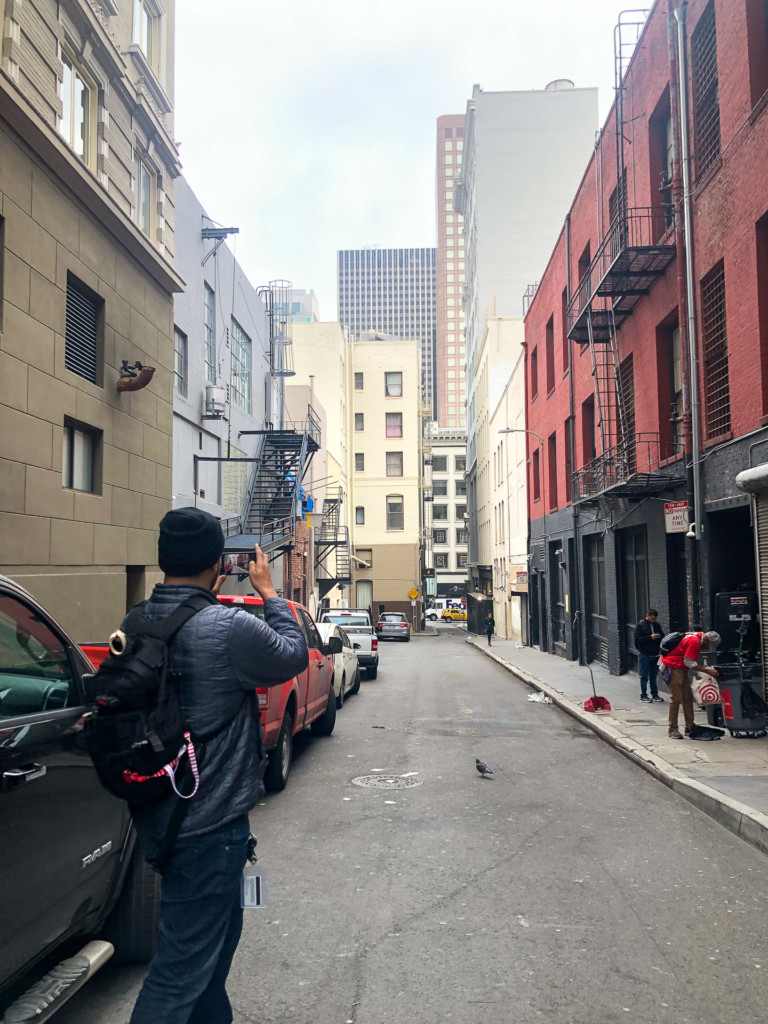 On April 17, a select audience of USBID members and consultants, building owners, professional landscape architects, and other stakeholders tuned in to Zoom to see what the future of Campton could look like.
Using the online platform Conceptboard, the LAN students talked about their inspirations and process for the project. The end results were Instagram-worthy—pops of color, living walls, large murals, and bespoke seating areas—but students didn't just design something beautiful. Students had problems they needed to solve, including a lack of light in the alley, narrow space, crime, and homeless encampments. They also had to learn how to design around permits, restrictions, approved concepts (like StreetBond paint, Gobo lights, and a neon light art installation), and budgets.
They learned that landscape is "a series of systems," said McLane. "Human systems, ecological systems, social systems, legal systems."
"It's a step outside of the theoretical," he elaborated further. "The context for this design was more real-world in terms of the role that landscape plays in a city or economy and not just from a design point-of-view. What was at stake was much higher."
"They had to think about not just what they aesthetically and functionally wanted to put in the alley for activation but also the backend logistical and operational capacity and costs at place," Caspersen added.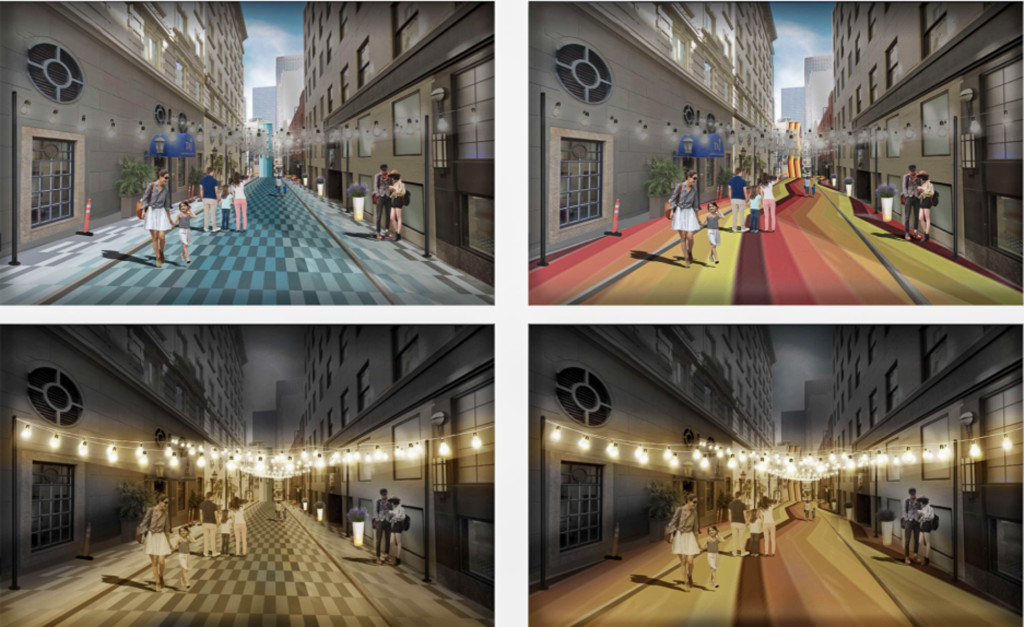 For Choy's concept, safety was her main concern. The solution was a "Saturated Color Party," where she implemented a retro color palette of blues and oranges all over the alley. The centerpiece—a pixelated, gradient design—ran the entire length of her street concept, which was outfitted with string lights, planters, and murals.
"Because the street is so narrow and it's always dark, even in the daytime, I thought adding color was the straightforward way to solve this problem," said Choy. "My idea was to create something that caught people's eye."
Walters made his alley bold and interactive. Thick bands of StreetBond, a sustainable and city-approved paint, crisscrossed along the pavement and up the walls. Speaking tubes connected the outside alley to the surrounding restaurants and galleries. Contemporary art installations from Daniel Rozin, famous for his digital mirror, and Tom Bo were included. "The way people find shapes in clouds, Tom looks at the urban world," Walters told the judges.
Francisco Mendoza, also in the B.F.A. program, thought of a food pushcart program to bring food into the alley. Limber Li, a graduate student, developed her alley around the way bubbles cluster. Another grad student, Antje Kann, filled Campton Place with optical illusions and an overhanging light tunnel. Overall, Caspersen and company left very impressed and hope to incorporate other student designs into upcoming alley projects.

"Super inspiring. A lot of them were very feasible, in general," said Caspersen. She expressed the Campton project has seen roadblock after roadblock but seeing the students' ideas was invigorating. "It was just a fresh look at the space even with the constraints that we gave them. They had so many great ideas that I hadn't even thought of."
The final design plan for Campton is to combine Choy's saturated colors and apply it to Walters' painted bands and speaking tubes idea.
"[Walters'] street pavement mural proposal is perfectly designed for this alley," Caspersen later shared via email. "[Choy's] proposal focused on our primary concerns of the street pavement mural and lighting while also proposing additional features, including Instagram-able murals, to enhance the alley activation."
For students, having their fingerprints on a real city project isn't just a standout portfolio piece, it's a fundamental experience within their craft. For Choy, this project was all about making quick decisions and trusting your gut.
"Stop overthinking and let the ideas flow," Choy said. "Make a decision then start incorporating your site analysis, what the problem is, and how you're going to solve it. It's really about multi-tasking."