By Greta Chiocchetti
From a plant-filled corner of her cheery, sunlit apartment, Erin Canoy points out a piece of art hanging on the wall.
"I really feel like it's my home," Canoy said, gesturing to the poster, a map of the Bay Area. "I have so many San Francisco-related things around the house, to remind me of my time there. In a lot of ways, I think it's where I had my coming-of-age."
After graduating with an M.F.A. in graphic design from Academy of Art University in 2012, Canoy launched her career in the Bay Area. Though she ultimately moved back to her home country of the Philippines, her story came full circle when she returned, digitally this time, to teach at the Academy.
Over a socially-distanced Zoom call, Art U News sat down with Canoy to discuss her design journey and how she's staying creative in the midst of COVID-19.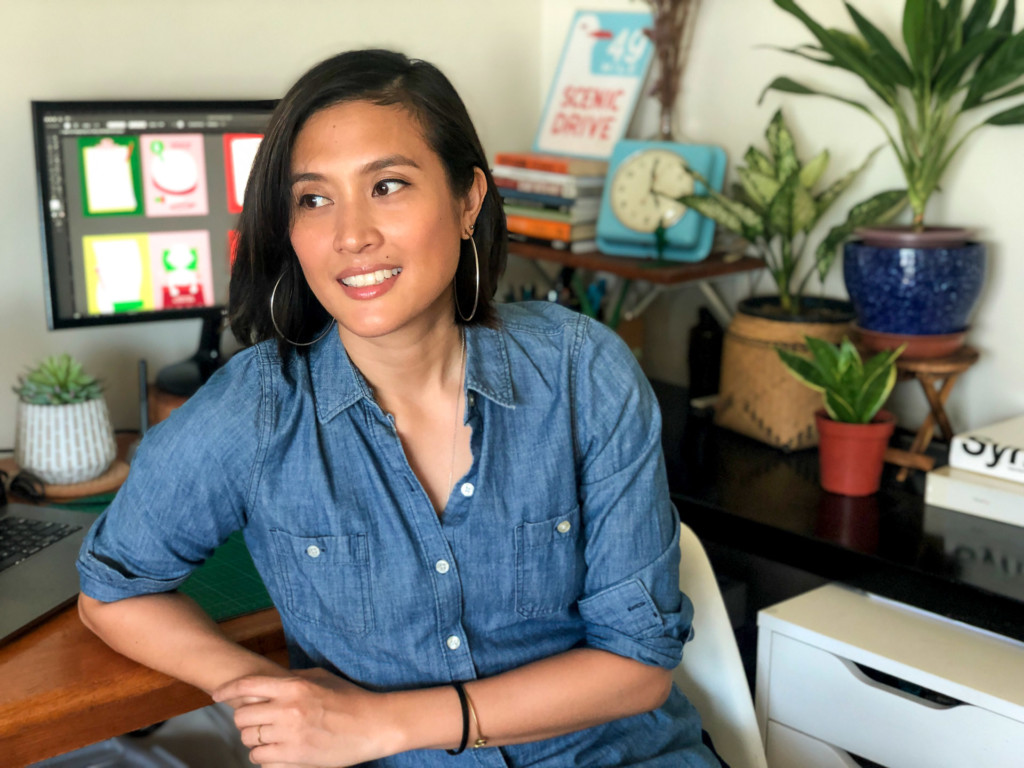 How did you get to your current role as an online instructor at the Academy?
After graduating, I worked at Celery Design Collaborative in Berkeley, which was focused on a lot of projects that were for social good. That was something I really enjoyed doing and I had worked there for, I think, two years. So when I came back home [to the Philippines], I worked with them remotely—I started learning how to work online, which has really prepared me for this. It also just opened up a lot of opportunities as well, because I also started working with other companies in San Francisco and the Bay Area. So, I did a mix of freelance work from California, and then freelance work here as well.
I visit [the Bay Area] regularly—about every year—and there was a year that I met up with one of my old instructors from the program and I was just telling him how I was thinking about teaching back here since I already have an M.F.A. degree. [H]e was saying, why don't you just teach for us? It had never dawned on me before. Oh yeah, we do have online classes.
The first class I taught was Integrated Communications. For me, I think I was pretty lucky because it was a course that I had already taken. So I knew what was needed—I knew what the expectations were. And I think that also helped me teach the course, because I knew what it was like being a student. There are so many deliverables that you have to produce within the semester. I think if you come into that class kind of knowing what you need to produce at the end, it's less scary than going into the class and just figuring it out. 
How has COVID changed the way you teach your class?
I just find myself encouraging [my students] more. I've done weird things, like I put up a discussion thread for just COVID-related graphic design that they find out in the wild. For the most part, a lot of students seem to be busy with other stuff, so I've tried to give them a little bit more space to process.
What's your favorite thing about teaching?
Just being able to share the information. The Academy resonates so much with me, because growing up in the Philippines, you know, a graphic design degree isn't really standard—and even now, I don't think there's any graphic design degree here. The most similar would be a multimedia arts degree, pretty similar to computer arts, new media. So, I just want more students to learn about graphic design, how to communicate through that medium.
I also just love seeing how students progress along the semester, especially because the courses I teach have just one major project at the end. So you really see how they started out with preliminary sketches, just rough ideas. Throughout the weeks, everything just changes drastically for the better. So my favorite part is just seeing the final project, knowing what they went through to make it—it's just amazing.
Have you always been a creative person? Did you always think you'd go into graphic design?
Definitely. I think I was always into drawing and creating growing up, and I think I was lucky enough that my parents also enrolled me in visual art classes as a kid. I'm so crafty; I love sewing things, which goes back to my mom making our Halloween costumes growing up. I think I get a lot of [my creativity] from my mom.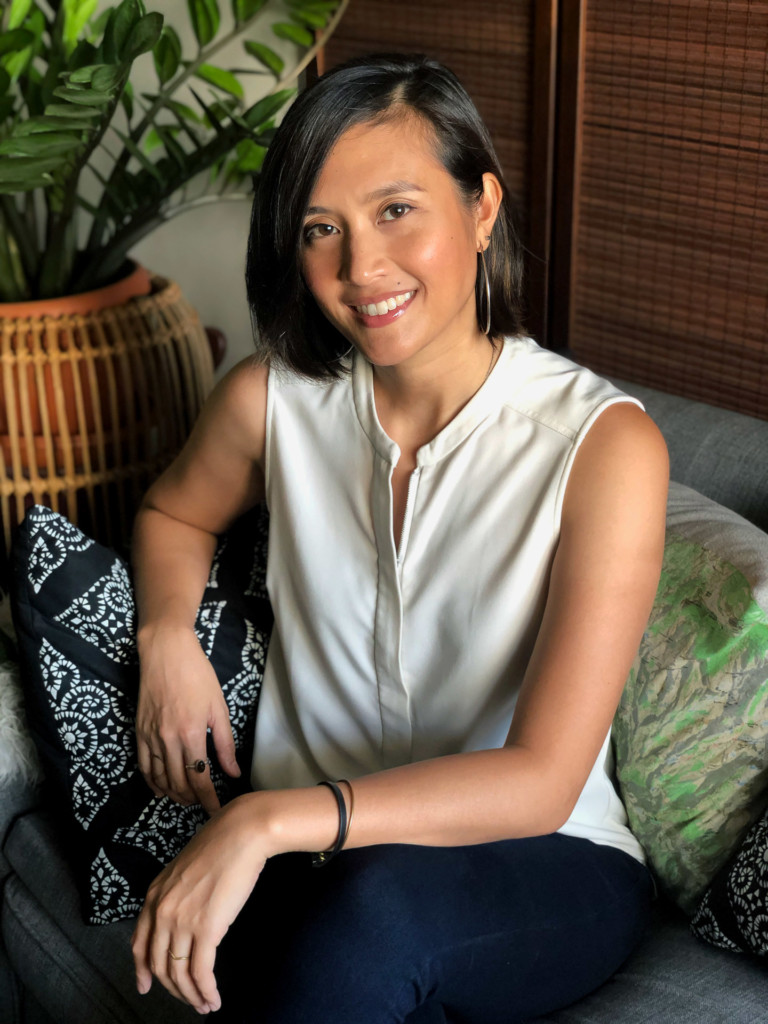 I didn't think I'd be in graphic design, because I always wanted to be a painter. When picking out courses and taking entrance exams, my dad was like, "No way, you're not gonna be a painter because you won't make money." My dad is such a businessman and very traditional. So I think for me, the whole multimedia arts degree was like the closest thing because it was still visual art, but there is more use of technology attached to it.
What is it like to shelter-in-place in the Philippines?
It's pretty tough here. When the lockdown first began on March 16, everything was pretty much shut down. All the restaurants are closed. You have no public transportation, so there's no way to get around. Every household gets one quarantine pass from the city, so only one person can leave the house. I think, depending on what city you're in, seniors can't go outside. My parents can't leave the house, so it's my younger brother that has to go out and get supplies. We can't jog, we can't cycle, which has been hard for me as an avid cyclist.
We don't have, for example, Amazon services where we can order things online. So a lot of businesses have been slowly opening up like pickup or delivery, but they don't have their own delivery services, so you have to book your own motorcycle driver to come and pick up your stuff. It's been challenging; we're basically stuck where we are.
How are you staying creative during this time?
My design studio, Makesaint Design, still has a few projects that are running, mostly branding projects. I also run a cycling apparel brand called Off-Kilter, but again, since we can't do anything, right now it's on hold.
One of the big things that a friend and I did throughout this time was creating a project called the Fluffy Fort (https://fluffyfort.com/), which is a site that sells COVID-related journals for kids. Since I have this teaching bug, I love just talking to my nieces and nephews. There was one day that I was just so bored, and I made a booklet out of colored paper and wrote in it with crayons since I don't have a printer with me. I wrote prompts and then I sent that to them—they live in the same building as me. I dropped it off by their door and then I realized that they have so many things that are going on in their minds that they probably have no idea how to express. Or they probably also see people running around in their household trying to figure out how to do things right now.
So I was talking to a friend of mine, who is also a teacher and she was saying, "Maybe we should just build up this project as something that other kids can benefit from." So that's something that we did, which I'm really, really happy and excited about. It's just like another creative outlet that I know is gonna help other people get through this. I think that's a conversation that's kind of getting overlooked is like how are the kids processing all of this?
How are you taking care of yourself emotionally during this time?
Well, it's kind of hard because I live alone. So that's why I have all my friends here. [Gestures to several houseplants behind her]
I try to work out—I think that definitely helps just to kind of get my mind off of things. My rough schedule is getting a little window sunshine from my balcony—a little sliver of sunshine. I like to stay outside while I'm checking my phone just to get some vitamin D, then I try to work out.
For me, I think really having a schedule helps. What I've learned throughout the weeks of being at home and not being able to go out is that when you have too much of a rigorous schedule, you kind of stress yourself out—"Oh my gosh, it's already 11! Why have I not done all that I've put on the list?" So, I do a really, really rough schedule and what I learned that helps is also breaking down your day into like four major tasks. So I kind of work in sprints—about an hour and a half each. That way, I'm just picking off a few things. If I go over that in terms of what I do, then that's perfect. But if not, then that's fine. I also try to not be too hard on myself, because I'm really a perfectionist.
And then what's also helped me is having regular Zoom meetings with a lot of my grade school and high school friends. That kind of keeps us all sane. We've done really silly stuff—like yesterday, we started reading sonnets and had each one of us read a snippet. We've done quarantine Bingo. We've done dress up—anything you can think of just to help us all be silly and have fun.
This interview has been lightly edited for clarity.
Academy Voices will return the week of June 22.