By Greta Chiocchetti
When Danny Burns first dreamt up the idea for his Minecraft miniseries, "Avisterra," in the fall of 2015, he never imagined that it would be the year 2020 before the first episode debuted.
But as the sole animator on the project, his work was cut out for him—just a few seconds of onscreen movement could take hours to produce. Blender, the 3-D creation suite Burns used, took seven hours to render five seconds of 24 frames per second.
Burns' years of meticulous labor paid off this spring when his passion project won awards for Best Music Score and Best Sound Design at Academy of Art University School of Entertainment's fourth annual NXTUP Festival.   
"I was just honored to be nominated. I didn't expect to win one, let alone two, awards—the other work submitted was really, really good," said Burns. "So, I was really surprised. But at the same time, I had the entire cast and crew screaming congratulations in my ear through Discord."
A student in the School of Music Production & Sound Design for Visual Media (MUS) at the Academy, Burns says his musical affinity has been with him since he was a child. As a colicky baby, he said, the only thing that would quiet him was when his parents played Mozart. At age 11, his parents bought him his first digital audio workstation, and he discovered a love for composing music.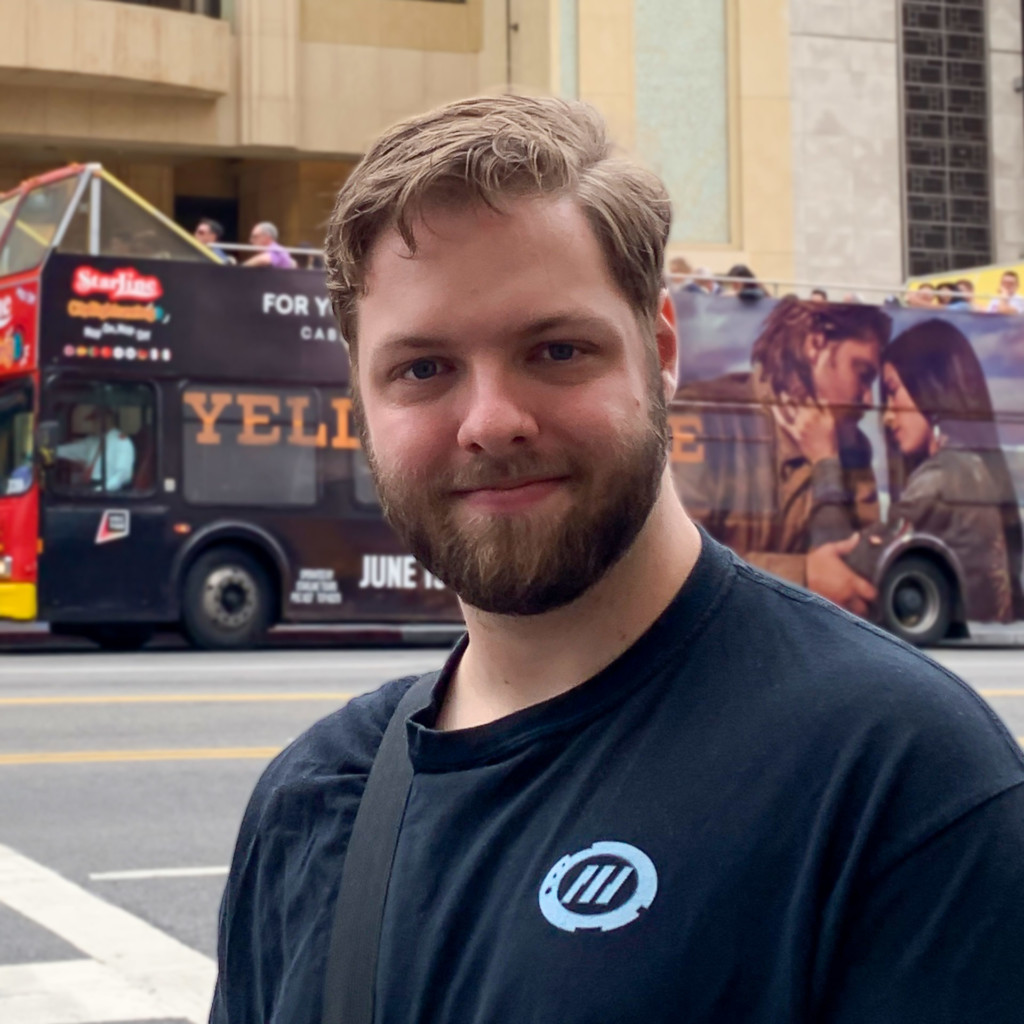 Burns cast friends, from various Minecraft Discord servers as well as from the physical world, to co-star with him in "Avisterra," keeping the same character skins that were used during gameplay. Although Burns worked with several members of the online Minecraft community, the series was largely a collaborative effort between him and Matt Duarte, a fellow Bay Area art student who influenced much of the screenwriting.
"I like to use the analogy of a half-baked clay sculpture," said Burns. "Now it's this marble statue. We've been able to chisel it into this thing that I could have never done alone."
According to MUS Director Brad Hughes, Burns' ambition in partnering with another artist made his submission even more impressive, apart from the strong music score and sound design, which supported his narrative really well. "Usually, those three roles—animator, sound designer, and composer—are done by three different people in collaboration, but Danny did all three of those things himself," Hughes shared via email.
During his time at the Academy, Burns has had plenty of practice with more "practical" sound design—the sci-fi and fantasy genres are the best opportunities for world-building—which is his favorite part of the creative process. Those universes are more flexible creative playgrounds to work with, he said.
"Capturing a story and an emotion through music is my greatest passion," said Burns. "The music actually came before the script for 'Avisterra' was written and inspired the narrative—it happens a lot that way for me."
Using a combination of edited stock audio and foley, Burns created sound effects for crashing spaceships, giant shadow beacons rising into the sky, and shrieking creatures called Enderlings.
"The Enderlings were my design," said Burns. "I recorded my own voice doing that weird shrieking noise and modulated it through FL Studio, then I added some distortion and some little snorts to kind of achieve a more beastly feel."
As a young artist dedicated to honing his craft, Burns is committed to taking in all he can from his classes.
"Danny is an enthusiastic student who really absorbs information given in class and makes a good effort to incorporate what he is learning into his own work," said Hughes. "What impresses me the most is how he takes that new knowledge and makes it work for his own artistic expression."
Burns said his mixing and mastering technique has vastly improved thanks to his production classes at the Academy. Although he's got a robust portfolio and an impressive skill set, he's looking forward to constantly making progress.
"I'll go back to the chiseling thing. I'm sort of chiseling it out still. I still have a lot to learn," said Burns. "I think I will keep having a lot more to learn—and that's completely fine with me."
Check out the first episode of "Avisterra" and stay tuned for upcoming episodes.
To view more of Burns' work, please visit www.technocinema.com.