By Rob Garcia & Jake Ward

Continuing the Academy of Art Athletics' tradition of giving back to the San Francisco community that the Urban Knights call home, ART U student-athletes, coaches, and staff members collectively completed more than 2,000 hours of service during this academic year. With over 1,300 of those hours being spent helping children and youth, specifically, the department has truly emphasized the importance of building a bright future in the Bay Area.

"Looking outward to serve others is essential for a happy and productive life," said Director of Athletics Brad Jones. "It is also one of the most effective ways to create personal growth within ourselves. Personal growth is one of our athletic department's main objectives for our student-athletes and staff members. We are extremely proud of each student-athlete and coach for all that they do to serve and to give back to the community of San Francisco."

Coming together for its annual work to set up the San Francisco Police Department's National Night Out, Academy of Art Athletics' coaches and administrators began the year's service by heading out to North Beach last August. Transporting and arranging tables and chairs while engaging with officers throughout the booth area, the Urban Knights helped set the stage for the community-building campaign with the goal of creating safer and stronger neighborhoods.

On a regular basis throughout the year, multiple teams crossed over in their time spent feeding the homeless at GLIDE Memorial Church. Inspired by the challenges facing that population that could be seen on a simple walk to class, members of Academy of Art Men's and Women's Basketball joined together to prepare meals, ensure organization, and ultimately serve food to long lines of individuals hungry for a meal and equally desirous of service, respect, comradery, and acceptance.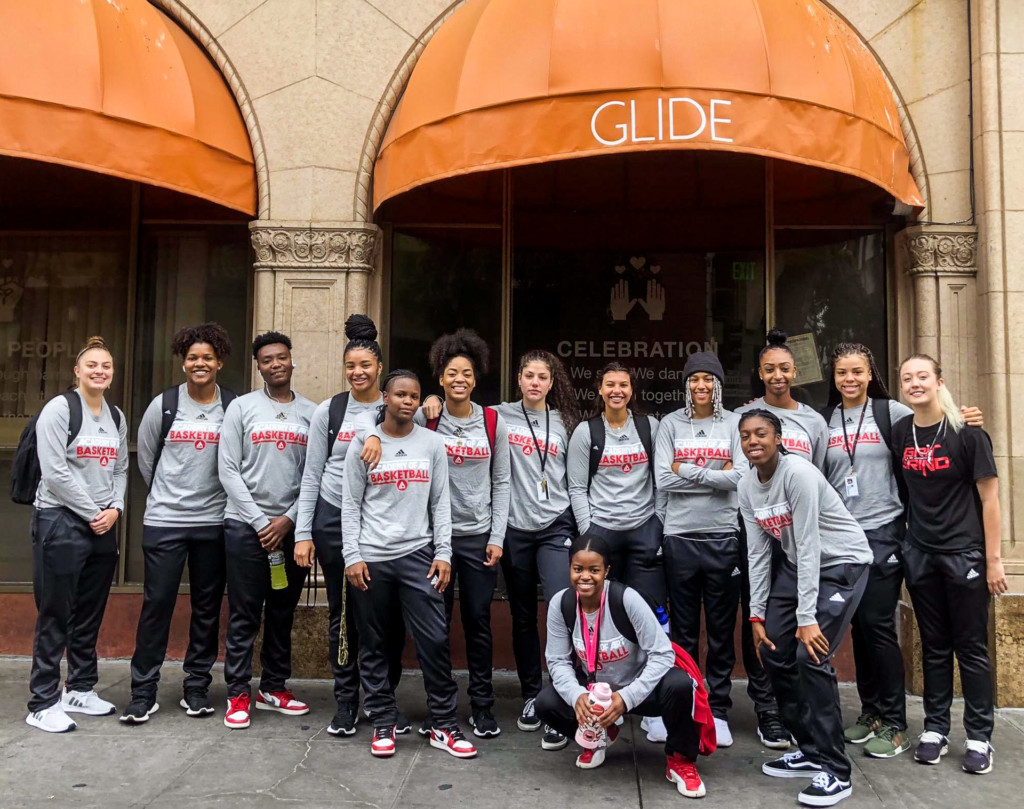 "I was glad my team and I got to help out the wonderful people at GLIDE," said men's basketball redshirt freshman Maurice Elrod (Music Production & Sound Design for Visual Media). "We are always grateful to serve in the city. They say when you give back, you appreciate what you have even more."

GLIDE's own Community Engagement and Volunteer Program Coordinator Victoria Pinto offered her praise of the ART U women's basketball team's service.

"The women's basketball team came a couple of times last fall and it was my pleasure to facilitate their orientation before their first shift," said Pinto. "The young women were engaged and asked thoughtful questions—it's always wonderful to see students making meaning of their service. I see almost every school group that comes through GLIDE's doors and not every student or school is willing to put in the work to make service trips impactful. By the numbers, about 60 percent of the work we do here at GLIDE is aided by volunteers and the GLIDE Daily Free Meals Program needs 85 volunteers every day to run smoothly. Additionally, the two shifts the students served are our most notoriously short shifts so it was great to have not just young people, but student-athletes who are already so busy, take the care and time to actually show up and do the work."

Both Academy of Art Women's Basketball and Track and Field/Cross Country could be found spending time with the Salesian Boys' & Girls' Club, whose mission is to serve children (ages eight to 18) by accompanying them, with loving kindness, on their journey to young adulthood. Urban Knights assisted in the setup and execution of the club's annual Luxury Raffle & Reception as well as a Cioppino Feed event—each designed to raise money to support activities. Responsible for serving food to tables of around 700 people and helping clean up, the student-athletes not only streamlined the latter event, but also made lasting connections with the members.

"It was a great experience," said women's track and field senior Rian Young-Werner (Illustration). "It almost didn't feel like work because we were all having such a great time. What I was happy the most about was the fact that we made a strong impact on the members of the club. They didn't hesitate to tell us every time that we were such a big help and they really loved us, which was exciting to hear. I'm glad that we had the opportunity to work with them and hopefully will again in the future."

Serving at other events as well, ART U Women's Basketball (Top 10 in its NCAA Division II team category on Helper Helper) also brought their smiles and positive energy to Fleet Week where they volunteered as greeters for an air show in October. Beyond that experience, the Urban Knights also teamed up with retired WNBA star, Women's Basketball Hall of Famer, and two-time Olympic Gold Medalist Ruthie Bolton to take part in the "Girls in Sports Hoop Summit" hosted by the San Francisco Recreation & Parks at Hamilton Rec Center. Engaging with local girls between the ages of five and 12, Academy of Art contributed to the development of fundamental basketball skills, helped the youngsters learn about how to be healthy athletes, and just had fun together.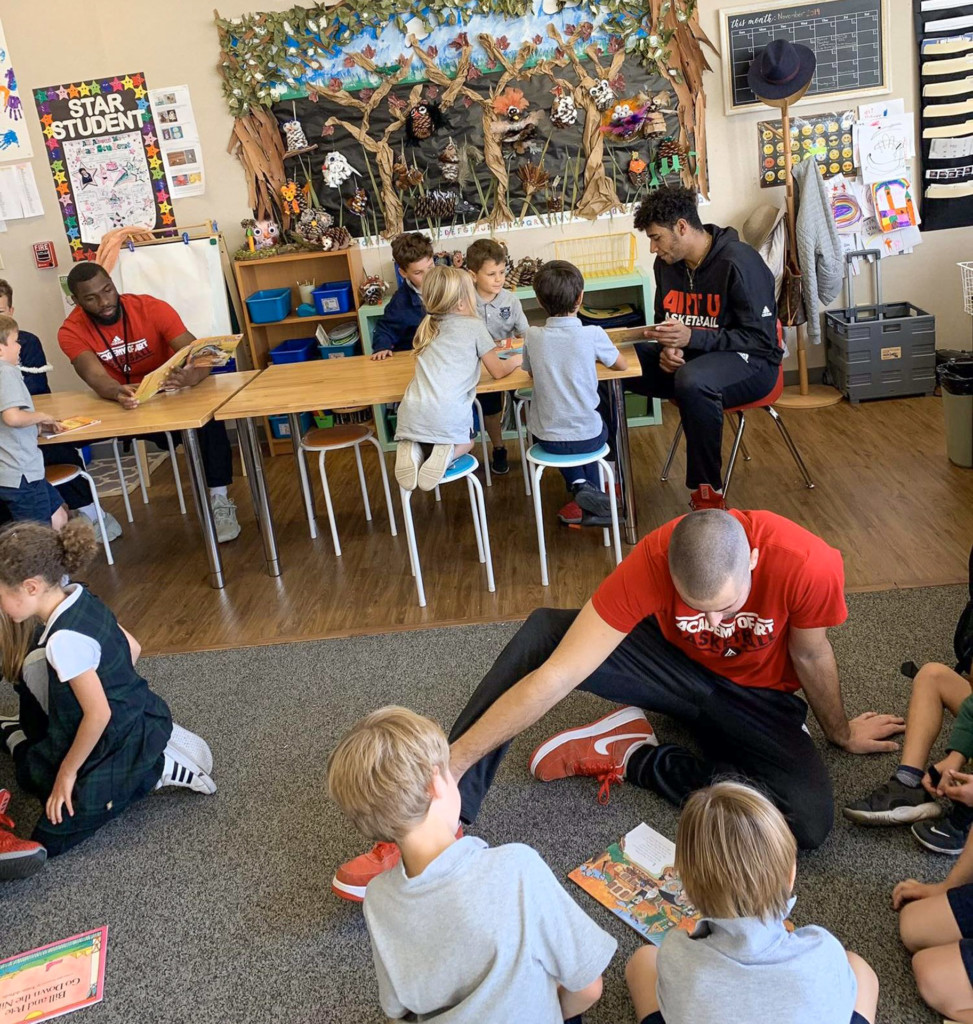 "Community service is pretty important," said women's basketball sophomore Chanel Stuart (Communications & Media Technologies). "At the Boys' and Girls' Club, you could just tell how excited the kids were to have a student-athlete there. It's like they wanted to play all day even when it was raining. With [Hamilton] Rec Center, kids don't always have fun when it comes to sports so being with someone who plays the sport and can simultaneously encourage and teach them was fun."

ART U Men's Basketball also volunteered at other events including a fall trip to St. Anselm School in San Anselmo where the team read books to the children and also helped them with their schoolwork.
"This was the best event in my opinion," said men's basketball junior Josh Hill (Communications & Media Technologies). "I got to interact with the little kids and they wanted everyone's autograph, which was cool. One of the kids said they wanted to be like us when they grew up. That was nice."

During the holidays, men's basketball also participated in the San Francisco Firefighters Toy Program by setting up decorations and handing out toys to children. These kinds of hands-on experiences were the ones that men's basketball head coach Scott Waterman felt were the most important.
"From the volunteer activities we engaged in this year, the one that sticks out the most was our time at St. Anselm School," said Waterman. "Our guys do not realize how young kids look up to them as being collegiate student-athletes. As they were reading to the kids and helping them with their assignments, the students had this look of awe in their eyes. Our guys handled it so well and not only helped the kids with their work, but also were able to pass along messages of what it takes to be a collegiate student-athlete and keys to achieve goals in life."

One of the most active teams was Academy of Art Baseball as they volunteered at five events throughout the fall. Some were close to home, such as the Academy of Art Dining Services' "Spread the Love" event where the team helped the staff make peanut butter and jelly sandwiches for the less fortunate. For other events, the squad was out in San Francisco, distributing water and Gatorade or directing runners who were taking part in the J.P. Morgan Chase Corporate Challenge and the Kaiser Permanente Half Marathon. Fittingly, the team's first event volunteering was the SF Giants Race where they helped give the runners some support.
"We handed out water and Gatorade, played music, and cheered on the runners," said baseball senior Galen Manhard (Communications & Media Technologies). "The experience was a lot of fun because the runners seemed happy to see us as they ran by and some even danced along to the music we had playing. As a team, it was one of the first times we came together, and it really helped us bond."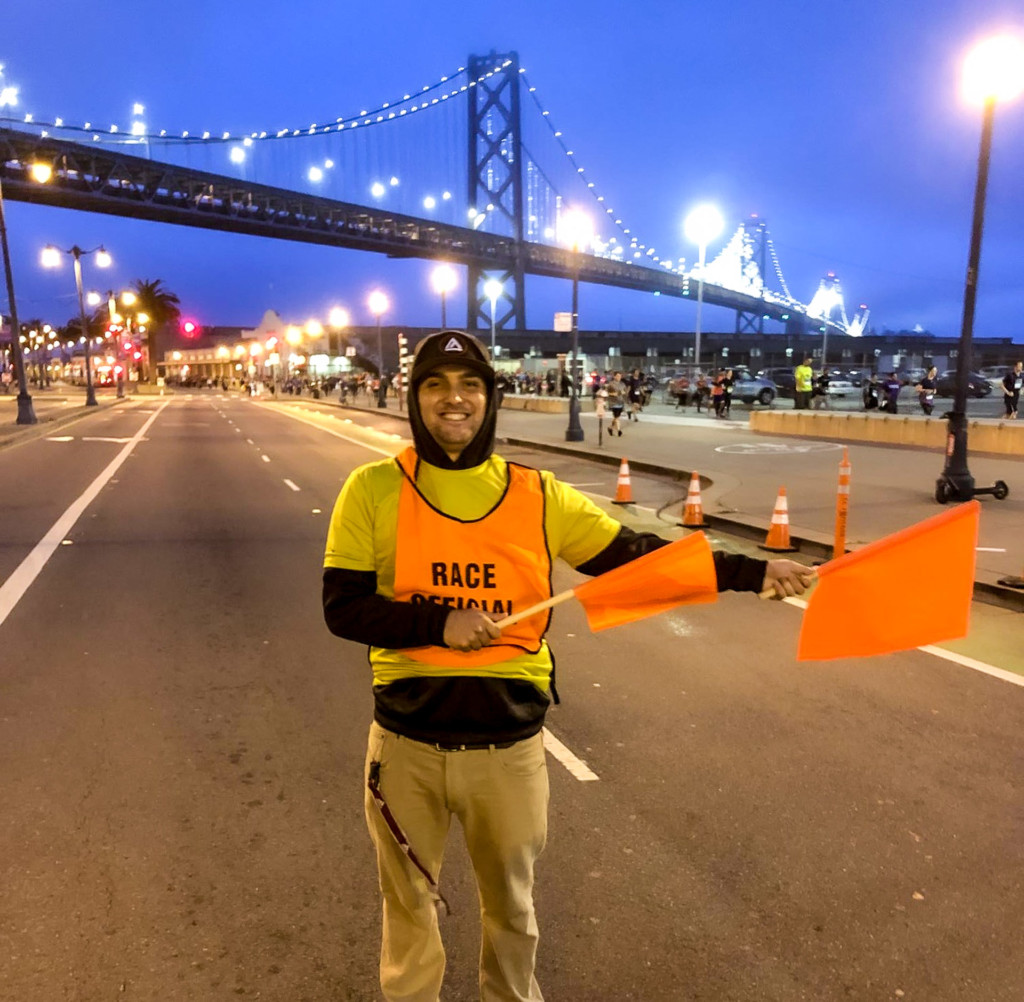 One of their final opportunities to volunteer was the aforementioned SF Firefighters Toy Program where the team helped organize and package toy donations for each family.
"This was an amazing experience because not only did it allow us to help those in need, but it also showed us the massive amount of support that the Toy Program generates," said Manhard. "We greatly appreciate the SF Firefighters' generosity and their commitment to the community."

Apart from various clinics with Nor Cal Blast and the Belmont Youth Softball Association, Academy of Art Softball made an impact with a writing and donation campaign at St. Jude Children's Research Hospital. Gathering contact information from those who could help cover the costs that the patients' families face, the team helped fundraise for treatments while supporting the youth.

"St. Jude is a hospital that really cares about not only all of their patients, but their families as well," said softball redshirt senior Austyn Matlick (Visual Development). "They do so much to give back that it seemed like the least we could do was try and raise some money to aid them in that. I've seen firsthand what cancer can do to someone and their family. It's not something anyone, let alone a child, should have to ever have to endure."

While their season was in the fall, ART U Women's Soccer still found some time to help out the Street Soccer USA program's "End of Season SF Festival" for the third consecutive year. The festival brought together children of all ages to work on their skills with collegiate players, coaches, and other volunteers, including senior Anissa Wilson (Music Production & Sound Design for Visual Media).
"The 'End of Season SF Festival' was nothing but a great time and great memories," said Wilson. "Watching the kids play soccer and enjoy it as much as I do reminded me of why I fell in love with the sport. I hope Street Soccer USA continues to do what they do, and we will continue to help. It's a great program that teaches the youth not only how to play soccer, but to play with heart and competitiveness."
While at the festival, volunteers who helped instruct drills would give blue cards to individuals who they saw show sportsmanship and encouragement to other participants. There were even live games, something that was not just fun for players, but for the volunteers as well.
"We would set up scrimmages and set teams, and each volunteer would be a coach," said Wilson. "I don't mean to brag, but my team always crushed it!"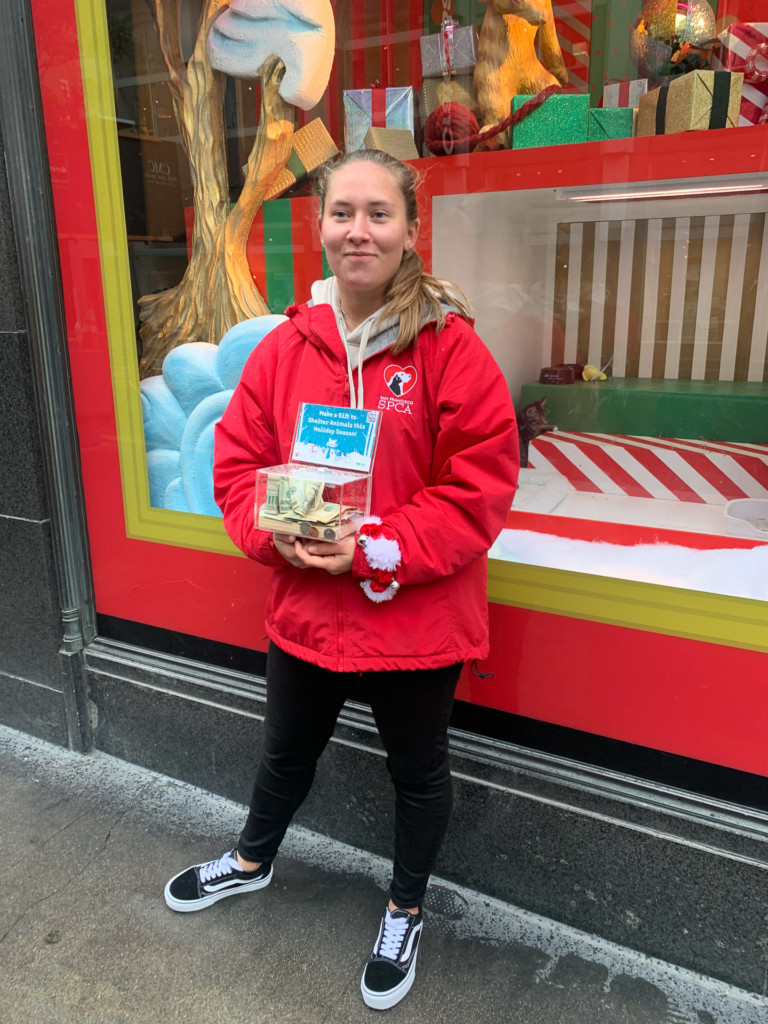 Other teams had plans for volunteering but unfortunately had them canceled due to the current health pandemic. Academy of Art Men's Golf was slated to help work at an LPGA event and a local high school tournament, and while those were removed from the schedule, two members of both the men's and women's golf teams did assist The First Tee of San Francisco, an international youth development organization introducing the game of golf and its inherent values to young people.
Junior Adam Castillo (Animation & Visual Effects) and senior Otto Homruen (Graphic Design) were asked to create preliminary drawings of a statue that will be erected in front of the clubhouse at TPC Harding Park in San Francisco. As Castillo and Homruen started the process, they enlisted the help of junior architecture majors Iveta Posledni and Anahi Servin who put their scale sketching skills to work to help finish the project.
"I think it's a really good opportunity for us to do something that we've learned in school to help the community," said Homruen. "I feel like I did my best to help and it was a good opportunity to learn to do something that I'm not familiar with."

Partnering with a variety of different groups in San Francisco, ART U Women's Tennis embraced diversity in more ways than one. The Urban Knights assisted the SF Society for the Prevention of Cruelty to Animals as greeters outside of Macy's Holiday Windows informing passersby about the animals available for adoption. Spending time greeting and also cleaning, the team joined Friends of Lafayette Park, a non-profit volunteer organization, to improve the scenic spot with tennis courts roughly a mile from the athletics department's hub at 620 Sutter.

"I'm a person who loves to give to other people," said women's tennis senior Mariacristina Andrisani (Interior Architecture & Design). "During these years, I've been involved with many different organizations and it's amazing how much each one of them also made me grow as a person. Volunteering with others and fighting for the same cause brings me so much joy. On top of that, having the opportunity to be part of these events with my teammates helps us grow together as a team."

Prior to a Feb. 15 matchup with Sonoma State, ART U Women's Tennis welcomed children between the ages of seven and 12 for a clinic at Bay Club SF Tennis. Enjoying the chance to share their wisdom with rising tennis players through a rotating doubles activity, the team carried that energy into a 5-2 victory over the Seawolves that afternoon.

Finally, the Urban Knights were part of the 293 volunteers who headed out to Baker Beach for a San Francisco Surfrider Foundation Beach Clean-up. When finished, the team had collected 320 pounds of trash, including a whopping 2,500 cigarette butts.

"Being outside the city and in contact with nature really helps student-athletes put things into perspective," said women's tennis head coach Clarisse Baca. "They begin to see how important it is to be sustainable and take care of our planet."

Serving the community remains a fundamental part of being a student-athlete at Academy of Art, naturally bringing happiness to the lives of all involved.