By Madison Silva

OutLoud, a student-run organization, launched in Fall 2010 with the mission of creating a safe and inclusive environment for all. The club has been passed down through students of Academy of Art University over the years, but the goal has stayed the same: to connect members with resources, one another, and their surrounding community. OutLoud was organized to serve all members of the LGBTQ+ community at the Academy, continuously working throughout the years to strengthen the club's foundation for current and future students.

Upon walking into an OutLoud meeting, members are instantly greeted with welcoming faces and brought into friendly banter. Currently with 15 members and growing, OutLoud makes sure each individual is acknowledged and made to feel like a part of the group. Members not only know one another by name but have created friendships with one another through their weekly meetings. All new members are welcomed in a manner that makes them feel like they've been with the group since the start.

"Outloud has helped me finally embrace who I am and to find friends who understand what it is like to feel as if the whole world is against you," said club co-president Shane Young.

OutLoud operates as a safe space for queer members of the Academy to gather together to discuss health, privilege, safety, community, and culture. They provide students with tools and knowledge for everyday life, working to unite students of all backgrounds. OutLoud teaches students how to make themselves the first priority and how to put self-care into action. Students are shown where to seek help, as well as how to give help. OutLoud gives every student the sense of empowerment needed to go live their lives with pride.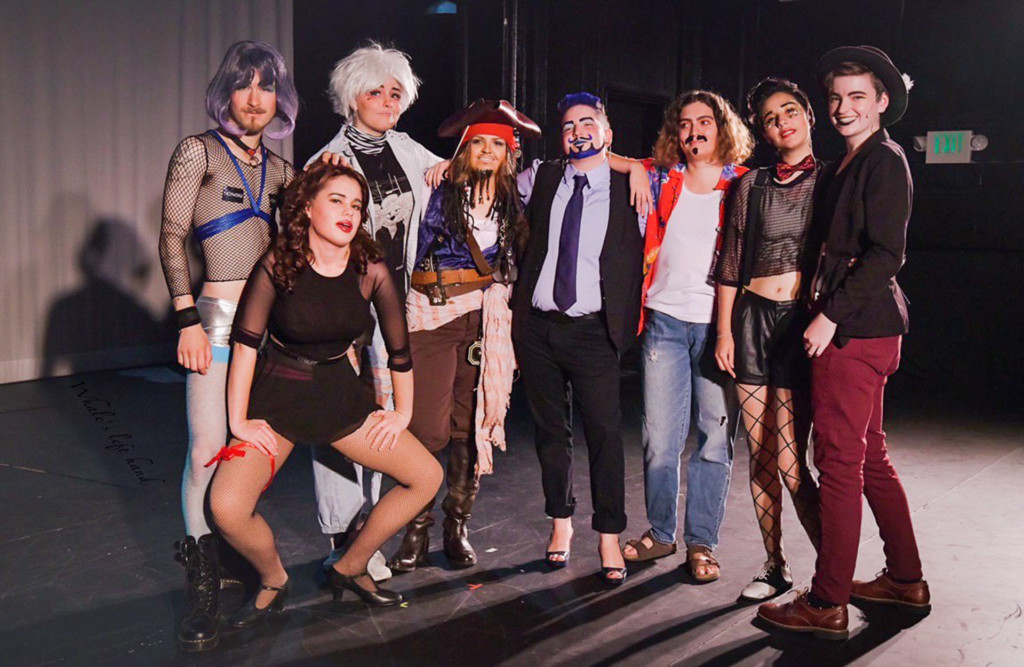 Additionally, OutLoud holds events throughout the year to promote community in and out of their meetings, such as game nights, movie screenings, and drag shows. OutLoud also emphasizes the importance of being active in the community outside of the Academy as well, providing members with opportunities to volunteer and participate in LGBTQ+ conferences. OutLoud members have volunteered at the SF LGBT Center, as well as participated in the GLSEN Day of Silence. Members have had opportunities to connect with their community from National Coming Out Day celebrations to participating in the SF Pride Parade.

The group begins their seven o'clock Wednesday evening meetings with a formal discussion. A recent meeting covered the topic of how to vote. The group broke down the steps of how one votes in California and provided additional information to members who are still registered in their home state while attending the Academy. The topics vary from week to week, with a priority put on the subjects that members would most like to discuss. Previous topics have ranged from hormone therapy to how to properly use someone's pronouns, but whatever the discussion is, it always provides students with new resources and information.

"I think OutLoud has impacted its members by offering a space for those who want to connect to their community and learn about what it means to be a queer artist," said club co-president Jo Leahy.

Following the discussion and addressing any member questions, the meeting moves to check-ins. Members are encouraged to speak about their personal lives, classes, and anything they wish to discuss at the group level. To respect comfort levels, members are not required to share.

OutLoud provides members of the Academy's LGBTQ+ community a place to feel seen and heard, in both their struggles and accomplishments. Attending an OutLoud meeting gives students a chance to engage in a safe social setting while learning more about their community and ways they can further immerse themselves in it.

"Those few minutes of conversations with people who respect me has made me comfortable in who I am," shared co-president Young. "And that's really what our club is all about."

While on-site meetings and events are on hold, OutLoud has managed to stay creative with how they plan to unify and come together during this time. Currently, OutLoud has taken their meeting space for members online via Zoom video conference. The full spectrum of LGBTQ+ individuals, as well as allies, are welcome to join at any point in the year.

Connect with OutLoud through Facebook and Instagram to see announcements for upcoming meetings and events.