By Cristina Schreil
In the first short episode of a Vietnamese animated series titled "Trung Vuong," a warrior named Bát Nàn slices through the air, sword in hand, cutting down man after man. In the scene before, she'd just discovered an elderly woman laying, seemingly lifeless, on the ground. A tear streamed down her cheek. Instead of cowering or surrendering, the woman turned, unsheathed her sword, and ripped through several male soldiers. They never stood a chance.
This isn't a fantastical feminist fantasy—it's something inspired by a true story of Vietnam's women warriors who fought off Chinese invaders around 2,000 years ago. Famous figures in Vietnam, the Trưng Sisters—Trưng Trắc and Trưng Nhị—led a rebellion against Chinese invaders in 111 B.C. Spoiler alert, they ultimately failed. Yet, the sisters and their army, which included more strong women warriors, made a mark, and today are a key part of Vietnamese history and lore. A new animated short series whose name translates to "She-Kings" spotlights the stories of six of these warriors, with Bát Nàn as the first. It is also part of a larger project — Vietnamese film company TNA Entertainment announced plans for a live-action feature film.
The animated series is by Hanoi-based DeeDee Animation Studio. Each short episode is just a few minutes long. Helping resurrect these legends is Academy of Art University School of Animation & Visual Effects (ANM) alumnus Ha Huy Hoang, who is the art director and animation supervisor for the project. He's worked for DeeDee for two years.
As art director, Hoang's day-to-day often involves finding a design language or style for a whole project. There's a lot of reference gathering and notetaking that breaks down the desired style. Hoang also communicates this to his team.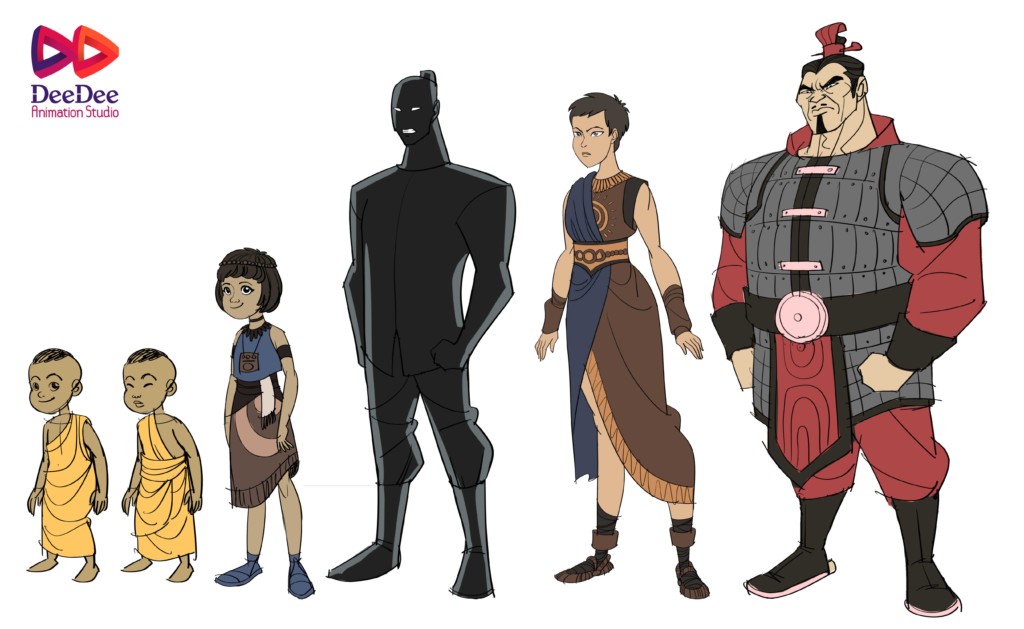 Hoang explained that the animation style for "She-Kings" is a combination of digital hand-drawn animation and some cut-out techniques. The DeeDee team took a lot of inspirations for the animation direction from action-driven Japanese anime, and some American superhero cartoons like "Young Justice" or "Batman: The Animated Series."
Hoang explained the She-Kings series brought some challenges. "This is also our studio's very first hand-drawn project using such a detail-oriented art direction, so we had a lot of difficulties," Hoang said. "To overcome this, as art director, I had decided to simplify the character design process, choosing an art style that is more streamlined and relatively simple compared to most Japanese anime to make it easier to animate."
Those who are drawn to the series will also get an introduction into Vietnam's animation world. Hoang explained that it's catching up with the rest of the world, and that "She-Kings" is unique within Vietnam. "When it comes to animation, most of the studios here are still focusing on CG and motion graphic videos. I know of very few studios who are working on actual original 'cartoon' contents in 2-D," explained Hoang.
Since Hoang joined DeeDee Animation Studio, he's worked on a diverse array of projects. Having to be flexible has made his confidence flourish. "I've been able to experiment and test myself in things outside my comfort zone," Hoang reflected. A project he's particularly proud of is a prequel called "Broken Being," an animated short that culls from myriad influences on Vietnamese culture, including sci-fi vibes akin to "Blade Runner" and "Ghost in the Shell."
Hoang's road to an animation career wasn't direct. He first struggled in an architecture program—at the wishes of his parents—in his native Hanoi. He heard about the Academy through friends. When he switched gears, despite straying from the path that was expected of him, he knew he had found his "true calling." Upon heading to San Francisco, he also found a strong support system. "I started at the Academy with the help [of] amazing instructors like Beth Sousa, Daisy Church, Chuck Pyle, Michael Vickner, Alex Marston and James Baker," Hoang said. "Their passion for the craft as well as for us students at the Academy inspired me and my friends tremendously in following this career."
"Having taught Ha, I can attest to his dedication, work ethic, and collaborative spirit. His work was always a joy to review and give feedback on, and he always would go the extra mile to make his work that much better," said Church, the associate director of 2-D animation. She added that she found the animation in "She-Kings" to be beautiful. "His studio has been able to do an elegant mix of hand-drawn and puppet animation, and being both a feminist and a historian, I love the subject matter and how it empowers a female warrior narrative in historical context."
Hoang reflected that his classmates' commitment and passion for the craft helped him while he was a student. "Without them, I would not be able to make it in a country literally halfway around the Earth from my home." He ended up graduating from the Academy in 2016 with a B.F.A. in 2-D animation.
His time at the Academy also led him to interesting projects, including working as character design and animation consultant for Studio X-produced, award-winning film "The Ribbon," directed by ANM alumna Polla Kozino.
There's more on the horizon for Hoang than the completion of "She-Kings," which you can follow on DeeDee Animation Studio's Facebook page.
For more about Hoang's work, visit hahuyhoang.com.