By Cristina Schreil
A first date has a global audience. An anesthesiologist prevents a man from getting his appendix removed. Members of a quilting circle reveal a dark past. A man tries to connect with a prostitute, but things aren't what they seem. A woman seductively consults a sock puppet detective to help her solve a dire mystery. Four characters redefine romantic comedy. The fate of a man who ate a tank of tropical fish lies in the hands of a woman who illegally bought them. An elf and an orc—and the gamers who play them—fall in love. And, a senator returns home to find a woman that won't leave until she takes, let's say, a very important appendage with her.
This variety of starkly different storylines comprised just one evening of theater, recently presented by the Academy of Art University's School of Acting (ACT) program. It was the inaugural One Act Festival, the brainchild of ACT's Director of Theatre Programs Hector Zavala.
The One Act Festival is exactly what it sounds to be: a series of one-act plays all performed over two nights, December 6 and 7 at the 620 Sutter Theater. Yet, in the hands of Zavala, it's more than that. In an effort to provide students with real-world experience and better position them to transition to the Bay Area acting world, Zavala forged collaborations with Bay Area directors and playwrights. For the nine one-act plays, he put out a call to playwrights all over the Bay Area; more than 70 responded with submissions. Zavala, along with Executive Director of the Schools of Entertainment Jana Memel and Academic Vice President of Entertainment and Broadcast Media Melissa Sydeman, helped him narrow them down to nine.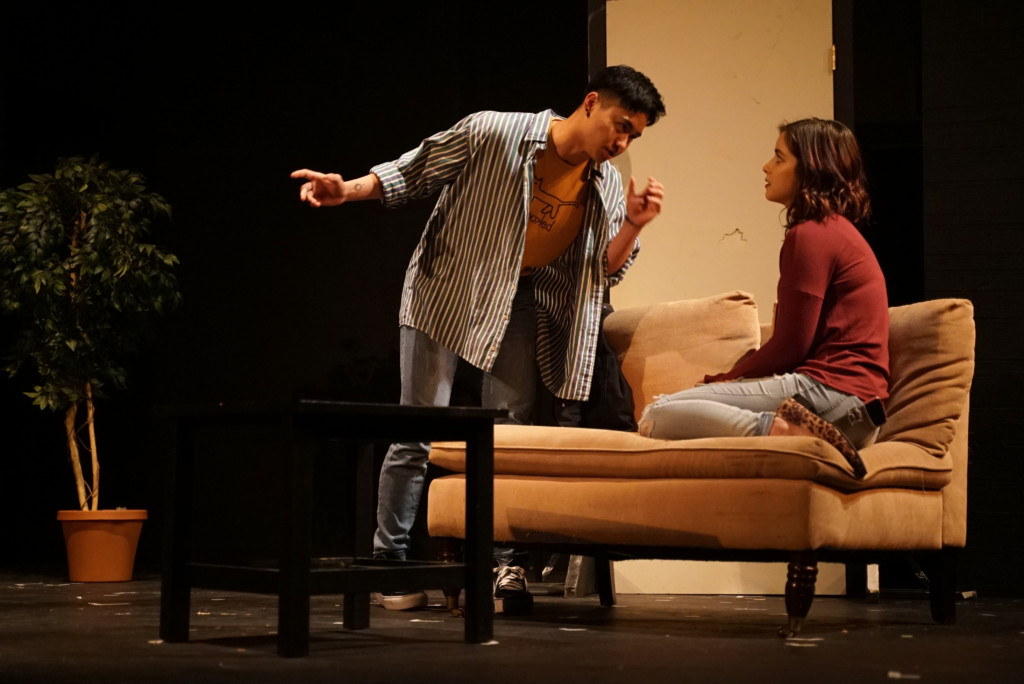 And, Zavala invited four Bay Areas directors to guest direct four plays: Marcelo Javier, Valerie O'Riordan, Vinh G. Nguyen and Ely Sonny Orquiza. Other directors included ACT faculty: Tracy Ward, Emilie Talbot, Clark Houston Lewis, Anthony Montes, and Sydeman.
"Our students are connecting with professional directors, which I think is key for their professional growth," Zavala said at the festival's rehearsal. He added it's helpful for post-graduation life. "These directors are already talking about, 'Oh maybe you can work with me in this other show.'"
Orquiza said it was an enriching experience to direct the students and see them put into practice what they were learning in the classroom. "The students provided so much depth in their character work, brought in incredible insight for the play in relation to the world we are living in and challenged themselves physically," said Orquiza, who directed "The Penis Play." "The One Act Festival is a unique opportunity for the students to work alongside professional artists in the Bay Area, forging that connection while being a student and developing their skills as actors on stage! They were able to take artistic risks in a low-stakes production setting, examine the text closely with an ensemble, and take agency in creating an authentic character."
Javier, who guest directed "Sock Puppet Fetish Noir," said he found his actors receptive. "It's been fantastic … It's always really refreshing to see the new talent pool that's happening here in the city where I grew up."
O'Riordan said she emphasized to her actors, in "Blood and Ink," about the medical insurance industry, that their line-learning abilities are a vital muscle. That was the case for the festival's tight rehearsal schedule. "I was impressed that they did what I told them to do and got their lines down and had fun playing with the script and playing with the blocking that I was giving them," she said.
Many students wanted to gain valuable theater experience. Tara Althaus, in "Fish Tale," valued the chance to take classroom techniques into a new space. "The great opportunity for me was that my director is one of my teachers, Anthony Montes … this is my first opportunity to actually apply the things that he's taught me in an actual live performance."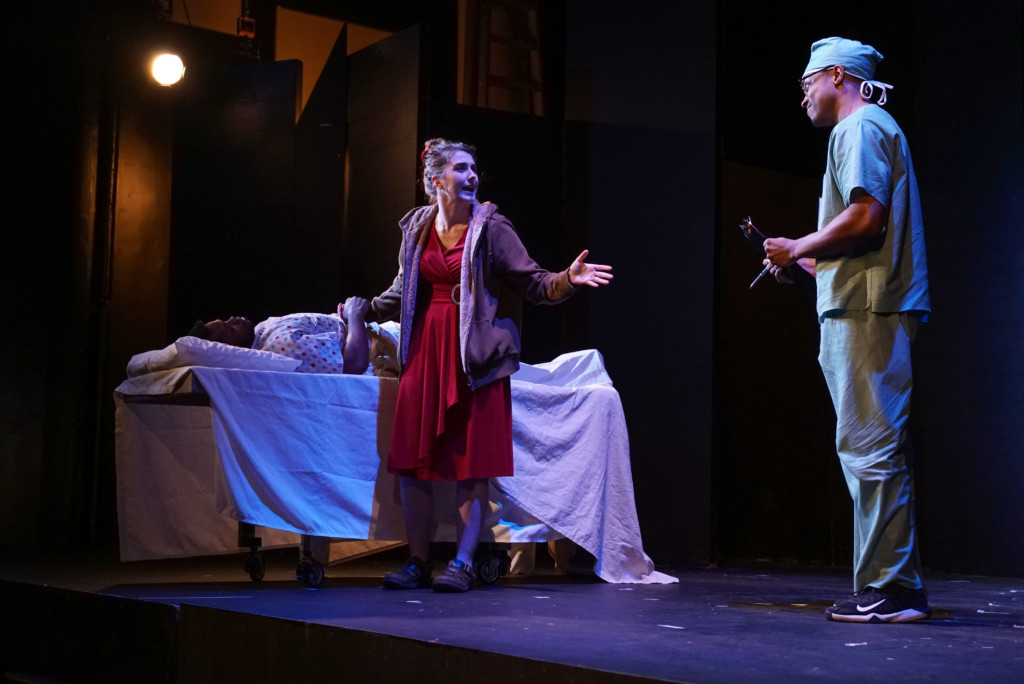 Actor Jack Merrill saw being in "The Penis Play" as a learning experience. "I don't do a lot of stage acting and so I thought it would be a good opportunity to do a different style of acting."
Many of the plays featured riveting twists, turns, and emotional depth, despite being under twenty minutes in length.
"It was intriguing, the stories they had available," said actor Mariah Moore, who was in "Crazy Quilts." "They revolve around these important, societal issues—ours is about domestic abuse and whether it be physical or emotional it affects a lot of people. It's interesting to see how that plays out."
The director of that play, guest director Nguyen, said it was also one of his goals to plunge students into a diverse work environment; he consciously cast in a way that illuminated issues of abuse across many spheres, including the LGBTQ community. His color-conscious casting not only shined a light on abuse's universality but also introduced students to what Nguyen says is a new norm in theater that's valuable for them to be exposed to now. "To be working with such smart and mature actors has been such a joy. They do their homework, they come in with questions, and they collaborate, so it's been very refreshing," Nguyen said.
Costume design students also offered their talents.
"I think the biggest challenge is designing costumes that no one considers are costumes. Things people wear every day. Things you look at it as "that's just a jeans and t-shirt, that doesn't take designing," but it kind of does," said Kendra Evans, who designed costumes for "The Penis Play." "We have to figure out, okay, let's take this character, would they wear jeans and a t-shirt or would they wear a hoodie?" Phoebe Taylor, who designed costumes for "All the Worlds Are Stages"—about the elves and their gamers—with Mila Zhang, put it well: "It's really satisfying at the end to see all the hard work come together."