By Caroline Andrade
Jim Jennings is an "architect's architect, much in the same way that Giorgio Morandi is a painter's painter," said School of Architecture (ARH) Graduate Architecture Advisor David Gill as he introduced the award-winning architect during a Fall 2019 lecture at Academy of Art University.
Jennings, who has been practicing architecture for over 40 years in the Bay Area, shared with a packed audience of Academy students and faculty members, his inimitable designs of residential projects, along with the Art Pool + Pavilion project, a studio at California College of the Arts (CCA), a UCSF medical research facility in collaboration with the Smith Group, and the Courtyard Mausoleum.
Known for his modernist designs, most of Jennings' projects featured a collaboration between either the artists, clients, or the engineering team that executes his designs. "If there is a word that I would like you to keep in the back of your mind, it would be the word collaboration," he advised.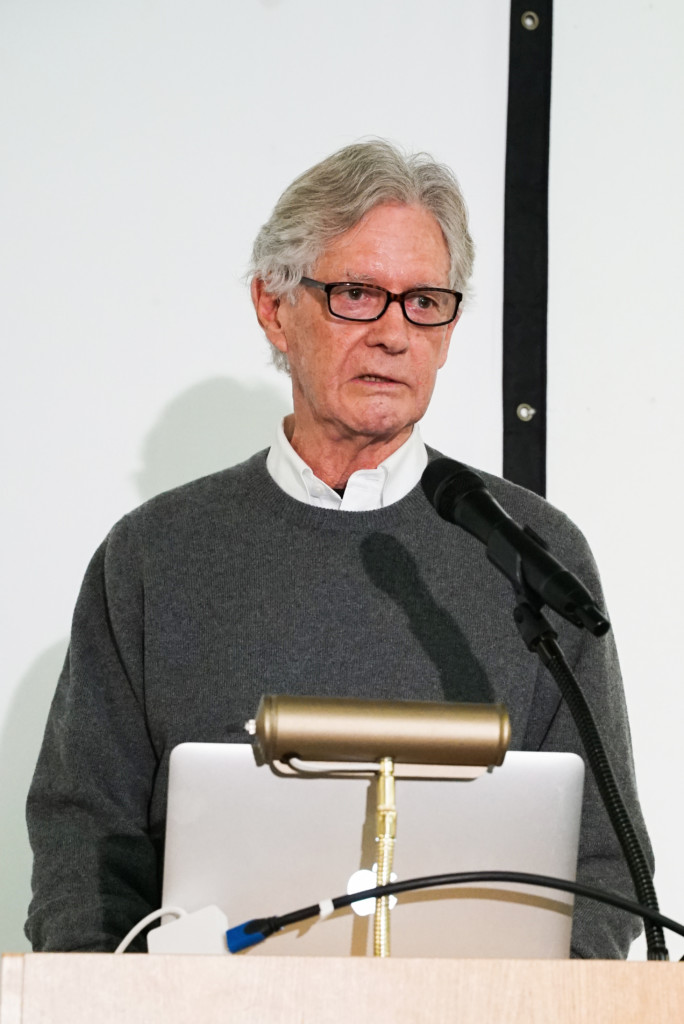 For his ambitious Oliver Ranch project located in Sonoma County, which Jennings recommended that the audience visit, he spoke about his collaboration with renowned sculpture artist David Rabinowitch. At the behest of his client, Jennings went to New York to meet with Rabinowitch who had carved sculptures into the walls. "One of the things that I realized was that once the walls became sculpture, they were sacred in terms of being art," explained Jennings. "There were going to be no photographs on the walls, no ceramic cats hung on the walls, no furniture pushed up against the walls. In a way, I saw it as art put in the service of protecting architecture.
"In a sense, to me what was really beautiful about the whole experience was that it's a serious artist making a serious piece of art, and it's a serious piece of architecture and they both coexist in a kind of really intricate collaboration. It is a true collaboration."
For the Art Pool + Pavilion project located in Calistoga, California, Jennings collaborated with artist James Turrell, known for achieving sublime effects by the play of light and space, as well as ARH instructor Paul Burgin, who was the project architect. Perched on a pool of water, the 16-foot cube has an 8 x 8-foot opening at the bottom and an 8 x 8-foot opening at the top. "The way you get into it is to go underwater and come up inside of it," shared Jennings.
He explained further that his clients had commissioned Turrell to design the "skyspace" or the outdoor pavilion and he was brought on board by landscape architect Tom Leader after Turrell completed the initial design of the pavilion.
The "skyspace" features an aluminum kitchen and changing rooms. LED lighting was used around the edges "to alter the color of the ceiling and it works as dusk becomes dark and as dawn becomes day, both ends of the spectrum," Jennings noted. "What happens is because the colors change, and your perception of color changes, what Turrell does is with a computer-controlled LED system of controlling the color, you have a perception that the sky might be purple when it's really grey or it might be kind of greenish when it's not."
"That was a really unique project and a wonderful opportunity to sort of fuse art with architecture and, as part of that project, we all got to visit Roden Crater in Arizona, which is a crater that James Turrell is making into a largescale piece of Earth art, and that was really something special," added Burgin, who mentioned that the Art Pool + Pavilion project was published in New York Times Magazine.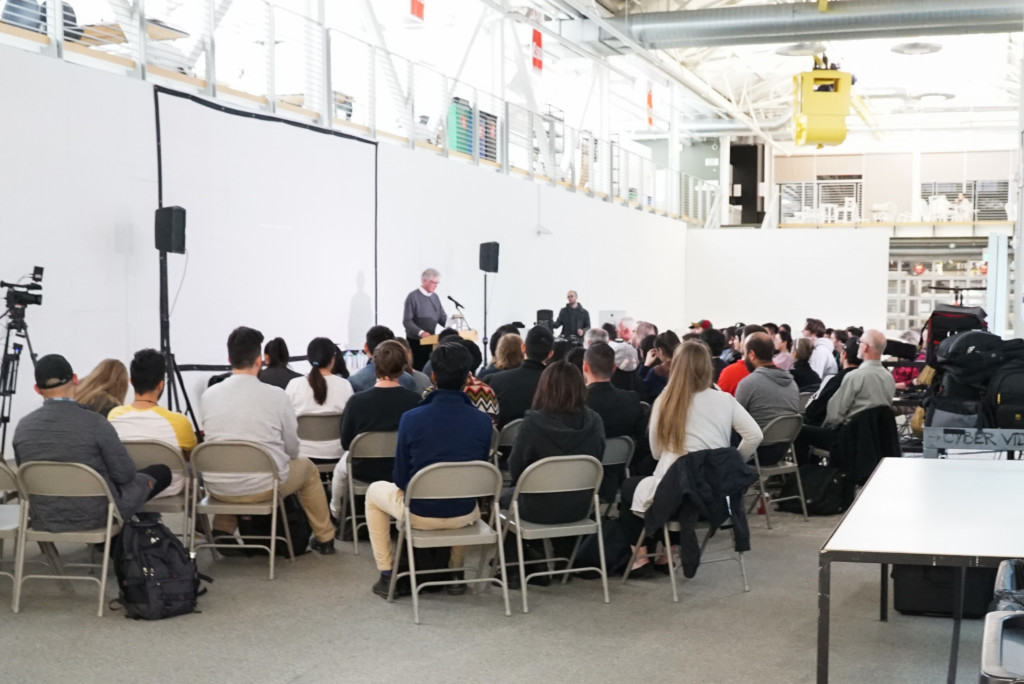 Following the two-hour presentation, audience members were left feeling inspired by the architect's presentation, from the anecdotes and lessons he shared from his career to his collaborations with both his clients and fellow professionals.
"I really like how [his work] is simple, yet beautiful and, at the same time, very detail-oriented," said Paula Nicoli, an M. Arch student graduating in Spring 2020. "I think his work is wonderful. He was very inspirational [to] me."
"[Jennings] was really inspiring because he explained every project and his thoughts clearly. He didn't use those big words for students which usually architects like to do, so that was like a welcoming, friendly part," said M.Arch student Fan Pan. "He also emphasized the collaboration and his design as also dealing with lights and materials. That is like a huge part [of] architecture because those are more related to human experiences." "He was able to capture the attention of the students for a very long time and gave a broad view of his work throughout his life, and the issues he addressed as an architect," commented ARH Graduate Director Mark Mueckenheim. "That's a very unique view, you don't get to see something like this every day."