School of Web Design & New Media alumnus Wei Wang's exploration of time through printmaking techniques encourages people to interact with the space around them
By Nina Tabios
One day in the near future, Nov. 8 at the 688 Sutter Gallery will be just a blip in time. But for Wei Wang, this may be the night the designer realized he is indeed an artist.
"Time Report: Doc. 1" is an exhibition by Wang, a 2018 B.F.A. graduate of the School of Web Design & New Media (WNM) at Academy of Art University. In it, Wang explores time and space, inviting users to consider the fleeting moments in their lives through six installations. Taking things like punch cards and vintage graphic paper, Wang's interest in ephemera also leaned into this symbolism of everyday objects as tokens of memory and identity.
To achieve that, Wang reconceptualized these items into intriguing forms strung throughout the space. He sewed return labels into a quilt, representing his time in the U.S. coming from China. Punch cards with a clock graphic broke down the hours in a day. In another room, Wang threaded those same punch cards from the ceiling, a reflection on how, as a queer person of color, he was perceived as "a mere anomaly in physical differences" during a two-week art residency in Basel, Switzerland.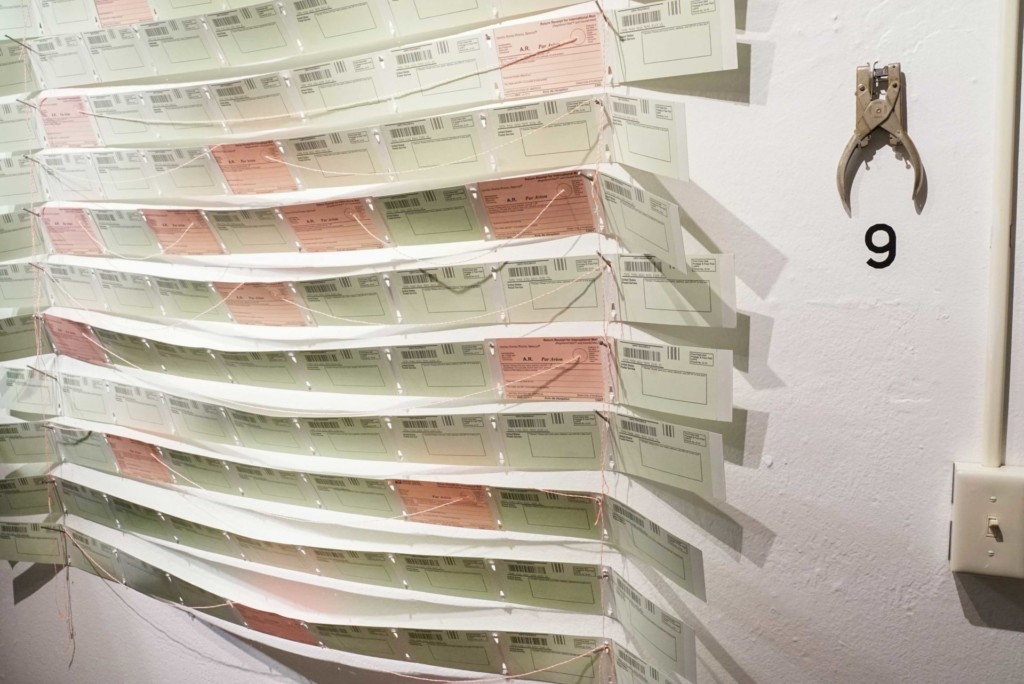 One of the more interactive pieces encouraged guests to stamp graphic paper with wooden poles and a majority of them obliged during the opening reception. Wang was pleasantly surprised at the turnout.
"I wasn't expecting this volume of people here," he admitted. "It's a mixed feeling but I'm also feeling really grateful."
This exhibition is Wang's first. During his time at the Academy, Wang's interest in printmaking blossomed as he was learning how to work digitally in WNM. There was something about the physical labor of print, working with letterpress machines and silkscreens that sparked within Wang a different mind for design. He gained an appreciation for tactile things that he shared with other School of Fine Art—Printmaking students, like Bowei Wang.
"He focuses not only on the print or the image, but the printmaking process itself," Bowei said. "While we're printing, we're not only putting an image onto the paper but actually yourself as well—the labor work is part of the process."
Bowei was among the many classmates and friends present at the Sutter Gallery. Ari Dolder, another printmaking student, admired Wang's ability to marry a traditional medium like print with a "more controlled" format like web and graphic design.
"It's so interactive. It feels like a natural next step," said Dolder, who helped Wang with the installation. "It works in the space, it works as interaction with people in the space experiencing it."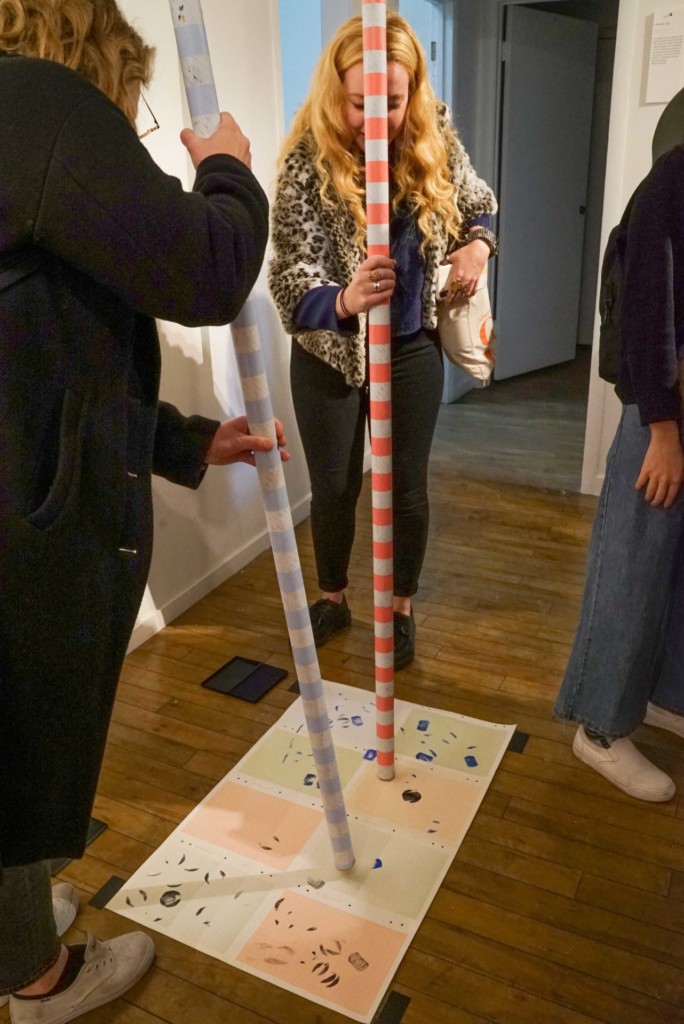 A number of Wang's WNM classmates were in attendance as well. Ray Chang, who graduated from the B.F.A. program this past May, shared a similar interest in printmaking with Wang. Like his former classmate, Chang could relate to the desire to add a physical layer to digital design and admired how Wang was able to take this thinking to a new level.
"I loved how it was a printmaking exhibition, [but] it was also very sculptural. The work was occupying space in 2-D and 3-D," Chang said. The hanging timecards especially caught his eye. "That one allowed people to walk into the piece. It was the one with the most depth."
Wang spent around half a year creating every part of this show, in the nights after working for the Curatorial Research Bureau at the Yerba Buena Center for the Arts. Inspired by the artists he regularly interacted with at his job, it pushed him to pursue his own ideas. But he still struggled with how they would be accepted based on this halting perception of "you're a designer, you're not a real artist." But the success of "Time Report" alleviated some of that doubt.
"There was this unsettledness of a designer doing artwork—how do I balance that and really see design as art as well. It can be hard to define things in between," Wang said. Though the unsettledness hasn't fully dissolved, Wang now has some reassurance that his art isn't just a glitch. "I'm going to use this exhibition to submit for several grants and artist-in-residency, hopefully. That could be a great starting point for 2020."