By Kirsten Coachman

A fearless balloon pilot and a determined meteorologist team up to make history in the visual feast that is Tom Harper's "The Aeronauts." The action-adventure film is welcomed reteaming of actors Felicity Jones and Eddie Redmayne who were last seen together in 2014's "The Theory of Everything." (Redmayne went on to win an Oscar for his portrayal of Stephen Hawking.) Their latest film venture, set in 1862 London, finds the unlikely pairing of balloon pilot Amelia Wren (Jones) and meteorologist James Glaisher (Redmayne) setting off in a gas balloon in their attempt to break the height record for balloon flight. Additionally, James collects further data throughout their expedition in hopes of it leading to a potential breakthrough in weather prediction. Presented in real-time, "The Aeronauts" is sure to get audiences' pulses racing as the incredible journey of Amelia and James unfolds on screen.

The flight that Amelia and James go on in the film is based on an actual flight that the real-life James Glaisher took with Henry Coxwell in which they reached 36,000 feet—higher than anyone had previously been in a gas balloon. In a recent interview with Academy Art U News, Harper said that he was "fascinated" by the pioneering meteorologist as well as the "extreme lengths people went to expand our knowledge of the world."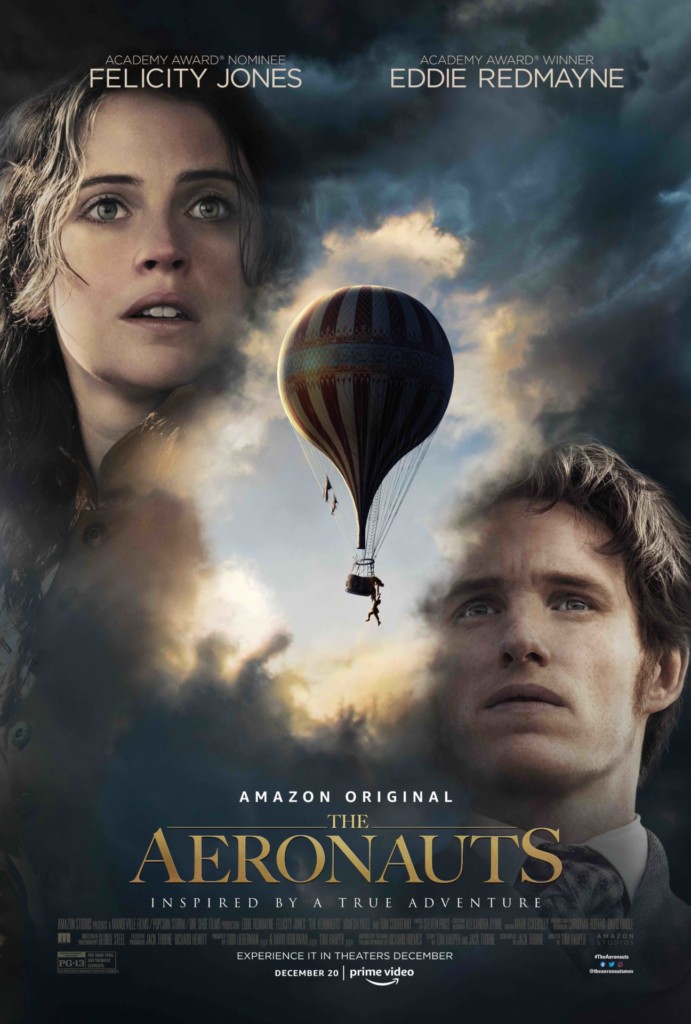 "One hundred and seventy years ago, people thought that predicting the weather was make-believe, was fortune-telling; it was never going to be possible," he explained. "And then now, we live in a world where we all look at our weather apps every single day, or very frequently, for all sorts of reasons." 

While Glaisher and Coxwell took down data and measurements during their flight, the one thing Harper learned they really didn't do was speak to one another. "What they achieved was amazing," Harper said, "[however] two people in a basket not talking to each other, it doesn't make for the most thrilling, spectacular movie."

In his research of other balloon flights, Harper came across Sophie Blanchard, whom some have credited as the first professional female balloonist, who ultimately helped shape Jones's fictional character of Amelia. The director found the idea of putting a charismatic Blanchard-type in a confined space with the systematic meteorologist that is Glaisher would make for a compelling drama. "That's how Amelia Wren and James Glaisher came to be together," he said.

Now Harper just needed the right set of actors to bring this pair of opposites to life and was "incredibly excited" that Jones and Redmayne were game to work with one another again. "I didn't know that they would say yes," said Harper. "I thought they might feel they worked together recently and didn't want to repeat it. But they had such a good time working with each other and clearly work so well together. Combined with the fact there's kind of a rich Hollywood tradition of duos working together again and again. And I'm very pleased that they did."

Joining the duo on screen is actor Himesh Patel playing James's right-hand John Trew. Patel rose to great acclaim this past summer starring in Danny Boyle's "Yesterday" alongside Lily James. Harper had gotten to know the actor years beforehand from meeting at events their significant others worked at together. "We got talking and I found out that he was an actor and because we work in the same business, we always talked and always hung out together," the director explained. "Then this came about and we thought he'd be great for it."

In "The Aeronauts," Amelia and James's flight takes place in a gas balloon, and these days, they're not all that accessible. Harper noted that only a small number of gas balloons still exist and the ones that do tend to be found in Germany and not the UK, where they would be shooting. To build a gas balloon of their own, the production worked with aeronautical engineer and pilot Per Lindstrand, who flew around the world with Richard Branson. "He built this balloon, took about six months, [and we] designed it very closely with him," said Harper. "I think it's the first netted gas balloon that's been built for 40 years or something."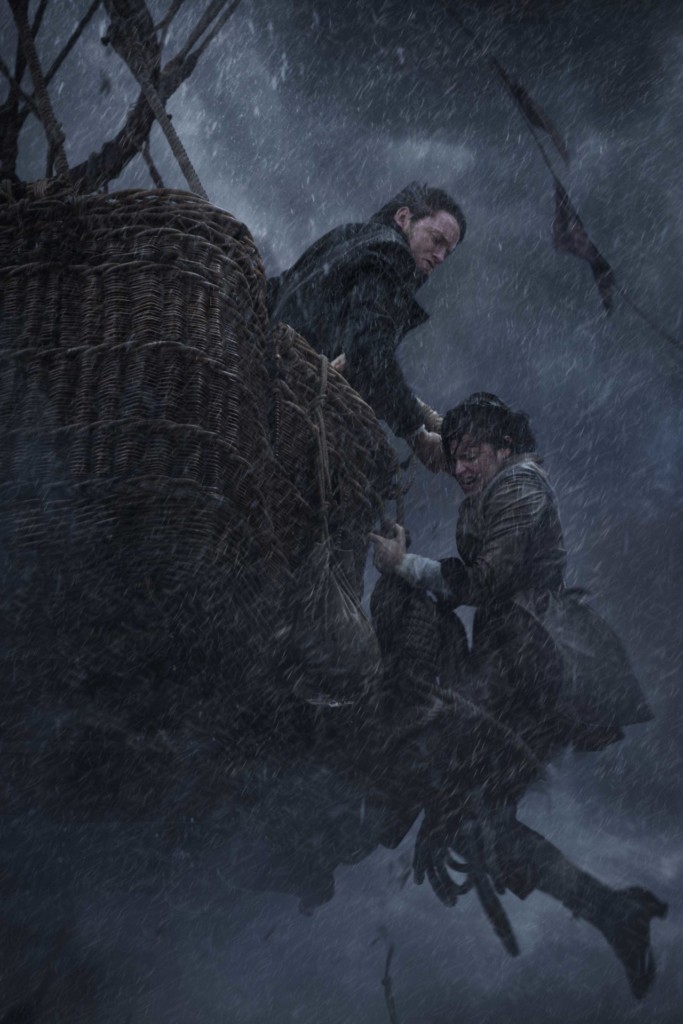 Harper shared that both his leads were up for the challenge of filming in the air inside the gas balloon. In fact, both Jones and Redmayne did their fair share of flying in balloons as part of their preparation prior to the shoot. "They got used to it and had that experience to draw from," he said, before divulging, "I mean, it didn't all run smoothly; we had a bit of a crash where Eddie and Felicity had a bumpy landing. But that's the thrill of it, right?

"The amazing, wonderful thing about balloons is you have no control as to where they land. You can go up and down, but that's all you can do. Other than that, you're just at the behest of the wind."

When Jones and Redmayne filmed scenes in the balloon while up in the air, Harper would also be up there, albeit in a helicopter, and on the ground they had chase vehicles to track the balloon's whereabouts. "You hope they come down somewhere you can reach them," the director said. "There's no other way to do it."

Even though Amelia and James encounter an array of situations in the film, Harper explained that they could only fly in very specific weather conditions. "You can only go up if the wind is under five knots," he said. "We didn't really fly in anything other than particularly warm weather." But when they did go up in the air, they captured as much as they could within their "practical restrictions."

"When you see Felicity climbing out of the [basket], basically everything we do before they go into the clouds, we did a version in the sky," explained Harper. "When they take off and she flings herself out of the basket and pretends to fall and walking around, all that stuff is real and is done by her. The stuff where [Amelia] comes out of the basket and sits on the hoop, [Jones] does it 3,000 feet above London. That's real."

As he watched his actors deliver their performances both in the air and in the studio, Harper was impressed by how Jones and Redmayne would push one another emotionally as well as physically, as physicality played a huge part in creating the film. According to the director, Jones spent months training in order to pull off some of her own stunt work, which, in one sequence, includes the actor climbing up the balloon.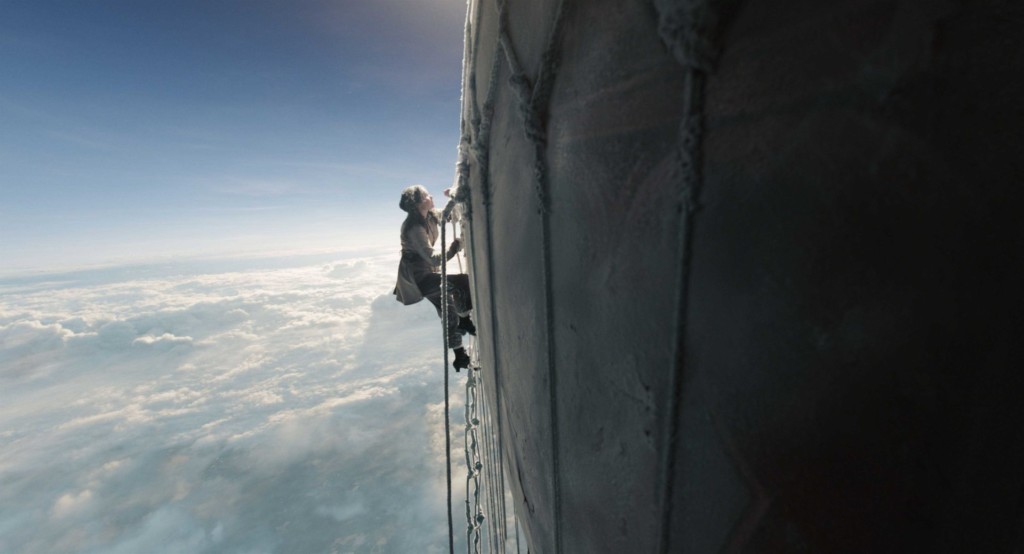 To authentically portray what it would be like to go through some of the weather that Amelia and James experience on their flight, the actors were willing to expose themselves to the elements. "We chilled a room in a studio to below freezing, so they could feel what it was like, that coldness, and they plunged their hands in ice-cold water," the director revealed. "They wanted to go on that physical journey, and I think you can really feel it when you see Felicity hanging off the side of the balloon–which is a real endurance thing to do–and swinging herself in and then climbing, all of that's for real. When you see her, she looks f—ed, and that's because she's been through that experience. And you can really tell that in a performance."

While "The Aeronauts" will be available Dec. 20 on Amazon Prime Video, it's hitting select Bay Area theaters this weekend, and Harper encourages moviegoers to take in Amelia and James's flight on the big screen. But, no matter how audiences choose to experience the film, the director hopes "they'd been thrilled and feel like they've been on a roller coaster ride."

"We have many challenges before us, and cinema is very good at exploring some of the difficulties we face as humans," he said. "But I also think it's important that cinema celebrates the wonderful things we can achieve when we work together."

"The Aeronauts" is now playing in San Francisco.