Industry Outreach Manager Elliott Nathan shared his craft at recent Today at Apple event
By Nina Tabios
At Academy of Art University, Elliott Nathan's official title is Industry Outreach Manager. But when he's not running around vetting the student job boards, organizing industry events and guest speakers, Nathan is a working and successful artist in his own right.

"Your job is not to make a good piece of artwork. Your job is to let your hand flow freely across the screen," Nathan told his audience at a recent Today at Apple at the flagship store in Union Square. On Sept. 12, Nathan was the subject and speaker for "Design Lab: Create a Stacked Collage with Elliott C. Nathan," teaching the Apple audience how to turn freeform doodling into art. "You're going to keep drawing over the outlines you already made, fill in the shapes with other lines, make little dots. Don't erase anything."

You may have spotted one of Nathan's murals on the cover of SF Weekly a few months back or have seen his work around SOMA, the Mission, the Castro, and even City Hall. For almost 10 years, Nathan has decorated the city with his playful pop art in office spaces and coffee shops, as street art and in his self-published books. Long before that, Nathan was slapping his own stickers all over his travels throughout South America and Europe. When Nathan arrived in San Francisco, he was inspired by the energy and the artwork. "I was ready to make big art," he said.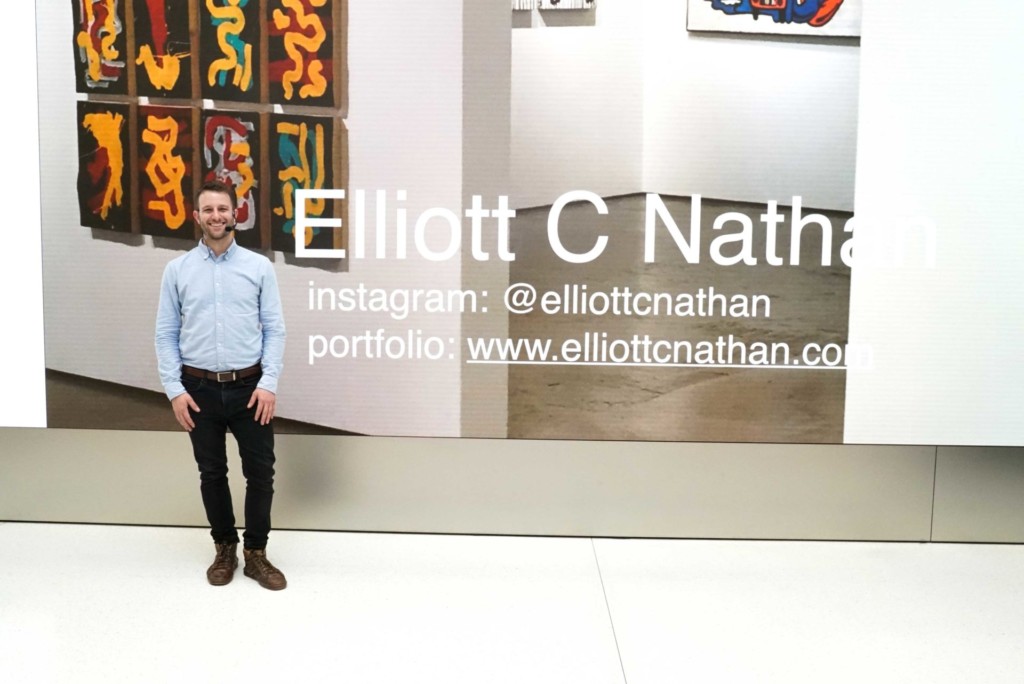 He bought wood from a hardware store and started making giant paintings. His first few shows, or "art pop-ups" came from the generosity of café owners but Nathan said his big break was in a jewelry store. "I struck up a conversation with the owner and said if I hung out with and helped clean out the entire space and paint the walls, he'll let me do an art pop-up," he explained. "In that space, I got to do my first solo show art pop-up which was really fun."

And this is where the stack collage was created. Old frames and furniture, random pieces of wood were glued together, painted white and drawn on with black markers by folks Nathan invited in. "That was the first version of this and it created kind of a fun style. A lot of different people contributed to it but it still had a vibe that was cohesive," he said at Apple. "This was really the beginning and that continued moving everything forward to where it is today."

With some guidance from store employees, Apple guests tested their hand at doodling with Nathan's philosophies in mind. With an iPad Pro and Pencil in hand, audience members created their own masterpieces and drew on their own digital stack collages with the Procreate app and offered them to Nathan for critique. Some had interesting layers, brilliant colors, even an abstract piece, while others reminded him of the '90s TV show "Saved by the Bell." It was a fun demo and an unreal moment for Nathan.

"In my Facebook memories this morning, there was a post from 2013 and it was me posting on Instagram the first stack collage I ever made," he mentioned. "It was something like, 'Trying out a new style today,' and to think that six years later I'm at the Apple store in San Francisco talking about it in front of people is totally surreal."