The impactful "Halwa" focuses on authentic experiences
By Caroline Andrade
Academy of Art University School of Architecture (ARH) alumnus Nirav Bhakta always wanted to become a part of the world of cinema but didn't know which road would lead to his goal. Hailing from an Indian immigrant family, his parents placed great emphasis on pursuing an education other than acting, so he found the next best field of study to make use of his creativity: architecture. The discipline appealed to him in the same way as acting or filmmaking did, as architecture is similar to storytelling in "how one inhabits space, walks through space or uses space."

"Architecture really flourished my imagination and once I began my education, it completely opened my mind to a whole new world of creativity and just the way I look at things," said Bhakta, speaking by phone from L.A. "Problem-solving is such a huge thing being a creative person. When in architecture, you're always constantly questioning and pushing [yourself on] how to make the project better or make the story better."

It's no wonder that Bhakta's background in architecture coupled with his determination and cinematic pursuit led to winning the 2019 HBO Asian Pacific American Visionaries Short Film Competition for his film, "Halwa," that he co-directed with Gayatri Bajpai.

While studying architecture at the Academy, Bhakta enrolled in film-related courses to appease his ongoing interest in acting. He reflected on learning a great deal from both his field of study courses as well as the additional film classes and felt that he was a better artist today because of his background in architecture. "I'm able to see things differently," the 2017 M.Arch grad said. "The attention to detail really changes once you get an education or rigorous training in architecture." After graduating from the Academy, Bhakta worked as a junior designer at a firm in L.A. for some time. The supplemental income allowed him the flexibility to then pursue a career in film.

In L.A., he noticed a lot of the roles were stereotypical or "one- or two-dimensional—like tropes for stereotypes for people of color." He felt an urge to change the types of narratives that were being shown onscreen. "I can't sit and complain, but it's no one's responsibility," said Bhakta. "People only tell stories from their own perspectives, so I feel like it's now my responsibility … If I feel this way then I need to be part of this change to share more narratives like 'Halwa' out in the world."

"Halwa" revolves around the story of an Indian immigrant woman who decides to rekindle her relationship with her childhood sweetheart via Facebook until her abusive husband finds out. The story is partly inspired by the lead actress in the film. "Kumari had worked in Hollywood for a while now and she's always been stereotyped as the Indian mother that's always arranging someone's marriage." For Bhakta and his team, it was important to touch on those topics, "because, especially in the South-Asian community, we don't really talk about domestic abuse or sexual identity or any of these things. A lot of times, women grow older with their abusers and never realize that."

"It was really important for us to dig deep into this woman's psychology and her experiences and give this quiet and subtle performance that will hopefully bring a conversation in our community," he explained.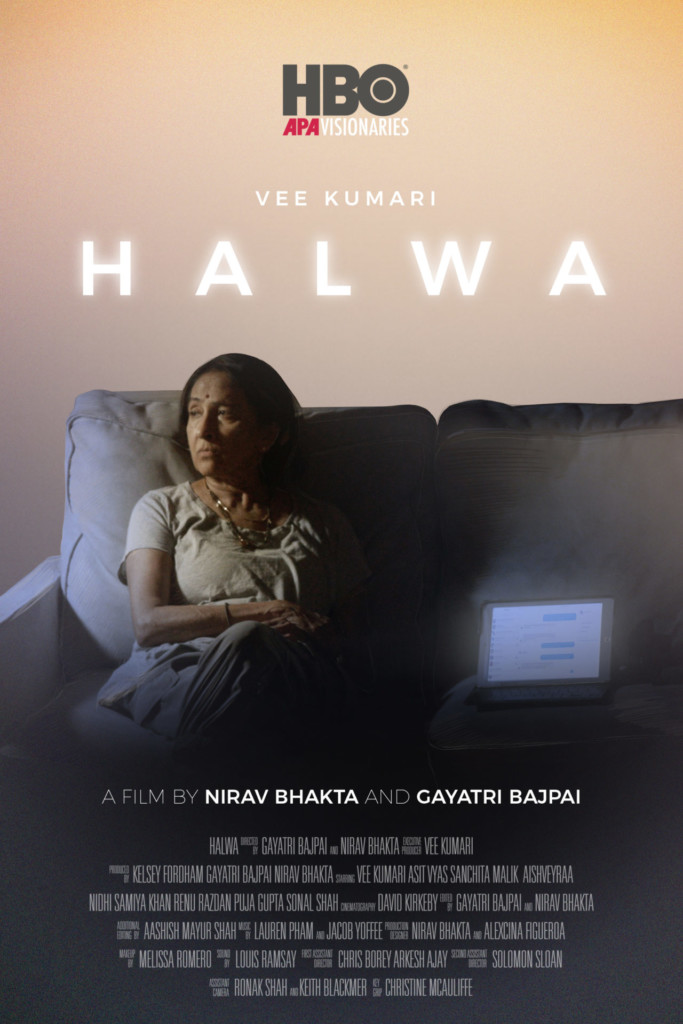 Winning the HBO APA Visionaries competition meant a great deal, in terms of representation to the filmmakers. They were both shocked to hear the results and felt incredibly validated that the short film and the story they had created from very little had such a huge impact within the Asian Pacific American community and beyond. "Just experiencing how the audiences connected to the character, that's the most validating thing for us, that people were able to see themselves in our narratives. That's the true win for us, the storytellers," said Bhakta, who shared it also meant that they were finally able to simply voice their authentic experiences as filmmakers.

ARH Online Director Eric Lum had Bhakta in his Advanced Design Studio 2: Concept and Comprehensiveness (ARH 619) class and described his former student's achievement as marvelous. "It shows a lot of initiative on his part," said Lum. "Film is an excellent medium for him to express his own passion in design in both architecture and film because you can see it even in his movie—that it talks about the lives of people who live within environments. The film is a perfect representation of someone who is both passionate about design, place, and the lives of the people who live and occupy spaces in architecture."

Being that stories can be told through many different mediums, from film and theatre to painting and sculpture, Bhakta expressed, "Whatever I have to say, I will listen to my instincts and let that guide me, and if I feel like my voice will be of use in that medium, I will pursue it. I do look forward to telling a new story within architecture one day. Who says you can't do two things?"

For Academy students, Bhakta advised to not be afraid of exploring. "As creative individuals, it's important to go and experience as many creative endeavors as possible," he said. "One … will always influence your work in some magical or creative way."