Muralist Amanda Lynn sits atop her "Paradise" mural in Grand Cayman. Photo by Jason Kennedy.
By Tyler Callister
When muralist Amanda Lynn first came to San Francisco to study illustration at the Academy of Art University in 2000, she became friends with a group of graffiti artists.
"That's how I got into painting on the streets of San Francisco," said Lynn.
While Lynn's work is far from graffiti art—insisting that her work was always legal—the muralist known creatively as "Amandalynn" learned a lot from her graffiti artist friends.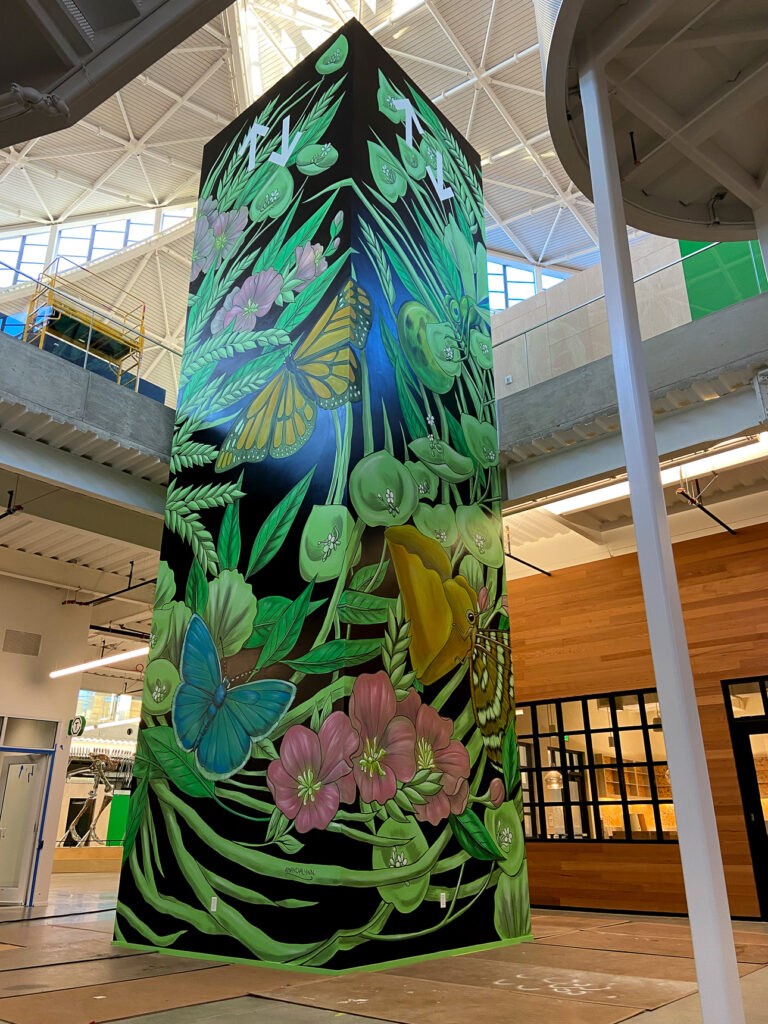 "It's how I developed my style and my speed," said Lynn. "To paint alongside these guys who have to do everything so quickly. I learned how to go big fast."
Fast forward 22 years, Lynn's professional murals can be seen on buildings worldwide. Her colorful paintings brighten the streets from southern California to Pennsylvania to the Cayman Islands. Inspired by nature and the feminine, her trademark style depicts birds, tropical plants, and beautiful women.
"Wherever I am, I immerse myself into the nature of that area," she said of her process. "When I create a piece of art, I draw from that inspiration—the people and the feeling of the area."
Lynn's work is part art and part acrobatics, as she often paints murals as high as 100 feet tall. Riding up construction lifts to hang off the edge and make the next stroke of paint is a normal part of the workday.
"Luckily, I love heights," she said.
At 42, Lynn's work has been in high demand, with her often painting up to five murals per month. A resident of Forestville in Sonoma County, she frequently travels all over the state to paint murals and share her work. In one recent project, she was hired by Google to paint an elevator with colorful flowers and butterflies inside the tech giant's new Bay View campus located in Mountain View.
Lynn, who earned her B.F.A. from the School of Illustration (ILL) in 2003, said that a key to her success has been understanding the business side of the art world.
"The Academy helped me go into it with a basic understanding that you have to approach it professionally, and not just artistically," she said.
That business acumen has brought her many places in the two decades since graduating from the Academy. Originally planning to be a children's book illustrator after graduation, she found little success in that field. Although not her ideal, she found work in painting custom graphics on motorcycles.
"It was a lot of skulls and flames," said Lynn with a laugh.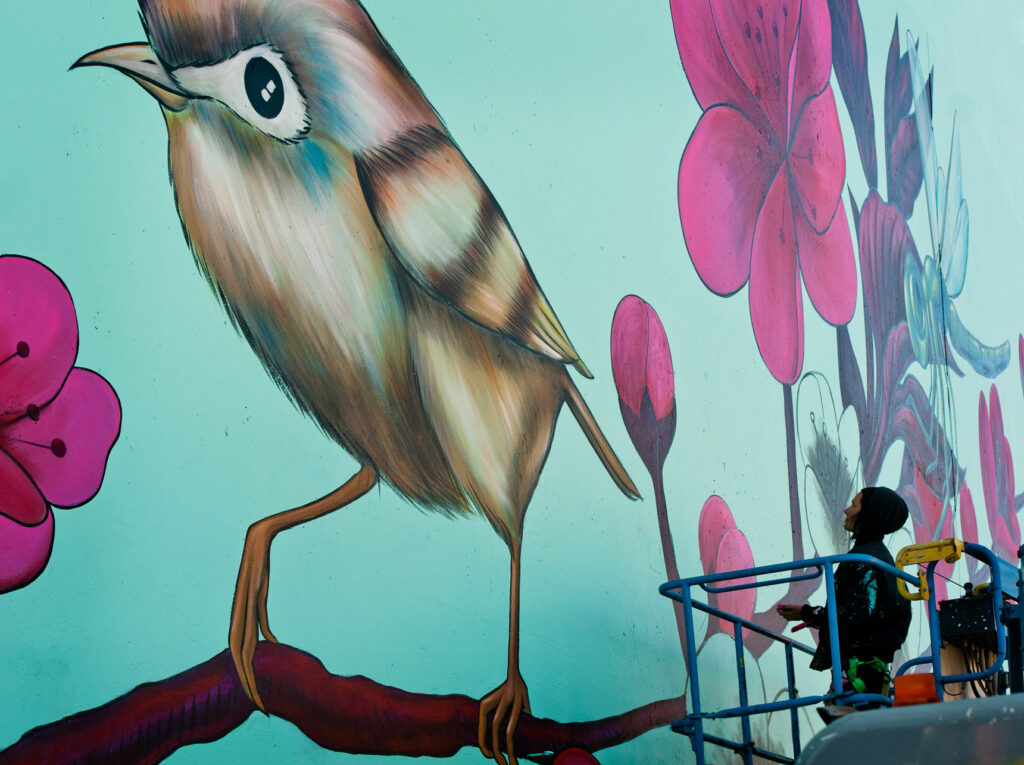 Lynn's career took a significant turn in 2015 when she landed a job as art director for the KAABOO festival, a music and art fest she described as a "high-end Coachella." The job was hectic, putting her in charge of curating hundreds of works from international muralists and painters for events in San Diego, Dallas, and the Cayman Islands.
Then, in 2020, the pandemic hit. Large gatherings halted, and the KAABOO festival was no more. Lynn found herself without a job, but she had more freedom to pursue her passions.
"The world seemed to start to super appreciate art, and I moved into being a full-time muralist," said Lynn, explaining that the demand for murals amidst the pandemic had increased.
The pandemic, though disruptive, ended up being a boon for Lynn's career.
"My dream was always to be a muralist, and the pandemic lockdowns pushed that into motion," she said.
ILL Emeritus Director Chuck Pyle, who coincidentally met Lynn at a social gathering in Petaluma, said Lynn represents what the ILL hopes students get out of their experience.
He shared that her circuitous career, from illustration to motorcycle painting to murals, shows how alumni can apply what they learn from their time in school.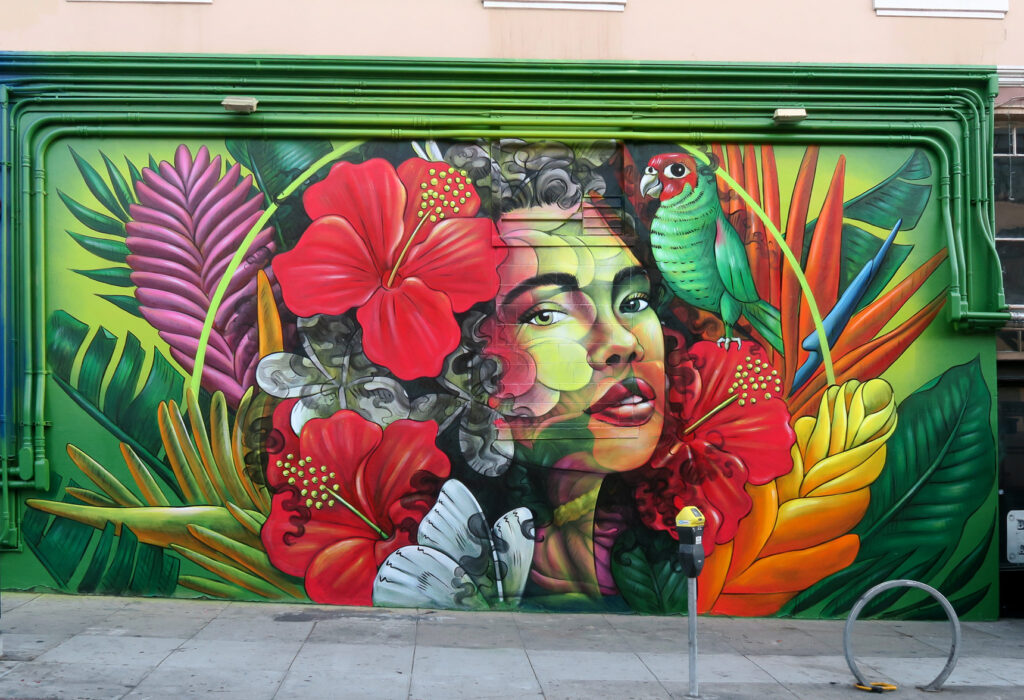 "Tell a good story through a picture, get trained to be able to do it exceptionally well, and you can go in any number of directions with your life," said Pyle. "It's a testament to what the illustration school has always taught. It's who we are. And [Lynn] embodies the best of that."
Pyle had even come across one of Lynn's murals in Petaluma, where he resides.
"There was a mural downtown on the side of a hardware store that really caught my eye. I thought, 'Wow, that's exceptionally well done,' and it turns out it was her," he said.
The mural, which sits in the heart of downtown, is a painting of the words "Magnificent" surrounded by bees and flowers. Lynn did the mural in collaboration with fellow artist Mags as a pro bono project to benefit the Petaluma community.
These days, Lynn spends most of her time on construction lifts with a paintbrush in hand. She shared that she tends to wake up early, dive into the mural, and work until she's exhausted. Her graffiti artist friends from San Francisco still inspire her to "go big fast."
She is still in touch with the graffiti artist crew 20 years later, many of whom are now working artists.
"They became my closest family and still are today," she said. "We were all a bunch of kids who turned our weird lifestyle into careers."