By Kirsten Coachman
"Don't be the bad guy."
For Danni Sanders, that's more easily said than done.
In Quinn Shephard's newest feature film, "Not Okay," Danni (Zoey Deutch) is a lonely, wildly out-of-touch photo editor and aspiring writer who is desperate to capture the attention of her work crush and social media "influencer" Colin (Dylan O'Brien). She invents a story about going to Paris for a writer's retreat, even posting edited images on her Instagram feed. When locations throughout the city are impacted by terrorist attacks resulting in loss of life, instead of coming clean about her lie, Danni decides to double down. But what are we to expect from someone that pitched a "Why Am I So Sad?" article to their editor and lists "missing 9/11" among her reasons?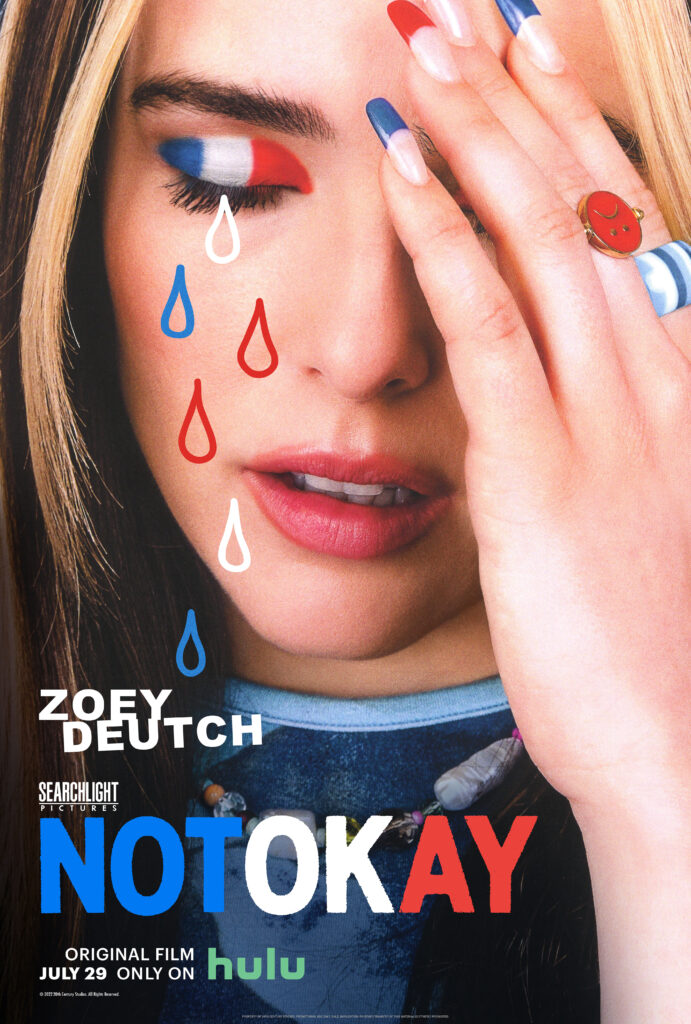 The stakes are raised for Danni with every new follower as she navigates her newfound online fame. After being given a platform at work to tell her story about what she saw, she attends a meeting for trauma survivors, where she connects with a young survivor and gun violence activist, Rowan (Mia Isaac). Her article, titled "I Am Not Okay," later goes viral, and Danni scores a coveted night out with Colin, where she experiences the absurdity of the influencer scene firsthand.
It's not long before Danni discovers that everyone knowing her name isn't the ideal she envisioned it would be.
On the surface, Shephard's satirical portrait of a young woman with an overwhelming desire to be noticed seems to call out those whose lives are focused on their online presence. The character of Danni isn't alone in her desire for clout; people live for likes in all corners of social media. Moreso, the film shines a light on our ability to be influenced—for better or for worse. A quick scan of Danni shows how she's been influenced: the popular colorful French manicure, a beaded phone chain, the eye makeup, and the chunky highlights.
However, not all influencers are created equal. It's especially interesting how Shephard lays out the differences between Colin and Rowan. Colin built his following by creating popular video content that gets him recognized on the street and invited to brand parties. In contrast, Rowan gained her following by speaking out about gun violence in schools and calling for change via spoken word. Both can get their respective audiences to respond to them, but their end goals are seemingly very different. It reads as Shephard's communicating to her audience to be mindful about whom we ultimately give our attention (and likes).
For a film like this, you need a lead who is able to inhabit an unsympathetic character like Danni Sanders and deliver jaw-dropping dialogue with relative ease. No stranger to playing flawed and audacious characters, Deutch brings her brand of undeniable gusto to her performance, making watching her character move through the world a fascinating experience.
While audiences may certainly object to Danni's highly questionable decision-making, there's no denying Shephard's keen sense of observation and storytelling ability. "Not Okay" makes veritable, though satirically heightened, points regarding our current social media landscape.
"Not Okay" is available to stream on Hulu.