By Tyler Callister
In a production broadcast around the world, the 2022 NXTUP Fest was live-streamed over YouTube on Saturday, May 7. It was a dramatic Oscars-style awards night, celebrating the achievements of Academy of Art University's best young filmmakers, actors, and screenwriters.
As COVID-19 concerns prevented this year's NXTUP Fest from being celebrated in person, the Academy's Schools of Entertainment (SOE) made use of the virtual format. Dramatic clips of the nominated films played, award winners gave heartfelt speeches via Zoom, and nominees spoke about their passion for film in intimate one-on-one interviews.
Vice President of Brand Storytelling and the Schools of Entertainment Jana Memel opened the event by noting the triumph for the Academy's filmmakers this past year was making movies in the face of the ongoing pandemic.
"Tonight is a celebration not only of our students' extraordinary work but also their intrepid spirit," announced Memel. "Most of these films were made during COVID. The crews and even the directors wore face shields and N95 masks. We were eating lunch six feet apart, often in the freezing cold. Some were made by producers in China with directors in another country, actors in different states, and crews in San Francisco—all tied together by the magic of Zoom and iPads."

The digital audience presence attending this year's NXTUP Fest broadcast was strong, as the video chat box blew up with messages of "Congratulations!" from audience members as awards were announced. Online audience members watched from across the globe, including the U.S., Puerto Rico, and China.
This year's show was presented by the collective SOE—Acting (ACT), Motion Pictures & Television (MPT), and Writing for Film, TV, and Digital Media (WRI). Eighteen categories were presented by Academy faculty members and special guests, including ACT alumnus Shahd Elkhier, former record industry creative director Robin Sloane Seibert, Emmy award-winning cinematographer John Simmons, film producer Matt Brady, filmmaker Andrew Muscato, noted screen and Broadway writer Patricia Resnick, Emmy award-winning director Mary Lou Belli, and director-screenwriter Clare Kilner.
NXTUP Fest award winners are voted on by a distinguished panel of 17 jurors from across the entertainment industry. Additionally, five Audience Awards were voted on by the nominees' SOE peers.
"Sonder" wins big
While many great films were acknowledged, it was film student Isa Grassi's "Sonder" that stole the show. The dramatic film about a 16-year-old girl and her mother living in the wake of her father's death won four categories, including Best Picture Over 12 Minutes.
"Sonder," produced by MPT student Dingding Hu, has even reached beyond the Academy. The film made a splash at the recent Independent Shorts Awards, winning Platinum Awards for "Best Acting Duo," "Best New Director," and "Best Student Short."
In her speech, Grassi emphasized how much the rest of her team helped make the young director's film a reality. The voting body noticed, too, handing Best Cinematography to the film's cinematographer Sung-Yen Lai (MPT) and Best Screenplay to screenwriter Samantha McGurk (WRI).
Another standout at NXTUP Fest included ACT student Mario Gonzales's "This Is Goodbye," which won both Best Picture and Best Directing in the Under 12 Minutes category. The short piece is a slow-burning introspective following a recovering addict, set against the backdrop of moody images of San Francisco.
Meanwhile, ACT student Kevin Johnson won both Best Actor and the Audience Award for Best Actor for his performance as Malcolm in the emotional two-hander, "Malcolm & Marie." Upon winning, Johnson was ebullient, grinning ear to ear when his name was called.

"I was not expecting that at all, I'm not going to lie," he said. "I want to thank the whole Academy."
Nominees reflect on their art
Other highlights of the show were the intimate interviews with the nominees about their artistic process and the role the Academy has played in their lives. The broadcast interspersed the interviews set in a film studio with the nominees sitting in a red leather chair.
One question posed to the nominees was, "What do you like about your major?"
Best Actor nominee Alexander Townsend responded, "It's a chance for you to free yourself from reality. You get to open one door, leave who you really are behind, and dive deep into your imagination."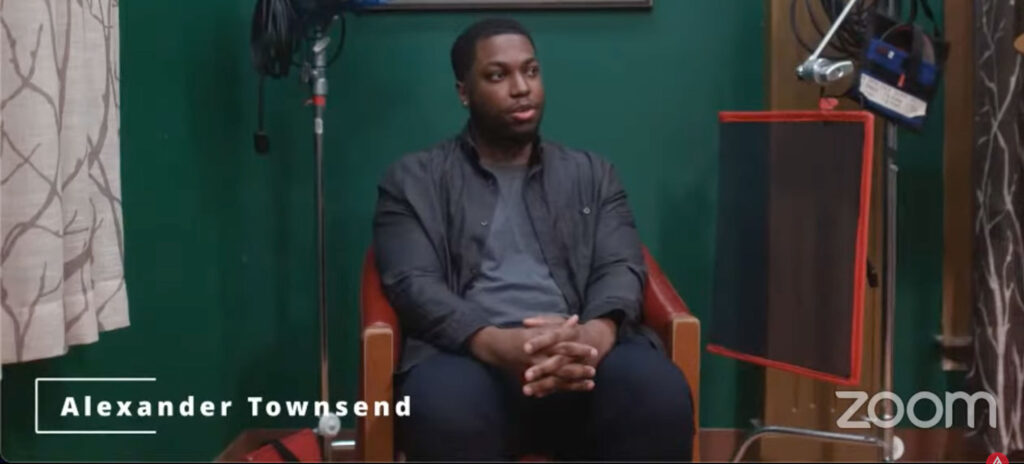 Gloria Downey, co-winner of this year's Best Screenplay for "Veteran's Crisis Line," reflected on her life as a writer. "It allows me to manifest all that I am and all that I want to be and all that I could have been and all that I could be into one happy little place on a page where it will all be right," she said with a smile.
Another question was "How do you prepare for a film?"
Anni Feng, a nominee for Best Music Score, answered, "For me, it's sensing the movement of this picture, and then it creates a flow."
Finally, nominees were asked, "What do you like about Academy of Art?"

Gonzales, an ACT student, said he enjoys the Academy's creative community. "It's a place of artists, of creatives, of like minds," he said. "It's a place where I feel like I'm understood and seen."
Best Actress nominee Copney Toler stated, "If I'm going to be honest, everything."
---
Congratulations to all of this year's NXTUP Fest winners!
Best Picture (Over 12 minutes)
"Sonder," Dingding Hu and Isa Grassi
Best Picture (Under 12 minutes)
"This Is Goodbye," Mario Gonzales
Best Short Film Challenge
"Jean & Will," Stevan Rodjali & Dingding Hu
Best Directing: Short Film Challenge
Stevan Rodjali, "Jean & Will"
Best Directing (Over 12 minutes)
Isa Grassi, "Sonder"
Best Directing (Under 12 minutes)
Mario Gonzales, "This Is Goodbye"
Best Actor
Kevin Johnson, "Malcolm & Marie"
Best Actress (Drama) – TIE
Samantha Girard, "Swimming with Sharks"
Summer Givens, "Middle of Nowhere"
Best Actress (Comedy)
Emelia Coss-Valdez, "Enlightened"
Best Screenplay – TIE
"Veterans' Crisis Line," Gloria Downey
"Sonder," Samanda McGurk
Best Shot in a Day
Marisa Camplin, "Shaken"
Best Documentary
"What I Did in the War," Gloria Downey
Best Commercial/PSA
NIKE, Ka Wing (Kelly) Li
Best Cinematography
"Sonder," Sung-Yen Lai
Best Editing
"Post Proposal," Chris Gren
Best Sound Design
"No Trace," Zayn Mufti
Best Music Score
"Caminandes Llamigos," Zilu Liu
Audience Awards
Best Picture (Under 12 Minutes)
"This Is Goodbye," Mario Gonzales
Best Picture (Over 12 Minutes)
"Sonder," Dingding Hu and Issa Grassi
Best Actor
Kevin Johnson, "Malcolm & Marie"
Best Actress (Drama)
Chelsey Coleman, "Game Night"
Best Actress (Comedy)
Edelle Merced, "Girlfight"