By Kirsten Coachman
Of the many things that audiences can take away from "C'mon C'mon," the newest film from writer-director Mike Mills, one will certainly be that kids are much more aware and articulate than adults often give them credit for.
"C'mon C'mon" follows Johnny (Joaquin Phoenix, "Joker"), a radio journalist currently traveling around the U.S. interviewing young people about the world—talking to them about how they thought their lives would be like and what they are inspired by. A phone call from his estranged sister Viv (Gaby Hoffmann, "Transparent") leads to an unexpected crash course in parenting when Johnny finds himself looking after his young nephew Jesse (scene-stealing newcomer Woody Norman).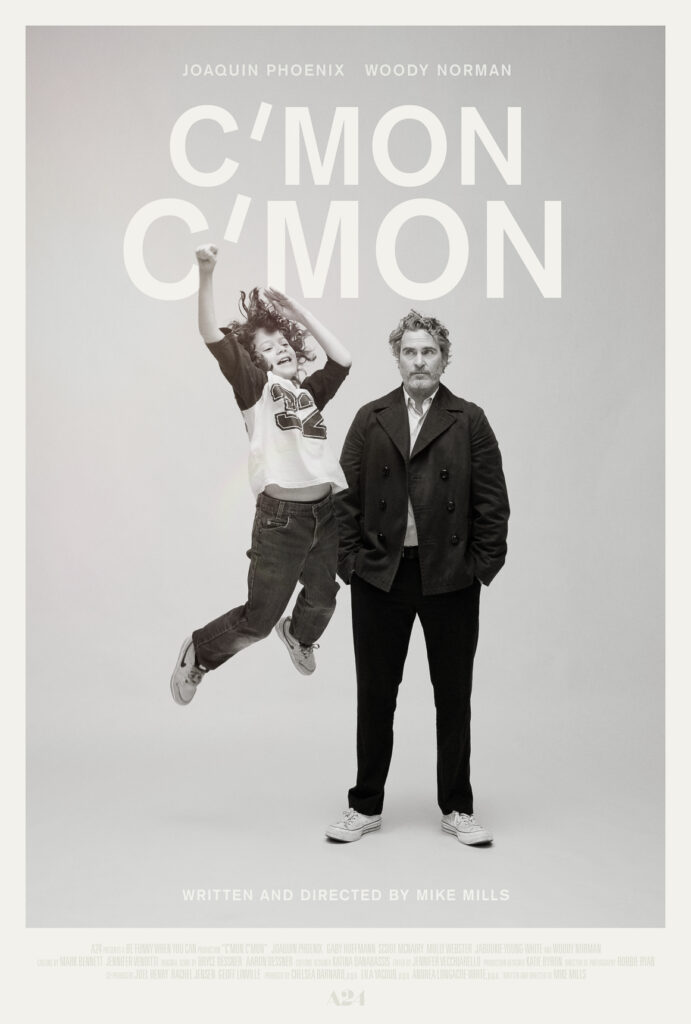 The film is a moving exploration of the connection between adults and kids, shot in black and white and shown through a lens of a familial relationship that experiences its share of growing pains during a short road trip. It's another excellent turn for Phoenix, who brings a kind of wonderful uneasiness to Johnny, as the character all of a sudden has to account for another human in his everyday life. Norman meets him on every level as Jesse, with a genuine sense of curiosity and candor about the world around him. Whether their characters are capturing the ambient noise of New York City and New Orleans, testing one's patience, or quietly reading a bedtime story, the effort to understand one another never fully ceases.
Fueled by family
Mills is certainly not a stranger to telling family-centered stories. The well-received "20th Century Women" (2016), which earned the Berkeley native his first Oscar nomination for Best Original Screenplay, and "Beginners" (2010) both included autobiographical touchpoints from his relationships with each of his parents. With "C'mon C'mon," Mills draws inspiration from his own connection with his child, once again opting to tap into the world of family.
"It's like 'Game of Thrones'—it's where all the sh– happens," explained Mills during a roundtable interview this past October while in town for the Mill Valley Film Festival. "It's where all the biggest things in your life happen. And it's like 'Game of Thrones' meets Jung meets politics. To me, it's the great loving battleground where we figure ourselves out."
"Also, I feel like it's my best chance to make something decent," he added. "I'm writing about people I know about and have seen a long time, so I have a decent chance of getting my observations right."
Audio reflections
Before filming, Mills introduced Phoenix to work from the late radio broadcaster Studs Terkel, who interviewed ordinary people about the biggest questions relating to life. According to Mills, Phoenix took a liking to Terkel. The writer-director also cited radio personality Ira Glass of the public radio show and podcast "This American Life" and radio producer Scott Carrier, who worked on both "This American Life" and "All Things Considered." Mills found that Phoenix seemed to enjoy being able to connect with this side of his character. That connection became even more evident when the actor later inquired about the possibility of his character having an audio journal to mark this time with Jesse.
Mills was completely onboard with the idea.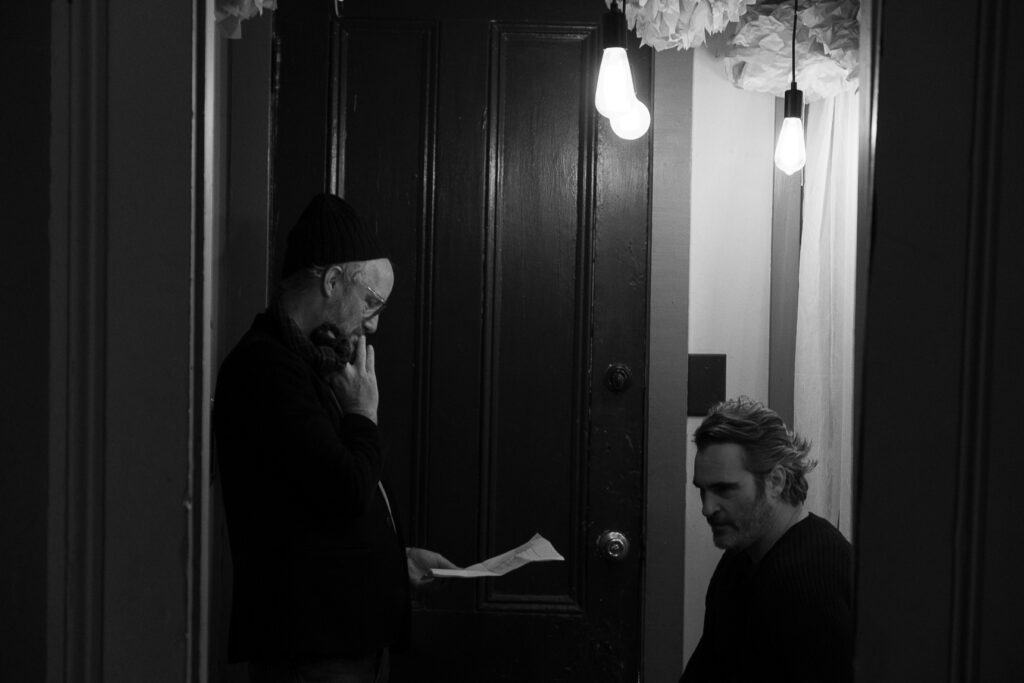 "So, we would plan those recordings, like after a bunch of stuff happened, and then I would remind him, and I might write something, or I might just say, 'This happened, this happened, this happened,' and he would remember it. He would bring his way of remembering it and speak that," recalled Mills. "I guess you call it improvised, but it feels a little different. It's like a very process-y, kind of a Mike Leigh thing to me. And Joaquin has a beautiful way of describing what he was remembering. I thought it's just very alive, you know, 'cause he's thinking it up right there."
The onscreen result is contemplative insight from Johnny on his interactions with Jesse. He reflects on the different topics they've discussed during their time together, ranging from why he doesn't have a partner or any kids of his own to his complicated relationship with Viv. The audio journal recordings allow the audience to truly access this character without any kind of façade.
#NoFilter
Packing an additional emotional wallop were the scenes between Johnny and the young people he was interviewing. It's during these moments that "C'mon C'mon" crosses into documentary territory. Phoenix interviews non-actors from New York, Detroit, and New Orleans who are forthcoming as can be when talking about their lives and the world at large.
These young people opened up about being told not to cry, their fear of the future, their awareness of the climate crisis, and feeling like they're not being heard. They also shared sentiments about how it's more acceptable to express your feelings, but it's not always the easiest thing to do.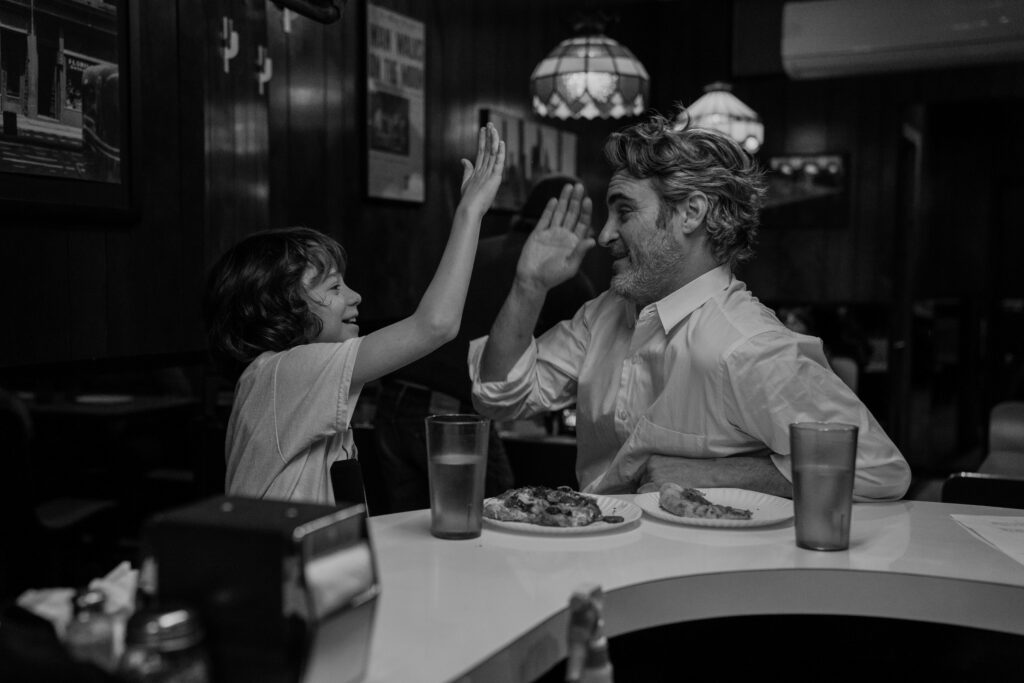 "My reaction when we're filming was, like, 'Whoa, how vulnerable they are with all of us here filming them and how honest they're being against that vulnerability,'" said Mills, who shared that the unscripted moments ultimately wound up being his favorite part of the filmmaking process.
"They were not in the power seat. Like, we're editing and shooting it. We're adults; it's Joaquin Phoenix—the Joker's interviewing them—and yet, they show up, and they speak the truth, and [these truths] are often kind of complicated and hard things about their lives."
"C'mon C'mon" is now playing in theaters.