By Greta Chiocchetti
Interested in breaking into the booming video game industry?
Academy of Art University School of Game Development (GAM) Executive Director David Goodwine invited faculty to share what it takes to create a video game and a successful career during a webinar last fall.
With over 18 years of entertainment industry experience, including 14 spent at companies like Double Fusion, Eidos/Crystal Dynamics, Electronic Arts, and PDI/Dreamworks, Goodwine knows what it takes to create a fulfilling career in video game design. A 1998 alumnus of the Academy's School of Animation & Visual Effects, Goodwine later returned to the Academy in 2009 to lend his expertise to help found GAM.
"The Art and Science of Video Game Creation" webinar broke down each of GAM's areas of study—concept art, 3-D art, technical art, game design, and game programming—to help aspiring game designers see where they might fit in the program.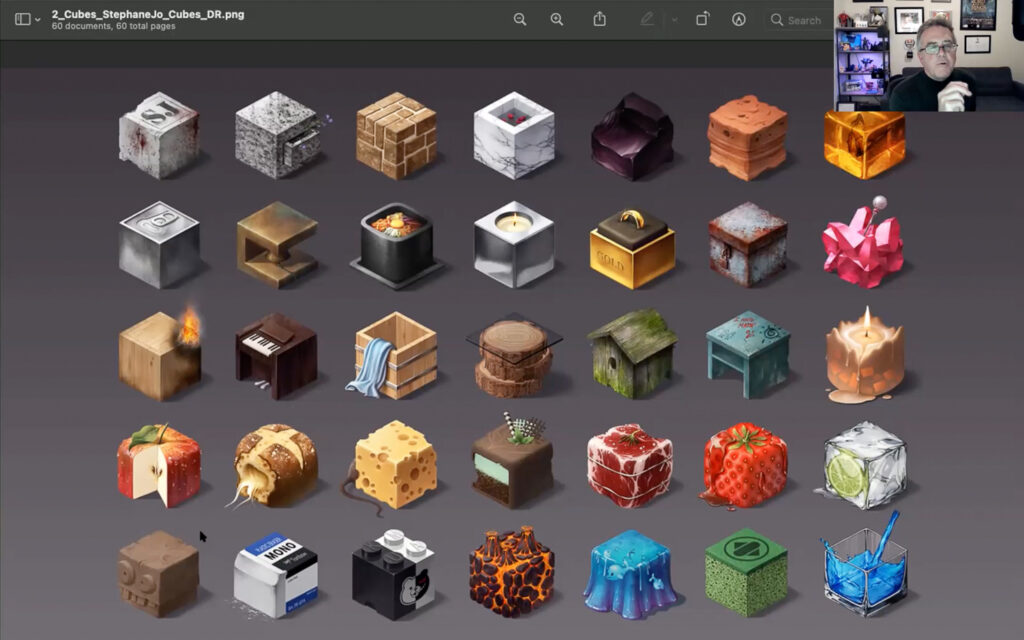 Concept art
Video games start with concept art—a visual representation of what a finished work will look like. Concept artists are tasked with representing the tone for a game or movie, so it's essential that they're able to show their own personal style while staying true to whatever assignment they may land. As Goodwine explained, the Academy's concept art track prepares aspiring artists by helping them create an impressive and varied portfolio to show potential employers.
"When we're going through the production pipeline of a video game, there are different aspects that are going on at the same time," Goodwine began. "There's the art design side of things, the game design side of things, the programming, and lots of things that go in between. But if we're starting production, we first need to come up with ideas of what the game is going to be and what it's going to look like. We have to start with the concept art."
Goodwine shared student work—much of which was from Spring Show 2020—to illustrate, including highly-detailed visualizations of mythical characters and backgrounds to immerse audiences into a world. In addition to sketchbook pages, he showed assignments from an intro to digital painting class. Students tested their skills by applying digital painting techniques to create cubes of varying textures, including glass, fire, stone, and even cheese.
"None of this is paint—this is all digital," Goodwine continued, flicking through a series of hyper-realistic portraits also done in the same class. Using only digital tools, students captured the smallest lifelike details, from wrinkles in the skin to a glint in an eye.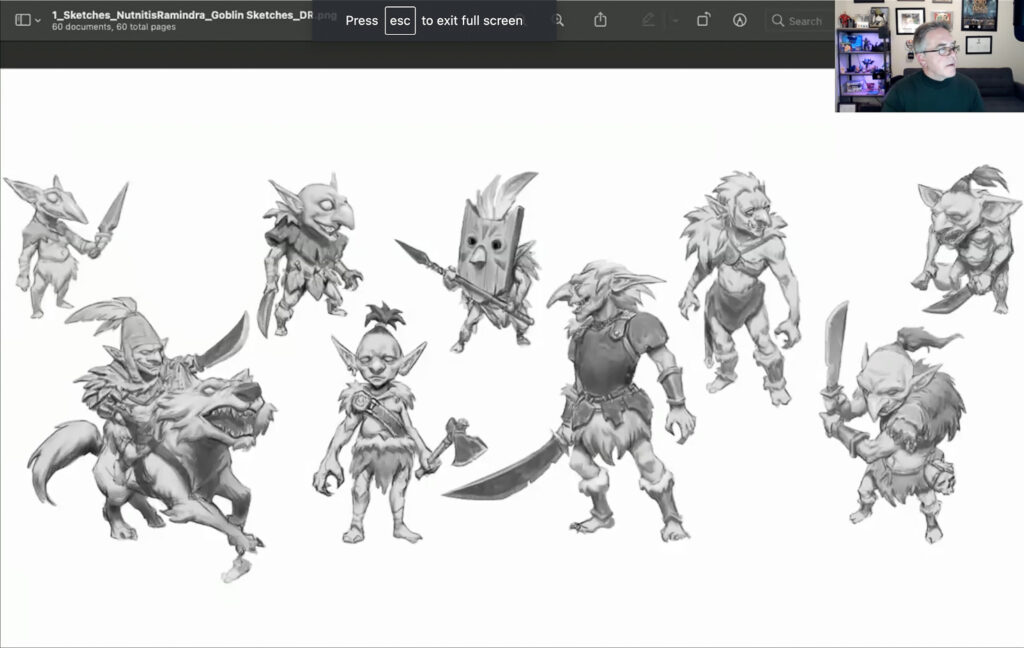 Character development
GAM Associate Director Brian Hess explained the next step in the pipeline. After building their foundational skills, students can expand upon them in the character development track.
As he spoke, a time-lapse of a character Hess developed for a class played in the background. Slowly, an amphibious superhero began to take shape, complete with fins and a helmet filled with water to supply its gills.
"We need to make sure you have a good foundation of figure drawing—figure drawing is kind of the key to drawing anything," said Hess. "It helps you gain a good eye for proportion and volume and helps you build those skills so you can draw those props, those environments, those creatures like I'm showing you right now."
In addition to drawing well, aspiring game designers need to think deeply about the character's story and the fictional world around them, Hess said.
"You're not just drawing cool stuff; you have to be drawing stuff for a purpose," he said. "The studios are looking for people who can think creatively. Everything you build on those characters tells their story."
The art of hustling
Jason Weesner, GAM faculty, shared tips from over 25 years of experience in the industry, which he playfully referred to as "Weezie's Guide to Hustling." 
For Weesner, "hustling" involves putting yourself in the right place at the right time.
"It's all about recognizing opportunities, taking opportunities, and making opportunities," he said. "It's a skill, which means you have to get good at it, and so many of our graduates who have landed these great jobs have gotten the opportunity because they are really good at hustling."
Weesner shared that a chance meeting during a pool game at a local bar led him to get his first job as a video game tester. Recognizing his opportunity to move up within the company, Weesner committed to getting the most out of the experience. This included meeting as many people as possible during his time there.
"Anytime somebody stepped through the door of our office that was from another company, like another developer, publisher, hardware manufacturer, or whatever, I would make sure I got introduced to that person and got to know them," said Weesner. "Because of that networking, my first big professional job was at Activision in the late '90s. So, all of that hustling, recognizing opportunity, knowing the right people, all of that stuff resulted in me getting my foot in the door."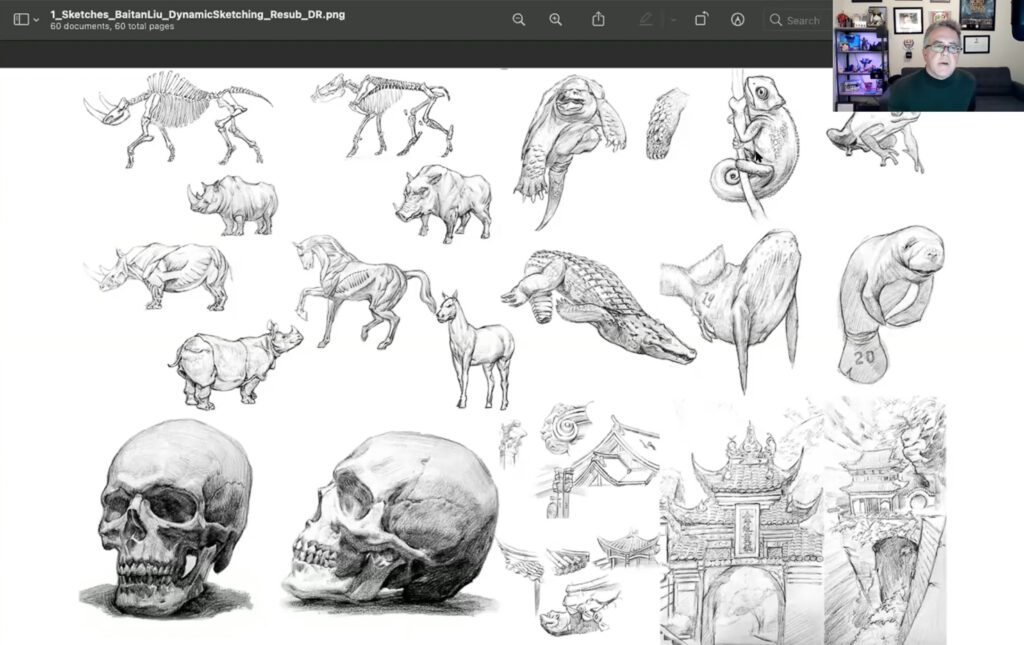 Programming
Next, Programming Lead Scott Berkenkotter spoke to the science of game development and its relationship to art.
"I have spent time in design as well, and honestly, designers and programmers are really just two sides of a single coin," said Berkenkotter, who was previously a lead engineer. "I think there's a lot of interesting overlap between design and programming. And I think a big reason you guys might be here is because you're trying to figure out where you belong."
Designers and programmers solve design problems, fix bugs, write code, and make the game work, Berkenkotter explained. But, while designers are more focused on making games fun and building out worlds, programmers are focused on ensuring that the game runs correctly.
"We're thinking about making sure the game is running efficiently, that it's scalable, meaning that as the game grows, as we keep adding more levels, as we keep adding more skins and more characters, that the game continues to be stable," Berkenkotter said. "To make games, these magical things that we all love, we have to have an understanding of the math, an understanding of the science."
Esports
With millions of fans and billions of dollars flowing through it, esports aren't simply competitive video games—they're an international phenomenon. Esports has a place within GAM, explained Academy alumnus and Director of Esports Michael Witzel.
"So, along with having teams that compete—we have students playing 'Call of Duty,' 'League of Legends,' 'Overwatch'—we also invite other universities to compete in tournaments here, to build up a community," said Witzel. "But one thing we're doing at all of these events is driving esports education, so students can get real experience to land those real-world jobs."
Witzel explained that students from across the Academy's schools help run the esports events, adding valuable production experience early on in their careers.
"We want to empower you as a student to discover and define what esports is," said Witzel.
Watch "The Art and Science of Video Game Creation" webinar in full below.