"National Champion" were the words gloriously announced ahead of James Young's name after a truly memorable effort won him the final of the mile at the NCAA Division II Indoor Nationals finale inside the Birmingham Crossplex on Saturday, March 13.
"James raced like a champion today," said Assistant Coach Steve Fuelling. "He has been focused and consistent in his preparation and it showed."
After battling in the middle of the pack through the mile's first 800m, Young began to steadily make his way up to the front and with his sights set on leader Missouri Southern's Ryan Riddle. Young's decisive move came in the final 200m where he passed Riddle, broke away from Colorado Mesa's Tony Torres as well, and leaned across the finish line for a new program record 4:00.40 and the title. The mark bettered his previous time by nearly four full seconds, was the second-fastest mile time run at the NCAA Division II National Championship meet, and fourth in NCAA DII history all-time.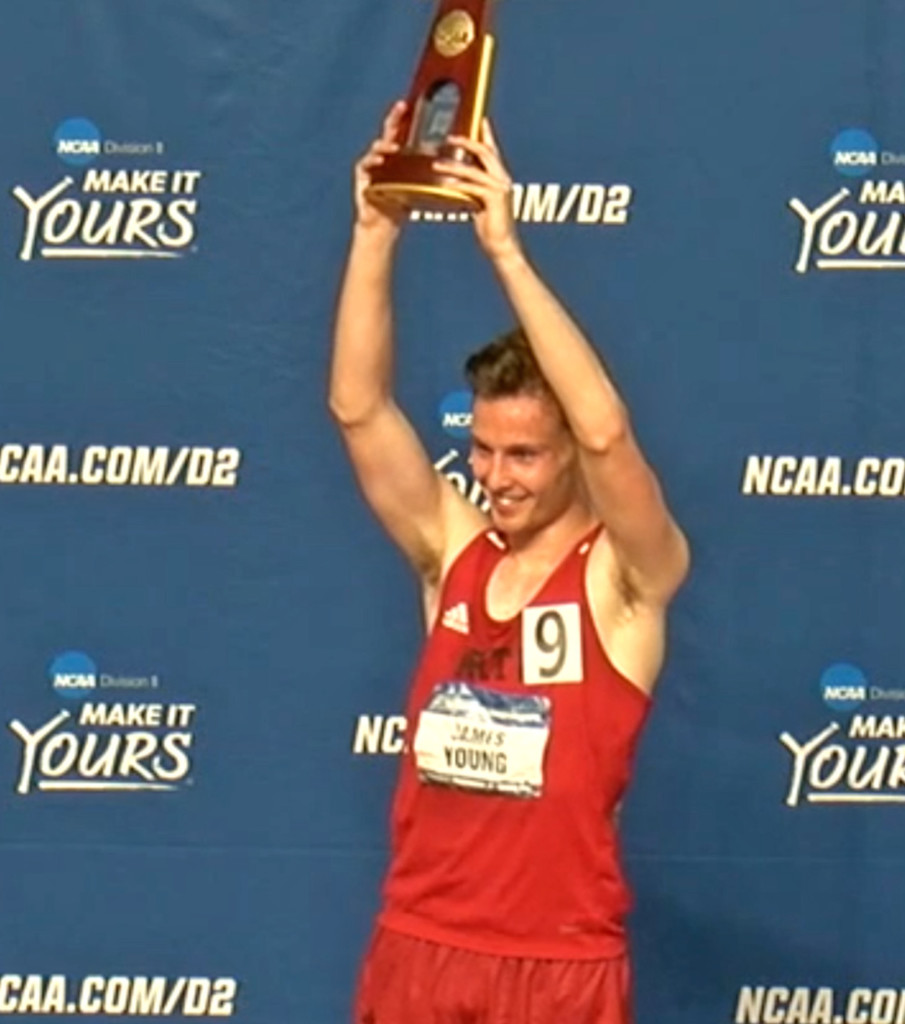 "It was a really hard race," Young said. "Me and Coach Steve thought it would be an honest race from the gun, and that's how it panned out. Ryan Riddle, who put the pressure on from the start is a really strong runner, and it was all about just trying to keep in contact and hoping my closing speed would come good in the end.
"I thought he was getting away from me with about 500m to go and felt like I was now in a race for second. But the momentum from having to hold off Tony Torres carried me towards Ryan, and then I realized I had a chance again. It's been a long time coming after last year was so abruptly canceled, so I wanted to make this one count. I knew I was the fittest I've ever been–thanks to the great work Coach Steve has done and I appreciate everything he's done for me. Once I crossed the line, it was just the relief that everything I've done has paid off, and I've got something now to show for it."
Coming off her second-place finish in the long jump on Friday, All-American Marie-Jeanne Ourega opened Saturday's triple jump with a 38-11 (11.86m), but was unable to score another legal mark. She would finish 12th overall.
"James and Marie-Jeanne really performed well this weekend," said Director of Track and Field/Cross Country Kevin LaSure. "With very [few] competitive opportunities this indoor season, they showed extreme poise in only their second and third meets of the season, respectively. Coach Nkosinza Balumbu did a great job getting Marie-Jeanne ready for the championship competition in such a short time. And what Coach Steve Fuelling was able to accomplish with James in such a short period of time and only two competitions (including NCAA's) is nothing short of amazing!"
With the 2021 indoor season in the books, Academy of Art turns its focus to the outdoor season which resumes with Fresno Pacific's State Center Invitational on March 20.