After coming to Academy of Art University to study visual development for Animation and finish her collegiate cross country/track and field career, Kristen Sanzari ventured down a new path in her post-graduation run. Upon earning her master's degree from the School of Animation & Visual Effects in 2013, Sanzari developed her skills toward now creating products as a senior designer at Mattel, the multinational toy manufacturing company producing Barbie, Hot Wheels, Jurassic World, and numerous other brands.
Upon graduation, Sanzari began applying to various concept art and graphic design jobs, but it was her website that attracted her first opportunity. Having her work discovered through the Academy of Art alumni listings, she began freelancing for Madefire, an authentic creator platform, learning the company's animated comic book tool and animating many of DC's "Injustice" comics.
Intrigued by a job listing on Craigslist for Artistic Studios, a toy and publishing company which later became Bendon, Inc., Sanzari's ART U network surfaced once again as a previous Academy of Art instructor ironically suggested she apply for the position as well.
"At Bendon, I learned a lot about what goes into working with licensed properties," Sanzari said. "We worked with Disney brands, DreamWorks, Nickelodeon, Illumination, Hasbro, Mattel, and more. It was a great opportunity to learn about different licensors' branding guidelines for both product and packaging."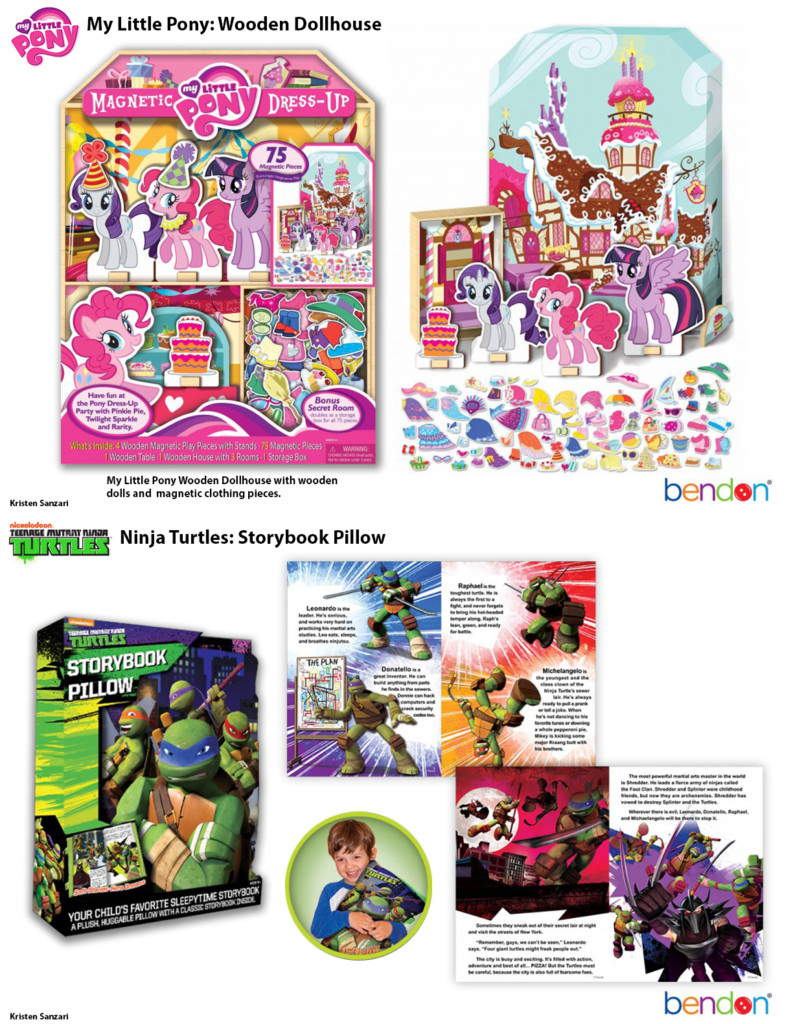 In her role as a graphic designer and illustrator with Bendon, Sanzari had come in well-prepared with her bachelor's degree in graphic design from Cal Poly San Luis Obispo pairing nicely with her master's in visual development for animation from Academy of Art. The nearly three years she spent at Bendon saw Sanzari eventually become a project manager as she thrived with licensed craft sets and toys, doing mostly graphic and package design with some illustration.
"I was originally focused on working in the animation industry after school, however, while working at Bendon I realized the toy industry was also something I enjoyed," Sanzari said. "Toy design is similar to concept art for animation in a lot of ways and so my focus began to shift towards the toy industry. That led me to apply to Mattel as a toy designer."
Interviewing for the "Jurassic World" product design position, she, unfortunately, had no specific toy designs to show as her portfolio carried only animation concept art. Sanzari would not be fazed, determinedly drawing up sample toy concepts after the interview and she soon found herself working as a toy designer for "Jurassic World: Fallen Kingdom" under a supervisor who believed in her ability.
"It was an amazing opportunity to get to really help shape the look of the toy line and be able to come up with exciting new features for the dinosaur action figures," Sanzari said. "One of my favorite things is to take what I know from my animation background and try to bring some of that movement into our toys, to really make them look like they come to life. It was an awesome experience to work with such a skilled and tight-knit 'Jurassic' team and with our Universal partners. The 'Jurassic' toy line ended up winning the Toy of the Year (T.O.T.Y.) for Best Action Figure award, and I couldn't be more proud of having been part of that team."
A multi-faceted process, the design of a toy from theory to the final product is rather extensive. Sanzari and her team start with a brainstorm session and draw up initial ideas. She will then work with model makers to prove out a concept while also collaborating with several other groups. Sanzari crosses over with the engineers to make improvements to features, discusses products that are in the works with the marketing team, and collaborates with the packaging team all before reviewing products to ensure that they are made to the best quality and that they function correctly. When it comes to actually presenting the concepts, that is done both to Mattel and to licensors at Universal (in the case of "Jurassic World: Fallen Kingdom," "Jurassic Park," and "Camp Cretaceous") or, more recently, Disney/Pixar.
"For the last year, I have been working as a designer on Pixar toys," Sanzari said. "Pixar was one of the main reasons I studied visual development for animation, so it has been a real treat to be able to work on the action figures for their upcoming film, 'Luca," as well as new toys for all the beloved earlier Pixar films."
Translating the movies into toy form has certainly been impacted by the COVID-19 pandemic, but Sanzari has been able to smoothly transition to working from home and attending daily virtual meetings with the team. Of course, there is no substitute for in-person exchanges among her Mattel coworkers.
"Mattel is full of such creative, innovative, and inspiring people, and it was so wonderful to be able to throw ideas back and forth with coworkers from all different teams," Sanzari said. "Working from home makes it a lot harder to go outside my immediate team bubble and get inspired from friends in different departments like Barbie or Hot Wheels, while passing in the halls."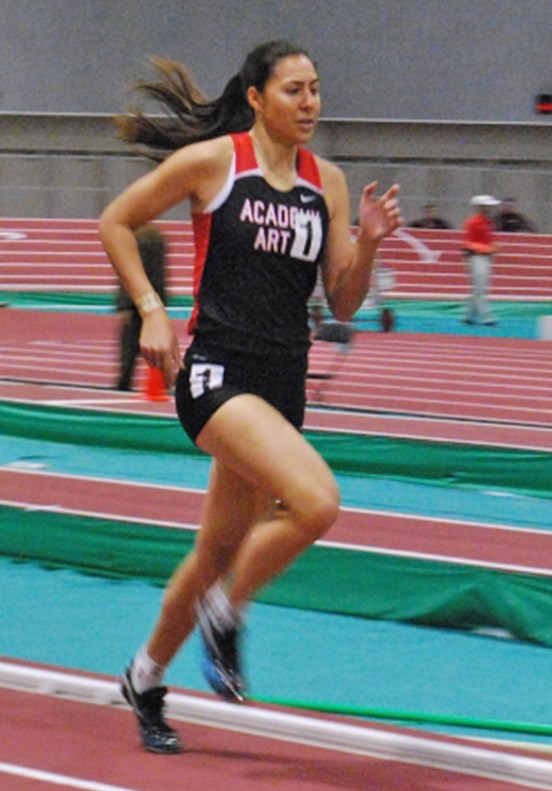 Though brief, Sanzari's career with Academy of Art Cross Country and Track and Field was loaded with great memories which added to her success. Honored with Pacific West Conference cross country weekly honors in four of five weeks, Sanzari led the team in each of their races in 2011 which culminated with her All-PacWest Second Team selection after a top 10 finish at that year's PacWest Conference Championship. Sanzari would go on to an indoor track and field campaign where she set the still-standing program record in the indoor 1000m. Additionally, with her glowing 3.62 grade point average as a graduate student, Sanzari closed her career with PacWest Academic All-Conference Team honors.
"It was so awesome to be able to finish out my collegiate cross country and indoor track eligibility at Academy of Art," Sanzari said. "I definitely think my experiences as a student-athlete have helped contribute to where I am today. As a student-athlete, you are constantly balancing a busy schedule of class, practices, homework, and weekend competitions. You learn time management and how to get things done efficiently. You are committed to constantly trying to improve, and through hard work, discipline, and a lot of training you learn what you need to do to achieve your goals. I know that the drive I had to excel in sports has crossed over into my everyday life as well, and I tend to pursue every goal I have with that same determination."
Speaking from her experience, Sanzari's advice to Academy of Art newcomers centers around teamwork and commitment.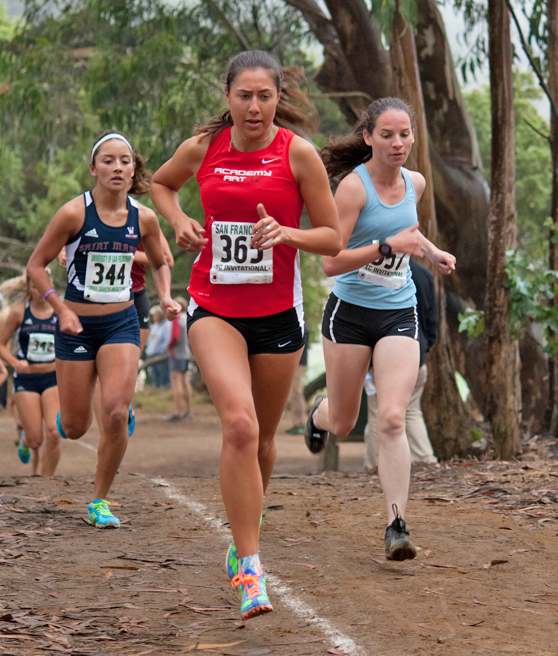 "I would say enjoy every minute of being a student-athlete," Sanzari said. "It is through sports where I met many of my best friends and where many of my most cherished college memories come from. But also, work hard as a student and befriend your classmates. You will learn with these friends and work late nights in the lab together, and if you're lucky, you just might get to work with them at a future job one day! Draw a lot and work on your projects with the same dedication you put into your sport."
Sanzari looks forward to a bright future as she builds toys of many kinds, but her dream of a role with animation is far from extinct.

"For now, I would love to continue to grow within Mattel," Sanzari said. "The toy industry is not where I thought I would end up when I was in school, but it has been an awesome journey so far and I couldn't be happier to have fallen into the toy world. I still love animation and do think it still would be amazing to work in the animation industry one day. But then again, Mattel Television has been announcing a lot of upcoming animated content, so you never know!"