Whether they be on the golf course or seasonal trends in the fashion industry, "swings" have never been a problem for Academy of Art Women's Golf alumna Mariana Pazos, a 2015 graduate from the School of Fashion (FSH) with a focus in apparel and textiles. Hired shortly after she departed ART U, Pazos is now thriving as a print & pattern designer at Old Navy, the clothing and accessories retailing company which operates under global corporation Gap Inc.
Amid Pazos' collegiate career, a change between two of ART U's numerous fashion-specific majors became a blessing in disguise. Though it would mean she would need an additional year to graduate, the shift allowed Pazos to focus more deeply on her portfolio class and her collection in FSH's prestigious Graduation Fashion Show during her final two semesters following the exhaustion of her athletic eligibility.
"I started at Academy of Art in fashion merchandising, but in my second semester I took textiles 1 and fell in love with print so I decided to switch over to textile design starting my second year," Pazos said. "Once I switched over, my goal was always to make it into the Graduation Fashion Show, because I knew it was a great way to get exposure, so I made sure to stay on top of every class and work as close as I could with my teachers and director."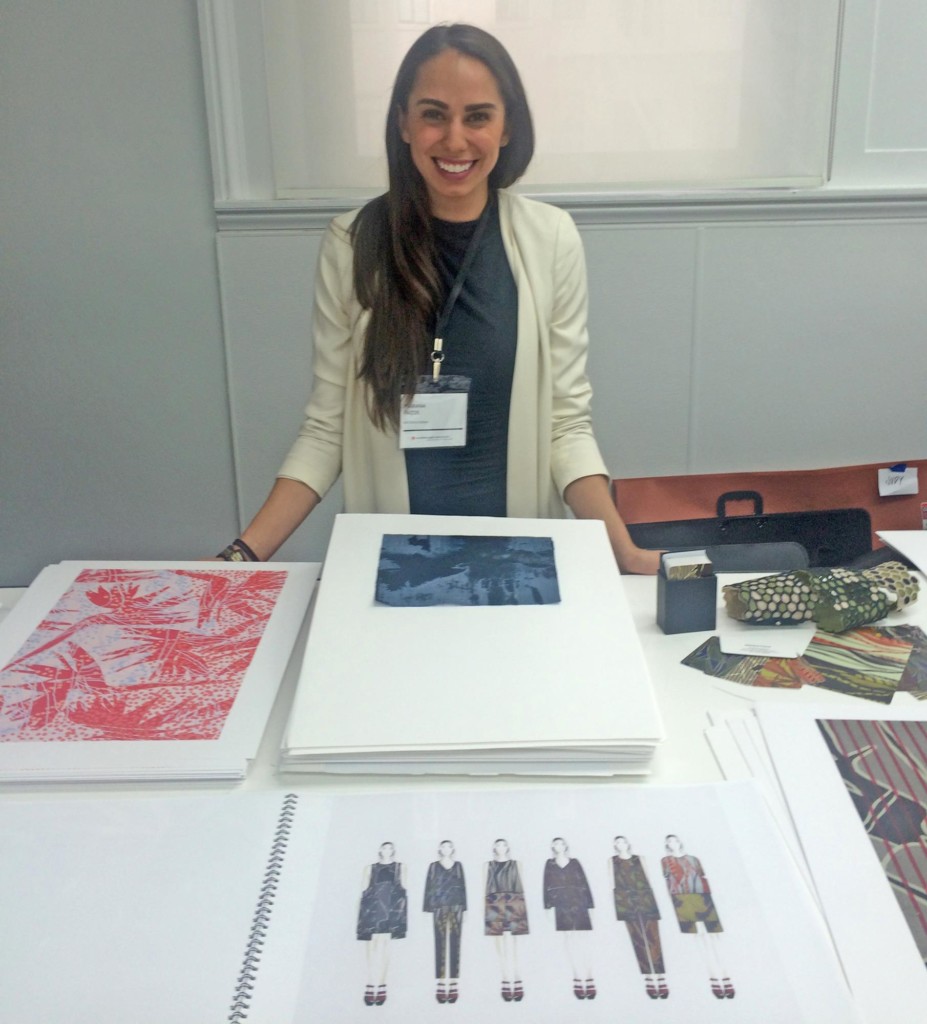 In addition to seeing her work on the runway, Pazos had a place at another special annual event—Spring Show—which allowed her to display her portfolio for industry professionals such as a recruiter from Old Navy. Pazos, who collaborated with Karina Garcia from fashion design for the Graduation Fashion Show, soon found herself alongside Garcia as both were interviewed and hired on to Old Navy less than two months following their graduation in May 2015.
Starting out as an assistant print & pattern designer, Pazos describes her progression to becoming an associate and now print & pattern designer at Old Navy as "pretty organic." Though the print team does carry different roles and levels, all members are highly involved in the creative process so learning about each specific category and owning one's responsibilities remains the focus. Pazos began with smaller categories such as "Women's Bottoms" before working her way up to "Women's Knits," "Girl's Knits," and currently the entire "Girl's Division" as well as "Female Active."
"I've enjoyed working on every category I've had a chance to work on, but I would say that working on the athletic line is my favorite," Pazos said. "Maybe because I get to be a little more creative with the brighter colors, and it is always fun to look at the newest trends in activewear, at least for me."
Transitioning to a "work from home" format in March as a result of the COVID-19 pandemic, Pazos has adjusted smoothly and her workload remains tied to the time of year. At the start of a given season, the team will work on concepts and trends via market research and trend services. From there, she gets to draw and explore her creativity as the actual prints are created. When the designs have been landed, assorting begins where they work with the fashion designers and a lot with colorways to ensure the right prints are in the right silhouettes all before final preparations for production. Celebrating the last stage may be short-lived as the process restarts for the next season.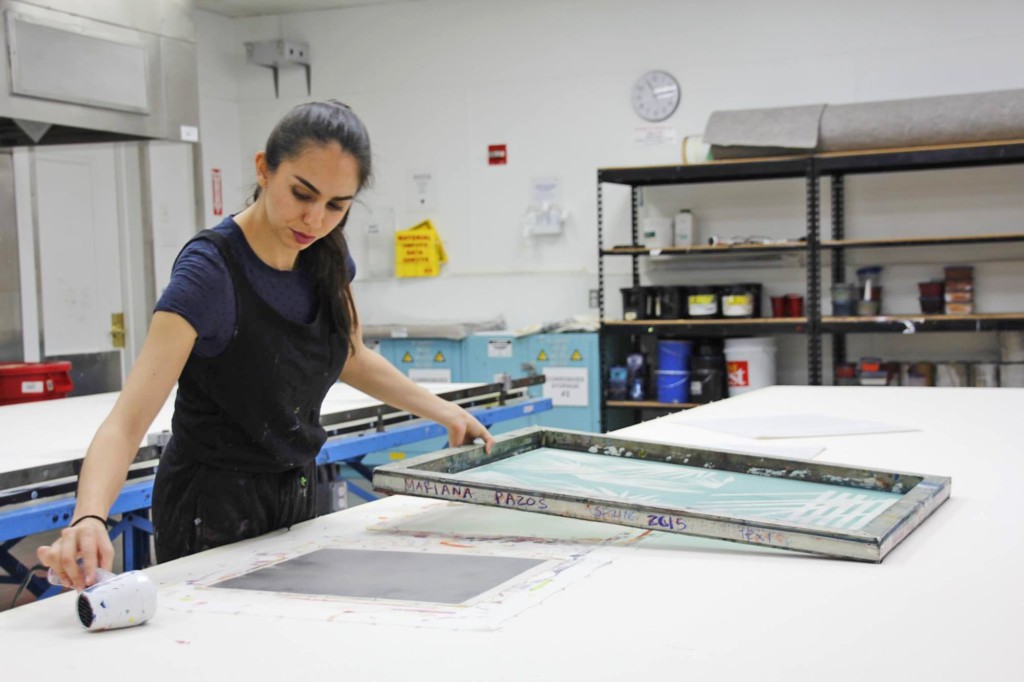 "It is a crazy calendar and we work almost a full year in advance so I'm always so confused with what year we are living in," Pazos said.
Founded in 1994, Old Navy has now grown to more than 1,100 locations globally with last year's net sales totaling several billion dollars. The massive reach of the retailer, whose headquarters is in San Francisco, continues to be one of Pazos' favorite aspects.
"I think the best part about working for such a big company is the [number] of people it reaches," Pazos said. "Even after five years, it is still so cool every time I see someone wearing a print I worked on in the street. I find myself smiling at them and then I get a weird look from them and realize they have no idea why I'm looking at them."
Beyond the world of textiles, Pazos' work ethic is undoubtedly a product of her time as a student-athlete which resulted in numerous accomplishments during her 2011-14 career at Academy of Art. A tournament victory at the Dominican Duel and NGCA All-American Scholar Team honors both came in her first year and those were followed by the first of back-to-back D2 ADA Academic Achievement Award and PacWest Academic All-Conference Team selections. In her final season, Pazos claimed All-PacWest Second Team honors following her 12th place finish at the PacWest Championship Tournament.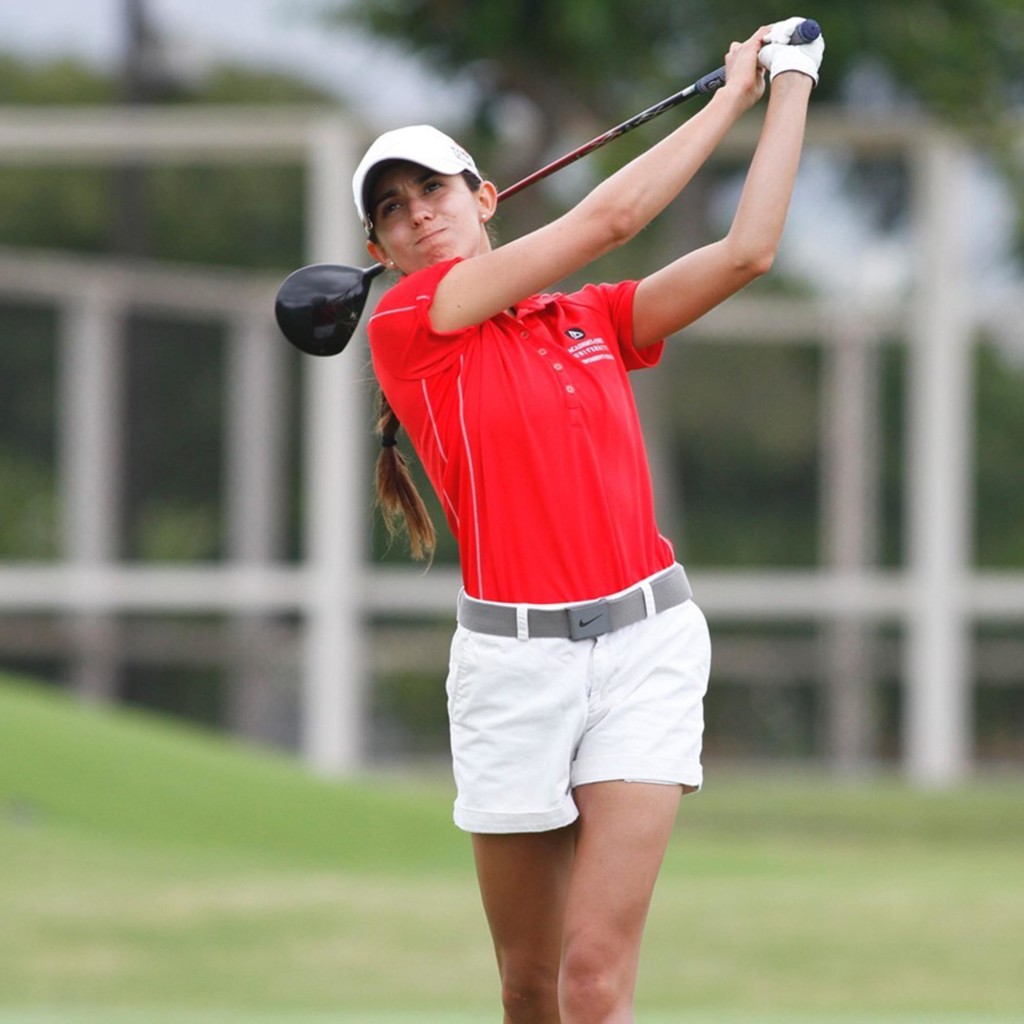 "The two main things I took from being a student-athlete are discipline and teamwork," Pazos said. "I show up every day, do my absolute best, and help my team do the same which is the same thing I did when I was in school and during golf practice and tournaments. I also think being an athlete really helped me with taking criticism, knowing that it is always given so that you get better and not taking it personal."
When thinking about words of wisdom from her own experience as a student-athlete in FSH and textile design, Pazos emphasizes practice and seeking guidance from the department's accomplished faculty.
"Take advantage of everything the school has to offer," Pazos said. "Talk to your teachers and ask them how you can improve, participate in all the competitions you can (it really helps your CV [curriculum vitae] and it is such great practice), and, lastly, use the labs as much as you can (I miss the textile lab so much). And the same with your sport—enjoy the workouts, even if they are at 5 a.m. The fact that you get to play a sport that you love with your friends is amazing. I can't tell you what I would give to be playing golf five times a week."
As Pazos continues to develop her craft and career, she knows she'll remain as absorptive as the clothing to the ink from her designs.
"For now I want to keep growing as a designer at Old Navy, always making sure that I keep learning new skills," Pazos said. "I'm super lucky to work with an amazing group of more than 20 women who are incredible people and print designers so I really never stop learning new things."