By Nina Tabios
In the opening moments of "Kajillionaire," the newest film from Miranda July ("Me and You and Everyone We Know"), the Dynes, a dysfunctional family of con artists Robert (Richard Jenkins, "The Shape of Water"), Theresa (Debra Winger, "Terms of Endearment"), and their 26-year-old daughter Old Dolio (Evan Rachel Wood, "Westworld"), brace themselves for another one of their hastily-conceived heists, swiping packages from the local post office. Trained since birth to be a ready accomplice and partner, Old Dolio knows all the tricks in the Dyne playbook of swindle, scam and steal—ducking security cameras, surveying store grids, contorting into a back-breaking limbo to dodge rent.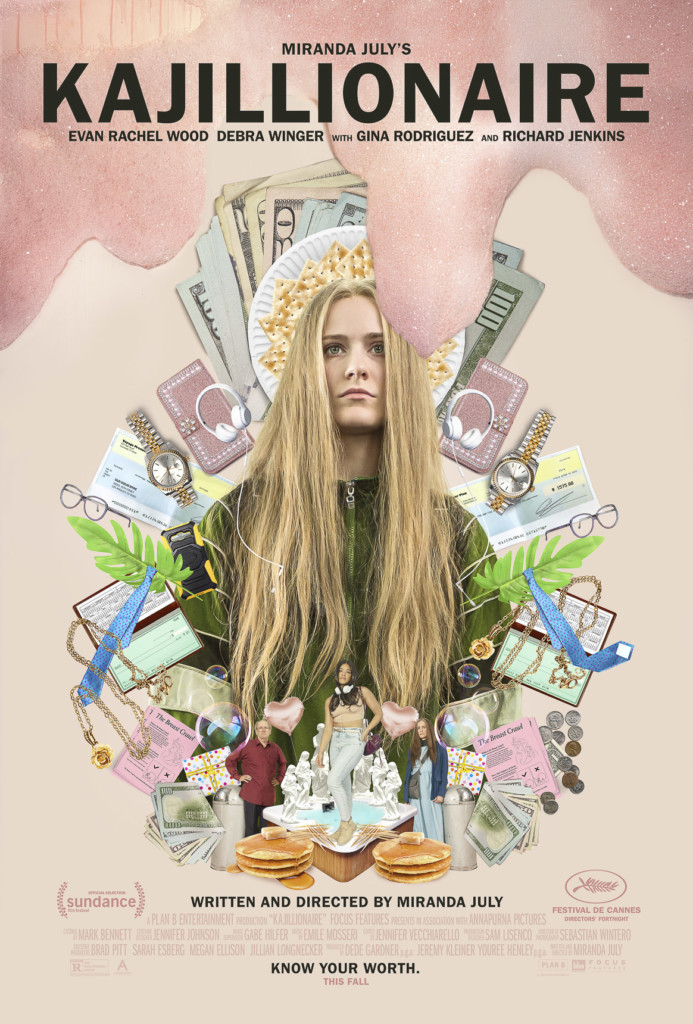 In the film, which premiered at the 2020 Sundance Film Festival, these types of low-brow hijinks are routine for the Dynes. When the only redeemable prize from that opening haul is a watch, it sets off another small-time scam to hunt down the original owner for a cash reward, suggesting the family that cons together, stays together. But soon, the Dynes' scavenger lifestyle is upended when a bubbly, charming mall employee named Melanie (Gina Rodriguez, "Jane the Virgin") is game to join them on one of their biggest schemes yet.
Wood as the disengaged, emotionally-deprived Old Dolio is what turns this con artist film into a whimsical coming-of-age dramedy. Because of her parents' narcissistic worldview and rejection of material comforts—they live in the office of a bubble factory that leaks daily—Old Dolio never had the chance to become her own person, let alone make any meaningful human connections. So when Robert and Theresa dote on Melanie, Old Dolio's odd and stoic reality is turned upside down as she and this newcomer form an unlikely connection.
As the film's writer and director, July looks at the human plight through unconventional characters and the weird worlds they occupy. Through the Dynes, "Kajillionaire" explores potent ideas around family, intimacy, and the American dream. Robert, after a day of forging checks, is the voice of reason against modern-day aspirations: "Most people want to be kajillionaires. That's the dream, that's how they get you hooked—hooked on sugar, hooked on caffeine, ha-ha-ha, cry, cry, cry. Me? I prefer to just skim."
A film like "Kajillionaire" couldn't happen without a solid cast. Jenkins and Winger as Old Dolio's parents set the foundation necessary for Old Dolio's transformation but it was Rodriguez that gave this movie life and a heartbeat. Opposite Wood, Rodriguez's warmth and light is ultimately what cracks Old Dolio's hard outer shell and coaxes out the beginning of what looks like a new journey to vulnerability and self-discovery. 
Overall, "Kajillionaire" has its comedic moments in the obtuseness of its characters' livelihoods and July's return to the silver screen offers a unique take on family, integrity, and individual choice.
"Kajillionaire" is now playing in select theaters.