Academy of Art University Athletics has announced four legendary student-athletes will make up its first Hall of Fame class. Amos Maru (Men's Cross Country/Track & Field), Vashti Thomas (Women's Track & Field), Crystal Wang (Women's Golf), and Mobolade Ajomale (Men's Track & Field) span every era of the program's 12-year history, bringing prestige and honor to ART U throughout their time as Urban Knights and beyond.
Amos Maru – Men's Cross Country/Track & Field (2008-2012)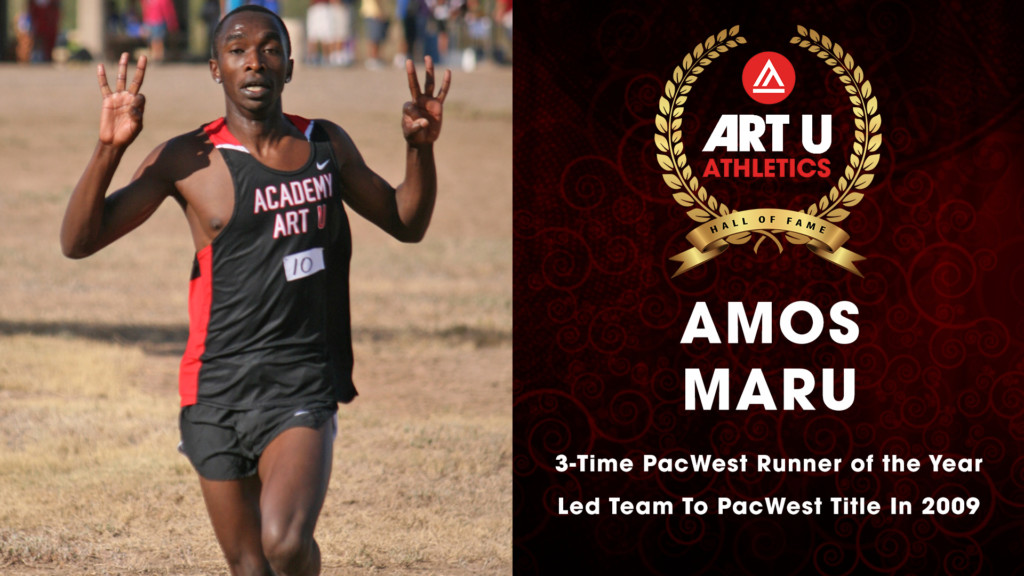 A native of Nandi Hills, Kenya, Maru was a pioneer member of the Academy of Art Athletics program, joining the Urban Knights in 2008. After helping ART U win the Pacific West Conference Men's Cross Country Championship that first year (unofficially as the program was not yet full-fledged members of the PacWest), he and the Urban Knights returned to officially capture the title in 2009. Being named the meet's individual champion became a pattern that would repeat for the next two years, where Maru dominated the competition. He won his first title by 30 seconds and his final by 40 seconds in 2011. Out of his 12 top-three results over the course of four years, three individual victories closed out his collegiate career as he won the 2011 SF State Invitational and 2011 Santa Clara Bronco Invitational prior to the PacWest Championship.
"Attending Academy of Art opened all the doors and opportunities I've been able to embrace since then," said Maru. "I am truly thankful for what Academy of Art presented to me and how it changed my life."
In addition to being crowned PacWest Champion three times in his career, Maru was also the PacWest Men's Cross Country Runner of the Year and All-PacWest First Team each of those three occasions. A seven-time PacWest Runner of the Week, he and the team each finished second or higher at the PacWest Championship in all four years there.
"I had a wonderful experience at Academy of Art," said Maru. "I really look back at my time there and see that it changed my experience particularly with what I do now and every day as a person."
After his graduation from the School of Interior Architecture & Design in 2012, Maru joined the military, serving in the United States Army Corps of Engineers. Working on a construction team, he was later promoted to sergeant and, after four years, found himself also building a family at home. Last year, he returned to school at MidAmerica Nazarene in Kansas with the goal of becoming a commissioned officer in the medical core of the military.
Vashti Thomas – Women's Track & Field (2012-13)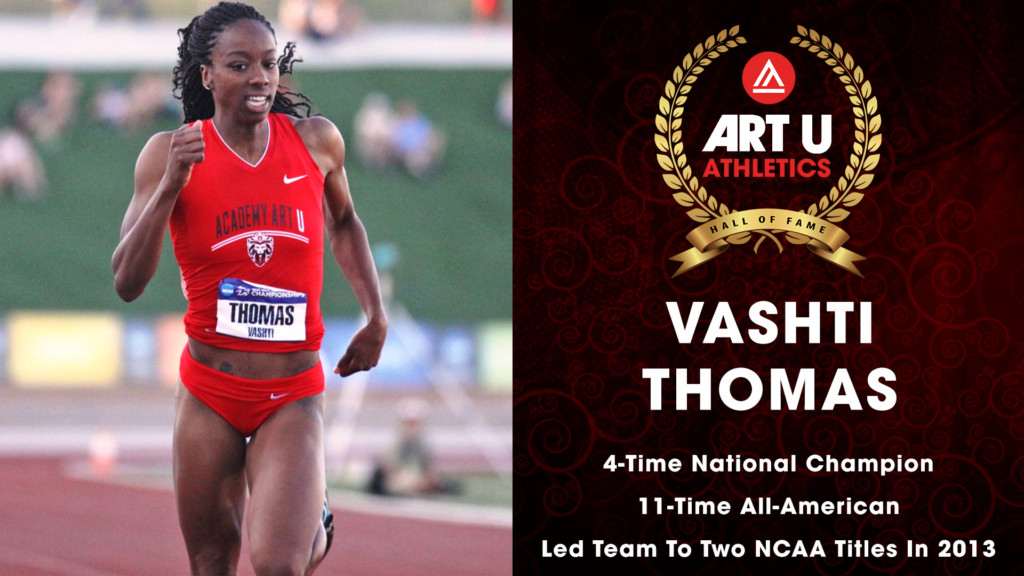 Thomas originally transferred to Academy of Art in 2011 after competing for NCAA Division I Texas A&M for two seasons. The San Jose, California, native from Mt. Pleasant High School would make an immediate impact, setting numerous records and even competing in the 2012 U.S. Olympic Trials against future Olympic Gold Medalists such as Brittney Reese. Blazing the trail in ART U's historic 2012-13 campaign, Thomas guided the team to back-to-back NCAA DII National Championships (indoor, outdoor), a feat never completed before by a program in its first year of eligibility. In addition to claiming four individual national titles (indoor long jump, 200m, outdoor long jump, 100mH), she scored 35 of the team's 59 points in indoor and 36.25 points of the team's 60 points in outdoor. Following her final NCAA Nationals appearance, Thomas competed in the 2013 World University Games and collected a gold medal for her new WUG record (12.61) in the 100m hurdles.
"What stands out to me most was the fact that Academy of Art even had an athletic program and how many people believed that because we were artists we were not athletic," said Thomas. "I greatly enjoyed proving them wrong."
An 11-time NCAA DII All-American combining indoor and outdoor, Thomas' resume was truly extensive. Over the course of her two-year ART U career, Thomas was 2012-13 PacWest Women's Athlete of the Year, 2013 PacWest Women's Track & Field co-Track Athlete of the Year, 2013 USTFCCCA High Point Athlete of the Meet (outdoor), 2013 USTFCCCA NCAA Outdoor West Region Field Athlete of the Year, 2013 USTFCCCA NCAA DII Outdoor All-Region Team (100mH, 200m, 4x100m, 4x400m, LJ, TJ), 2013 USTFCCCA NCAA DII Indoor Track Athlete of the Year, 2013 USTFCCCA High Point Athlete of the Meet (indoor), 2013 USTFCCCA NCAA DII Indoor West Region Track Athlete of the Year, 2013 USTFCCCA NCAA DII Indoor All-Region Team (60m, 60mH, 200m, LJ, TJ, 4x400m), and a three-time USTFCCCA National Athlete of the Week (Indoor – Week 3, Outdoor – Week 2 & Week 7).
At the conclusion of her collegiate career, Thomas owned or contributed to 12 ART U records (five indoor, seven outdoor) and 11 of those still remain today. Beyond the program, Thomas is the NCAA DII record holder in the 100mH at 12.70, part of the collegiate record 4x100m shuttle hurdles relay team (52.50), second all-time in the indoor and outdoor long jump, third in the indoor and outdoor 200m, and fourth in the 60mH, among other marks. Thomas is also the first Academy of Art student-athlete to earn a place in the USTFCCCA NCAA DII Athlete Hall of Fame.
"We achieved our goal," said Thomas. "The coaching staff told our team that we were going to make history and I told them I would do whatever it took to help make that happen. Together, the team's effort made that happen. We had everyone asking, 'Art who?' and it was amazing."
After her graduation from the School of Illustration in 2016, Thomas applied to become a police officer in San Francisco while also working on freelance illustrations in her spare time. Now a member of the San Francisco Police Department, Thomas works at Bayview Station as a school resource officer.
Crystal Wang – Women's Golf (2013-17)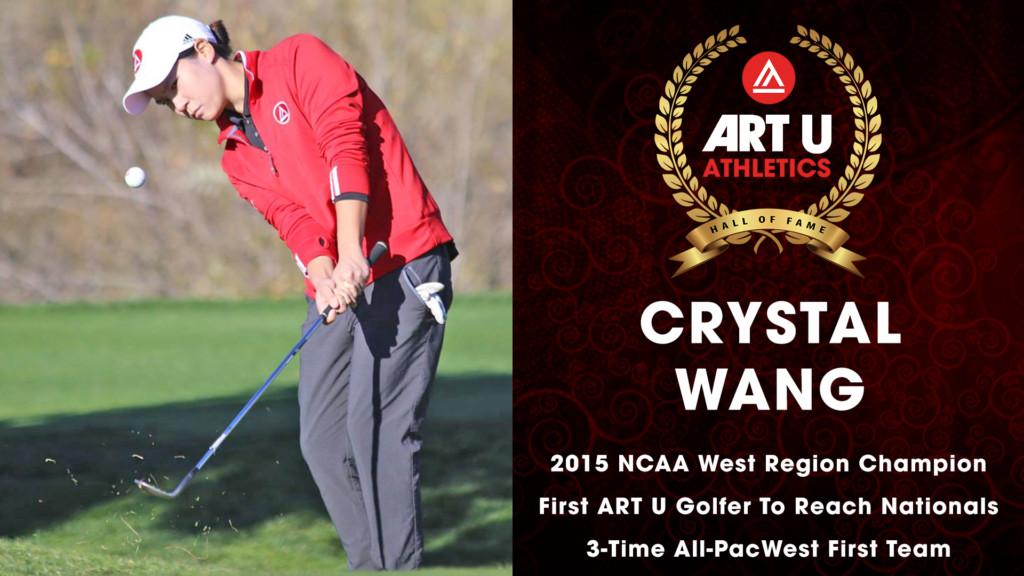 Coming to Academy of Art from La Jolla, California, and University High School, Wang tied for third in just her second tournament as a freshman in 2013 and remained among the top 10 in most tournaments before leading the Urban Knights to third at the 2014 PacWest Championship Tournament with her own second-place individual finish. A breakout sophomore season then saw her help the team to a total of five top-three results which included a tournament victory at the 2015 California Baptist Women's Invitational where Wang took second overall. She would go on to be named Co-PacWest Golfer of the Year after a dominant performance that earned her the 2015 NCAA DII West Regional Tournament Championship, making her the first golfer in program history to reach NCAA Nationals. The ART U women's golf program remained strong in Wang's junior and senior seasons which featured runner-up finishes at the 2016 and 2017 PacWest Championships, the team's second consecutive seventh-place result at NCAA Regionals in 2016, and tournament victories at the 2016 Art of Golf Classic (which had Wang first overall) and 2016 Dennis Rose Invitational.
"I really appreciated Academy of Art because it let me pursue both of my passions with interior design and golf," said Wang. "My four years went by really fast and they were very fun. We had to manage ourselves to go through two different spaces that needed a lot of time and effort, but in the end, it was worth it. My experience in that fast-paced environment really improved my time management and, though it was hard, I was appreciative that everyone was willing to help from the athletics staff to counselors and professors to the team as well – they all helped me a lot when I needed it."
Over the course of her four years with ART U, Wang earned the honor of NCAA West Region Tournament Champion, WGCA All-Region, and PacWest Golfer of the Year all in 2015, was named All-PacWest First Team three times, and added three PacWest Golfer of the Week honors as well. Sporting a career average score of 78, she offered a total of 22 individual Top 10 finishes with three of those individual tournament victories and seven among the top three or higher.
"I've always been aiming for performance during my golf career ever since the first tournament I played for the Academy of Art," said Wang. "I am very thankful the department felt that I have achieved something and helped in bringing the program to the next level."
After her graduation from the School of Interior Architecture & Design in 2018, Wang worked as a designer for a company called White Harmony Design & Staging. Serving under Christine Tsao-Wu, Wang was responsible for staging houses or apartments that are going to be sold in open houses. Shifting gears back to golf last February, Wang competed in tournaments as part of The Cactus Tour, but with the cancelations from COVID-19, she has since returned to her family in Taiwan to pursue other interests.
Mobolade Ajomale – Men's Track & Field (2016-2019)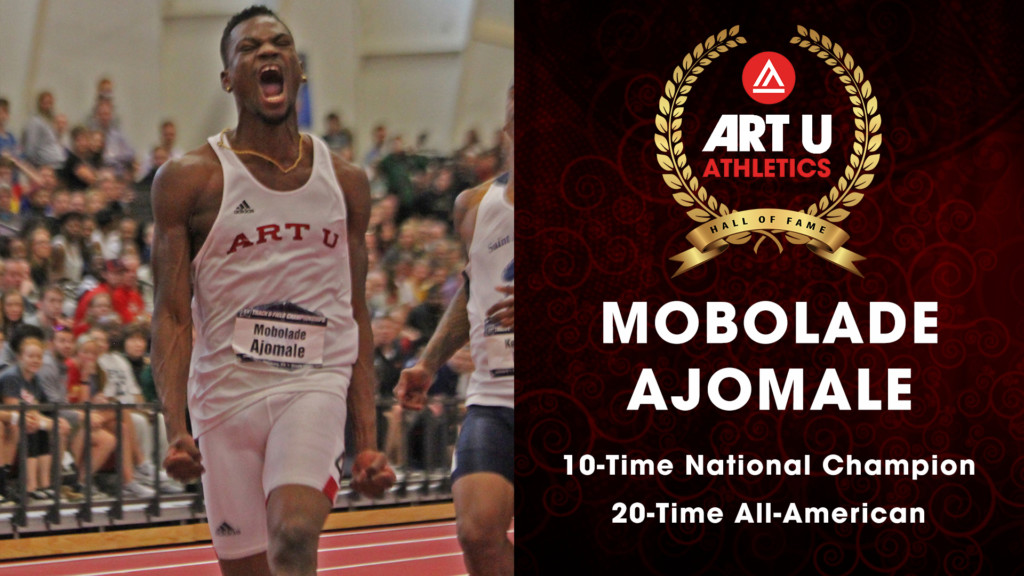 A native of Richmond Hill, Canada, Ajomale joined Academy of Art in 2014 and redshirted his first track & field season. He exploded on the scene as a freshman, dramatically becoming the NCAA DII Indoor 60m National Champion, West Region Indoor Track Athlete of the Year, and a three-time All-American all before starting his first outdoor season. After scoring 32.5 points with 100m, 200m, 400m, and 4x100m titles at the 2016 PacWest Championships and being named Male Track Athlete of the Meet, Ajomale went on to add a pair of top-three finishes in the 100m and 200m at Outdoor Nationals. He contributed to Team Canada's bronze medal in the 4x100m relay at the 2016 Olympics and then proceeded to secure national titles in the indoor 60m and 200m each of the next two seasons (breaking the NCAA DII indoor 200m record twice along the way), adding a pair in the 100m and one in the outdoor 200m. As a senior, Ajomale defended his 200m title at Indoor Nationals, was part of the Urban Knights' 4x400m relay, whose 3:10.07 remains sixth fastest in DII history, and then claimed his fourth consecutive PacWest titles in the 100m, 200m, and 4x100m. That was all before he ended his career at Outdoor Nationals with All-American honors in the 4x100m, 100m, and 200m, going out a champion after a successful title defense in the 200m. He became just the fourth male student-athlete to go back-to-back in the 200m since the era officially began in 1976.
"Looking back at my ART U career, the one thing that always stood out to me was that we were the only art school in the NCAA," said Ajomale. "It made other teams doubt our abilities and I always loved the look on all their faces when we finally spiked up to compete. We were underdogs with everything to gain and nothing to lose. I enjoyed my time there and I certainly learned a lot academically, athletically, and mentally. I was challenged constantly and what's what helped the growth."
Ending as a 10-time individual champion and 20-time All-American, Ajomale had his name atop eight different event categories in the ART U record books. Beyond the program, Ajomale remains the NCAA DII record holder in the indoor 200m at 20.67, third in the 60m, seventh in the 100m, and eighth in the outdoor 200m, among other marks. Along with his Olympic bronze medal, he finished as a two-time NCAA Division II National Track Athlete of the Year (Indoor 2017, Outdoor 2018), six-time DII West Region Track Athlete of the Year, and four-time PacWest Track Athlete of the Meet. Ajomale became the first student-athlete in ART U Athletics history to be named PacWest Athlete of the Year twice after collecting the honor in 2018.
"Honestly it still hasn't sunken in yet," said Ajomale. "While competing with the 'ART U' on my chest, I always set goals – something new, something better than what I had previously done. It's different while you're still in it, but now looking back, it's was a real honor. I knew the goals I set for myself would push me to be better and also show others what it took."
After his graduation from the School of Communications & Media Technologies in 2019, Ajomale signed a professional contract with Trident Sports Management and has since returned to Canada to train with the Athletics Canada East Hub. He qualified for World Indoors with his 6.60 in the 60m at the Fasttrack National Invitational on Feb. 14, but with many events including the Olympics being postponed due to COVID-19, the future remains unknown. Whatever happens, Ajomale has vowed to do all he can do to be ready when it's time to write the next chapter of his career.
Details regarding an ART U Athletics Hall of Fame ceremony to honor this incredible quartet of inductees will be forthcoming.