By Nina Tabios
"How am I? Honestly, I'm in a weird place today, in a weird mood," said Academy of Art University School of Fashion Executive Director Simon Ungless. "I'm feeling a sense of loss—today should've been the first day for our two-day fittings for the show."
If this were a normal spring semester, Ungless would have spent the day getting together with models and stylists to work on production for the 2020 Graduation Fashion Show. Instead, he woke up to an email alerting him of a canceled fitting. Shortly after, a memory popped up on his Instagram from two years ago, when designer Andre Walker, esteemed fashion journalist Alexander Fury, and Sara Kozlowski of the CFDA came to the Academy of Art University to celebrate the senior collection. It all feels bittersweet.
"Today has been constant reminders of what could have been, what should have been," Ungless shared from his home in Murray Park, a dozen miles north of 625 Polk Street. But he remains optimistic. He printed some t-shirts to ease the tension in his backyard studio, which recently appeared in a demo for the McQueen Creators video series on YouTube. "Change is something I always thrive on, it's something our industry thrives on. But I'm feeling it, just for today. I'll get over it."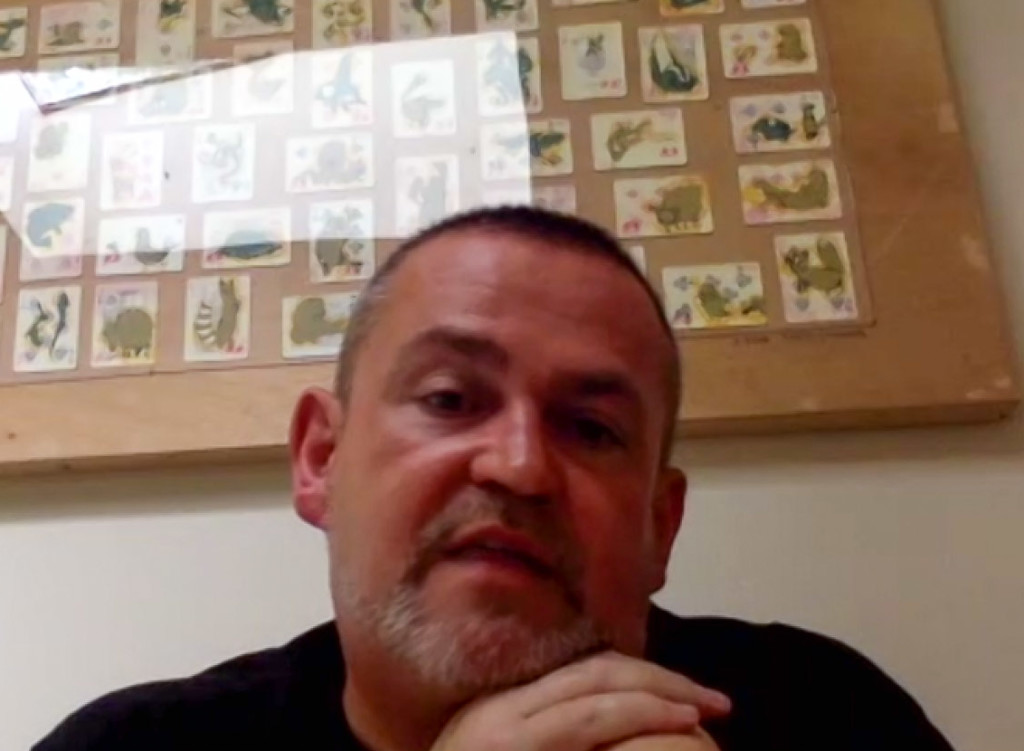 Ungless is speaking directly with fashion marketing student and Beyond the Front Row (BtFR) Officer Tom Greene, host of "Beyond the Front Row Presents: Simon Says," but over a hundred other students and faculty are also intently listening in over Zoom that April 25 evening. The much-anticipated discussion emerging from BtFR's newest digital talk show series is Ungless in familiar form—both honest and generous with his answers.
Greene spent an hour with Ungless covering topics of risk, relationships, success, and failure in fashion. Many of his lessons arrive via anecdotes: wisdom rooted in his time spent at Central Saint Martins in London, the early years riding shotgun with designers like Alexander McQueen, Givenchy, Versace to now, as a 24-year fashion educator at the Academy.
At times, the conversation felt like an oral history. They talked about art and icons—the few people who are icons to Ungless include Robert DeNiro in "Taxi Driver" and Tippi Hedren in Alfred Hitchcock's 1963 film "The Birds" (the inspiration for McQueen's defining collections). They also talked about how to re-invent runway shows and collections and how social media plays a part in how the world is consumed.
Greene, and assumably everyone else in the room, was prepared for a "no bollocks" conversation and Ungless undoubtedly delivered.
On appearing intimidating (at first): "When I was in school, people thought I was a complete and utter b—-," he said. "I have that face; I can't do anything about it. If I try, it doesn't work."
On being labeled a "fashion disrupter, legend, innovator": "I think it's quite a lot of bullsh–, to be honest with you," Ungless replied. "Everything is iconic now. The word has lost its meaning."
On the most rewarding part of being an educator: "I get all the things I love about the fashion industry at the school. I get just enough shows, I get enough collection," Ungless said. He named some of the student designers he's working with this semester: Milijana Delic, Alice Michell, Makayla Godden, Faith Winston, Donovan Smith, Rebecca Fabrizio, Patricia Falowo. "It's amazing. I'm looking at everyone working through Zoom. It's a moment."
On the question of greatness ("Greatness leaves clues," Greene offered), Ungless said it goes beyond the physical skills of design. And for that answer, he didn't think about his industry cohorts, but his students. "Clearly a deep, deep understanding of who they are as a designer and what their aesthetic is," he said, referencing alumni like Zhangchi Wang (B.F.A. 2012), head of the womenswear 3-D research team at Celine. "Very quiet, very precise but no obstacle couldn't be overcome with her."
He mentioned 2005 M.F.A. knitwear graduate Jamie Banks (née Mihlrad), who is a senior design director at Kate Spade. "Different perspective and aesthetic but equal work ethic, equally driven, equally lets nothing get in her way," he said.
"My token of success is not about a particular thing," Ungless continued. "It's about what do you want as a person coming into this, what's your vision, and working it backward to create an education to get there. That's what I want out of fashion education—very individualized and student-centric."
If there was anything to glean from the talk, it was that, yes, Ungless is a brilliant figure in fashion. But he's also dedicated to his students and moving the needle even in the midst of a global pandemic.
As the conversation came to a close, there was only one question left to ask Ungless: what is your silver lining in all this?
"What is my silver lining? My silver lining is Milijana, it's Rebecca and Patricia," Ungless said, listing off the seniors he's working with this semester. "It's Alice and Makayla and Faith and Donny. They're my silver lining. I see those guys on Instagram, [watching] them do their stuff. It really gives me hope for the future of this industry."